When I was a kid, August brought with it a wave of conflicting emotions. The excitement of an annual family beach vacation was offset by the paralyzing fear of returning to school, yet there was always one aspect of August that tilted my mood ever-so-slightly in the positive direction: The Minnesota State Fair.
While I was growing up, my family would go to the fair at least twice, but usually three times each year. Sure, us kids loved it, but the multiple journeys were mostly because of my mom. She grew up near the fair, and still transforms into a giddy kid as soon as she walks in the gates. This giddy kid then leads our hungry family from food stand to food stand, trying what's new but mostly running to our tried-and-true favorites: cheese curds, mini donuts, and fried pickles.
If you're not a Minnesotan, you may think, "It's a fair, big deal," but no no no, not so fast. This isn't just your average fair. It's an opportunity to observe variety. Variety in food, variety in courage (I mean WHAT are those people in that bungee ball even THINKING?), and variety in people. Oh me-oh-my the people watching is fantastic: The mullets, the puffy 80s bangs, the 60+ woman in a halter top, the fanny packs…it's just everything you'd ever want to watch while stuffing your face with fried pickles.
Since I can only make it to "The Great Minnesota Get Together" once this year, I thought that I'd try to bring a bit of the fair home. Maybe I couldn't take the people watching home with me (which is good…things could get weird real fast), but I could try my hand at homemade fried pickles. When I say "fried" I mean baked, because deep-fried pickles should probably be limited to once, twice, or three times a year, but breaded and baked pickles should be just 20 minutes away year-round, right?
I came up with this recipe after some trial and error. My first mistake was buying a jar of pre-sliced pickles. They're just not thick enough, so you need to make your own slices. You want a good bite of pickle, not all batter.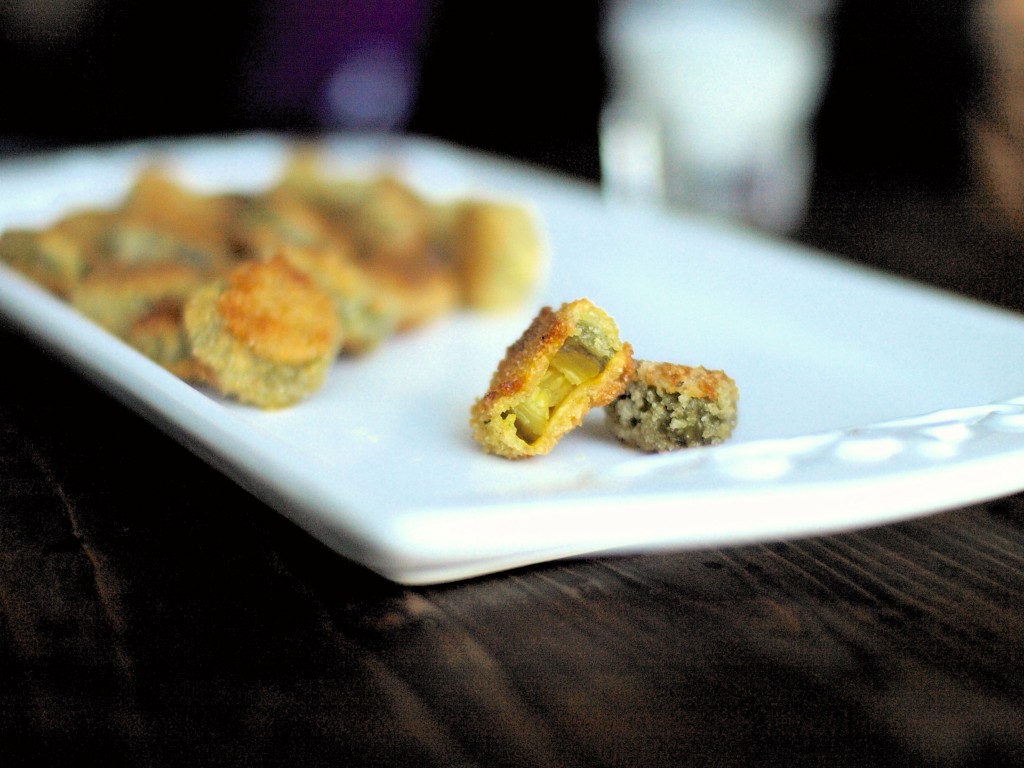 In this first batch I also used just cornmeal and cornstarch to bread the pickles, and they turned out too thick and not crunchy enough. Then I tried just panko bread crumbs, but the crumbs were too big and not similar enough to Minnesota State Fair standards. That's when I created this happy medium, with just a little cornmeal, a small spoonful of cornstarch, and finely processed panko crumbs. I've done the homework for you; If you want to make some Minnesota State Fair-style pickles at home, look no further.
If you're feeling crazy, go ahead and fry these. They will be a bit more golden, and probably a tad crunchier, but I personally think that's unnecessary. The drizzling of olive oil browns these up nicely, and the combination of panko and cornmeal makes them nice and crisp. You'd never even guess that they were baked.
…