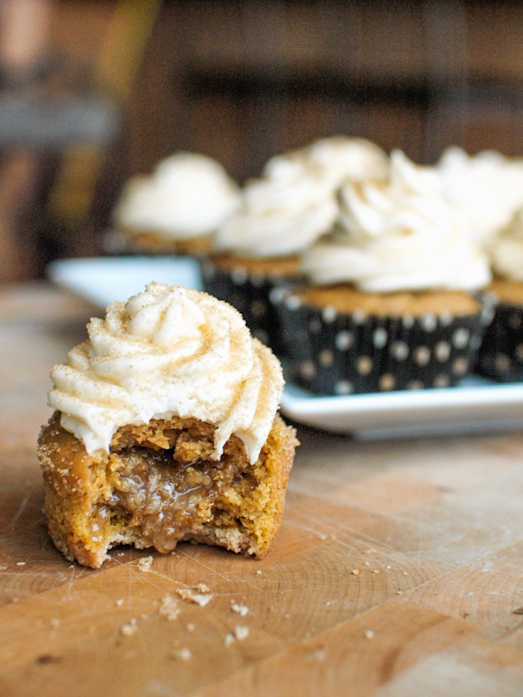 Being a vegetarian, my Thanksgiving excitement is less about the main meal and more about the sweet stuff. I love that all of my family members, vegetarians and meat-eaters alike, agree on the importance of dessert. Each one of us has our own attitude towards dessert. My grandma used to feed me spoonfuls of chocolate sprinkles because she believed no little girl should be without dessert, even if there were no cookies or cakes nearby. If you tell my mom you're too full for dessert, she'll tell you that dessert has its own stomach that's separate from your "meal stomach" (side bar – my tendency to take my mom's words literally resulted in many embarrassing moments in my childhood). Upon finishing a meal, my sister will always ask what we are going to have for dessert, and then insist that she just wants "one little bite" to curb her craving. When my sister leaves half-eaten desserts in her wake, we always know that my brother or dad will stop by eventually to perform clean up. This is the rhythm of my family operating on dessert time.
Our dessert time operations are a bit over-the-top. Thanksgiving, for example, isn't a one-pie occasion. Every person in my family has a specific pie preference, and our pie demands greatly exceed our supply of time for pie-baking. For this reason my mom orders an array of bakery pies every year: french silk, pecan, pumpkin, and sometimes something else, just cause it looks good. Then I usually bring a dessert because, well, I usually have dessert around anyway (this is my take on dessert: must.have.sugar.available.all.the.time).
This year, however, my mom said she would only be ordering 2 french silk pies, (ummm…what? why? who? how?), so she asked me to make a pie. Right, cause I can just "make a pie" without dad being all, "where's the pumpkin pie?" and Anna being all, "I want a bite of pecan pie. Where's the pecan pie?" and then me being all, "How can I construct one full pie slice out of miniature slices of 4 different kinds of pie if there are ONLY 2 KINDS OF PIE AVAILABLE?" – Our Thanksgiving dessert balance was clearly in danger of major disruption.
After perhaps one-too-many viewings of Cupcake Wars, I came up with a solution. I decided to make a pumpkin cupcake (one of my faaaavorite kinds of cake, btw) on top of an oatmeal pie crust, and filled with a whiskey-spiked pecan caramel. While most pumpkin cupcakes have cream cheese frosting, I wanted to be respectful of pie and its straightforward goodness, so I went with a simple whipped buttercream that has never done me wrong. See what's happening here? It's two pies in one, and in a CUPCAKE, so it's like 3 different desserts.
The result was a light, fluffy pumpkin cupcake that's spiced just enough to feel warm and comforting, without overpowering the brown sugar pecan goodness in the middle. The pecan center is cooked to a thick caramel texture, and the touch of salt and splash of whiskey make the flavor deep and playful. With a light-as-air frosting, you'll probably wonder why you ever even bother with silly old pie (please don't tell my family I said that).
…