Speedy Whole Wheat Cinnamon Rolls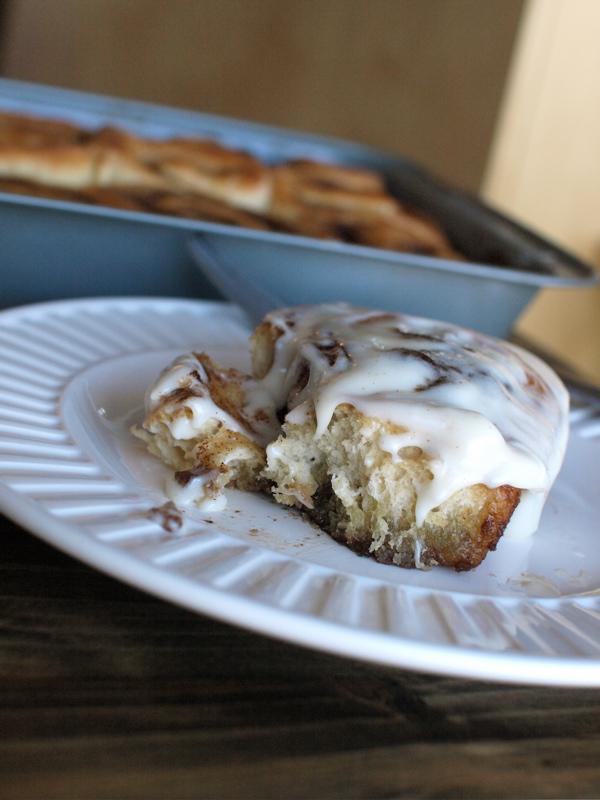 I got this peculiar, intense craving on Saturday afternoon. The kind of craving that's not just about eating something, but about the feeling that comes over you when you make food that's completely comforting. When the craving hit me, I knew immediately that I needed to make cinnamon rolls on Sunday morning. It didn't help that shortly after the craving hit, the boy and I went to the mall and walked right past the Cinnabon counter. The scent was intoxicating…I was drunk with cinnamon roll need.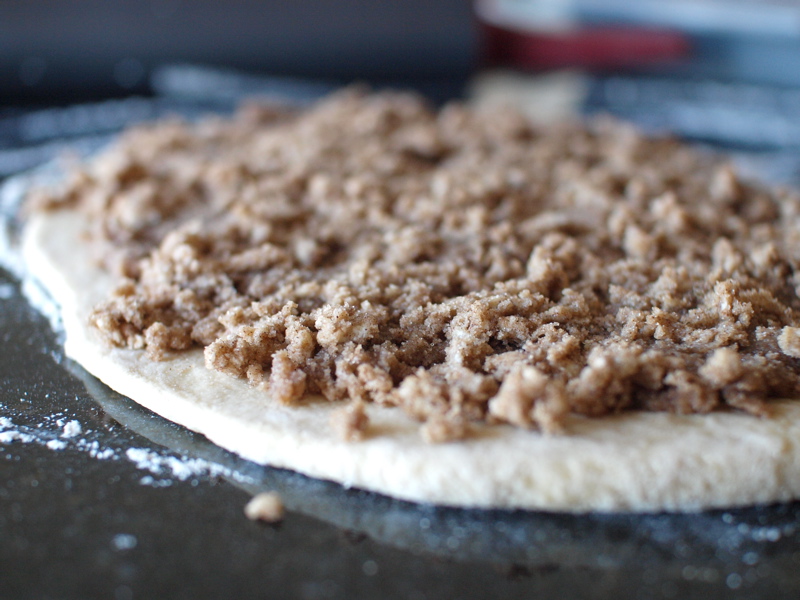 After searching recipes, I decided to start with the one that promised cinnamon rolls in 90 minutes. Since most cinnamon roll recipes require a 1-2 hour rise time before you even get to the assembly step, the idea of a shortcut enticed me. The sooner the cinnamon rolls made it to my plate, the better. The situation was getting more serious by the minute.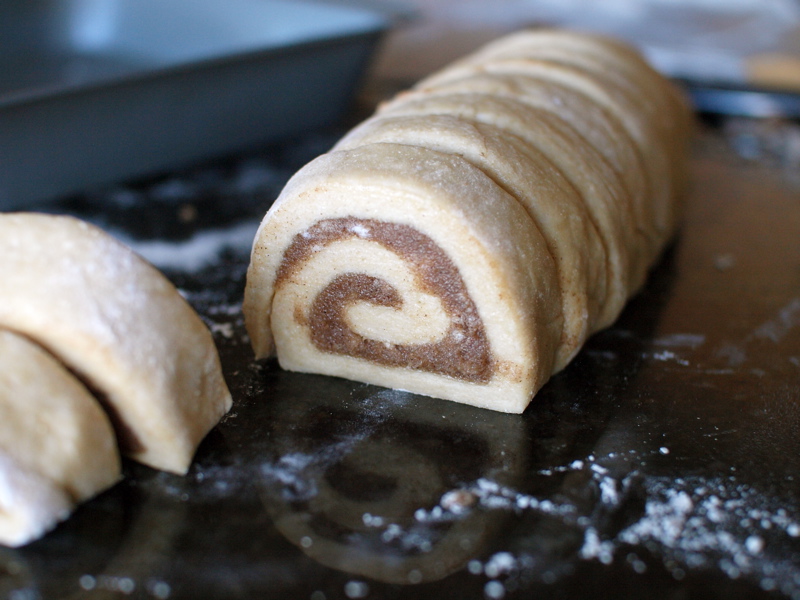 I need to level with you guys, cause this is a big deal. I've baked a lot of things in my life. I've baked things I couldn't stomach, and I've baked things I couldn't stop eating, but never have I EVER baked anything as good as this.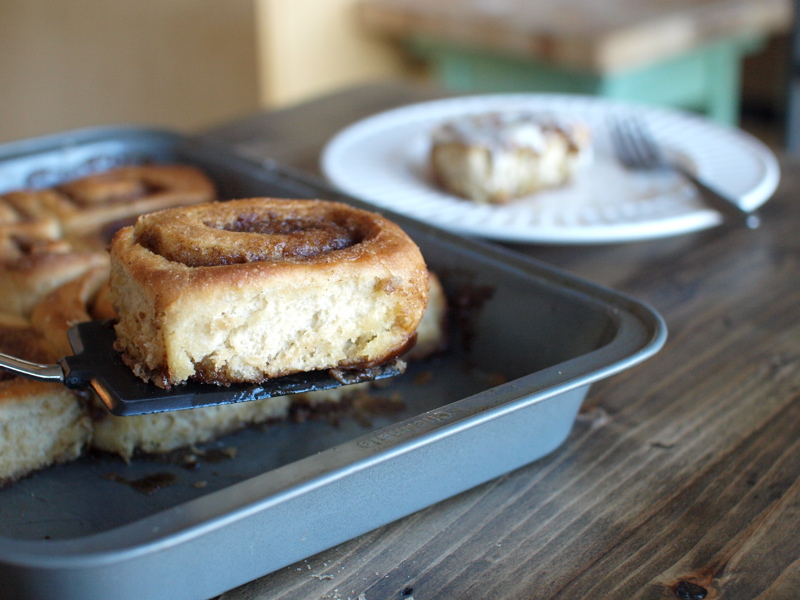 These cinnamon rolls were absolute perfection. Using half whole wheat flour gives the rolls a wonderful nutty flavor, yet allows them to remain ridiculously light and airy. The filling stretches its buttery cinnamon brown sugar goodness into each layer of the roll. Then, as if that weren't enough, when the cream cheese icing melts into those cinnamon-filled folds you get a combination that is no less than heavenly. I'm seriously in love. I could go on, but that wouldn't be fair to you. Let's get to the good stuff…
[Relatively] Quick Whole Wheat Cinnamon Rolls
Makes 12 cinnamon rolls.
Adapted from AllRecipes.
3/4 cup plus 2 tablespoons milk (I used 1%)
1 cup softened butter, divided
1 3/4 cups all-purpose flour
1 1/2 cups whole wheat pastry flour
1 (1/4 ounce) package instant (aka "Quick Rise") yeast
1/4 cup white sugar
1/4 teaspoon kosher salt
1/4 cup water
1 egg
1 1/2 cups brown sugar, packed
1 1/2 tablespoons ground cinnamon
Cream Cheese Icing
Adapted from Food.com
8 ounces cream cheese, softened
1/2 cup butter, softened
1 teaspoon lemon juice
2 teaspoons vanilla extract
2 cups powdered sugar
1 tablespoon milk (optional)
Process
Heat the milk in a small saucepan over medium heat just until it starts to bubble on top. Remove from heat and whisk in a 1/4 cup butter until melted. Set aside and let cool a bit while you get the dry ingredients together
In a large mixing bowl, whisk together the all-purpose flour, yeast, sugar and salt. Beat in the water, egg, and the milk mixture (which should be lukewarm when ready to be added).
Add the whole wheat pastry flour gradually, stirring well with a wooden spoon after each addition. Once you have a loose dough, knead on a lightly-floured surface until smooth (this took me about 3 minutes)
Cover the dough with a damp paper towel and let rest for 10 minutes.
While the dough is resting, mix together the brown sugar, cinnamon, and remaining 3/4 cup butter for the filling.
Use a rolling pin to create a 14×10 inch rectangle with the dough. Spread the filling mixture evenly over the entire dough, and then carefully roll up dough. Pinch the seam to seal, and cut into 12 rolls (the end pieces will be smaller than the rest). Place cut-side-up in a greased 12×9 cake pan, cover with a damp towel, and let rise for another 30-minutes. Set the oven to preheat to 375.
After the dough has risen, put the rolls in the oven for 20 minutes, until golden brown on top.
While the rolls are baking, get the icing ready. Beat together the cream cheese and butter, then add the lemon juice and vanilla. Gradually add the powdered sugar. If you want a slightly thinner frosting, add a tablespoon of milk (I did this and it was still nice and thick, just a bit easier to spread).
Slather the frosting on top of individual warm cinnamon rolls, and watch it melt into the nooks and crannies.
Note: Putting the rolls in the fridge will dry them out, so I only frosted the ones we were eating right away. This way, the icing could be stored in the fridge, while the rolls could be simply covered and set out on the counter.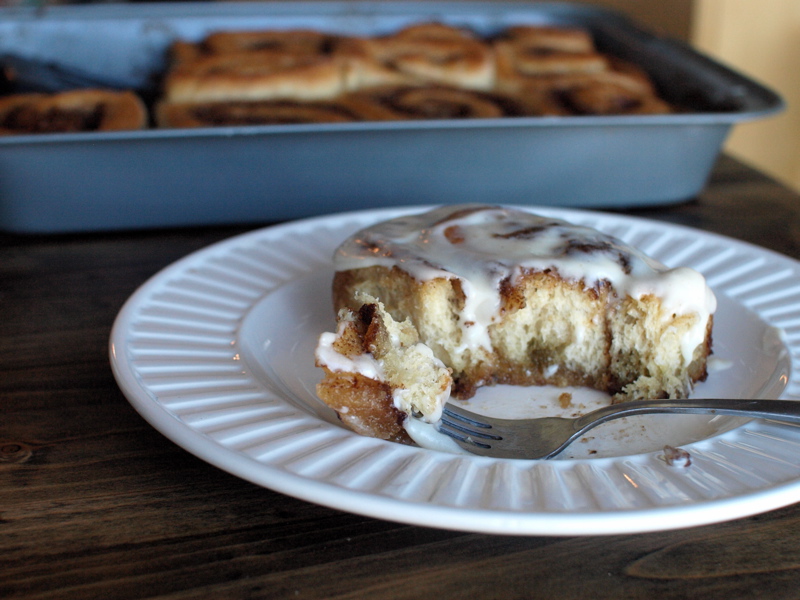 I made these on Sunday morning, while wearing pajamas and drinking tea. I felt my mind check off the "Bake in the morning, feel cozy" craving. Then, around noon, the boy and I dug into these as our breakfast (Yes, a breakfast of cinnamon rolls at noon. Don't judge). My mind didn't have the luxury of checking off the "Eat comforting baked good" craving, because the world pretty much didn't exist for those 10 minutes. It was just me, the cinnamon roll, and my camera getting all nosey paparazzi about the whole interaction.
6 Responses to "Speedy Whole Wheat Cinnamon Rolls"