Pumpkin Pecan Pie Cupcakes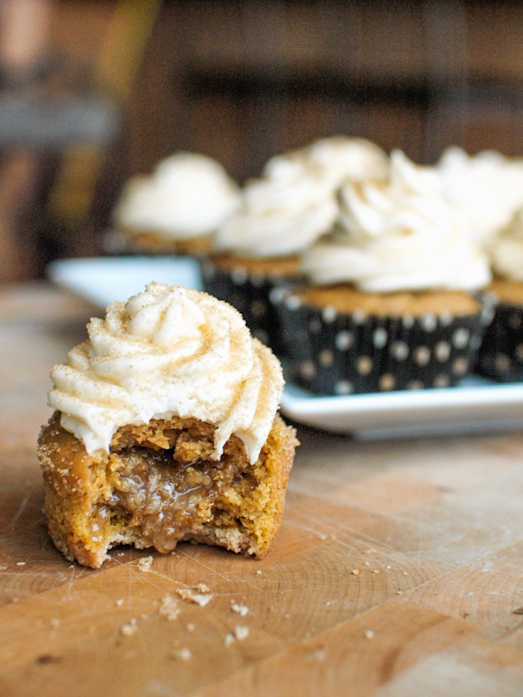 Being a vegetarian, my Thanksgiving excitement is less about the main meal and more about the sweet stuff. I love that all of my family members, vegetarians and meat-eaters alike, agree on the importance of dessert. Each one of us has our own attitude towards dessert. My grandma used to feed me spoonfuls of chocolate sprinkles because she believed no little girl should be without dessert, even if there were no cookies or cakes nearby. If you tell my mom you're too full for dessert, she'll tell you that dessert has its own stomach that's separate from your "meal stomach" (side bar – my tendency to take my mom's words literally resulted in many embarrassing moments in my childhood). Upon finishing a meal, my sister will always ask what we are going to have for dessert, and then insist that she just wants "one little bite" to curb her craving. When my sister leaves half-eaten desserts in her wake, we always know that my brother or dad will stop by eventually to perform clean up. This is the rhythm of my family operating on dessert time.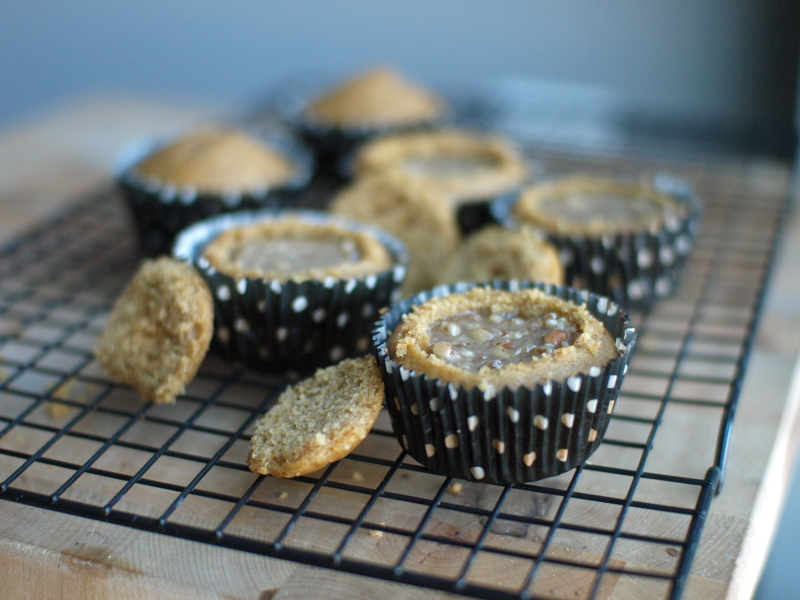 Our dessert time operations are a bit over-the-top. Thanksgiving, for example, isn't a one-pie occasion. Every person in my family has a specific pie preference, and our pie demands greatly exceed our supply of time for pie-baking. For this reason my mom orders an array of bakery pies every year: french silk, pecan, pumpkin, and sometimes something else, just cause it looks good. Then I usually bring a dessert because, well, I usually have dessert around anyway (this is my take on dessert: must.have.sugar.available.all.the.time).
This year, however, my mom said she would only be ordering 2 french silk pies, (ummm…what? why? who? how?), so she asked me to make a pie. Right, cause I can just "make a pie" without dad being all, "where's the pumpkin pie?" and Anna being all, "I want a bite of pecan pie. Where's the pecan pie?" and then me being all, "How can I construct one full pie slice out of miniature slices of 4 different kinds of pie if there are ONLY 2 KINDS OF PIE AVAILABLE?" – Our Thanksgiving dessert balance was clearly in danger of major disruption.
After perhaps one-too-many viewings of Cupcake Wars, I came up with a solution. I decided to make a pumpkin cupcake (one of my faaaavorite kinds of cake, btw) on top of an oatmeal pie crust, and filled with a whiskey-spiked pecan caramel. While most pumpkin cupcakes have cream cheese frosting, I wanted to be respectful of pie and its straightforward goodness, so I went with a simple whipped buttercream that has never done me wrong. See what's happening here? It's two pies in one, and in a CUPCAKE, so it's like 3 different desserts.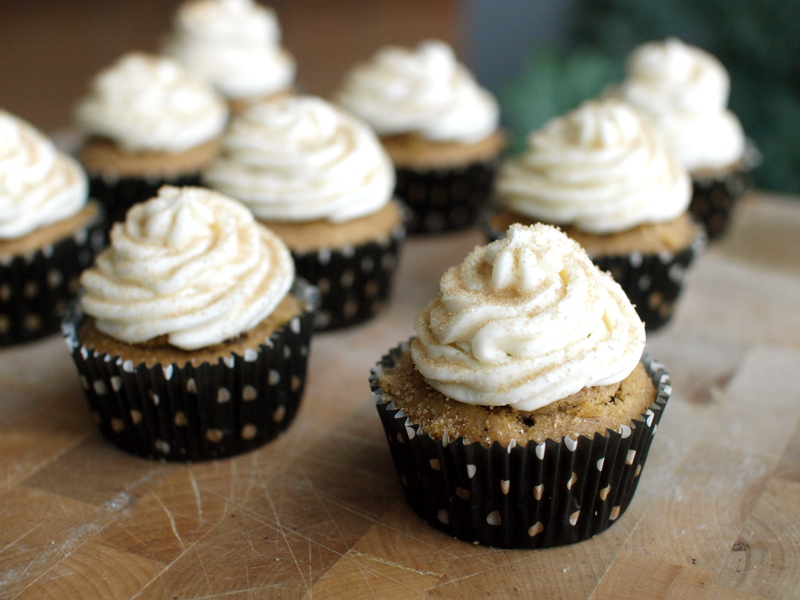 The result was a light, fluffy pumpkin cupcake that's spiced just enough to feel warm and comforting, without overpowering the brown sugar pecan goodness in the middle. The pecan center is cooked to a thick caramel texture, and the touch of salt and splash of whiskey make the flavor deep and playful. With a light-as-air frosting, you'll probably wonder why you ever even bother with silly old pie (please don't tell my family I said that).

Pumpkin Pecan Pie Cupcakes
Makes 24 cupcakes
Crust:
Adapted from Bob's Red Mill.
2 cups old-fashioned oats, processed into flour
1/2 cup (1 stick) unsalted butter, cut into cubes
1/4 teaspoon kosher salt
1/4 cup white sugar
About 1/4 cup water
Cake:
Adapted from from Allrecipes.
2 1/4 cups all-purpose flour
1 teaspoon ground cinnamon
1/2 teaspoon ground nutmeg
1/2 teaspoon ground ginger
1/4 teaspoon ground cloves
1/2 teaspoon ground allspice
1 teaspoon salt
1/2 tablespoon baking powder
1/2 teaspoon baking soda
2 eggs
1/2 cup white sugar
1/2 cup brown sugar, packed
2 teaspoons vanilla extract
1/2 cup canola oil
3/4 cup buttermilk
1 cup pumpkin puree
Filling:
Adapted from Betty Crocker.
1/2 cup packed brown sugar
2 tablespoons cornstarch
3/4 cup corn syrup
1/4 cup butter, melted
1/2 teaspoon kosher salt
1 tablespoon whiskey
1 teaspoon vanilla
1 cup chopped pecans
For the frosting, make two batches of Whipped Buttercream.
Process
Preheat oven to 375.
In a food processor, combine the oats, salt, sugar, and butter. Pulse until the butter is broken up into pea-sized pieces. Pour the mixture into a bowl, and gradually add the water just until the dough can be held together, but isn't overly wet – this should require about 1/4 cup.
Line a muffin tin with liners, and then press down 3/4 tablespoon of dough in each liner. Poke the crust with a fork, and then bake for 9-10 minutes, until the corners of the dough are brown.
In a medium-sized bowl, sift together the flours, spices, salt, baking soda, and baking powder. Set aside.
In a large bowl, beat the eggs for 10 seconds. Add the sugars and beat for another 10-20 seconds. Add the oil, pumpkin, vanilla, and buttermilk, then mix well.
Gradually add the dry ingredients, mixing well after each addition.
Bake for 16-18 minutes. Let cool completely.
While the cupcakes bake and cool, prepare the filling. Combine the brown sugar, cornstarch, corn syrup, melted butter, salt, and whiskey in a sauce pan over medium heat. Stir occasionally until it comes to a light boil, then stir constantly for three minutes. Remove from the heat and stir in the vanilla and pecans. Allow to cool.
For the frosting, slowly mix together the butter and sugar until combined, and then whip it on high for about 3 minutes. Add the vanilla and 1 tablespoon of whipped cream, and beat it on high for another couple of minutes. It should be nice and fluffy.
Assembly time! Use a small knife, angled at about 45-degrees, to cut a circle in the top of each cupcake. You want a fairly deep hole, so insert it about one-inch when you start cutting. When the circle is complete, you'll be left with a cone-shaped cutout. Slice the tip off of the cone so you are left with a disc.
Fill each cupcake crevice with the cooled pecan mixture, pop the disc on top, and pipe on the frosting.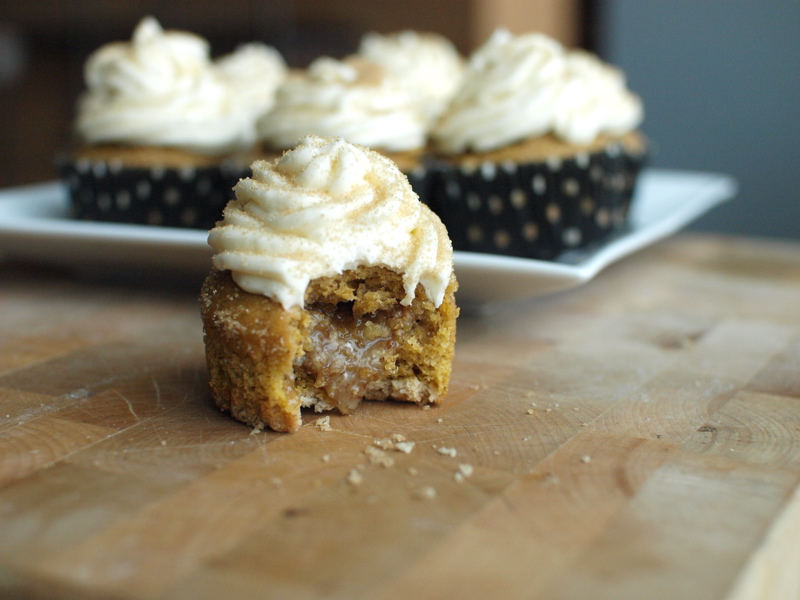 I baked these on Tuesday evening (the night I'm writing this) because I had to experiment and get the recipe right before rolling the dice with a new kind of dessert on Thanksgiving. The holidays aren't a time to take chances with family and dessert. No one wants to see anyone downing straight chocolate sprinkles out of necessity again. Although I must say, from my recollection there's absolutely nothing wrong with that (rock on, Grandma).
6 Responses to "Pumpkin Pecan Pie Cupcakes"
Pingback: Thumbprint Cookies and Recipe Roundup