Roasted Butternut Squash Mac and Cheese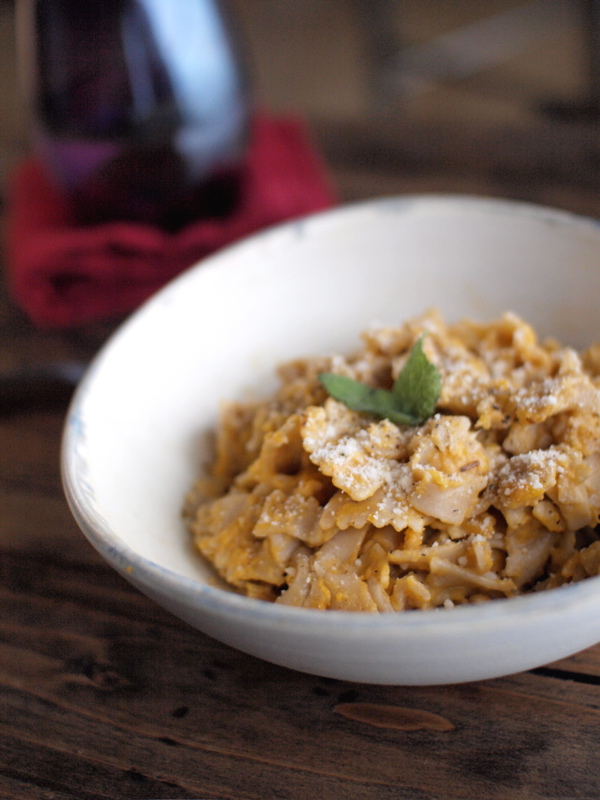 I nearly titled this post, "Why My Mom Thinks I Eat Weird Stuff, Part 1." As I've mentioned before, although my mom is my sole vegetarian ally in my family, she and I couldn't have more different opinions on food. For instance, this Thanksgiving she was open to me bringing brussels sprouts as a vegetarian side, but I know my mom, so I was sure to put nothing in those sprouts other than garlic, salt, and butter. Lots of butter.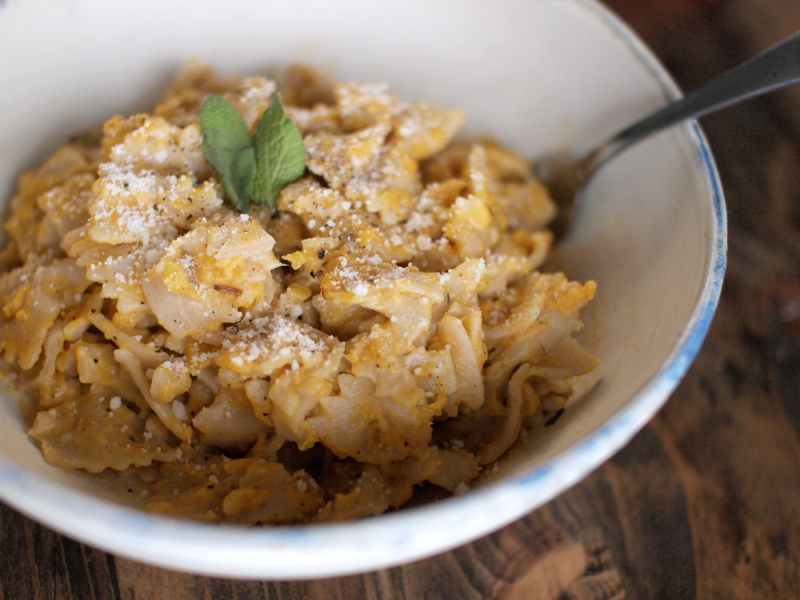 As a child, she'd always serve salad or vegetables on the side of whatever main dish I was eating, but hardly ever were the vegetables incorporated into the main dish. When it comes to veggies, my mom sees the necessity, but doesn't want to mess with what works.
As a purely hypothetical example, if I tried to puree butternut squash for her macaroni and cheese, I'd get an eye roll, a chuckle, and an, "If you're making mac and cheese why not just make mac and cheese? Why try to make it healthier? What's the point?" She gets a kick out of how I feel the need to "mess with" every recipe that's proven to be good as is, yet her entertainment is always accompanied by a definitive "no thank you."
The thing is, the purpose of the butternut squash in this pasta isn't to make it healthier. This is real, creamy, comforting mac and cheese with more depth of flavor than the standard bowl. Sure, the squash nutrient boost provides a feel-good bonus, and I give it my nod of appreciation, but I honestly don't really care.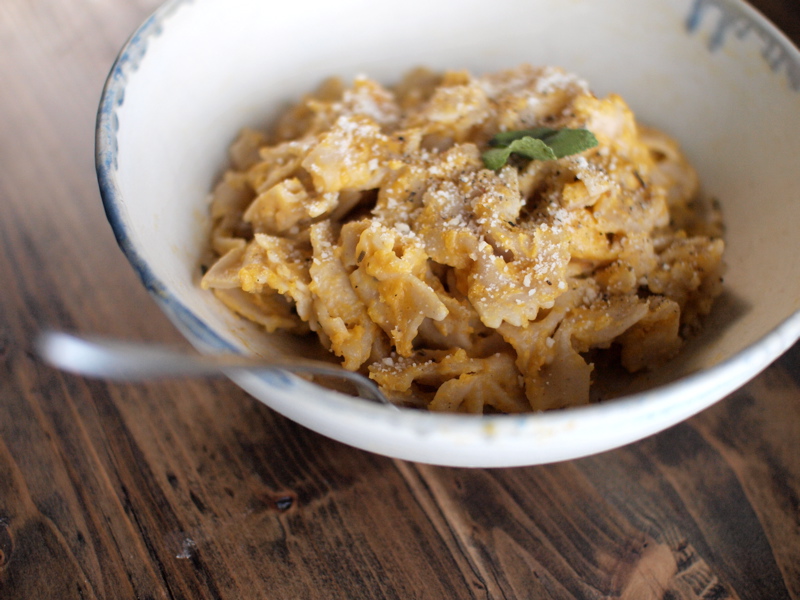 Roasting the squash caramelizes each piece and infuses the whole pan with that irresistible rosemary aroma. I mean literally irresistible; At least 6 or 7 chunks didn't even complete the journey in my hand from the baking pan to the food processor. The blend of nutmeg and sage gives the creamy sauce both nutty and savory notes which just melt into the sweetness of the squash. It's really lip-smacking, swipe the bowl with your finger to get that extra sauce in the corner, eat it cold from the fridge as a mid-morning snack good. I apparently can't get over it.
Roasted Butternut Squash Mac and Cheese
Serves 6-8.
1 pound whole wheat farfalle (bowtie) pasta
1 medium butternut squash, cut into chunks
1 tablespoon olive oil
2 teaspoons salt, divided
3/4 teaspoon black pepper, divided
1/2 tablespoon dried rosemary
3 tablespoons butter
2 shallots, chopped
1/4 teaspoon nutmeg
3 tablespoons flour
1.5 cups lowfat milk
2 cups vegetable stock, divided
1/4 teaspoon cayenne
1 tablespoon chopped fresh sage
1 cup shredded extra sharp cheddar
1/2 cup (4 ounces) light cream cheese
Process
Preheat oven to 400 degrees. Combine the squash chunks, olive oil, 1 teaspoon salt, 1/4 teaspoon black pepper, and rosemary in a bowl. Spread on a baking sheet, covered in cooking spray, and cook for 25-30 minutes, until tender when pierced with a fork.
When the squash is cooked, puree it in a food processor, adding 1/2 cup of the vegetable stock to make it blend easier.
Bring a large pot of salted water to a boil, and prepare the pasta according to package directions. For my farfalle, it took 11 minutes for it to become al dente.
In a large saucepan, melt the butter over medium-low heat. Add the shallots and cook for 2-3 minutes, until translucent and softened. Add the flour and nutmeg, and whisk to form a paste. When it smelly nutty, pour in the milk. Cook over medium heat for 5 minutes, stirring constantly, until it begins to thicken.
After the milk has begun to thicken, add the vegetable stock along with all spices. Whisk for 10 minutes until it's thick enough that you can see the bottom of the pan as you stir.
Reduce the heat back to medium-low, and add the cheeses. Stir until completely incorporated, and then add the squash puree. Taste it to see if you want more salt or pepper. If your squash puree was cooled, cook the sauce until heated-through.
Pour the sauce into the cooked, drained pasta until the sauce coats every little bowtie. Serve each bowl with a sprinkling of parmesan, cracked pepper, and fresh sage leaves.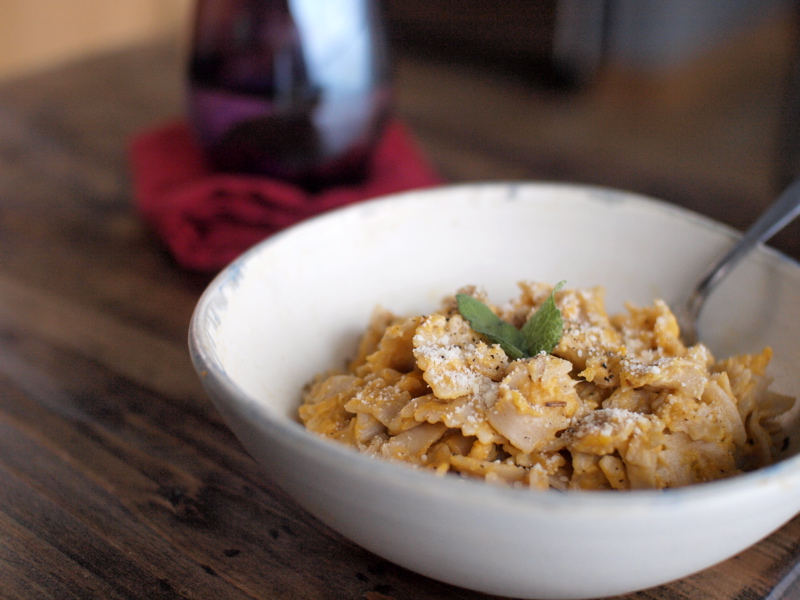 I knew the boy was skeptical of the awkward squash that had been making its home in our fridge for the past few weeks, but this was a big BIG hit. Good thing too, cause this recipe makes a whole lotta pasta, and Lord knows I can't bring it over to my parents' place.
6 Responses to "Roasted Butternut Squash Mac and Cheese"