Peanut Butter Swirl Pretzel Brownies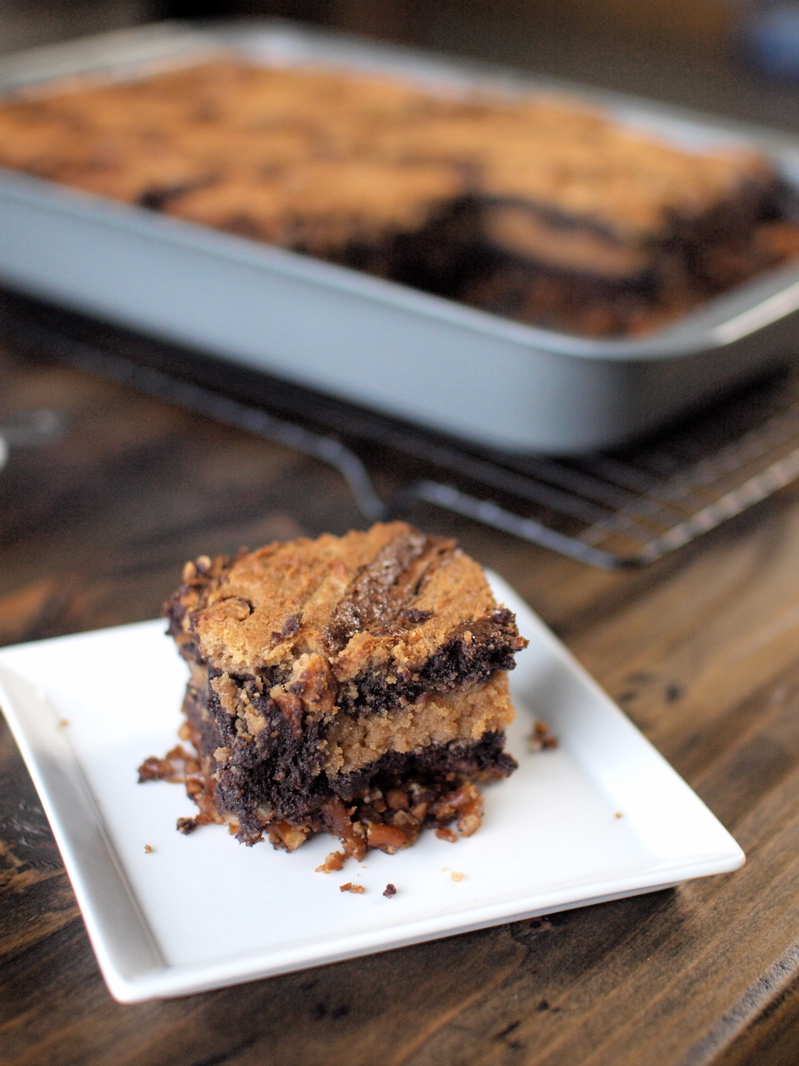 The peanut butter and chocolate combo has been my go-to, gotta-have-it dessert since childhood. After every dentist trip my mom would take my brother, sister and I out for ice cream (let's glaze over this questionable order of events for the time being) and all three of us would get a tower of chocolate ice cream covered in peanut butter and fudge sauce. It was heaven. While we enjoyed the simple pleasure of being kids stuffing our faces with cold, smooth, drippy sugar, my mom would be silently-yet-sweetly disapproving of our ice cream choices.
Whenever my siblings or I grab a chocolate and peanut butter dessert, we can always count on mom to voice her opinion. "Bleh," she'll say with a fake gag, "Peanut butter is not supposed to be in sweet things. It's just wrong. You know what else is wrong? Cheesecake. I mean CHEESE in a CAKE?…" The woman can go on for hours.
I know. It feels so wrong to even read those harsh words. That's because those words are wrong.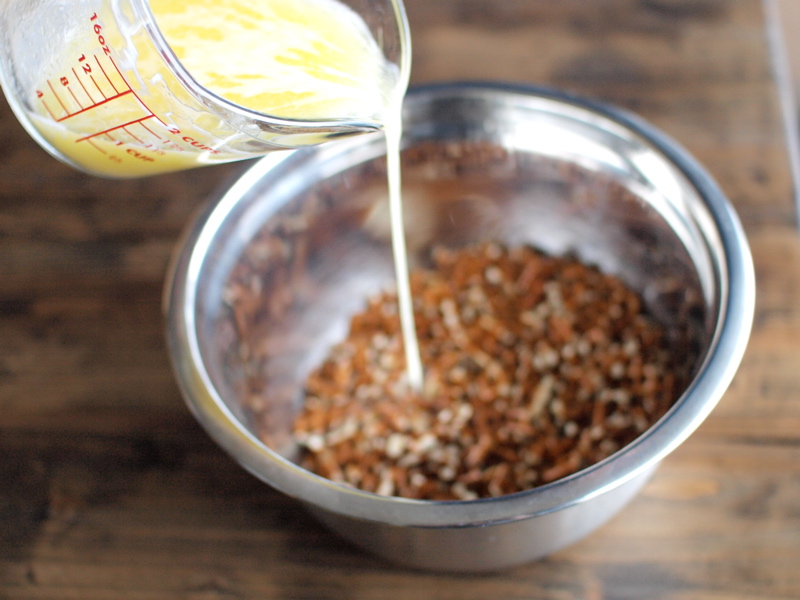 Don't even get me started on the cheesecake comment, we'll have to get to that at another time. For now, we need to talk about how my peanut butter chocolate obsession escalated to an unusual level recently. After the Thanksgiving weekend food-fest, I felt tired, cranky, and sugar-obsessed, so I did a "cleanse" (of sorts) for a week. To be clear, it was not the kind of cleanse where you just eat grapefruit and drink lemonade (heavens, heavens no), but the kind where you try to eat meals with actual nutrients, avoid drinking [too much] wine, and not follow up every bite of food with a dessert.
This went really well for 4 days. Then Thursday night came, and I literally dreamed of cupcakes. I woke up Friday feeling fine, apart from feeling awkwardly crazy for dreaming about cupcakes. Later that day, my coworker mentioned her craving for cake…aaaaand BOOM, I needed sweets. I needed sweets so bad that I made the boy go on a cupcake mission with me Friday night. I needed sweets so bad that I went to brunch with my family on Saturday and ate baklava, raspberry pastry, and a caramel roll for breakfast. I needed sweets so bad that, well, these brownies happened.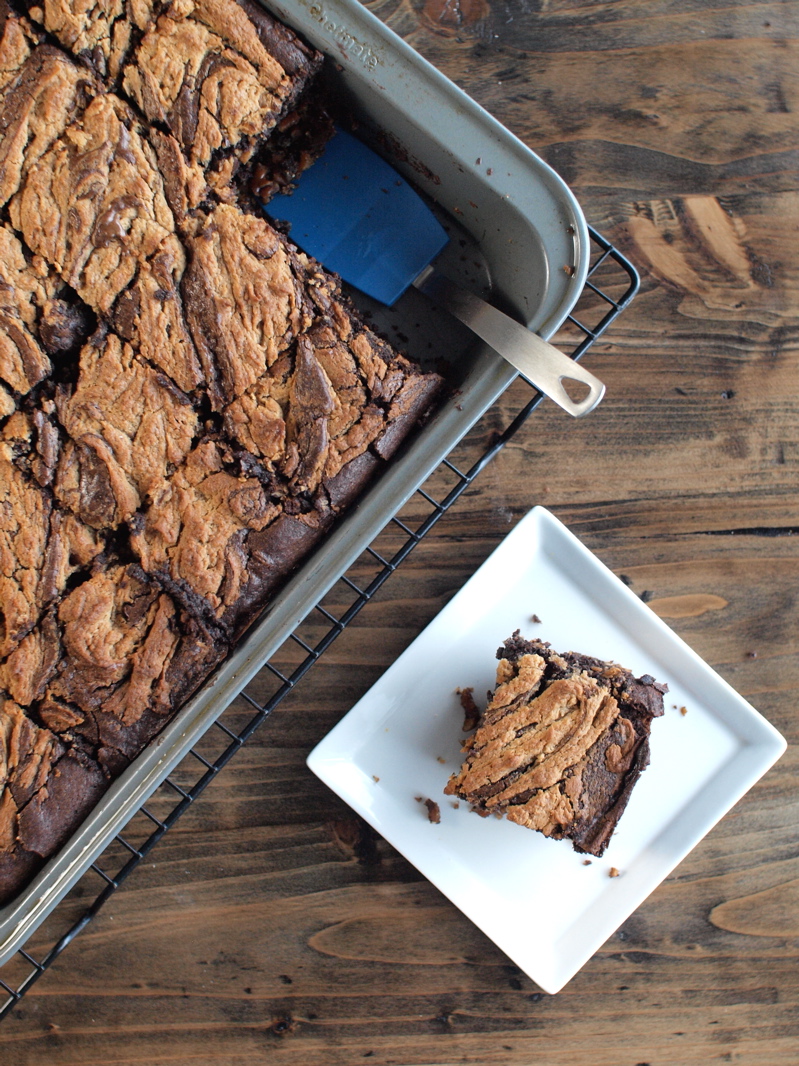 I ignored the fact that my sweet craving was specific; I wanted peanut butter and chocolate, but I figured any dessert would do in a pinch. Rookie mistake. On Friday, no peanut butter and chocolate cupcakes were to be found, so I had to settle for a salted caramel cupcake (woe is me, I know). On Saturday, there were no peanut butter goodies at brunch. By Sunday things were serious, and I knew I couldn't count on dumb luck to get me through, so I rolled out of bed and made things happen. Delicious things.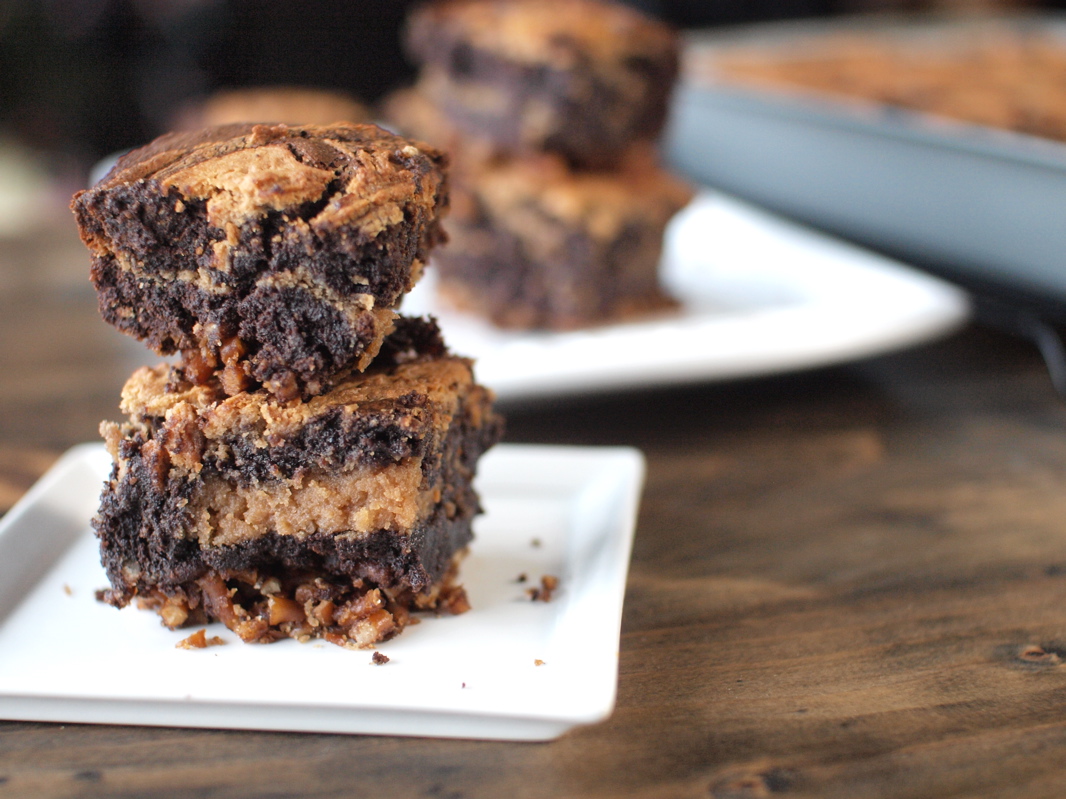 These brownies have a strong, wonderful presence. They're unapologetically big and thick, sweet-yet-salty, with a nice crunch of pretzels that cradle that lovely brownie balance of dark chocolate and peanut butter. To summarize, they were everything I needed them to be.
Peanut Butter Pretzel Brownies
Makes 1 9×13-inch pan.
For the Pretzel Crust:
Adapted from Heather's Dish.
1 cup (2 sticks) butter, melted
1/4 cup brown sugar, packed
3 cups chopped pretzels
For the Brownies:
Adapted from Epicurious.
8 ounces unsweetened chocolate, chopped
1 cup (2 sticks) unsalted butter, cut into pieces
3 1/4 cups white sugar, divided
7 eggs, divided
3 teaspoons pure vanilla extract
1/4 teaspoon kosher salt
1 cup all-purpose flour
1/2 cup unsweetened cocoa powder
6 ounces cream cheese, softened
1/2 cup creamy peanut butter
2 tablespoons milk
Process
Preheat oven to 400. Combine pretzel crust ingredients, and press into a greased 9×13-inch pan. Bake for 7-8 minutes. Allow to cool while you get the remaining ingredients ready. Lower the oven temperature to 325.
In a large glass bowl set over simmering water, melt the unsweetened baking chocolate and the butter. Cool for 5 minutes.
Once the chocolate and butter have cooled off a bit, whisk in 3 cups white sugar, then add six eggs, one at a time. Mix in the vanilla and salt.
Sift together the flour and cocoa powder in a separate bowl, and then gradually add them to the wet ingredients.
In yet another bowl, beat together the cream cheese and peanut butter. Add the remaining 1/4 cup sugar and mix until fluffy. Beat in one egg, and then mix in the milk until fully combined. It will be a mousse-like texture.
Pour half of the chocolate mixture on top of the pretzel crust, and top with half of the peanut butter mixture (just drop spoonfuls over the pan…it doesn't have to be pretty). Cover with the remaining chocolate, and finish off with dabs of peanut butter. Use a knife to swirl both layers of peanut butter into the chocolate to create a marble effect. Do not overmix otherwise you'll lose the swirl and just have a blend of peanut butter and chocolate. This isn't a bad thing, but let's try to stay on task here.
Bake for 45-55 minutes, until a knife inserted in the middle comes out clean. Let cool for 20 minutes before cutting in.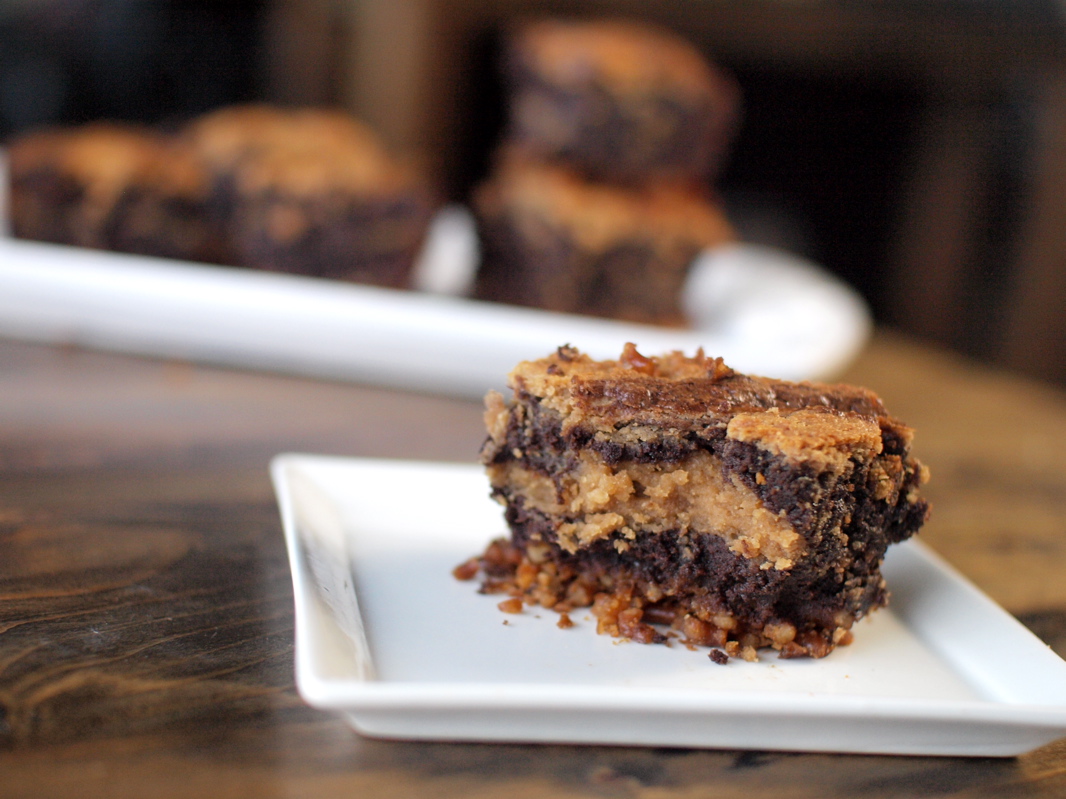 Thank goodness I finally got some sugar in my system that hit the spot and rid me of my cupcake dreams (and general craziness). I insist that these brownies are the perfect indulgent dessert, even if my mom would sweetly disapprove of their existence.
3 Responses to "Peanut Butter Swirl Pretzel Brownies"
Pingback: Pretzels