Whole Wheat Oatmeal Bread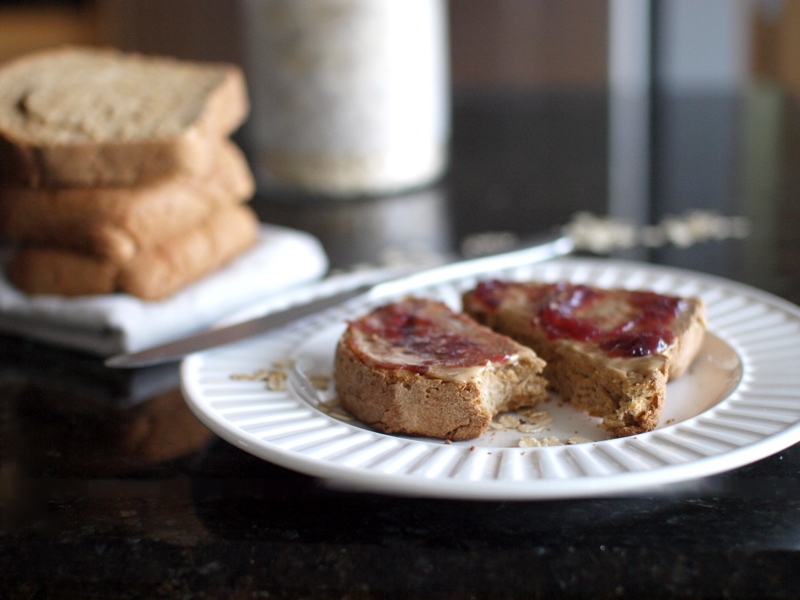 During a high school parent-teacher conference, my science teacher decided to be straight with my folks. He said, "Katie is always on time to class. She asks for help. I can tell she does her homework. Honestly, with this stuff, some people just get it, while others don't." You can guess which side I fell on. Sure, sometimes in chemistry class the flame would change a different color when on a different type of substance. Cool. I had no idea why, but I appreciated the color change.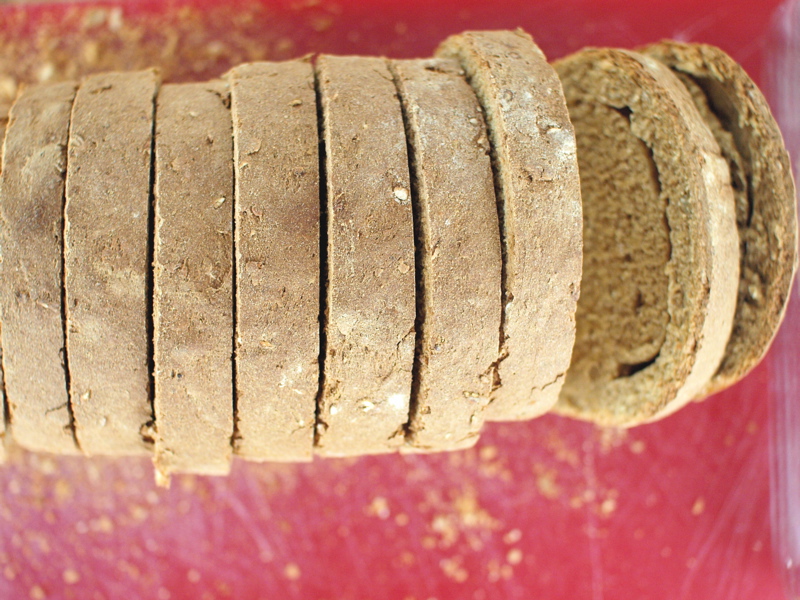 As you may have guessed, I was more of an English and Art kind of girl in high school, and still am. When my friend George and I partnered for a bridge building Physics project senior year, our teacher literally came up to us and said, "Don't forget that you can earn quite a few points for aesthetics. You don't have to focus on trying to make your bridge hold a lot of weight. Just something to consider…"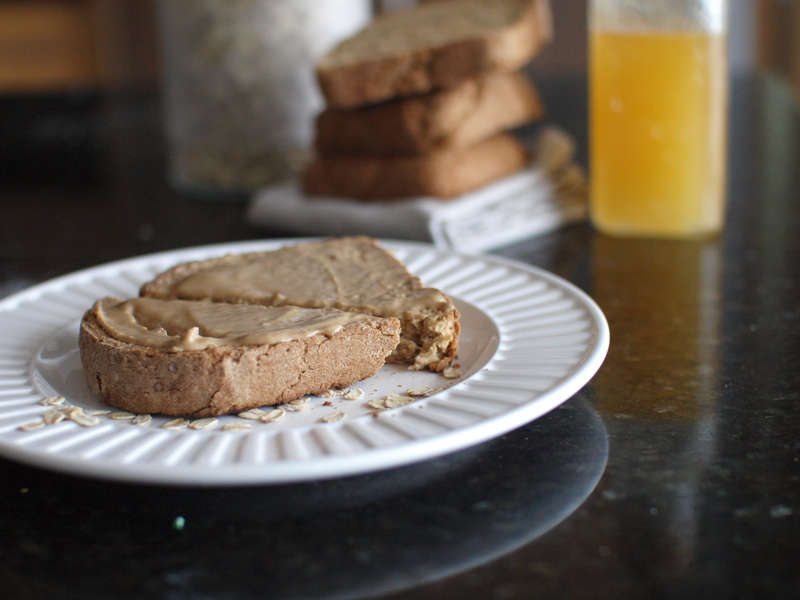 Fast forward several years, and I can honestly say that science never enters my ridiculously random stream of thoughts. Or it usually doesn't, unless I'm trying to make bread. The process of bread, with the yeast interactions and the rising and the kneading and the waiting…is downright intimidating, not to mention time-consuming. Usually I just opt for some no-knead flatbread. Low-labor, not confusing, and relatively quick; that's my style.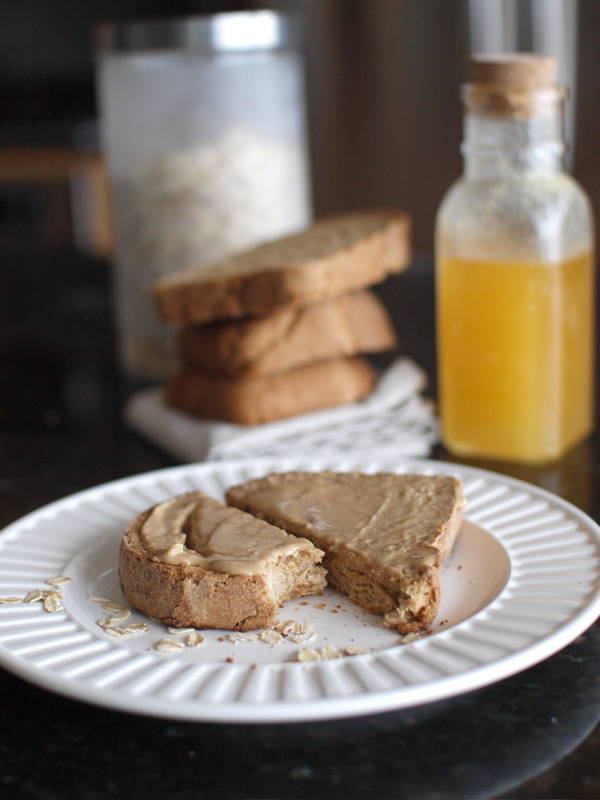 Fortunately I found myself with lots of time and little to do on Sunday, when Minnesota was hit with the first big snowstorm of the season. During the lovely day of hibernation, I decided to give sliced bread a go for the first time ever. The result was a hearty early-evening snack of thick-sliced bread with butter and honey. What's cozier than that?

Whole Wheat Oatmeal Sandwich Bread
Adapted from Orangette.
Makes one loaf.
1 package instant dry yeast
2 cups warm water
3 tablespoons unsulphured molasses
4 ½ cups whole wheat flour (I used white whole wheat, but regular whole wheat would work too)
2 1/2 tablespoons vital wheat gluten
1 cup rolled oats
4 tablespoons unsalted butter, melted and cooled
2 ¼ teaspoons kosher salt
Process:
Combine the molasses, warm water, and yeast. Allow to sit for about 5 minutes until the yeast activates and the mixture gets a bit foamy
Add the flour, vital wheat gluten, rolled oats, and melted butter. Stir until well combined, then cover with a towel and let it sit for 30 minutes.
Knead the dough on a floured surface for about 10 minutes. Add flour as needed as you knead. It will become more cohesive as you go.
Transfer the kneaded dough to a bowl coated in butter or cooking spray. Cover with a towel and let sit for an hour until it's doubled in size. If the dough springs back when you press your finger into it, it's ready for the next step.
Put the risen dough onto a floured surface and use your hands to flatten it out into a square. Pay attention to any air bubbles, making sure to work those out as well.
Take the bottom and top sides of the square and fold them into the center, then push down. Take the right and left sides of the square and tuck them into the center. Press the seams together, and roll the dough slightly until you have a cylinder with a length that fits in your bread pan (I used a 9x5x3-inch size). Put the dough into a greased bread pan, and allow to rise for another hour.
Preheat oven to 400 degrees.
After the dough's risen in the pan, bake it for 40 minutes. Allow to cool before trying to cut into it.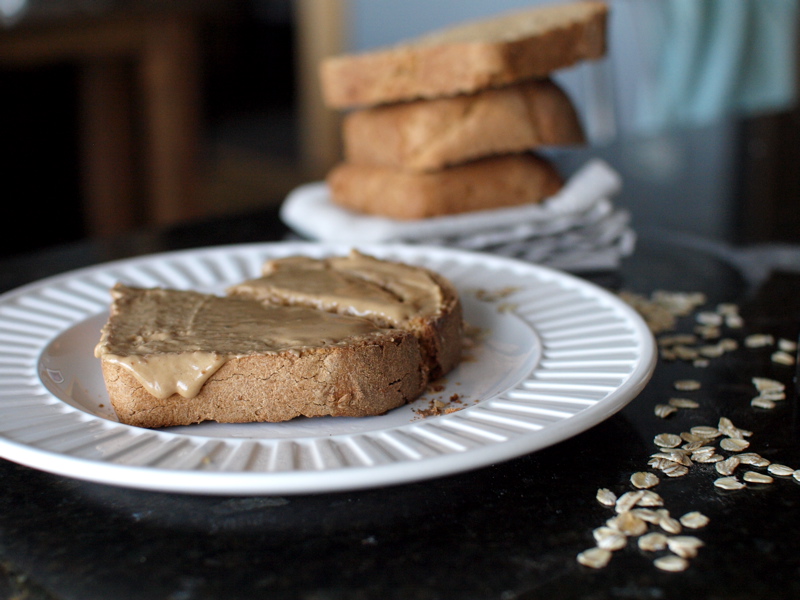 Do I have any idea what happens to bread in the first rising time? Or the second? Or the third? Not a clue. Maybe I'll look it up at some point, but that would probably be in vain. Let's be honest, some people get it and some people don't. For now, I'm going to own my lack of understanding and just go take some pretty pictures.
4 Responses to "Whole Wheat Oatmeal Bread"