Spinach and Mushroom Alfredo Lasagna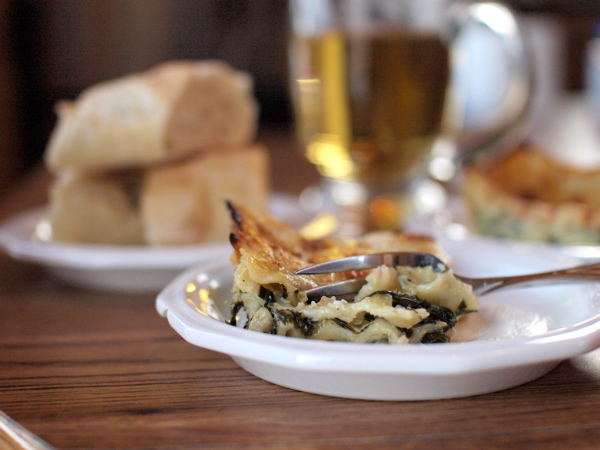 Happy new year! I cannot BELIEVE it is 2013. Don't you feel like the year 2013 belongs in some cheesy sci-fi movie? On a related note, when I was in first grade my teacher promised we'd have flying cars by now…so…where is my flying car? If I can't have a flying car, how about some teleportation? Dear 2013, I'm getting impatient for some badass transportation options. Get on that.
Futuristic transportation would have come in handy this weekend, when the boy and I traveled a couple of hours north to ring in 2013 with some friends. We rented a cabin on a lake and spent 3 days lounging, playing Mario Kart, and challenging each other in card games. 'Twas quite lazily lovely.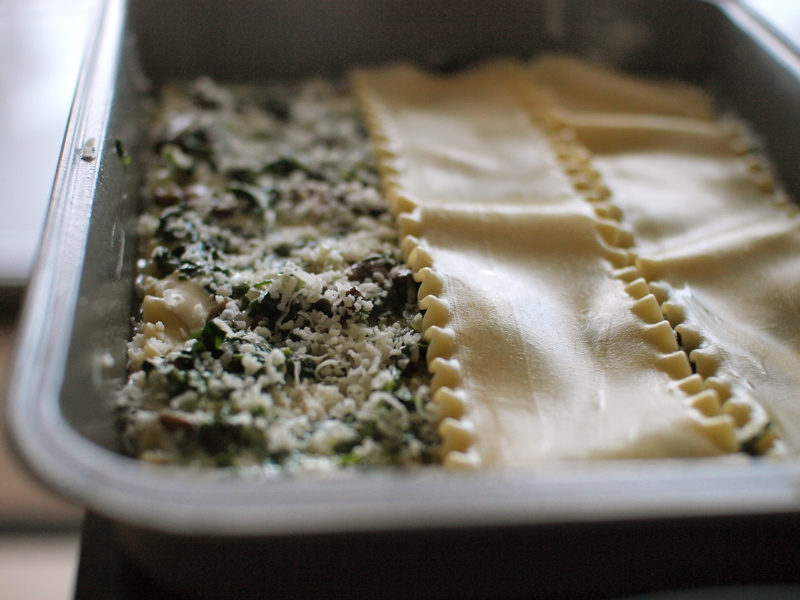 The weekend also included a hefty amount of delicious food, as any legit cabin weekend must. We took turns cooking meals for each other, and for our turn we made two pans of lasagna (THE make-ahead-and-feed-a-group food). As the boy scoured the internet for the best meaty, tomato-based recipe, I went down a different route. Being the only vegetarian in the group, I didn't want to present my cabin mates with a dish that would just be seen as a lowly vegetarian version of the meat lasagna, which would be unappealing to the meat eaters. I wanted to make a lasagna people would actually want to eat.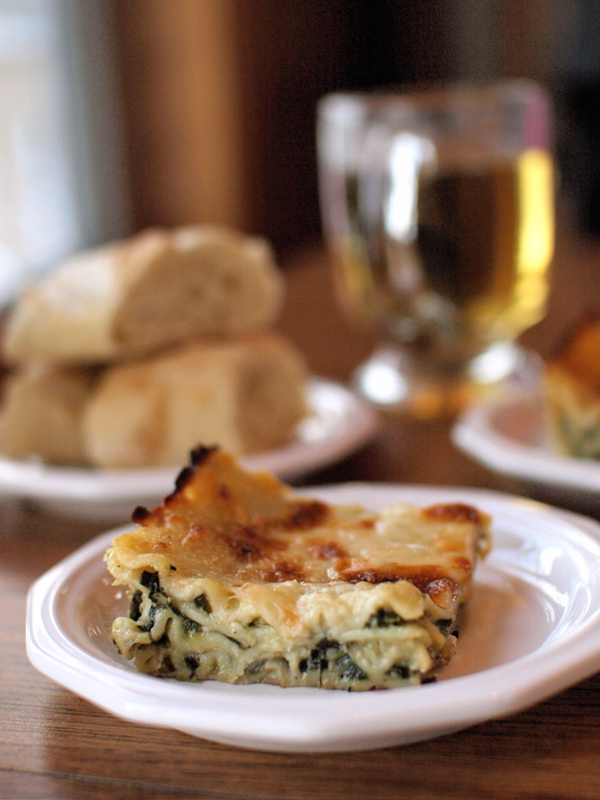 Enter cheese sauce. I've made no secret of my love for cheese sauces. I believe a good cheese sauce can dissolve arguments, make friends of enemies, and bring world peace. If I want to win people over, I make a cheese sauce. I'm categorizing this cheese sauce as an "Alfredo" because it's thicker, richer, and even cheesier than other sauces I've made. After I assembled the lasagna, I literally used a spatula to scoop out the remaining sauce from the corners of the pan. I'm not proud of this, but I licked the alfredo off of that spatula like it was cream cheese frosting.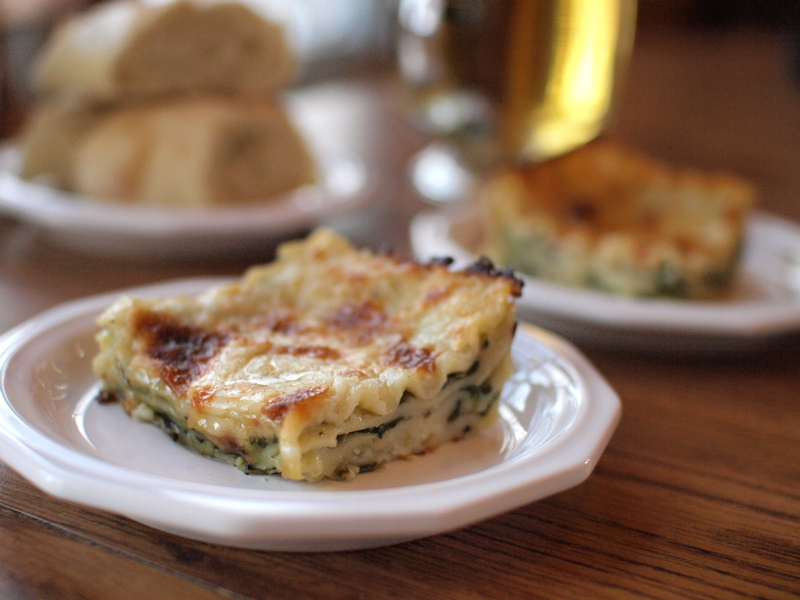 Although I like my cheese sauce straight from the pan, it's even better with some veggies and pasta mixed in. Spinach and cheese sauce go together like New Year's and champagne: they're great apart, but together they become so much more exciting. The buttery sautéed spinach brings even more richness to the layers of pasta, while the mushrooms add depth, without overpowering the dish or scaring away any mushroom-averse eaters.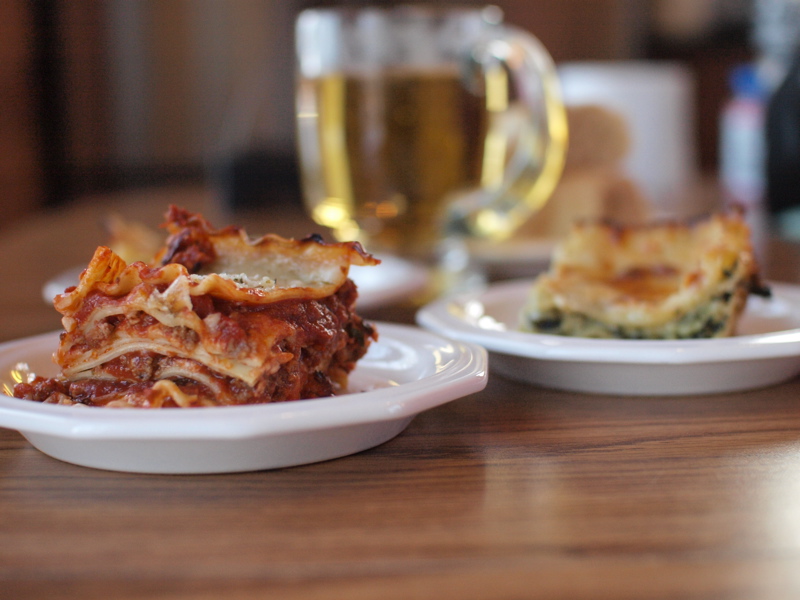 The boy's recipe, pictured above (aptly named, "Worlds Best Lasagna") weighed about 10 pounds, and had a completely different lasagna flavor than my alfredo version. My meat-eating cabin friends ate a mix of vegetarian and meaty slices that night, and complimented both between bites. Although each of our pans supposedly served 12, the 12 of us nearly went through 24 servings in one night. Draw your own conclusions.

Spinach Mushroom Alfredo Lasagna
Serves 12.
12 lasagna noodles
6 tablespoons butter, divided
3 tablespoons olive oil
3 clove garlic, minced, divided
Half of a white onion, chopped
8 ounces baby bella (crimini) mushrooms, chopped
3/4 teaspoon kosher salt, divided
9 ounces fresh spinach, chopped
1/4 cup flour
2 cups milk (I used 1%)
1/4 teaspoon black pepper
1/4 teaspoon freshly grated nutmeg
1/8 teaspoon cayenne
1 1/2 cups sharp white cheddar, freshly shredded
1 cup parmesan, freshly shredded, divided
1 1/2 cups mozzarella, freshly shredded (for layering)
Process:
Preheat oven to 350.
Cook lasagna noodles according to package directions. Add a hearty dash of salt and a big splash of olive oil to the water.
Melt 2 tablespoons butter in a large saucepan over medium heat, then pour in 3 tablespoons olive oil. Add 1 clove of minced garlic and cook for a couple minutes, until fragrant (but not burnt). Stir in the onion and cook until translucent (about 3-4 minutes).
Add the mushrooms to the pan, sprinkle in 1/4 teaspoon salt, and cook for 5-10 minutes until mushrooms are soft and juicy. Mix the spinach into the pan, and stir it over medium-low heat until it wilts. Set this mixture aside.
In another saucepan, melt 4 tablespoons butter. Add the remaining garlic and cook for 30 seconds. Stir the flour into the melted butter, whisking until it forms a paste. Pour in the milk, along with the remaining 1/2 teaspoon salt, pepper, nutmeg and cayenne. Whisk constantly for 7-10 minutes, until the mixture thickens. Remove from the heat and stir in the white cheddar and 1/2 cup parmesan until smooth.
Lightly coat a 9×13 pan with non-stick spray. Add a bit of sauce (I used about 1/3 cup) to the bottom of the pan. Top with 3 noodles, more sauce, 1/4 of the spinach and mushroom mixture, and 1/2 cup of mozzarella. Repeat this layering process (noodles, sauce, spinach, mozzarella) 2 more times*, then top the dish with the final 3 noodles. Pour the rest of the sauce on top, along with the remaining mozzarella and parmesan.
Cover with foil and bake for 35-40 minutes. Remove foil, set the oven to broil, and bake uncovered until the lasagna browns on top (about 3-5 minutes). Let sit for 10 minutes before serving.
*Note on assembly: I used 4 layers of noodles, but you could easily use 3 layers if you want a thicker filling. This would mean you would use 9 lasagna noodles instead of 12.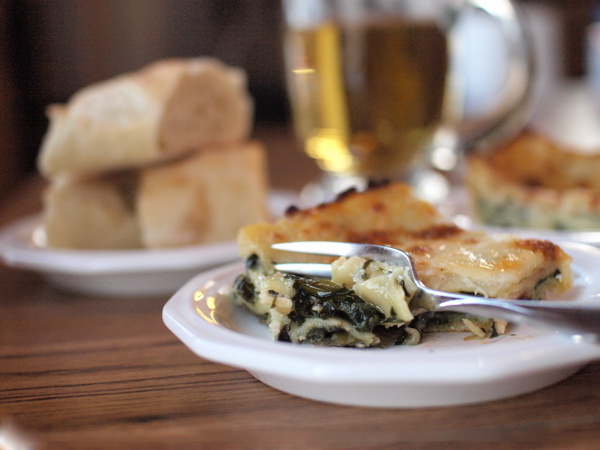 If we can't have flying cars or teleportation yet, at least we always have cheese sauce. Wishing you a 2013 filled with friends, relaxation, and a healthy amount of alfredo.
11 Responses to "Spinach and Mushroom Alfredo Lasagna"