Greek Falafel Salad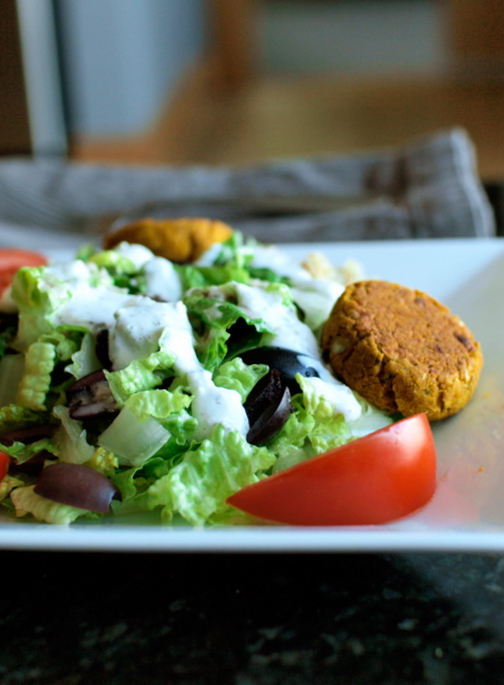 My inner falafel freak made an appearance last week. And by "appearance" I mean dominated my lunch pail every day. As I mentioned before, my falafel love started in college and it never subsided. I think chickpeas are the root of the problem/obsession, because I go through hummus containers like Kim Kardashian goes through men, only quicker and more ruthlessly. I smear hummus on everything: crackers, veggies, sandwiches, and in salads with balsamic instead of dressing. I'd even call it my go-to condiment, and as a condiment lover, that's saying something.
My chickpea fixation reached its current level of obsession at the beginning of my junior year of college. This timing seemed perfect, since I set off to study abroad in Greece over January. I couldn't wait to inhale my favorite foods during the month-long trip. Hummus and falafels had to be all over the place in Greece, right? They have them at Dino's Gyros, which is called "The Greek Place," so…you can follow my logic.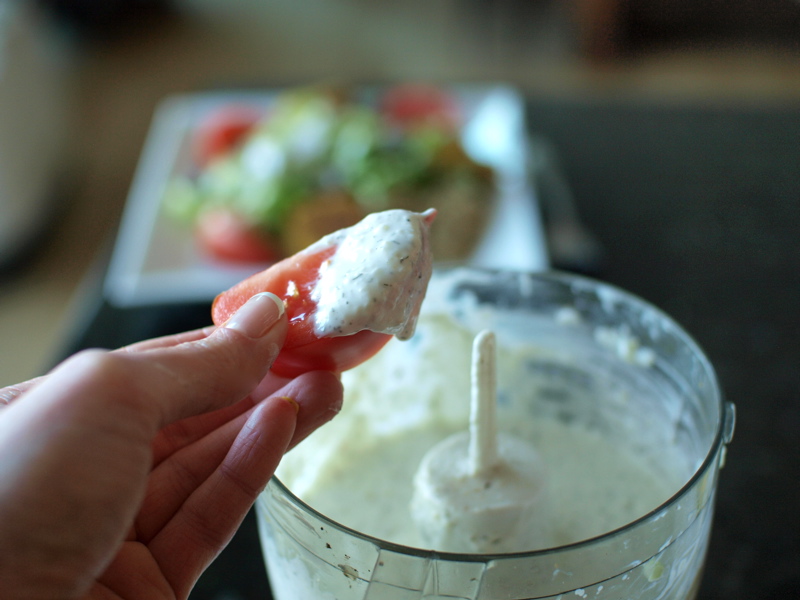 Although Greece helped my love for tzatziki grow, it did nothing to nurture my hummus and falafel obsession. In fact, I did not dip a single item into hummus the entire time I was there, and the closest I came to falafel consumption was a snack bag with "Falafel Chips" written on the front. Not the same, guys. Not the same.
I'm sure falafels and hummus exist somewhere in Greece, but they definitely aren't the menu staples I expected. Instead, I filled up on spanakopita/spinach pie (literally every day), tiropita/cheese pie, Greek salads, and, oddly enough, spaghetti ("You're a vegetarian? So you want some spaghetti?"). This wasn't a bad deal by any means, but still…a girl's gotta get her falafel fill.
To be honest, this "Greek Falafel Salad" I'm showing you here is somewhat misleading, because a "Greek Salad" needs no falafels to be legit…but it should. Especially when you can whip up the falafels in minutes and feel good about it because they're baked, not fried. Win-win.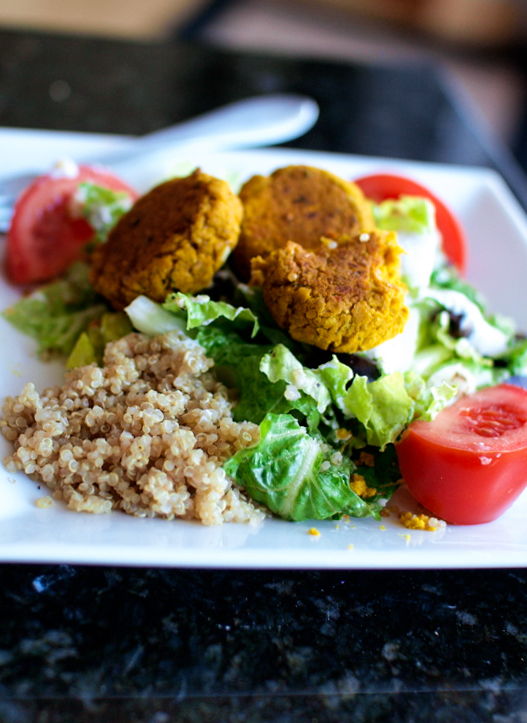 The ingredient list below looks long, but you're only three quick food processor rounds away from Greek salad deliciousness. Not to get all "When Harry Met Sally" here, but I love creating the perfect bite: spear the crisp romaine, salty kalamata olives, juicy tomatoes, and a bite of falafel with your fork, then scoop up some quinoa and drag it through the tangy tzatziki and Greek dressing. You'll feel like you're IN Greece. Or at least my idea of Greece.

Greek Falafel Salad
Serves 4.
Falafels
Adapted from my Falafel Burger recipe.
Makes 16 falafels.
2 cans (14.5 ounces) chickpeas (aka garbanzo beans)
2 shallots, chopped
1/4 cup cooked quinoa
2 garlic cloves, minced
1 tablespoon cumin
1 tablespoon coriander
1/2 tablespoon dried parsley
1/2 tablespoon dried oregano
1 teaspoon turmeric
1/2 tablespoon cayenne
1 teaspoon coarse salt
1 teaspoon sriracha (or other hot sauce)
Cooking Spray
Easy Tzatziki
Adapted from my Lime Tzaziki recipe.
1 cup nonfat Greek yogurt
1/2 cucumber, peeled, seeded and diced
1 tablespoon olive oil
1/2 small lemon, juiced
2 teaspoon dried dill
2 cloves garlic, minced
1/2 teaspoon coarse salt
1/4 teaspoon pepper
Greek Dressing
Adapted from AllRecipes.
1/4 cup yellow onion, chopped
2 garlic cloves, minced
2 teaspoons dried oregano
2 teaspoons dried basil
1 teaspoon freshly cracked black pepper
1 teaspoon coarse salt
2 teaspoons dijon mustard
1 cup red wine vinegar
1/2 cup olive oil
For salad assembly…
Romaine
Tomatoes
Kalamata Olives
Quinoa (optional)
Process:
Preheat oven to 350 degrees. In a food processor, combine all falafel ingredients (except cooking spray), and pulse until smooth. You may need to process in waves if you have a smaller food processor (like me).
Shape the falafel dough into balls slightly larger than golf balls. Generously spray a cooking sheet with non-stick spray, place the balls on the sheet and press down to flatten slightly. Bake for 10 minutes, then flip and bake for another 8 minutes.
While the falafels are baking, get together the two dressings. For the tzatziki, combine all of the ingredients in your food processor and pulse until smooth. Pour into a storage container and set aside.
To make the Greek dressing, pulse together all ingredients except olive oil until fully incorporated. Then pour in the olive oil slowly while the processor is going (there should be a pouring shoot of some kind). Set aside.
To assemble the salad, Top some romaine with kalamata olives and tomato wedges, and quinoa, then drizzle on the Greek dressing and tzatziki. Place 4 falafels on top of the salad, and dig into greek falafel salad yumminess!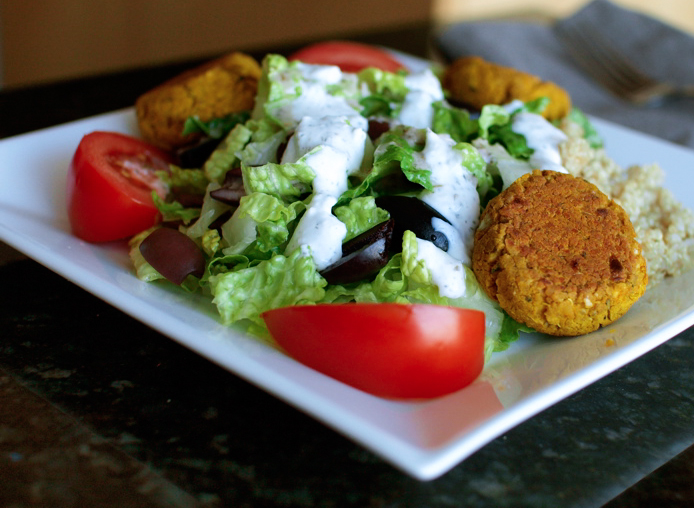 The only thing that might make this salad even better? A big spoonful of hummus. We can pretend it's the Greek way, can't we?
3 Responses to "Greek Falafel Salad"