Whole Wheat Oatmeal Pancakes with Peanut Butter Syrup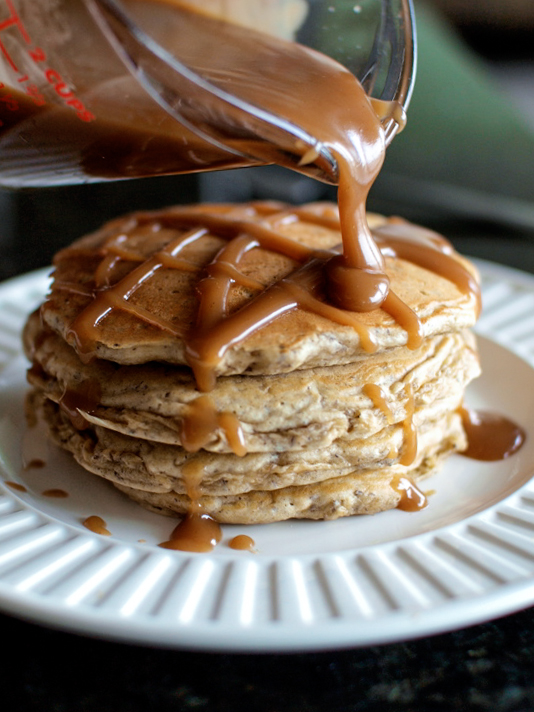 In case y'all haven't heard, it's COLD in Minnesota, and it's only going to get colder. I love Minnesota, and I've lived here all my life, but the January cold still takes my breath away when I step out the door. The Beast, who was also born in MN, handles the weather well because he has one of those crazy bodies that retains warmth. I, on the other hand, basically turn everything I touch to ice, yet which one of us has spent the past week in Cozumel, Mexico? Not zombie hands over here, that's for sure.
Although I would love to feel warmth on my skin again, even if only for a second, I can't say I'm overly jealous of his vacation. Instead of laying on a beach all day (aka my idea of vacation perfection), he's scuba diving with his dad and brother. Frolicking in shallow ocean waters gives me plenty anxiety, so I can't even imagine what an actual under water adventure would do to me. Well I CAN imagine, but it ain't pretty, so let's move on.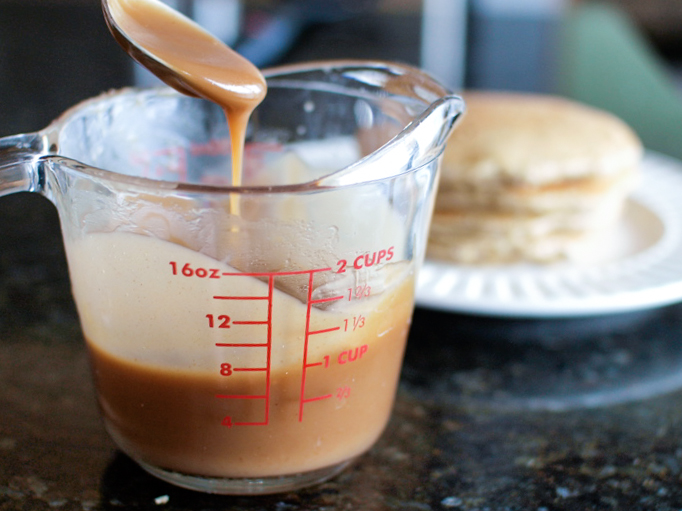 In lieu of jet-setting to a tropical destination, I've spent my non-working time watching entirely too much trash tv, baking while belting out Taylor Swift lyrics, and eating an absurd amount of comfort food. Yes, this is my usual list of activities whenever the Beast goes away, be it winter, summer, or fall, so at least these frigid temps help me justify my hibernation.
The last time I gave you a glimpse into my Secret Single Behavior, I admitted that brussels sprouts come out to play when the Beast is away. This time we're discussing delicious, fluffy pancakes, which are usually a neutral food, except in my house, where we're divided once again.
Although the Beast doesn't react to pancakes with the same "vom" reaction he has towards brussels sprouts, he feels very "meh" about the breakfast food. This means our weekend brunches are always comprised of waffles and french toast, which are both deliciously wonderful, but the pancake craving hits me at times, and must not be ignored.
Conveniently enough, the need for pancakes hit me last Sunday, which was the Beast's third day in Mexico. I took out my new griddle, and made myself the perfect pancakes. Katiecakes, if you will: hearty whole wheat and oatmeal cakes smothered in a super easy peanut butter syrup.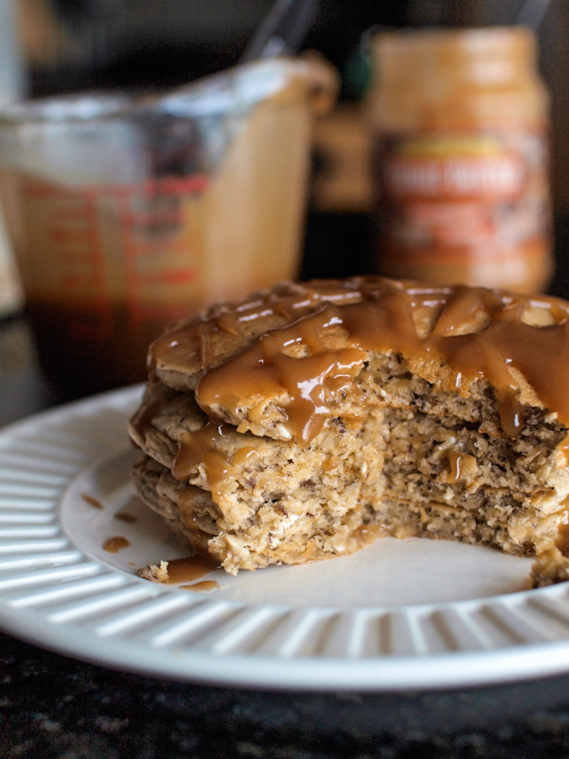 These pancakes are nice and thick without being doughy, and I love the texture added by the oats. As you probably guessed, I ate the peanut butter sauce right out of the bowl before pouring it all over my tower of cakes. It would also be great on waffles, french toast, ice cream…really anything you put syrup or sweet sauce on.

Oatmeal Pancakes
Adapted from All Recipes.
Makes 6 pancakes, and more than enough syrup.
3/4 cup greek yogurt (I used nonfat)
1 egg
1/4 cup milk (I used 1%)
3/4 cup whole wheat pastry flour
1/2 cup old-fashioned oats
2 tablespoons white sugar
1 teaspoon baking powder
1/2 teaspoon baking soda
2 tablespoons butter, browned (instructions below)
1/4 teaspoon coarse salt
2 tablespoons ground flaxseed (optional)
Peanut Butter Syrup
Adapted from Savvy Housekeeping.
1/4 cup granulated sugar
1/4 cup honey
1/2 cup water
1 teaspoon vanilla
2 teaspoons peanut oil
1 teaspoon cornstarch
1/8 teaspoon coarse salt
1/4 cup creamy peanut butter
Process
In a small saucepan, melt the butter and whisk constantly until you see brown specks appear at the bottom of the pan. Remove from heat, and continue to whisk for about 30 seconds. Set aside and allow to cool.
Combine the flour, oats, sugar, baking soda, baking powder, and salt in a bowl.
In a separate large bowl, beat the egg, then add the yogurt, milk, and cooled butter (note: if it's still hot you will scramble the egg, which is the saddest thing ever).
Add the dry ingredients to the egg, yogurt, and butter mixture. Mix until the dry ingredients are completely incorporated.
Pour 1/4 cup of pancake batter onto a heated griddle, spreading out into a circle about 3-inches in diameter. Cook for 3-4 minutes, until you see bubbles start to pop up to the surface. Flip and cook for another 3 minutes on the other side.
In the time one pancake cooks, you can get that syrup ready. Simply combine all ingredients in a small saucepan, bring to a boil, and let boil for one minute, whisking constantly. Remove from heat.
Serve pancakes with peanut butter syrup drizzled all over the place.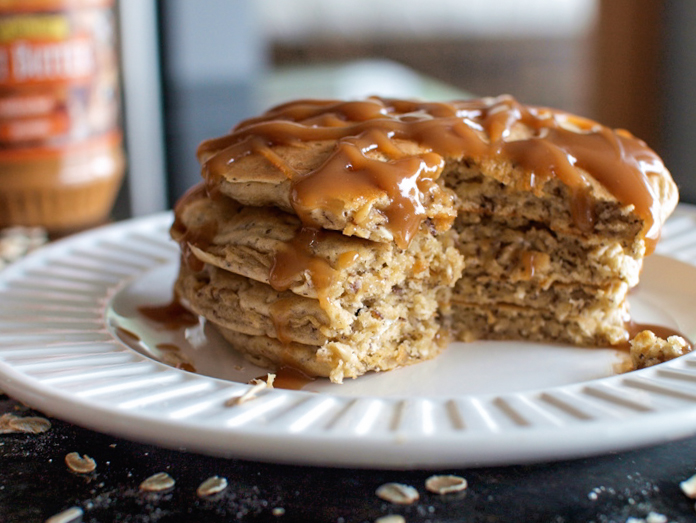 Between the hearty cakes and the ridiculous syrup, these are addictive and perfect for frigid yet cozy winter mornings…which basically means every morning until May for us Minnesotans.
7 Responses to "Whole Wheat Oatmeal Pancakes with Peanut Butter Syrup"
Pingback: 15 Easy Meals to Boost your Energy