Banana Cupcakes with Cream Cheese Frosting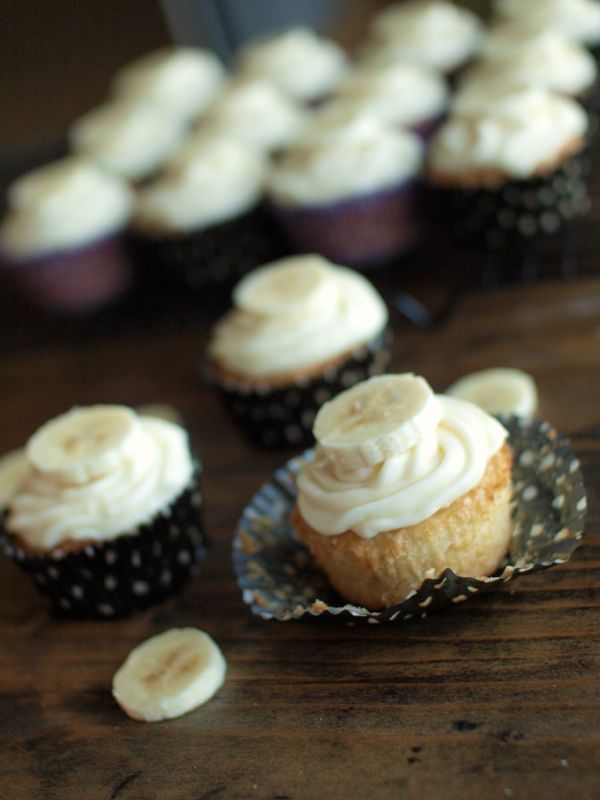 Bananas always end up in my cart at the grocery store. While walking through the produce section I think, "I'll make smoothies this week," or "Maybe I'll remember to bring one to work for an afternoon snack," or "I should chop one up and put it in my yogurt…that's a healthy idea." Despite my best intentions, the bananas nearly always end up either thrown in the freezer right before they hit the inedible over-ripe stage, or begging to be made into some baked goodness ASAP.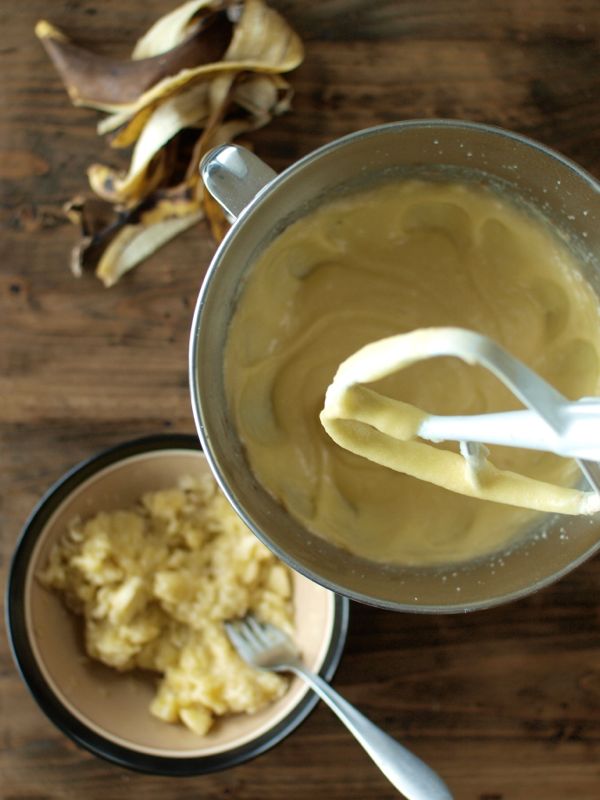 When my bananas hit that scary-brown stage, I usually try to make some variety of banana bread or banana muffins. It's my knee-jerk reaction, because I used to help my mom turn rotten bananas into a fun breakfast treat. After college, my roommate (the same one who introduced me to carrot cake) taught me that bananas can be made into so much more than bread or muffins; they can be straight-up dessert awesomeness. When we lived together, she would often return from a visit to her parent's house with a pan full of frosted banana bars. I'd rejoice and then faceplant into them. They're intoxicatingly good.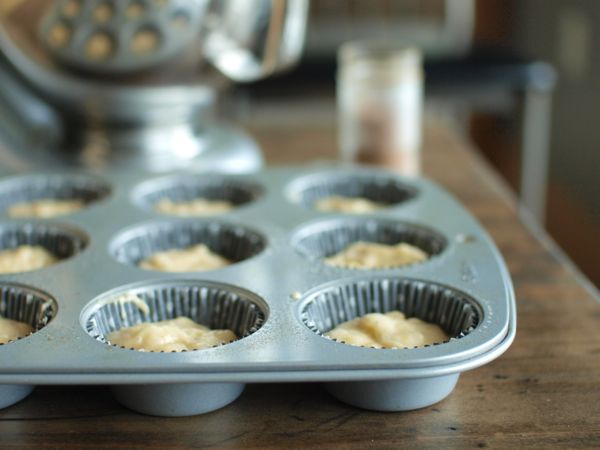 Last week, when I inevitably found myself with nearly-rotten bananas on my counter (this seems to happen every week), my roommate's recipe catapulted to the top of my mind. I usually try to healthily my banana baked goods, but messing with these banana bars would be insulting. Also, since I wanted to share the sweets with my mom for her birthday, I had no choice but to stick to real butter, white sugar, and white flour. She never trusts me when I begin playing with whole wheat flour and applesauce in baked goods.
This is the kind of dessert that satisfies without leaving you with the dreaded "I overdid it" feeling. The cake is light and fluffy, while the cream cheese frosting helps to balance the banana's sweetness. It feels almost delicate…or at least as delicate as something smothered with cream cheese frosting can feel.

Banana Cupcakes
Makes 2 dozen cupcakes.
1 stick unsalted butter, softened
2 cups sugar
3 eggs
3 over-ripe bananas, mashed
2 teaspoons vanilla
2 cups flour
1 teaspoon baking soda
1/4 teaspoon salt
1/4 teaspoon cinnamon
1/8 teaspoon freshly grated nutmeg
Cream Cheese Frosting
1 stick butter, softened
1 8-ounce package cream cheese, softened
4 cups powdered sugar
2 teaspoons vanilla
Process
Preheat oven to 350
In a medium-sized bowl, stir together the flour, baking soda, salt, cinnamon, and nutmeg. Set aside
In a large bowl, cream the butter and then beat with the sugar until fluffy. Mix in the eggs, and then stir in the mashed bananas and vanilla.
Slowly incorporate the dry ingredients into the wet ingredients until just combined.
Coat muffin liners with nonstick spray, and then fill slightly over halfway with batter. Bake for 25-30 minutes, until a knife/toothpick inserted in the center comes out clean. Allow to cool completely.
For the frosting, beat together the butter and cream cheese, then pour in the vanilla, and gradually add the sugar. Beat until smooth, and then pipe on the cooled cupcakes. Top with a slice of banana (but only if you're serving immediately, otherwise the banana will turn brown).

*Note: If you want to make these as bars, simply bake the batter in a 15 x 10 jellyroll pan for 25 minutes. I just find it hard to pass up an opportunity for cupcakes, cause they're just so darn cute.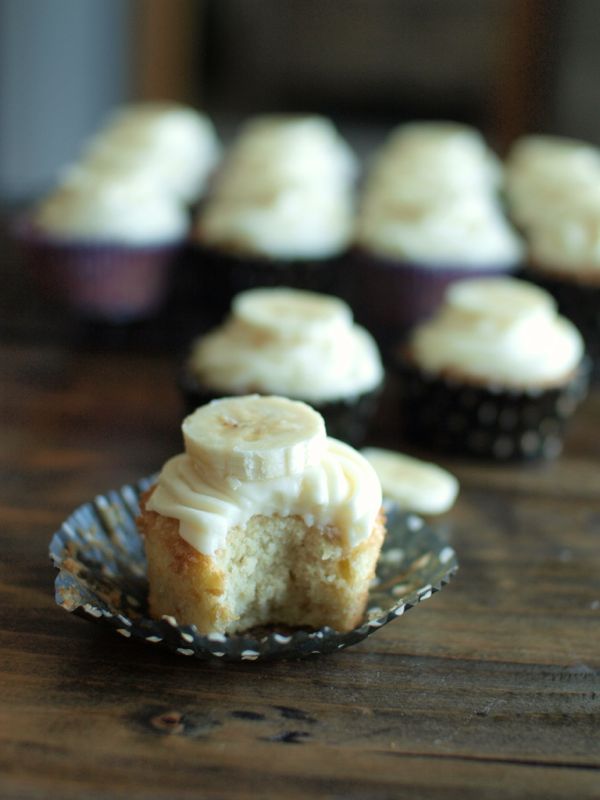 Keep buying those bananas. Keep ignoring those bananas until they smell, and then put those bananas to good use.
3 Responses to "Banana Cupcakes with Cream Cheese Frosting"