Lightened-Up Spinach Artichoke Dip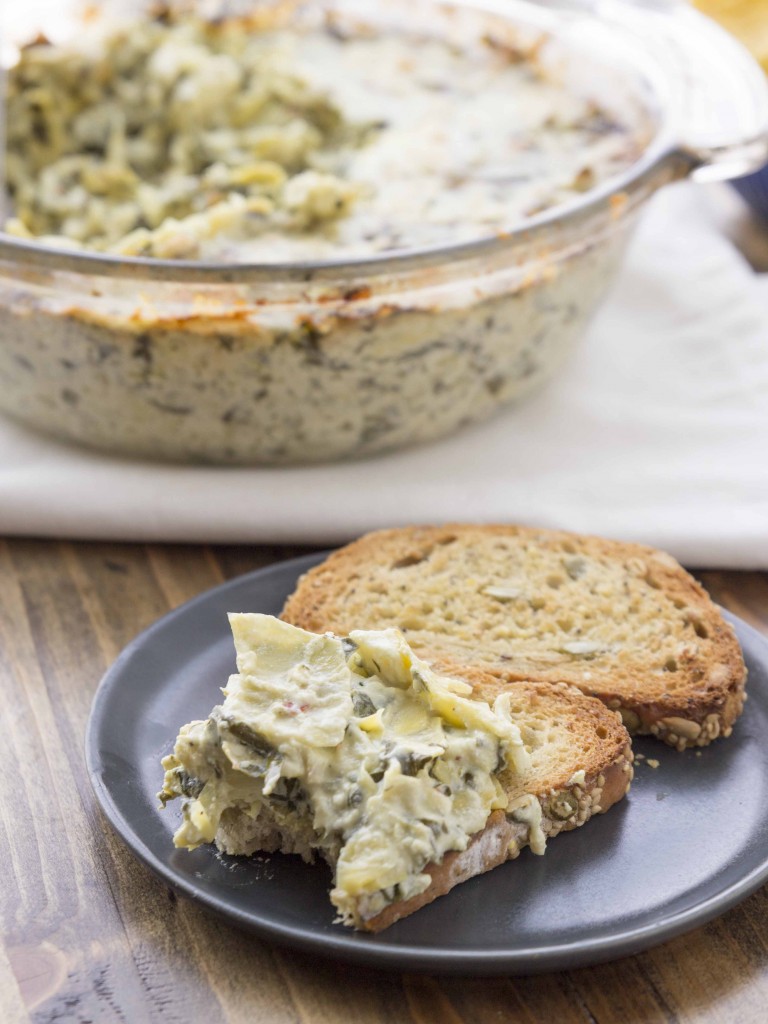 For the past several months, our Sunday afternoons have had a distinct rhythm: the Beast watches football while I bake, go to the gym, or otherwise do things that keep me away from the television so I don't get bored out of my mind. As soon as football comes up on the TV, I instantly check out. It's not a conscious decision, I just find it absolutely impossible to pay attention to what's going on in the game. Even when the Minnesota Vikings are doing well (which, granted, has happened maybe once in the past 5 years), I can't seem to latch on to the momentum and pretend to be a fair weather fan. Sometimes I wish I could feel the rush of game-day joy, because according to my Facebook feed, people get pretty pumped up. Although cheering and screaming at the TV may not be my cup of tea, I DO support drinking beer and eating dip, so I can definitely get on board with Superbowl Sunday.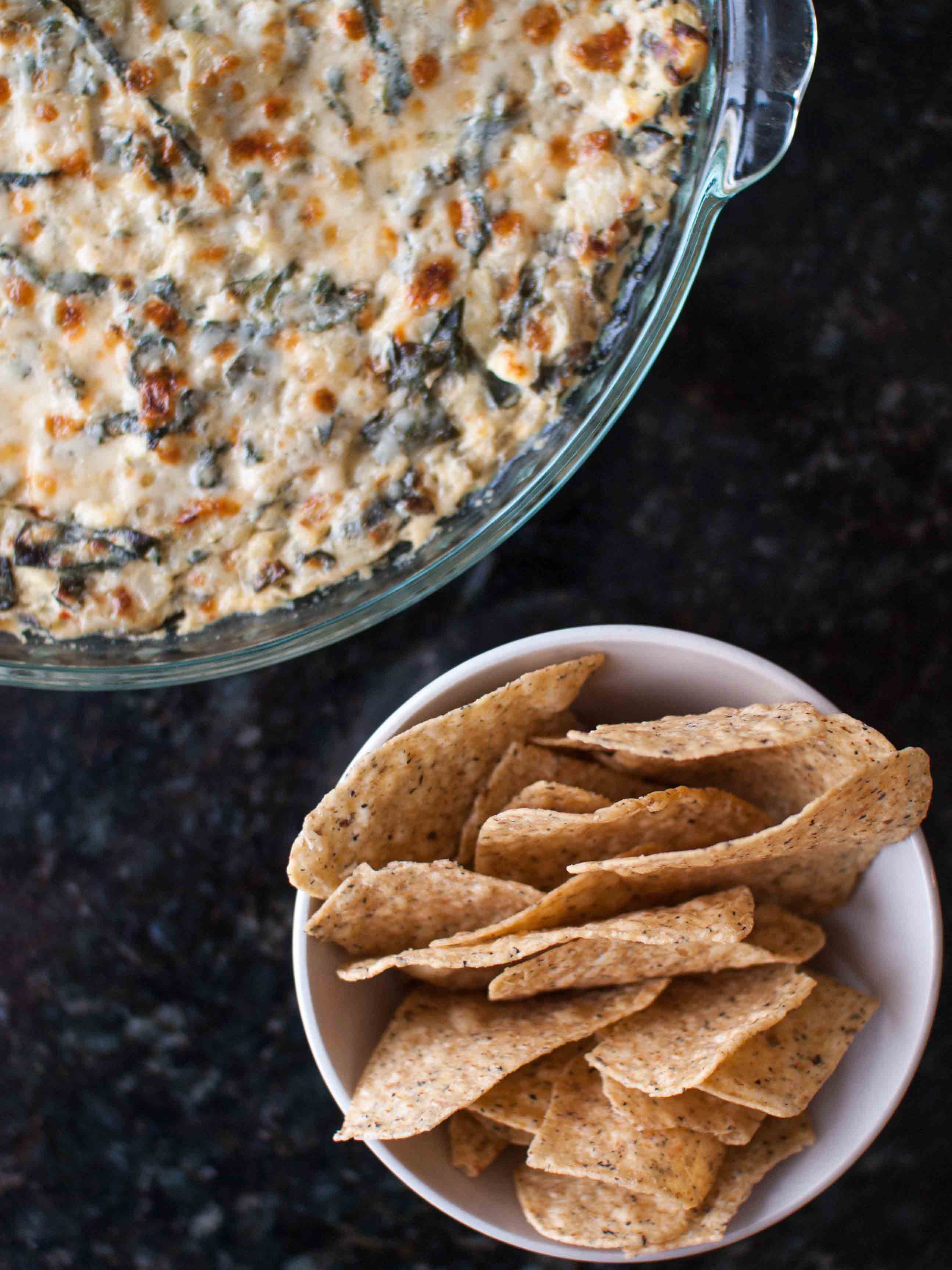 I also support Beyonce. Can we also talk about how FIERCE she was on Sunday? I especially loved when her Destiny's Child bandmates flew onstage for a mini reunion…What's up, 7th and 8th grade flashbacks? Football has never kept me at the edge of my seat like that.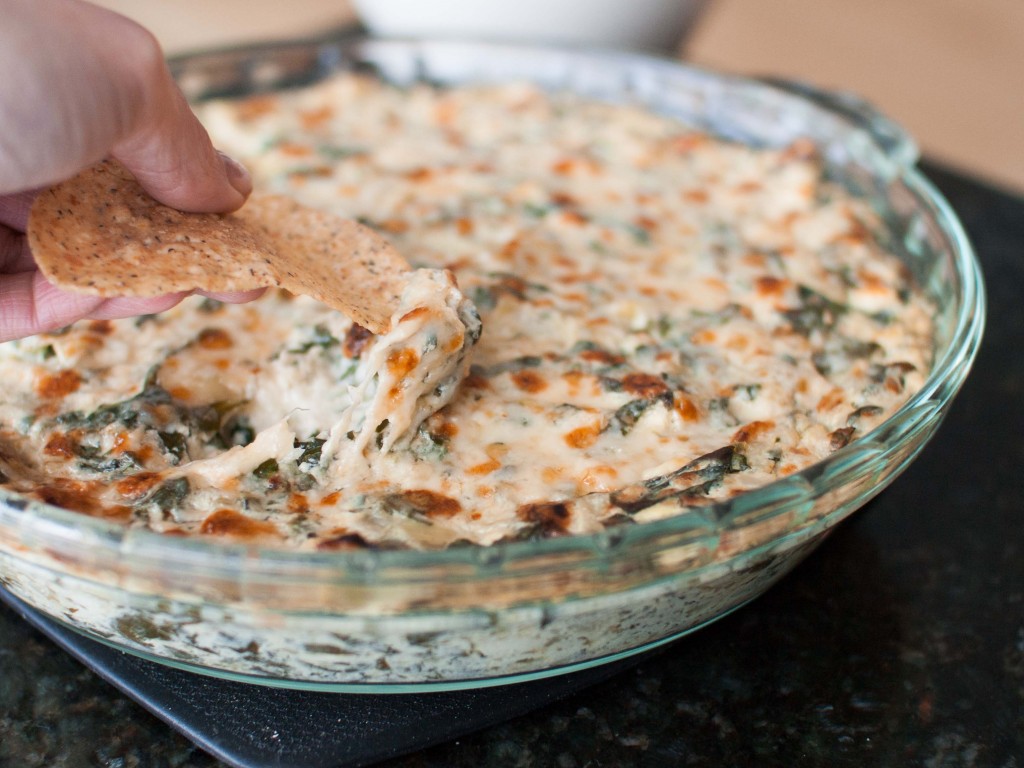 Speaking of fierce…this dip. It's insane. Spicy, cheesy, creamy, but packed with protein and way lower in all the naughty things you associate with standard spinach artichoke dip. I could easily eat this dip with chips and toasty bread for every meal of every day for the rest of my existence. Or at least until I get over my spinach artichoke phase, but it's been going strong for like 15 years, so chances are it's here to stay.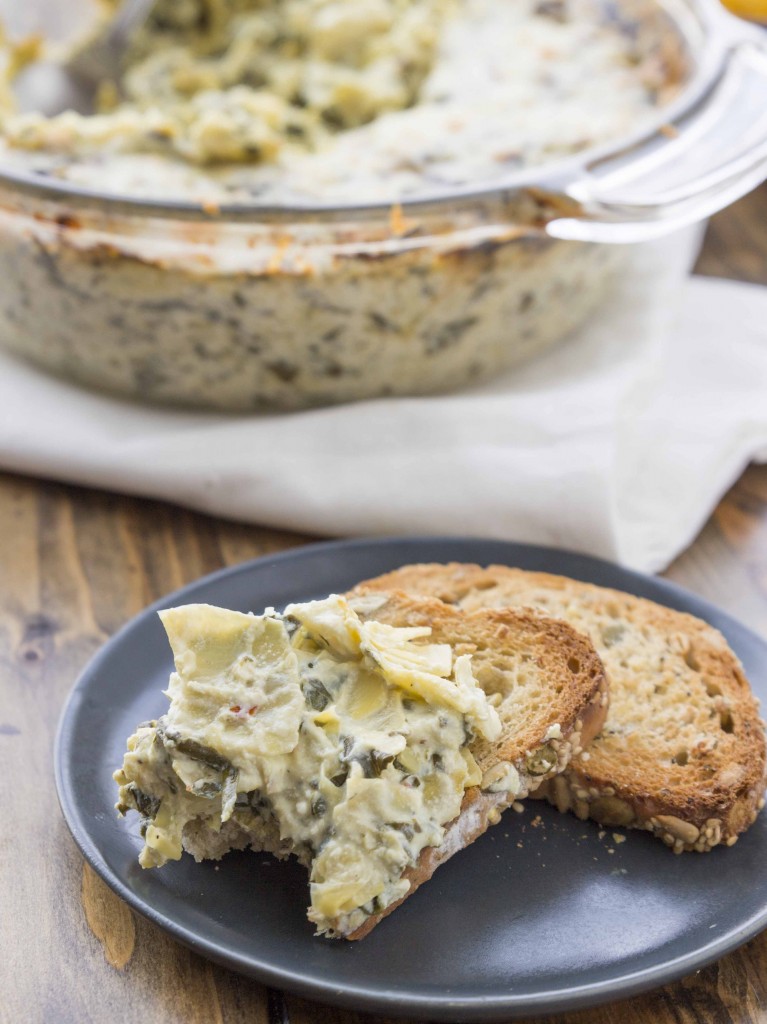 Don't worry, there's still enough cheese in this dip to make you swoon. I replaced some of the creamy elements (usually mayonnaise, sour cream, and cream cheese), with healthier substitutes (silken tofu and Greek yogurt), but the dip tastes just like an indulgent version you'd get at a restaurant. The Beast was skeptical when I took out the silken tofu, as most carnivores would be, but after his first chip dip I knew I had him hooked. The smell of bubbling cheese can't keep anyone away for long.
Simply pull the dip together in 15 minutes, bake it until bubbly and golden, and then eat it with chips, pita wedges, as a spread on sandwiches and pizza, or just by the spoonful straight from the dish. You might even end up eating half the pan in one night, but that'd be ridiculous…
…or would it?

Lightened-Up Spinach Artichoke Dip
A creamy, spicy spinach artichoke dip lightened up with Greek yogurt and silken tofu.
Author: Katie of Veggie and the Beast
Recipe type: Appetizer, Snack, Healthy
Serves: 9-12
Ingredients
2 tablespoons olive oil
3 cloves garlic, minced
½ yellow onion, chopped
12-ounce bag frozen artichokes, thawed and roughly chopped
1 jalapeño, seeded and chopped
¾ teaspoon fine sea salt, divided
4 cups fresh spinach (1 5-ounce container)
3 ounces light cream cheese, softened
12 ounces soft silken tofu
½ cup 2% plain Greek yogurt
2 ounces sharp white cheddar cheese, shredded
2 ounces feta, crumbled
2 ounces parmesan, shredded
¼ teaspoon black pepper
2 tablespoons chopped fresh basil
¼ teaspoon red pepper flakes (or to taste)
Instructions
Preheat oven to 350 degrees.
Heat the olive oil and garlic in a large saucepan. Once the garlic is fragrant, add the onion and cook until translucent, about 2-3 minutes. Add the artichokes, jalapeno and ½ teaspoon salt, then cook until the artichokes are soft, around 4 minutes. Pour in the spinach and cook until it starts to wilt.
In a food processor, pulse together the tofu and cream cheese until smooth. Pour into another bowl, then add the Greek yogurt, cheese, and the remaining salt and spices. Mix the artichoke and spinach into the cheese mixture, then pour into a lightly greased 9-inch pie pan or casserole dish.
Cover with aluminum foil and bake for 25 minutes. Uncover and cook for another 5, then turn the oven on broil and continue to bake for 3 more minutes, until the top becomes golden.
Let sit for 10 minutes before digging in, then serve with chips, bread, or veggies.
3 Responses to "Lightened-Up Spinach Artichoke Dip"