Sweet Potato Gnocchi with Brown Butter Sauce
All I want in the winter is comfort food. This means that I often end up cooking any variation of mac and cheese, ridiculous grilled cheese sandwiches, or pizza. Fortunately, the Beast switches things up when he cooks for me. One of my favorite Beast creations occurred a few months ago when he made potato gnocchi for his Italian mother who came over for dinner. Only after he began the recipe did he realize we had no potato ricer, which is pretty necessary for gnocchi. Instead, he ended up improvising by cutting the potatoes really fine, and making the most amazing, melt-in-your-mouth gnocchi I've ever had. His Italian mom approved in a big, big way.
The meal stuck with his mom, and she ended up giving him a potato ricer as a Christmas gift. On Valentine's Day last week he took it out for the first time, and made perfectly creamy, buttery lemon-thyme gnocchi. As much as I loved the gnocchi, I couldn't stop thinking of the possibilities with the potato ricer. My mind immediately went to sweet potatoes and brown butter, which is a combination I'd never tried, but knew I had to…as soon as possible.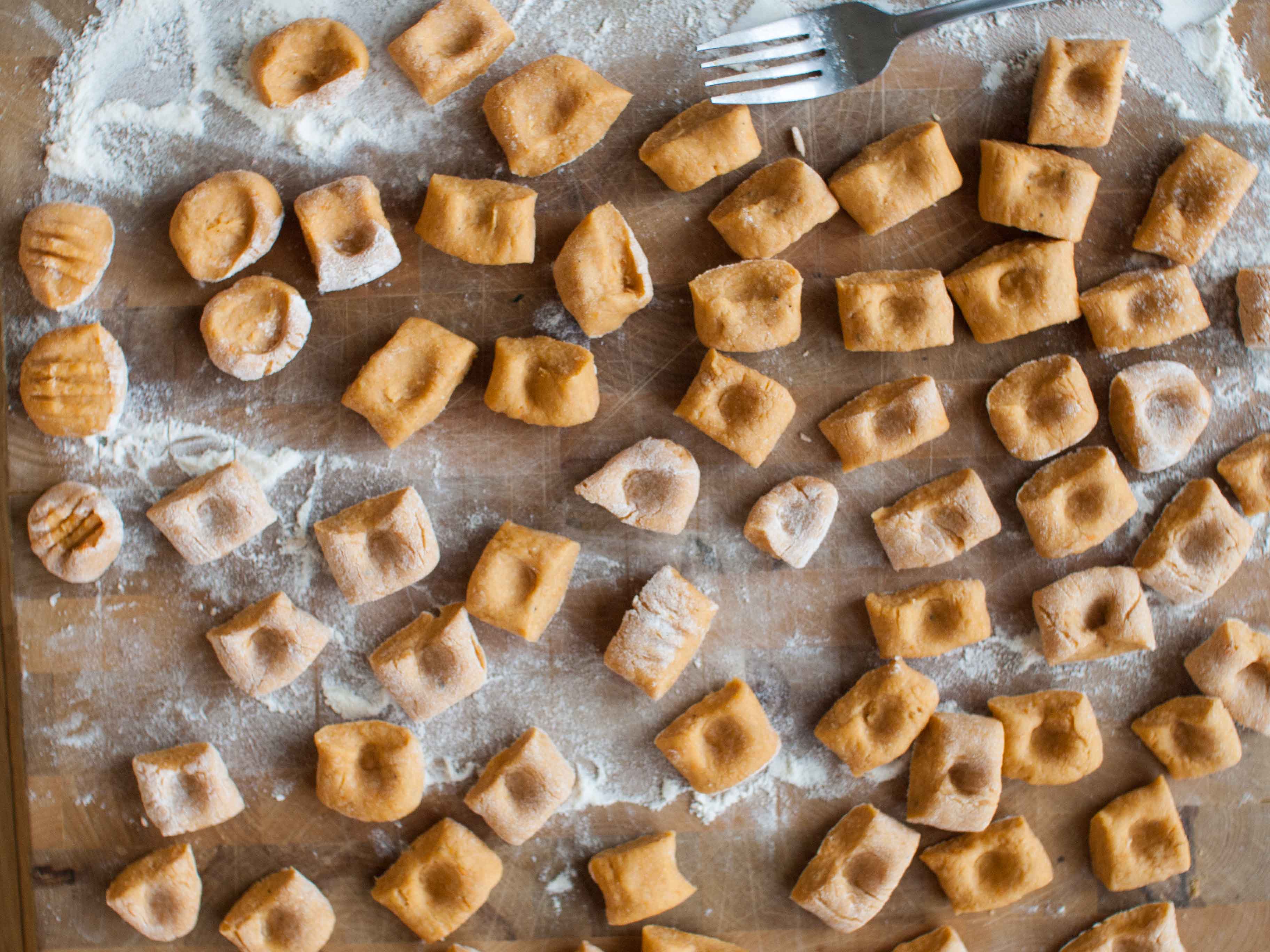 This dish has a similar depth of flavor as my butternut squash mac and cheese, but with the added plus of dumplings that are so intoxicatingly rich and delicious that you will be thinking about them for days. Especially how the caramel-hinted brown butter perfectly highlights the slight sweetness in the potatoes…that's just not something that can be easily forgotten.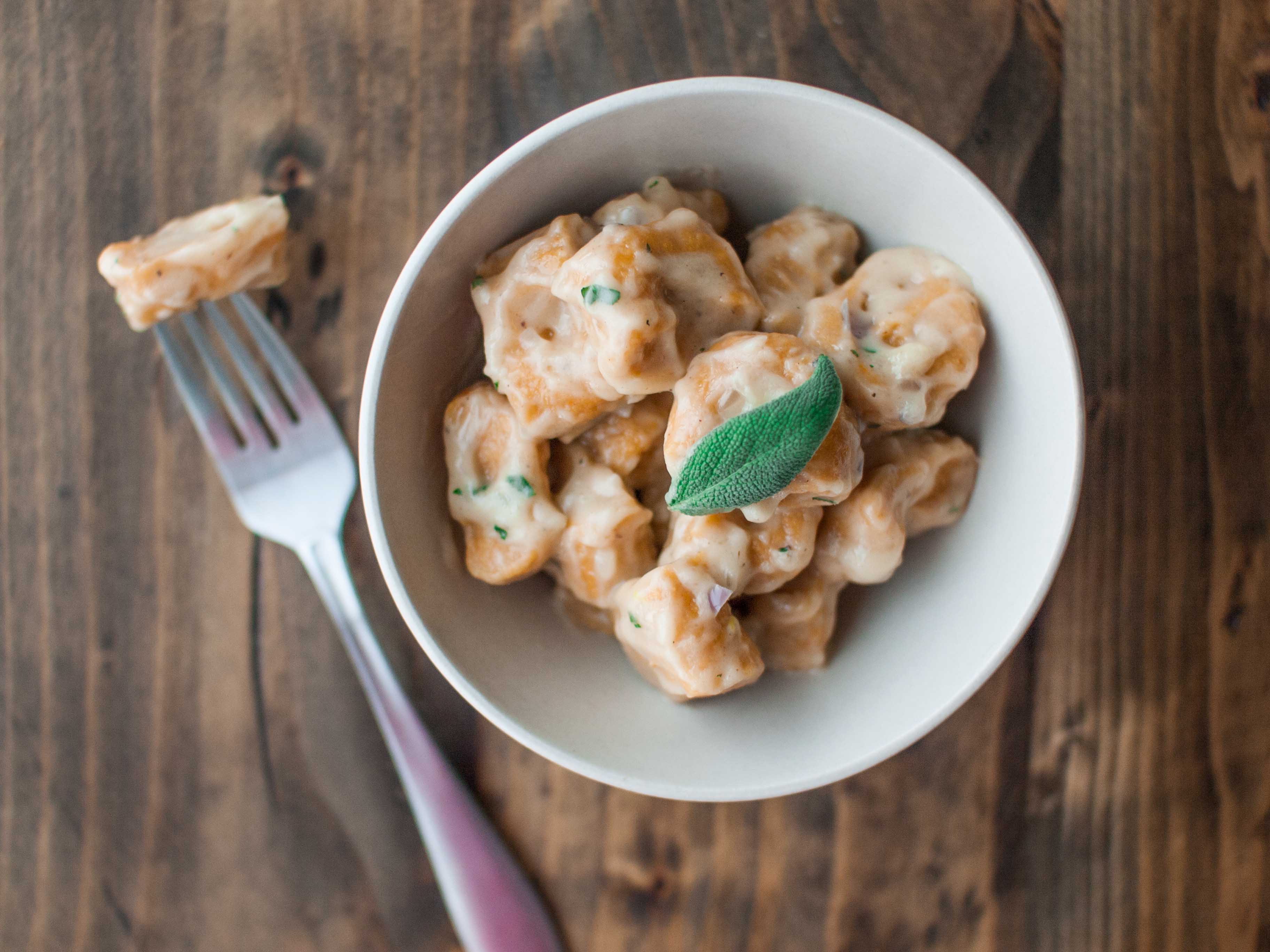 In the recipe below I say that this serves 4, because it SHOULD, and I don't want you to make the same mistake I did. I'm not proud of this, but we ended up eating the whole recipe for dinner on Sunday, and then didn't talk about anything other than our fullness level for a good half hour. This gnocchi is ridiculously satisfying, but try to stick to one serving. It will be hard, I know, but do your best. Although the uncomfortable fullness hurt, the worst repercussion of our overeating was the lack of leftovers for weekday lunches. I miss you, sweet potato gnocchi.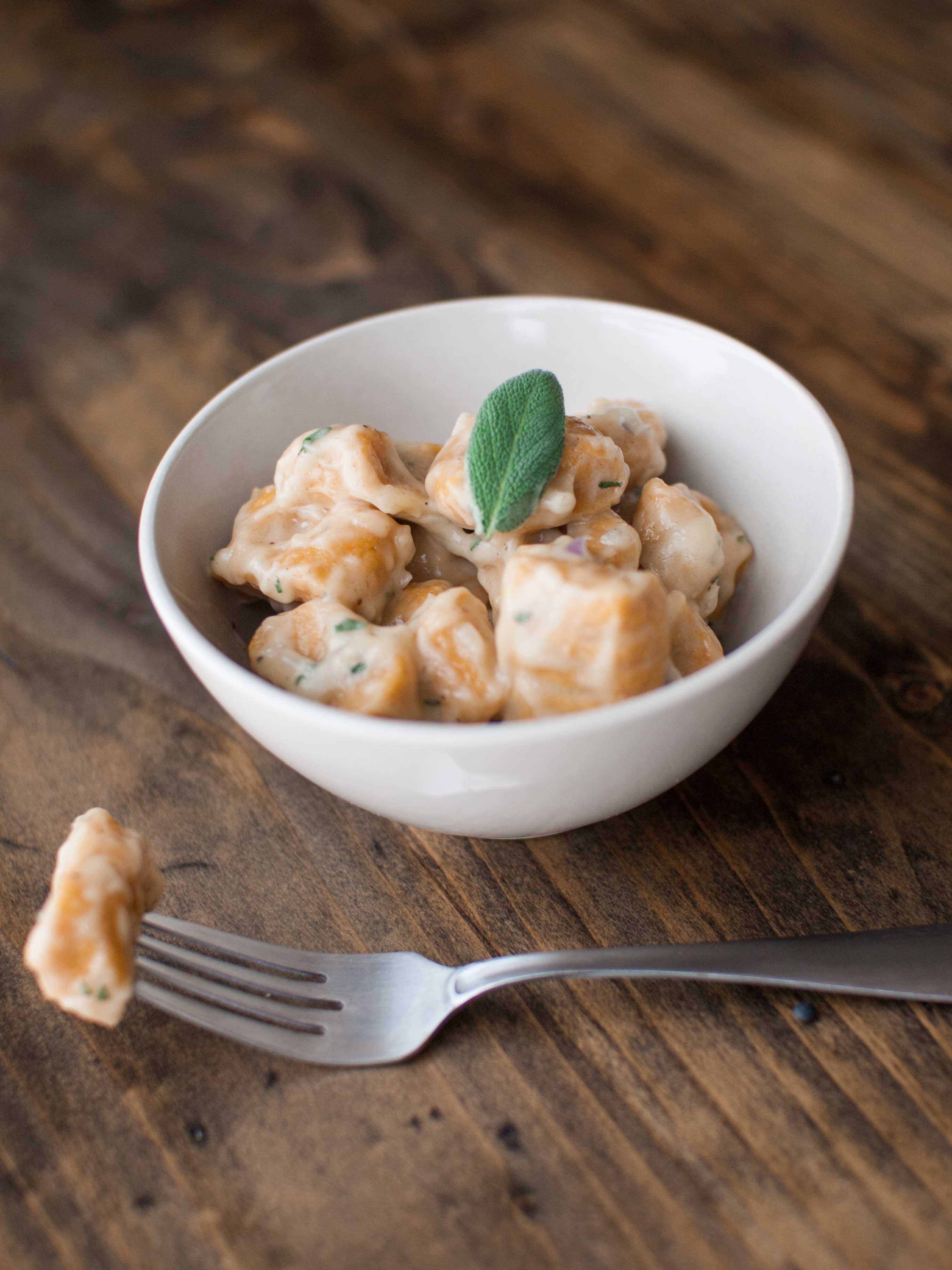 I wish I could eat this every day.


Sweet Potato Gnocchi with Brown Butter Sauce
Rich, sweet-yet-savory gnocchi made with sweet potatoes and whole wheat flour, then tossed with a brown butter sage sauce.
Author: Katie of Veggie and the Beast
Recipe type: Pasta
Cuisine: Vegetarian
Serves: 4
Ingredients
2 sweet potatoes, peeled
1 egg plus 1 egg yolk, lightly beaten
1¾ teaspoons kosher salt, divided
¼ teaspoon fresh ground pepper
1½ cups whole wheat pastry flour (all-purpose would work as well)
6 tablespoons butter
1 shallot, finely chopped
1 tablespoon chopped fresh sage
¼ teaspoon freshly ground nutmeg
½ cup vegetable broth mixed with 2 tablespoons all-purpose flour
Instructions
Use a fork to poke holes in the sweet potatoes, and then microwave for a few minutes until softened.
Press cooked potatoes through a potato ricer. Add the beaten egg and egg yolk to the potato, then mix in the flour, pepper, and 1½ teaspoons salt.
Knead the mixture on a lightly floured surface for a couple of minutes. It's ready when it comes together into a smooth dough.
Divide the dough into four equal-size balls.
Roll each ball into a strand about 20-inches long.
Cut each strand into 1-inch pieces.
Roll each piece of dough on a fork, so that one side is imprinted with the fork tines, and the other with an imprint of your finger. This will create more crevices for sauce to sink into.
Drop the gnocchi dough into boiling water. When they float to the top (after just a couple of minutes), use a slotted spoon to remove and set aside in a single layer (otherwise they may stick together).
For the sauce, heat the butter over medium heat in a saucepan. Whisk constantly until you see brown specks on the bottom of the pan (this should take about five minutes). Reduce heat to medium-low, and add the shallots and sage. Cook for 2 minutes, or until the shallots are softened and translucent. Pour in the broth/flour mixture, nutmeg, and ¼ teaspoon salt. Cook for another couple of minutes, whisking constantly. It will thicken a bit. Remove from the heat, then taste and adjust the salt/spice level to your liking.
Combine the gnocchi and the sauce in a large bowl, and mix well. Divide into 4 bowls, and top with more fresh sage for garnish (optional), and eat up!
17 Responses to "Sweet Potato Gnocchi with Brown Butter Sauce"
Pingback: Foods by Color: Sweet Potatoes

Pingback: Meal Plan: Winter 2014 Week 9