Caprese Potato Gratin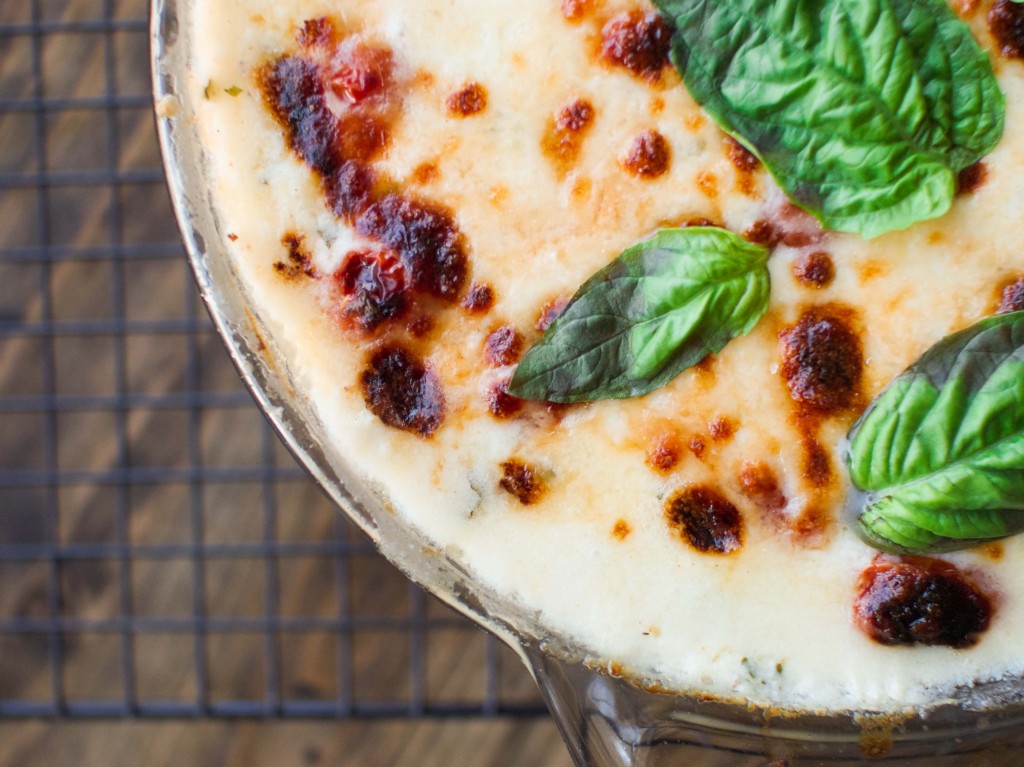 In this post we're going to get real about food photography. Teaching myself how to take pictures of food has been one of the most satisfying and fun parts of creating this blog, but as a bit of a perfectionist (ahem, understatement of the century), I can be quite obsessive about my recipe photos. All of you food bloggers out there know that figuring out lighting, props, and surfaces can turn into a half-day project, and that's before the editing even starts! When I started shooting in RAW and using Adobe Lightroom a few months ago, I would constantly yell for The Beast to come look at my computer so I could show him before-and-after shots.
Note: he's great at sounding convincingly enthusiastic about white balance adjustments…I have a keeper.
I'm getting ahead of myself here, so let's start from the beginning. If you haven't noticed, tomatoes + basil + fresh mozzarella = many of my favorite things in this world, so when my mom gave me the task of making a potato side dish for Easter I immediately knew the fate of those taters. In order to get some pretty pictures for you folks, I made two dishes of the gratin: one for blog shooting (and a cheesy afternoon snack) on Saturday, and one to bring to my parent's house on Sunday. So organized, I know.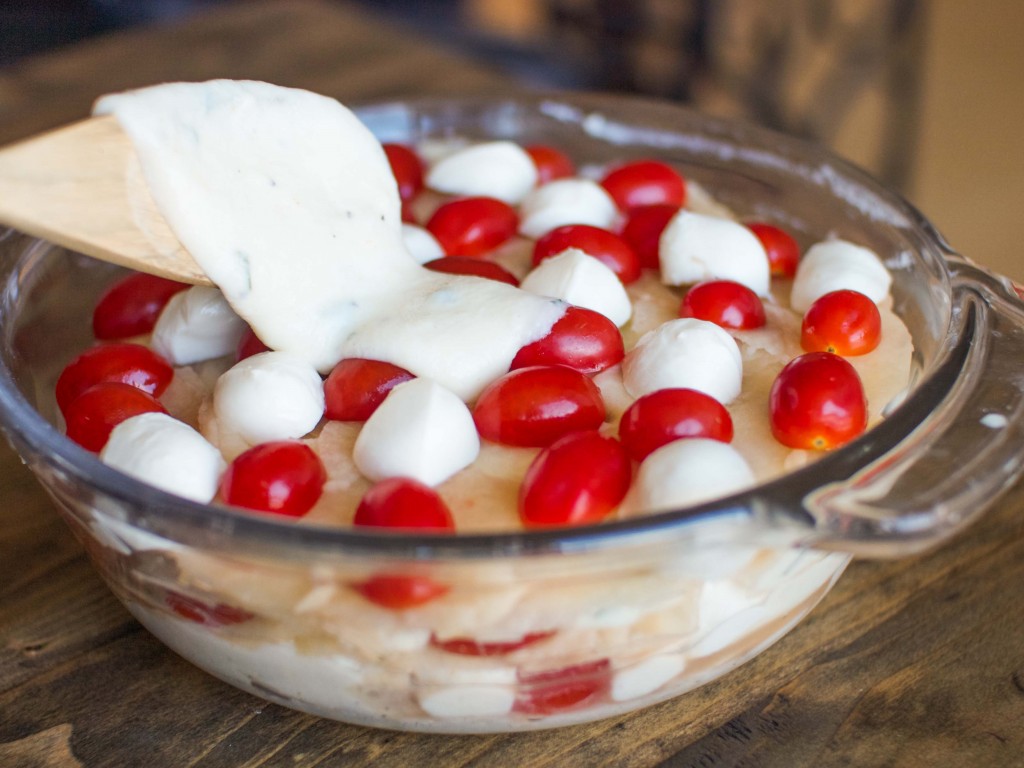 After being broiled to perfection, I set my photo-shoot gratin on a cooling rack on my standard photo-shoot table, and began snapping. After three rounds of shooting, transferring to my computer, reviewing the results, and starting again, I finally found the magical lighting spot. I moved around the table, shooting, adjusting the angle etc. until at one point my elbow hit the cooling rack just enough to knock the rack's feet off the table, and then, seemingly in slow motion, the gratin dish slid off the angled rack onto the ground in a dramatically loud, over-the-top crash. Real life, folks.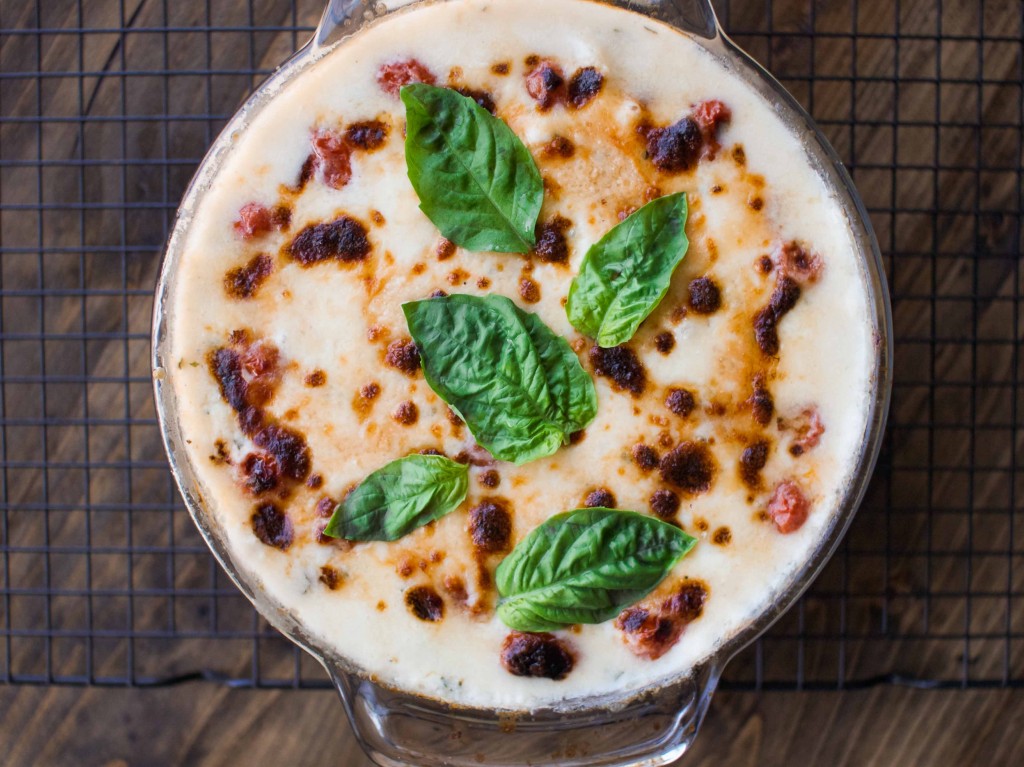 After much screaming from me and assistance from The Beast, the fallen gratin made its way to the trash. On the optimistic side of things, I did have a chance to snap several good [enough] pics before the tragic fall, and because of my habit of eating as I shoot, I can confirm that the gratin is everything I hoped it would be: rich, creamy basil sauce between layers of potatoes that stretch melty mozzarella up and down with every lifted forkful. The grape tomatoes roast and begin to pop in the oven, but fully burst open with sweetness when they enter your mouth.
So…at least I got to eat that before my floor did.


Caprese Potato Gratin
Rich, creamy basil sauce between layers of roasted grape tomatoes and thinly-sliced potatoes.
Author: Katie of Veggie and the Beast
Recipe type: Side dish
Serves: 8-10
Ingredients
2 russet potatoes peeled and sliced into ⅛" slices
3 tablespoons butter
3 tablespoons all-purpose flour
2½ cups lowfat milk (I used 2%)
¼ teaspoon freshly grated nutmeg
2 tablespoons chopped fresh basil
⅛ teaspoon cayenne
Salt and pepper to taste
1½ cups shredded mozzarella
10 ounces grape tomatoes, halved
8 ounces fresh mozzarella balls, halved
¼ cup grated parmesan
Instructions
Preheat the oven to 400 degrees.
Melt the butter in a large saucepan. Once melted, whisk in the flour until it forms a paste. Pour in the milk, then add the nutmeg, basil, cayenne, salt and pepper. Whisk constantly over medium heat until it thickens to the point where you can see the bottom of the pan when you whisk. Remove from the heat and pour in the mozzarella, stirring until melted and smooth.
Coat an 8x8 (or 8" round) casserole dish with nonstick spray. Pour a little sauce in the pan so that it covers the bottom, then top with a layer of sliced potatoes. Follow with ¼ of the tomatoes and mozzarella balls, then with some more sauce. Repeat 3 more times, topping with the remaining sauce and ¼ cup of grated parmesan cheese.
Cover with foil and bake for 30 minutes. Remove the foil, and bake for another 10 minutes, and then broil for a few minutes until the cheese on top is golden and bubbly.
Let sit for 10 minutes before digging in.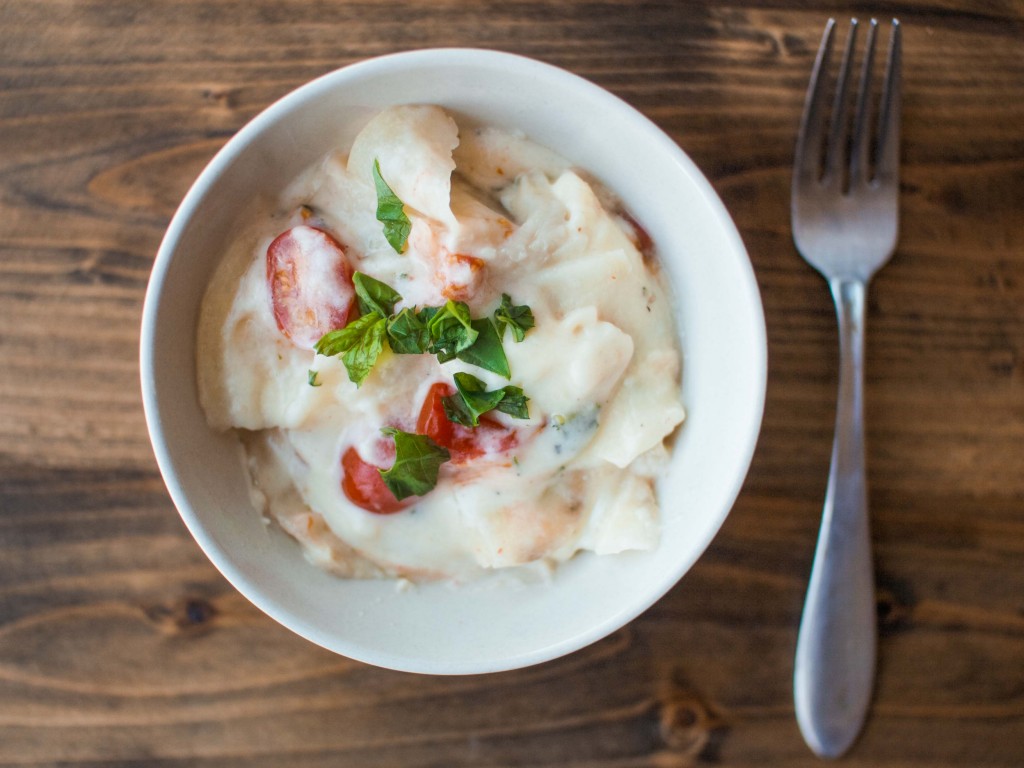 Sadly, this incident adds to a long list of photo faux pas for me thus far. The worst of which would probably be when I singed my ponytail on a candle while shooting these cookies. I may be accident prone, but I'm starting to think that blogging and food photography should be considered a contact sport. Please tell me someone out there can relate…? …anyone?
5 Responses to "Caprese Potato Gratin"