Roasted Asparagus Grilled Cheese with Artichoke & Arugula Pesto
Spring might be my favorite season. Well maybe fall is too, but let's focus on spring for now. Not only is it warm, bright, and colorful, but the whole atmosphere seems to change. People have lightness in their steps, smiles on their faces, and are generally happier. In Minnesota, where the weather has been playing games with our hearts for months, there's been a clear shift in the air now that the sun is out and our breaths are no longer visible outside. It's nice.
Apart from the color and general happiness of those around me, I also love the produce that comes with spring. The farmer's markets have started to to open up, our co-op's selection of items has widened, and all I want to do lately is eat the short-season green stuff before it goes away.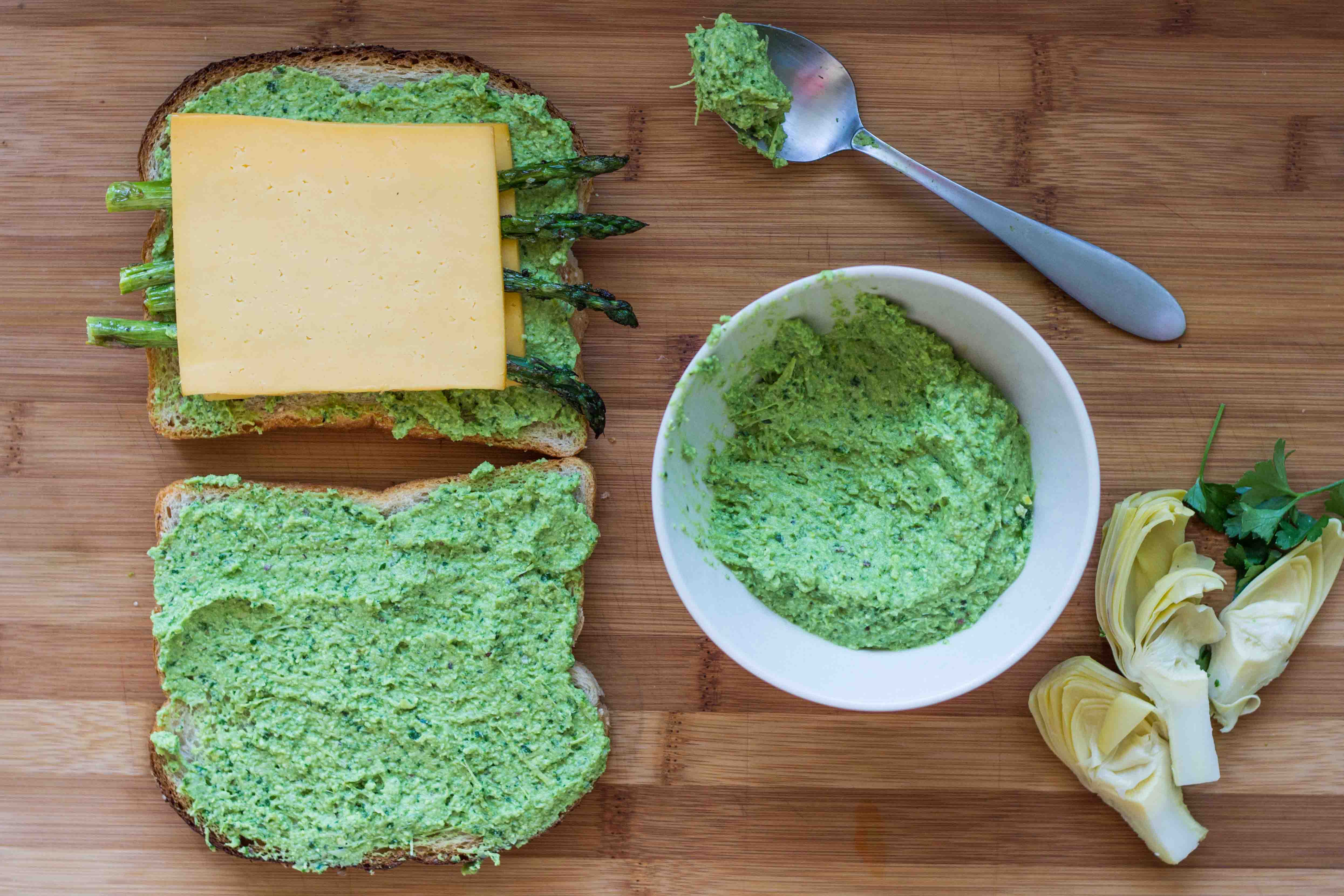 During a particularly strong case of spring fever this week, I decided to dress up a grilled cheese to make it scream spring in every way. First I blended together pistachios, garlic, arugula, parsley, lemon and artichokes for a super seasonal pesto. Luckily, you really only need a few tablespoons of the pesto for the sandwich, so you'll have bonus pesto to eat with pretzels, crackers, vegetables, etc. I actually dipped an artichoke heart in the artichoke pesto, but I'm also kind of insane and have been known to eat tomatoes with ketchup, so take everything I say with a grain of salt.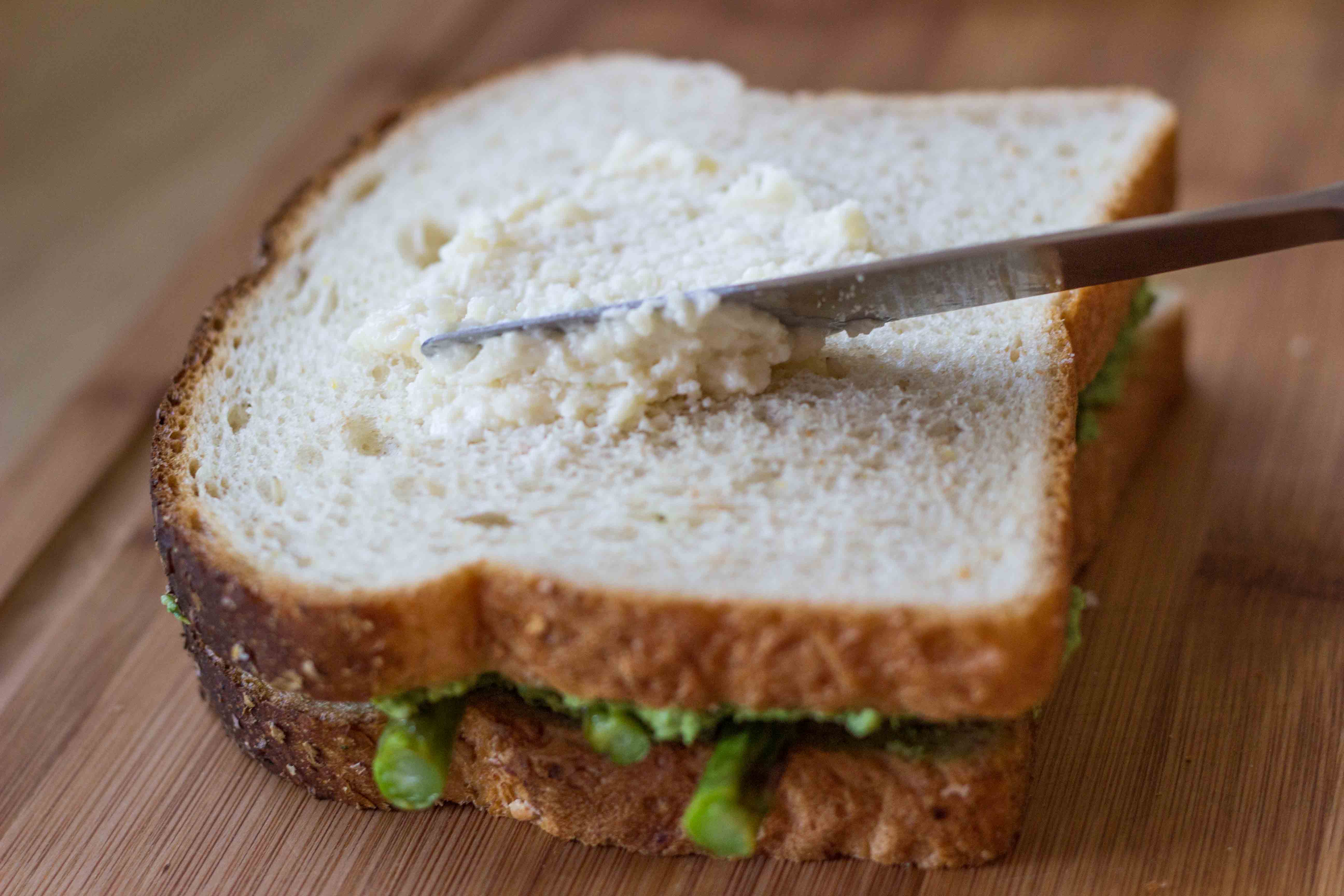 For the inside of the springtime sandwich, I roasted up some deliciously fresh and bright asparagus, then stacked the sandwich with the pesto on both sides, two layers of cheese, and the roasted asparagus. As if that weren't enough, I also mixed together some softened butter and parmesan to spread gently on the outsides for a crisp parmesan crust.
I knew the sandwich would be delicious, but it surprised me with its uniqueness. Between the buttery parmesan crust, the roasted asparagus, and the smoky gouda, you could nearly get overloaded on richness, but the creamy and fresh pesto brightens up the whole sandwich. There's just a hint of lemon in every bite, but it's enough to heighten all of the other flavors, and give the sandwich an addictive quality…
…So addictive, in fact, that I had a hard time photographing all the yumminess, since one bite turned into six bites REAL quick, and once you chomp down six bites of a sandwich it ain't a pretty-looking thing.


Roasted Asparagus Grilled Cheese with Artichoke & Arugula Pesto
The perfect seasonal springtime twist on grilled cheese! Roasted asparagus, smoky gouda, and an artichoke and arugula pesto.
Author: Katie of Veggie and the Beast
Recipe type: Sandwich
Serves: 1
Ingredients
Roasted Asparagus Grilled Cheese
4-5 spears of asparagus
½ teaspoon olive oil
salt and pepper to taste
3 tablespoons artichoke and arugula pesto (recipe follows)
2 slices smoked gouda
1 tablespoon softened butter
1 tablespoon grated parmesan
2 slices of your favorite bread
Artichoke and Arugula Pesto
¼ cup raw pistachios
1 clove garlic
¼ cup flat-leaf parsley
½ cup arugula leaves
1 cup artichoke hearts (I used canned, rinsed and drained)
Juice of half a lemon
¼ teaspoon kosher salt
⅛ teaspoon black pepper
1 tablespoon olive oil
Instructions
Preheat oven to 425 degrees.
Combine the pistachios and garlic in a food processor and pulse until fine. Add the parsley and arugula and process for a minute or two, scraping the sides as necessary, until all greens are very finely chopped. Pour in the artichokes, lemon, salt and pepper, then process until the mixture is creamy and mostly smooth. Slowly pour in the olive oil while the processor is running so that the pesto slightly thickens and becomes smoother. Taste and adjust salt and pepper to your liking.
Cut the tough ends off of 4 pieces of asparagus, then coat with olive oil. Sprinkle with a pinch of salt and pepper, then roast for 5 minutes in the preheated oven.
Spread the pesto on two pieces of bread, then stack a slice of gouda, the 4 asparagus spears, and another slice of gouda on one side. Top with the other slice of bread.
Combine the softened butter and parmesan in a small bowl, then spread on the top and bottom of the sandwich. Cook in a non-stick skillet, griddle, or panini press over medium heat until golden brown (3-4 minutes). If you're using a skillet or griddle, flip and cook on the other side, then eat up!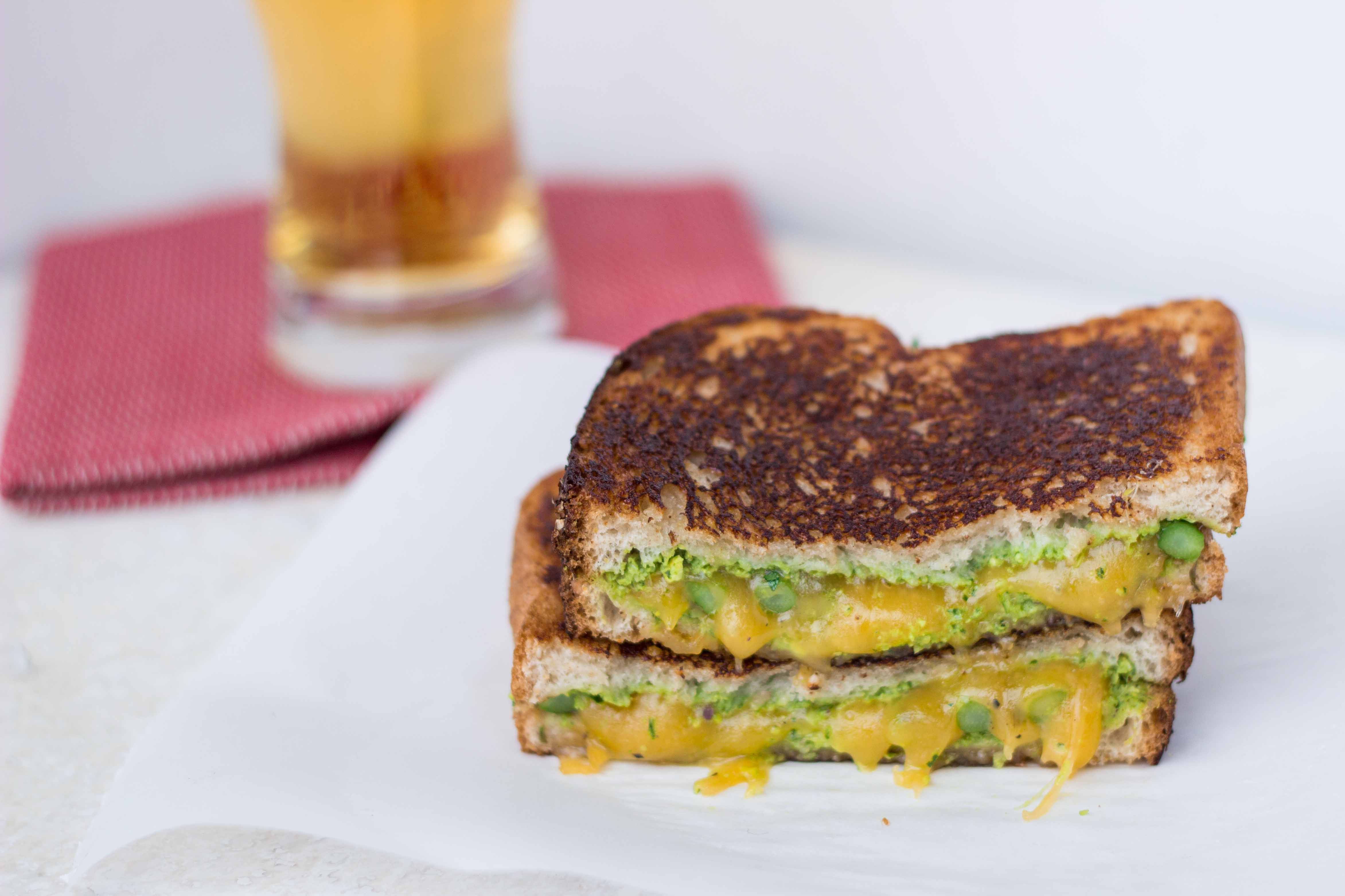 Put some spring in your sandwich.
6 Responses to "Roasted Asparagus Grilled Cheese with Artichoke & Arugula Pesto"
Pingback: Smashed Chickpea, Avocado and Roasted Tomato Sandwich with "Cheesy" Tofu | Veggie and the Beast