Creamy Tomato Basil Pasta Salad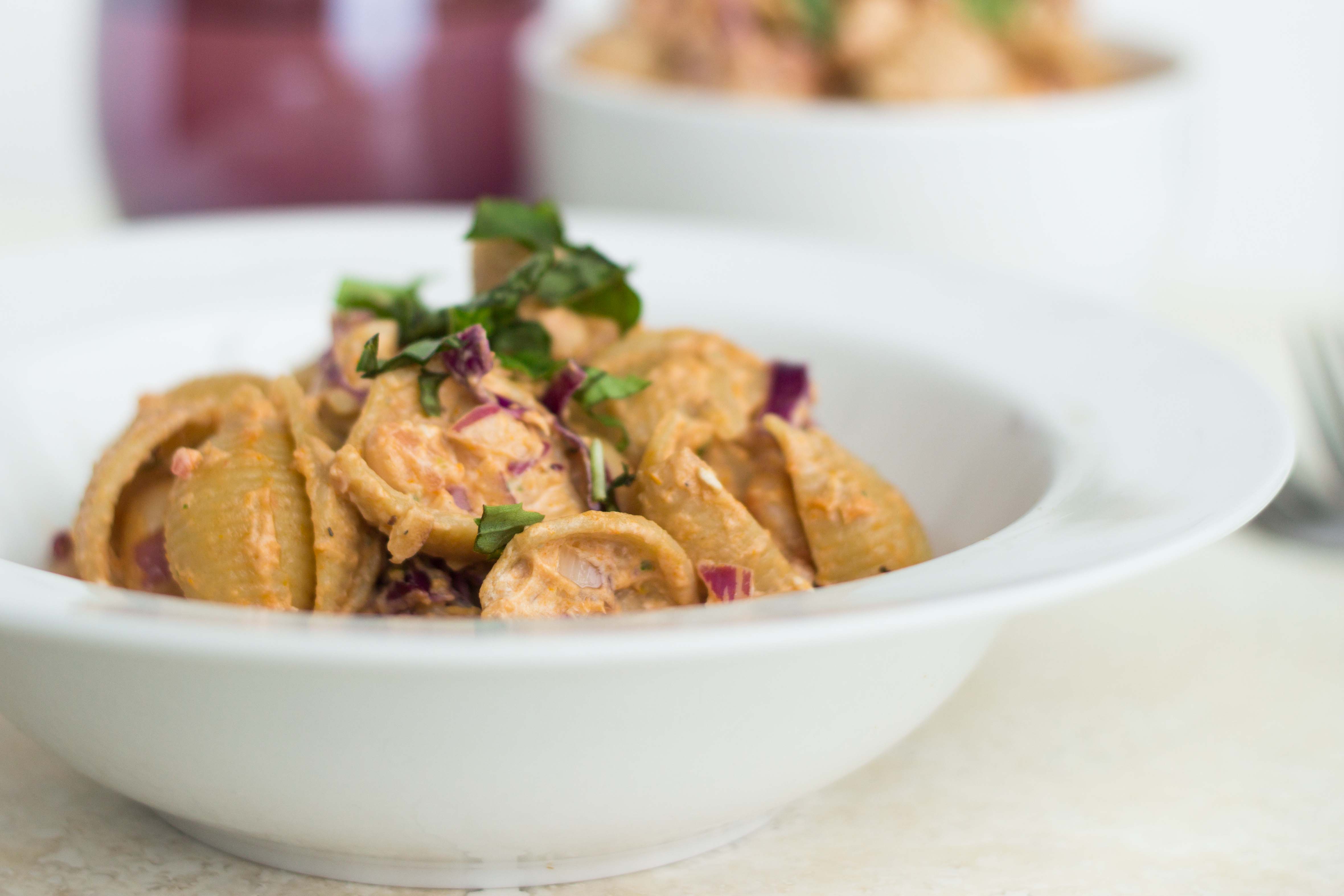 Despite my love for outdoor dining, I shy away from the large-batch pasta salads that seem to always be part of the menu. I love the idea of a cold pasta salad, but they're usually drenched in mayonnaise, and I just…can't do mayonnaise. I don't know if it's because it includes raw eggs, or because of the strange jiggly consistency, or maybe a little bit of both (definitely a little bit of both…), but I avoid it at all costs.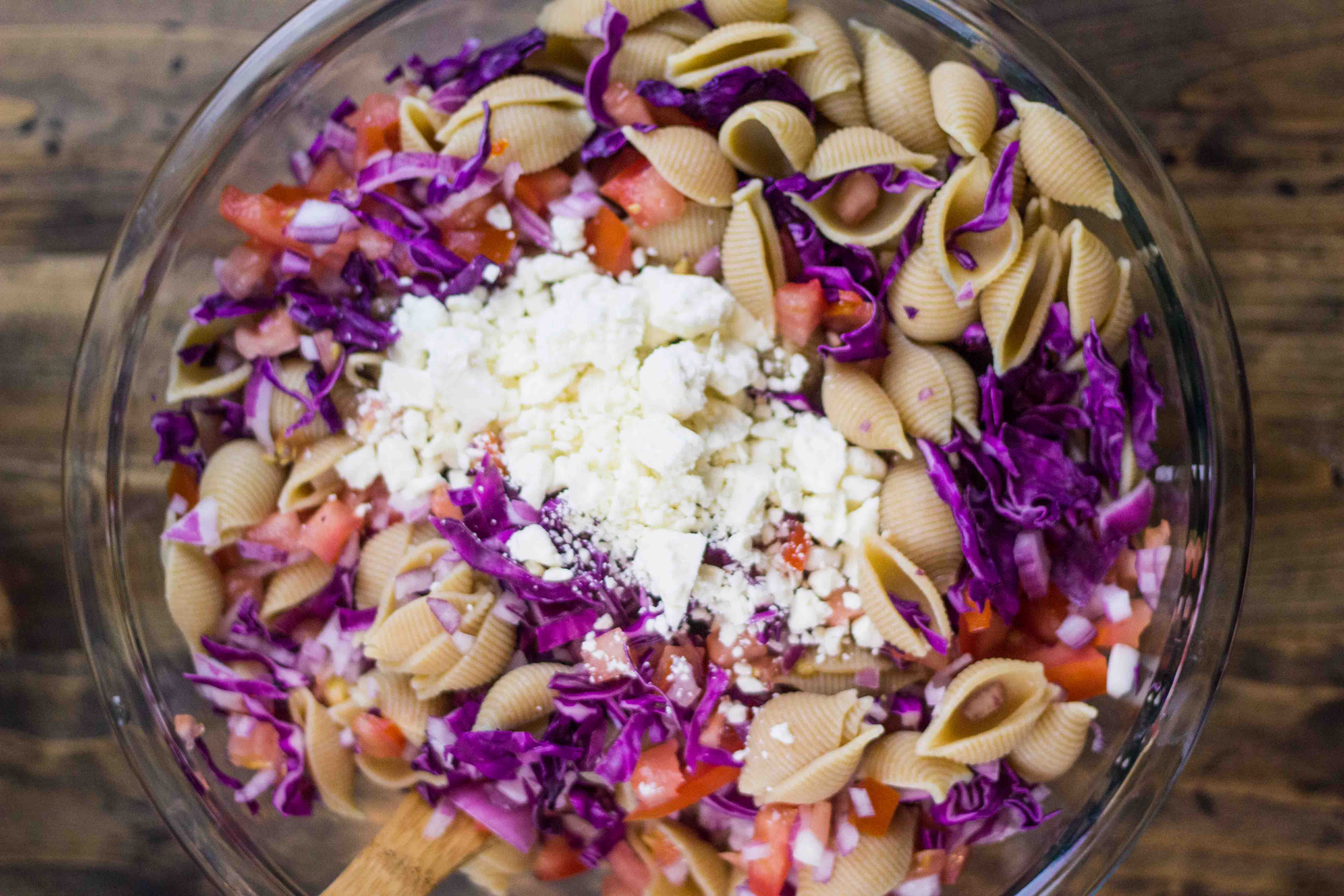 I know many people dislike mayonnaise, but I'm particularly annoying about it. At work lunches I've been known to scrape off the inner-most layer of bread from my sandwich and remove any and all pieces of sandwich filling that have been in contact with the white stuff. This usually means that I end up eating bread crusts and a single cucumber for lunch. Worth it.
For my high school graduation party my poor mom had to call caterer after caterer in search of mayo AND meat-free pasta salad options. This reminds me that I probably owe her a 9-year-late apology. Whups.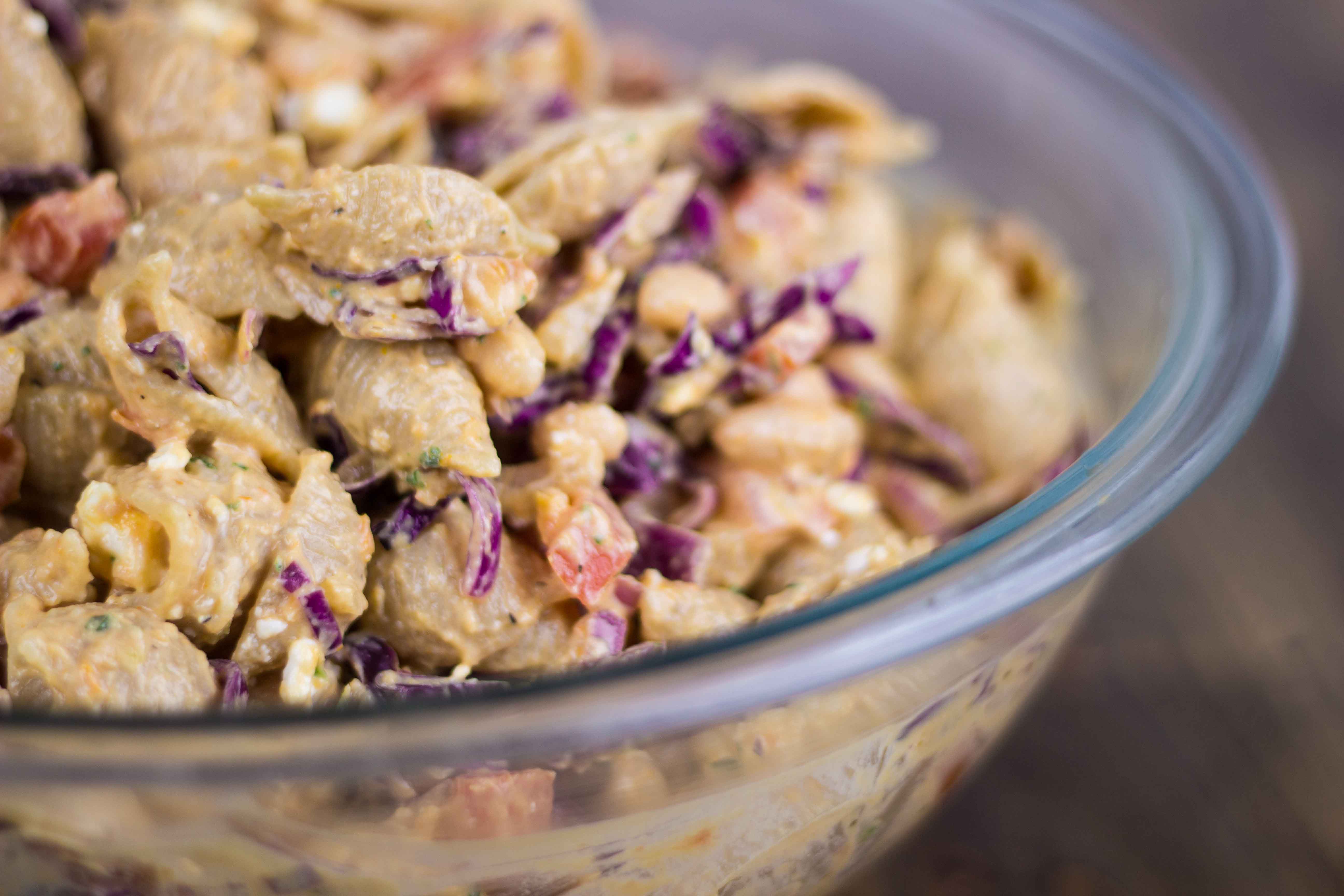 Despite the fact that most pasta salads fall on the do-not-touch list because of mayonnaise (or "aioli" if we're being fancy), I'm often tempted. I like carbs, I like creamy things, I like eating outside, and pasta salad usually involves all those things. Clearly the conclusion here is that I need to just make my own and stop whining.
sun-dried tomatoes, basil, garlic, tomato paste, Greek yogurt and olive oil blend together to create a thick, creamy, mayo-free sauce that clings the whole wheat shells. The pasta and sauce would be great on their own, but I added some Great Northern beans for protein and texture, red cabbage and onion for some crunch and color, feta for a bit of tang, and some tomatoes to complement the sun-dried tomato dressing. Even if you like those mayo-based salads, you need to give this simple and healthy version a try.


Creamy Tomato and Basil Pasta Salad
A delicious and simple pasta salad that has all the creaminess you want, but no mayo! Perfect for picnics, pot lucks, or nights dining al fresco.
Author: Katie of Veggie and the Beast
Recipe type: Pasta, Healthy
Serves: 8
Ingredients
Tomato Basil Pasta Salad
1 package whole wheat shells (or pasta of choice)
1 large beefsteak tomatoes, diced (if you only have small tomatoes use 2 or 3)
1 small red onion, diced
2 cups sliced red cabbage
1 15-ounce can great northern beans
4 ounces crumbled feta cheese
Sun-dried tomato dressing, recipe follows
Basil for garnish
Creamy Sun-dried Tomato Dressing
½ cup sliced sun-dried tomatoes (if they are packed in oil then give them a good rinse)
¼ cup fresh basil leaves
2 tablespoons tomato paste
2 cloves garlic
1 cup - 1½ cups Greek yogurt (depending on desired level of creaminess)
Salt and pepper to taste
⅛-1/4 teaspoon cayenne
5 tablespoons olive oil
Instructions
Cook the pasta according to package instructions. Drain and rinse with cold water.
In a food processor, pulse together the sun-dried tomatoes, garlic, and basil until mostly smooth. Add the Greek yogurt, salt and pepper, and cayenne, and pulse until it's incorporated with the sun-dried tomatoes and spices. Slowly add the olive oil while the processor is running.
In a large bowl, combine the pasta, veggies, beans, feta, and dressing. Stir until all ingredients are evenly distributed.
Top each serving with some fresh basil leaves for garnish.
Optional: drizzle with hot sauce for some extra kick!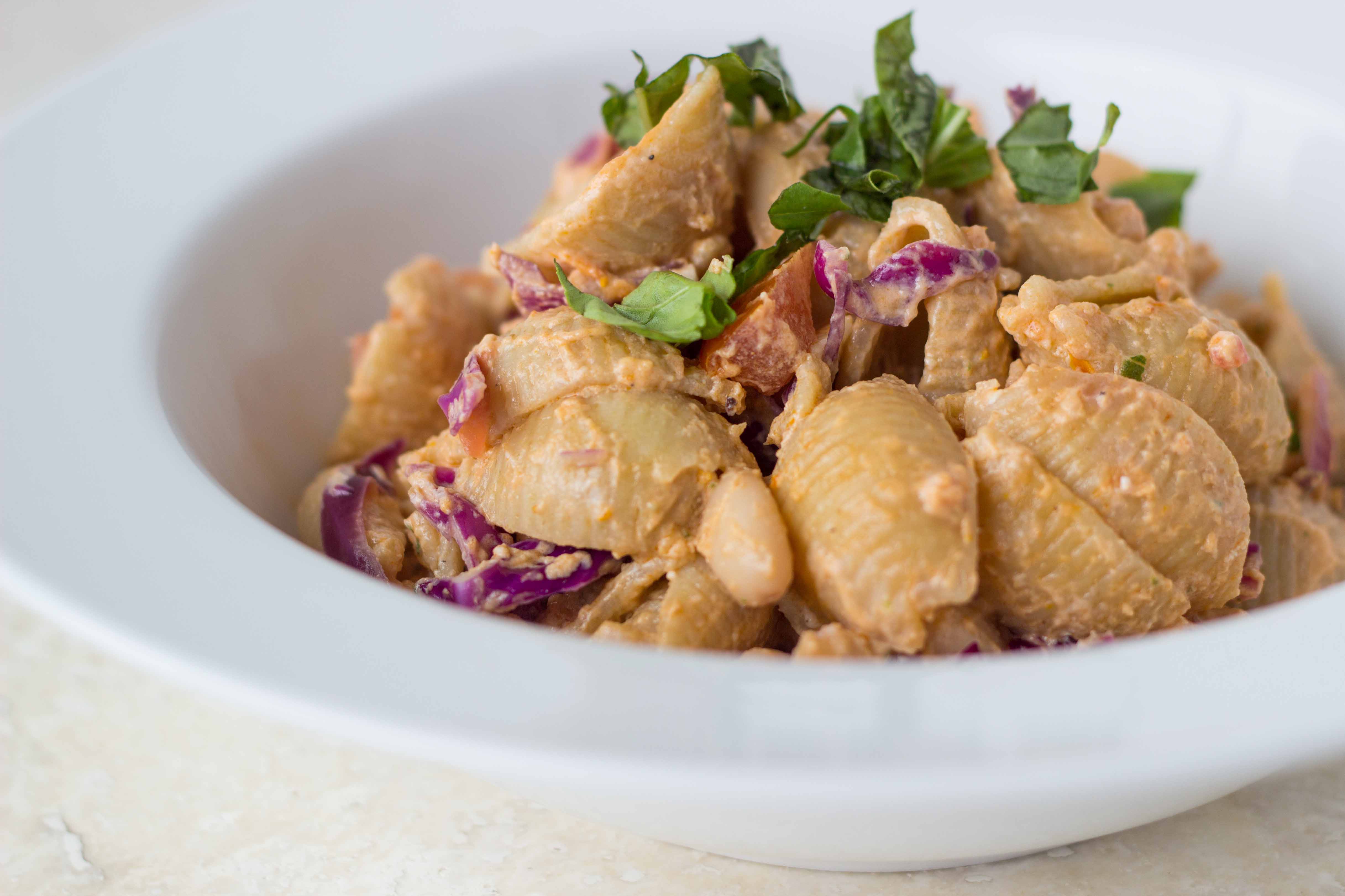 A fresh, flavorful and super healthy pasta salad completely void of the jiggly ingredients? Done. Summer picnics here I come!
9 Responses to "Creamy Tomato Basil Pasta Salad"