Creamy Guacamole and Grilled Corn Pasta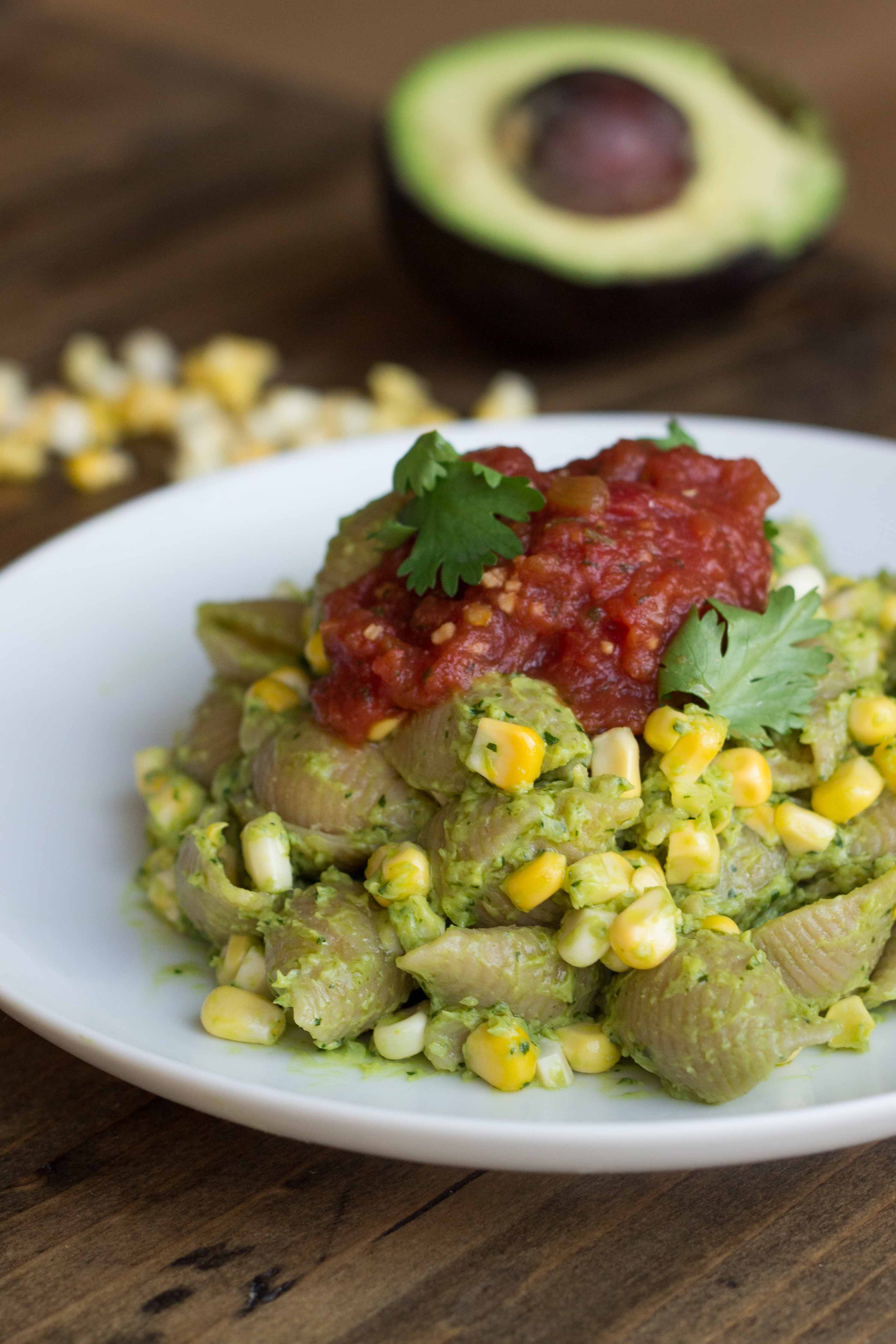 Even in childhood I had a complex about time moving too quickly. At the age of 6 I started asking my parents, "Are you sad that I'm growing up so quickly?" They'd reply with a quick "No, honey, we will love you at all ages," but I knew my time as a cute young thing was running out (and I was correct, btw – if you saw what I looked like at age 12 you'd understand).
Although I've worked hard to become one of those "live in the moment! seize the day!" kind of people, the few days after 4th of July weekend always make me a bit sad. My mind races with thoughts like, "Summer is halfway over! I haven't done anything on my summer bucket list! When are we going to go canoeing? When are we having our wilderness weekend in Wisconsin? Why haven't I had a full sun-soaked beach day yet? Why is time moving so fast? Why why whyyyyy?" Yeesh, what a whiner.
Then I remember that I love July and August (so much HEAT), and I also love fall (pumpkin, boots, crisp air), and then it's basically Christmas season, which I'm obsessed with!…it's really just a big lovefest from here on out, so I need to cool my jets and seize the seasons as they come.
This lovely mid-summer season, for instance, is all about bright veggies, smokey grills, and easy dinners. I think I can get on board with that.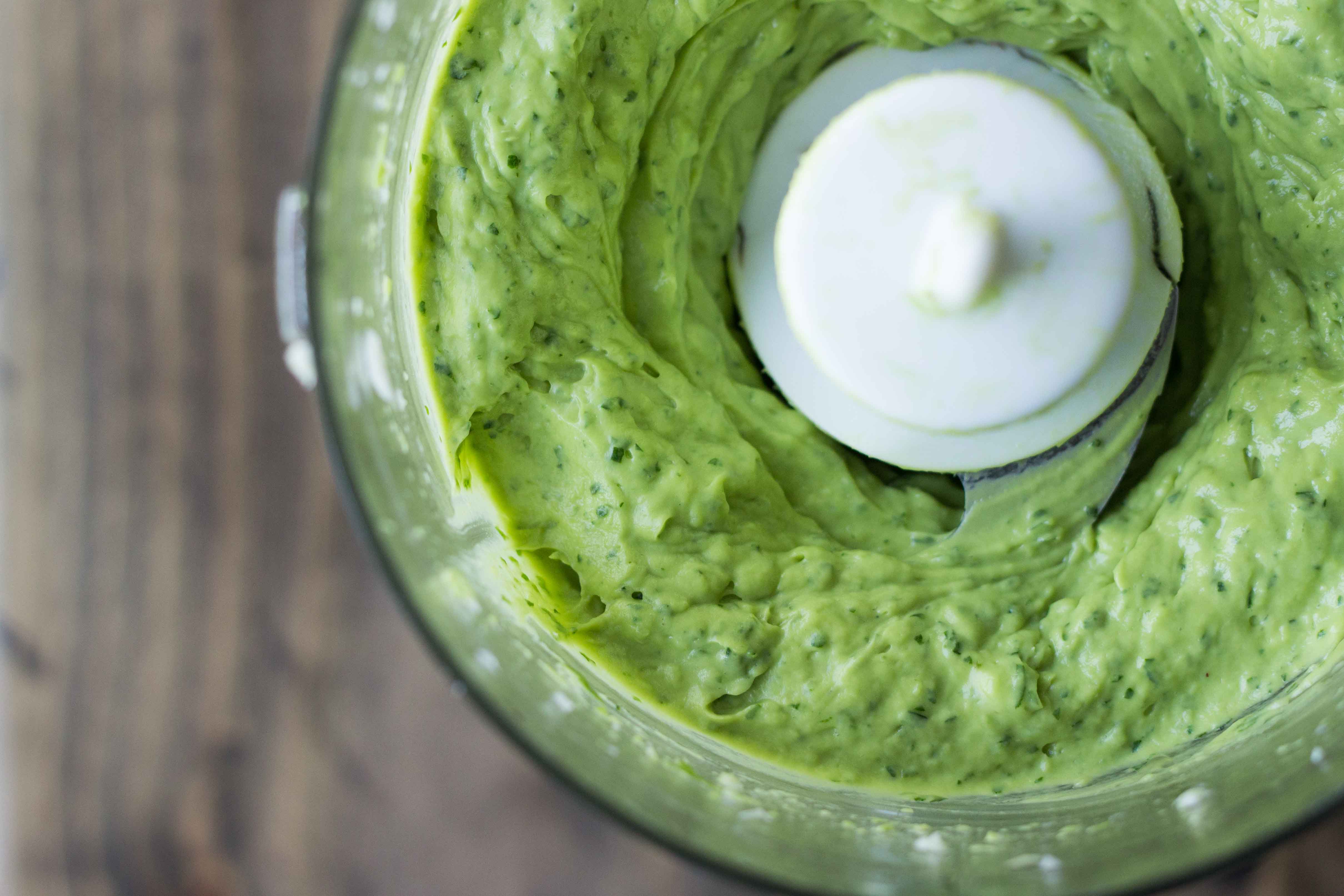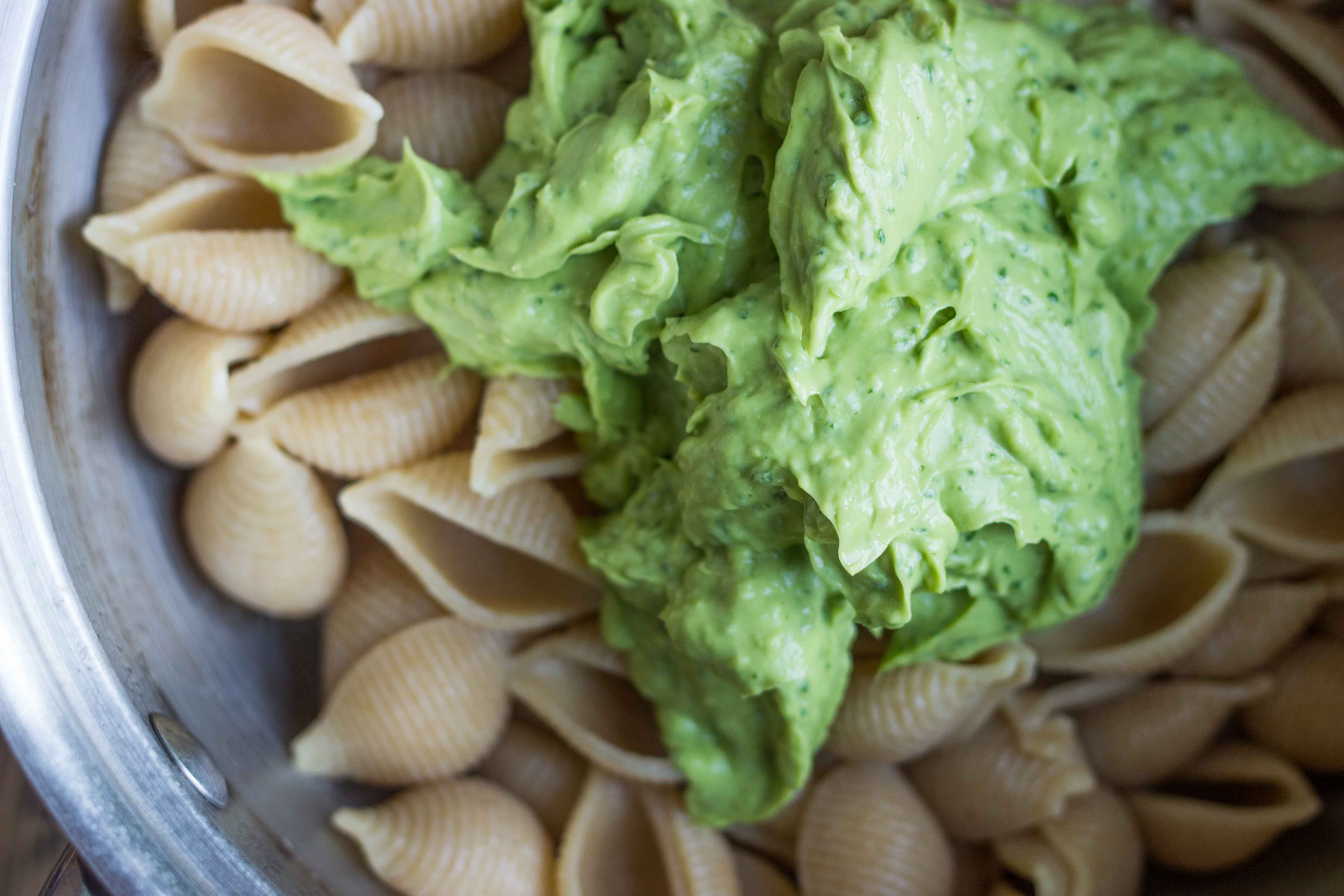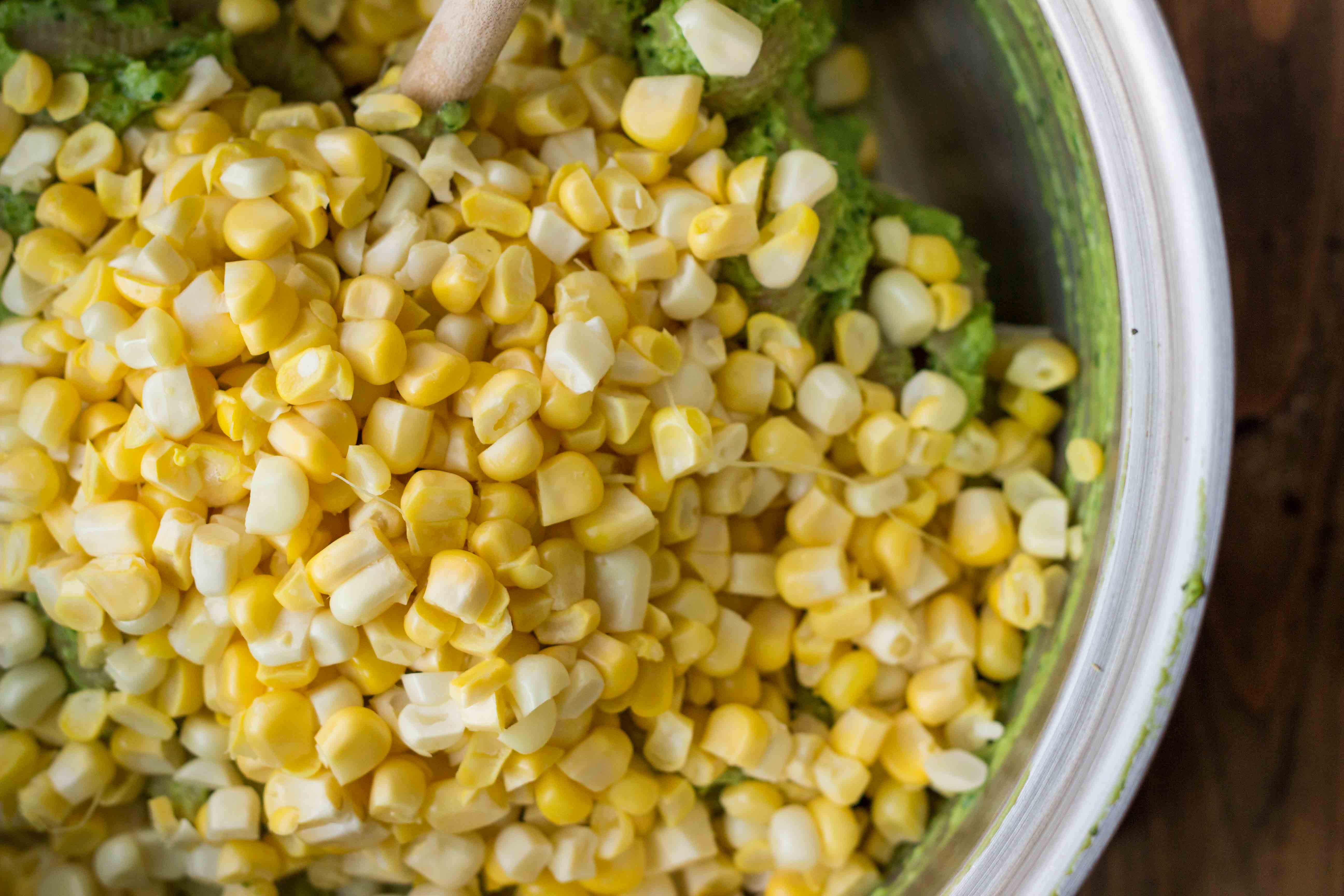 Take this meal right here, for instance (yes, I am the queen of transitions…). It's super simple, creamy, and full of good-for-you fats. It's so lick-your-lips tasty that for one night my vegan challenge didn't feel too much like a "challenge."
As I mentioned before, The Beast has been super supportive of my 30-day vegan challenge, but I have to admit that he hasn't been too enthused about partaking in my vegan dinners. When I'm my usual lacto-ovo vegetarian self, The Beast and I eat the same meals, with the occasional meat added to his when the craving hits. In the three weeks since I began my vegan challenge, our usual dinner scene has changed; I chomp down lentils, kale, quinoa and avocado while he cooks steak, fries potatoes, and grills sweet corn.
Although I have no issue with him getting his meaty "Man Meal" fix (and yes, that is what he calls it), it makes me kind of sad to be eating different meals so frequently. Cooking together has always been one of our favorite date night activities, and it loses it's magic when you have to create two separate meals. Last week I decided to modify one of my favorite dishes, Oh She Glows Creamy 15-Minute Avocado Pasta, to fit The Beast's taste preferences. The original recipe calls for lemon and basil in the sauce, but for this version I squeezed in lime and added tons of cilantro (The Beast's favorite herb), grilled corn (The Beast's favorite vegetable), and topped it off with a dollop of salsa (The Beast's favorite snack).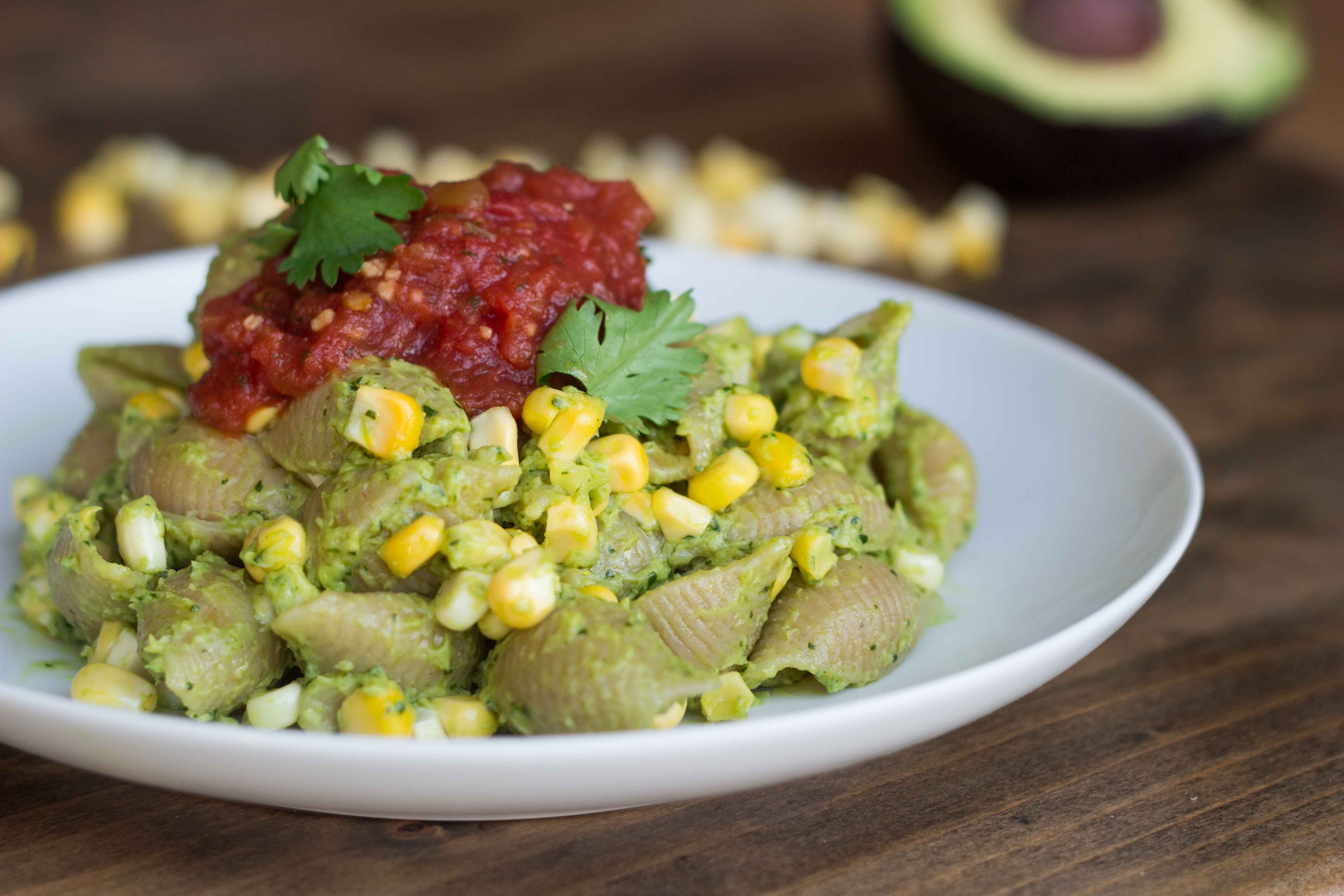 The sauce is creamy, rich, healthy, and easy-peasy. You pulse the avocado in a food processor with lime, garlic, salt, olive oil and a hefty handful of cilantro until smooth and creamy. Toss the avocado sauce and grilled corn with the pasta until evenly distributed, and BAM: creamy vegan pasta that even a dairy-loving carnivore will forget to top with cheese.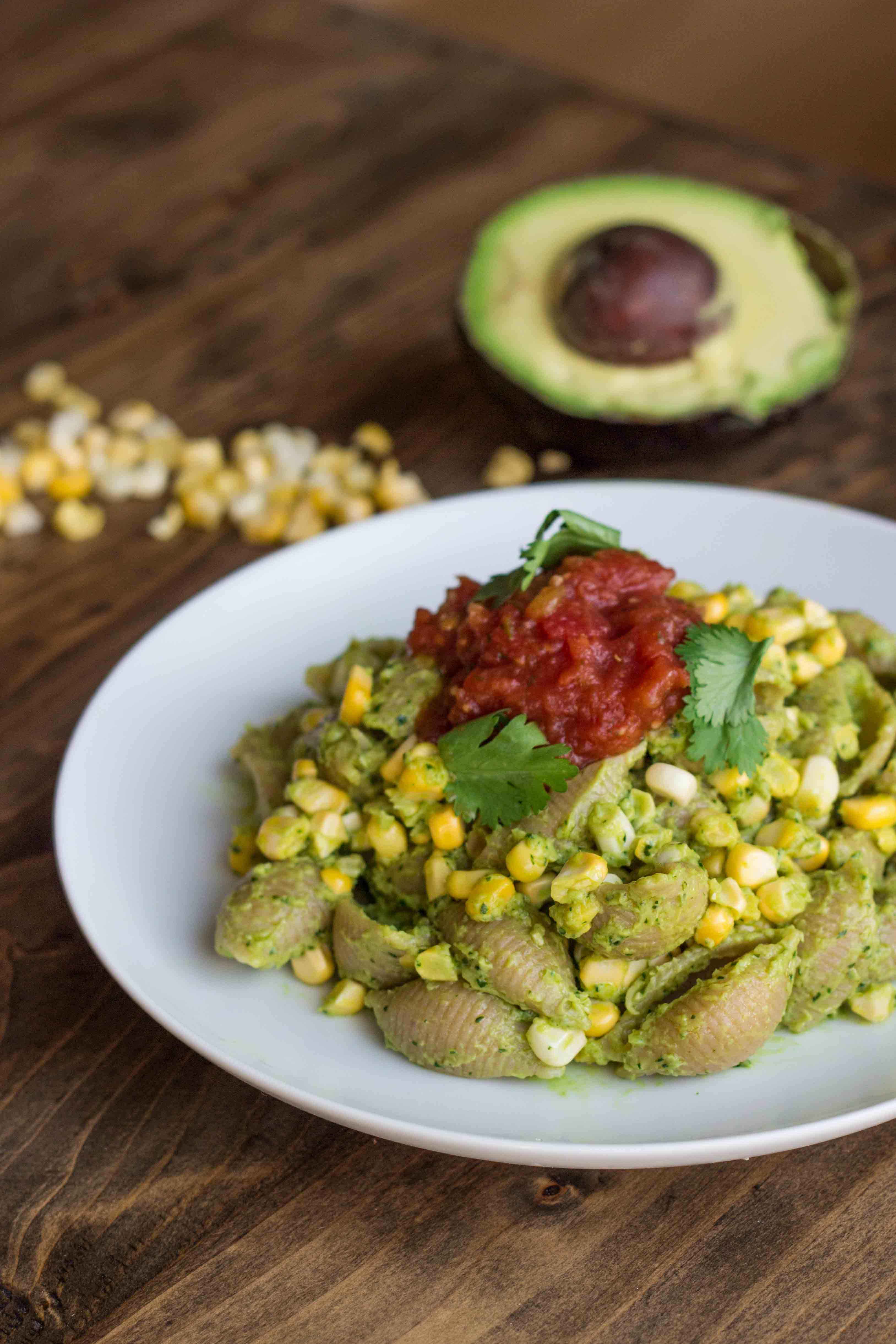 Since this wonderfully bright, summery, and fresh vegan dish comes together in 20 minutes, you'll get extra time in your night to enjoy the season. What will you do with it? Maybe forget your summer bucket list and just sit on your patio and drink wine with your favorite person? Yeah, me too.

Creamy Guacamole and Grilled Corn Pasta
A creamy sauce made of pureed avocado, cilantro, lime, and garlic, mixed with grilled sweet corn and whole wheat pasta shells.
Yield: 2 servings
Prep Time: 10 minutes
Cook Time: 10 minutes
Total Time: 20 minutes
Ingredients:
2 cups whole wheat pasta shells
2 cloves garlic
½ lime, juiced
2 tablespoons extra virgin olive oil
½ teaspoon kosher salt
½ cup fresh cilantro, plus more to garnish
1 medium ripe avocado
¼ cup your favorite salsa
2 small/medium ears of sweet corn
Directions:
Bring a pot of salted water to a boil. Cook pasta until al dente.
While the pasta is cooking, pulse the garlic, lime juice, and olive oil in a food processor or blender. Add the salt, cilantro, and avocado, and process until smooth.
If you have a favorite way to grill corn, go for it, but this was our process: Soak the corn in a pot of water for 5 minutes. Peel away the husks until you're left with just a thin layer of husk covering the kernels. Place the corn on a grill over low heat. Cook for a few minutes on each side until the husks are lightly browned. Remove the husks, and then cut the corn kernels off of the cob.
Pour the avocado sauce and the corn over the cooked and drained pasta. Mix well, divide between 2 plates, then top each with 2 tablespoons of salsa and some cilantro for garnish.
Adapted from Oh She Glows. Note that leftovers will not keep well because of the avocado in the sauce.