Gluten Free Banana Peanut Butter Muffin Tops (+ our new PUPPY!)
GUYS. I won a battle on Thursday night.
For a year and a half I've been trying to convince The Beast that we should get a puppy. Once or twice a month I'd bring up the possibility of adopting a puppy, and he would say it would be too much work, that we should wait until we have a house with a yard etc., and then I would respond with the ever-convincing argument of "but I waaaaaant one!"
I don't know what happened on Thursday night to change the flow of this conversation we had repeated so many times, but when I said, "I want a puppy" he responded with "Okay, let's get a puppy." What? Wait, is this a trick?

24 hours later, we brought the cutest puppy in the world into our home. Her name is Teia (Tay-uh), she's just over 8 weeks old, and is going to be so spoiled it's not even funny. If you follow me on Instagram, you may have noticed that there's been an onslaught of puppy pictures over the past several days. I'm sorry if this annoys you, especially because I don't see it stopping anytime soon.
That face! I can't get over it. It's also been really fun to see how much Ryan loves her. He'll call "dibs" on her when we sit down to watch TV, he'll gush about how well-behaved she is, and when I say "So you're okay with this dog thing, huh?" he'll look away and respond with a sheepish, "Well she's a pretty sweet dog, so…" 1, 2, 3…awwww.
Anyway, this weekend I pretty much did nothing except hang out with her, because I couldn't help myself. Then, The Beast left for Wisconsin on Sunday afternoon and took Teia with him so she wouldn't have to be alone while I was at work on Monday and Tuesday. I felt SO SAD. Seriously, it's embarrassing and pathetic how much her absence impacted my mood. So, obviously I had to bake something to take my mind off of my sweet puppy being 3 1/2 hours away from me.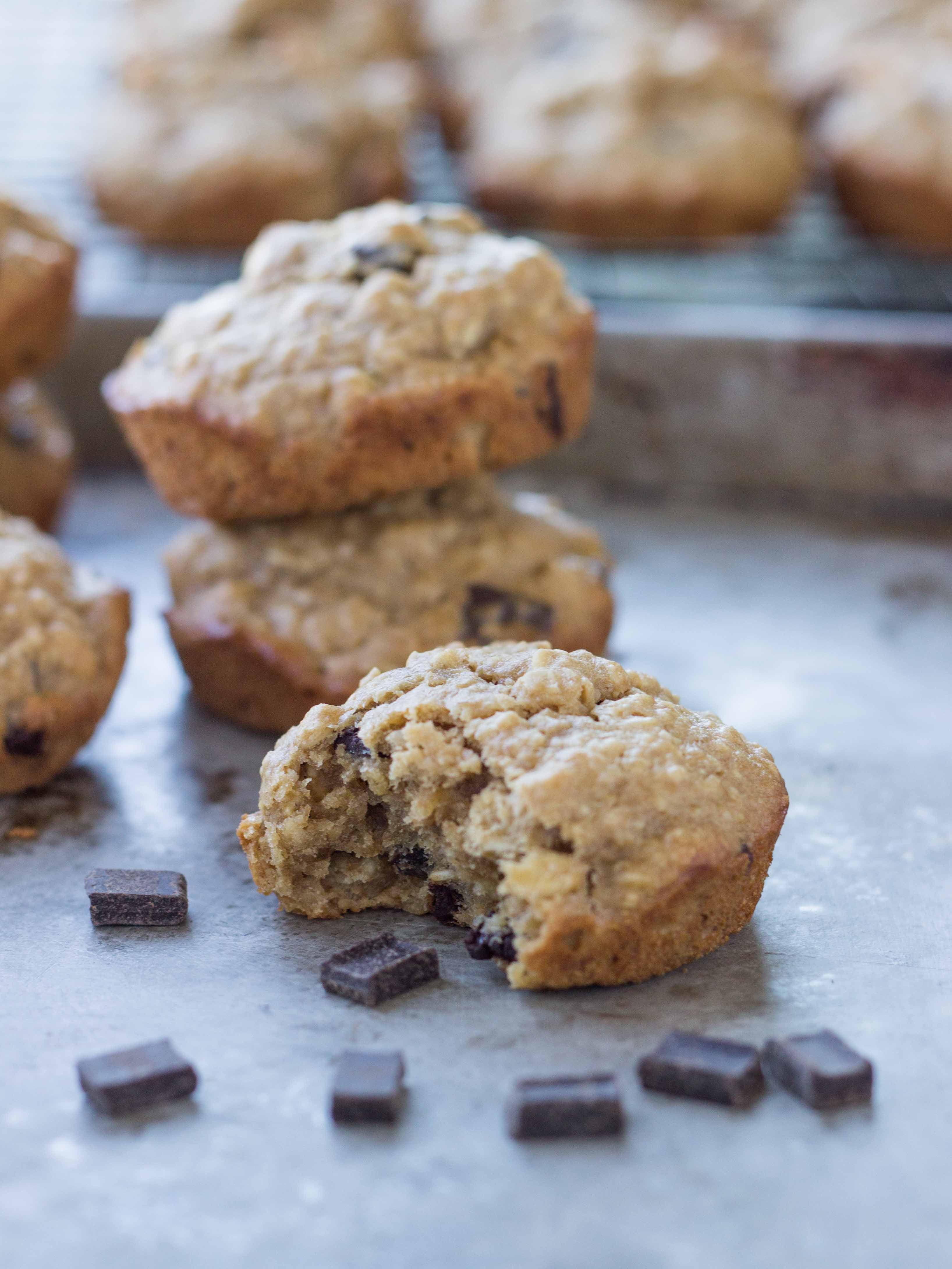 Enter these little muffin tops. I'm calling them "muffin tops" because they're smaller and less of a snacking commitment than full-sized muffins. I wanted a bite of sweetness that was both gluten-free and lower in refined sugar than most muffins. These are perfect for dipping in coffee or munching on at 3pm when you need an afternoon pick-me-up. Not only do these guys include a trifecta of tastiness (banana, peanut butter, and chocolate), but each muffin top has just 140 calories and 5 grams of protein. Maybe they don't make up for my puppy being gone, but they are pretty cute as far as baked good go, eh?


Gluten Free Banana Peanut Butter Muffin Tops
Gluten free muffin tops filled with banana, peanut butter, and dark chocolate chips! A healthy, protein-rich snack under 150 calories.
Yield: 12 muffins
Prep Time: 10 minutes
Cook Time: 20 minutes
Total Time: 30 minutes
Ingredients:
1 large banana, mashed with a fork (about 1/2 cup)
1/2 cup creamy peanut butter (no stir, such as Jif Natural)
1/4 cup plus 2 tablespoons dark brown sugar, packed
1 egg
1/2 teaspoon vanilla extract
3/4 cup gluten free old-fashioned oats, blended into flour
1/4 cup gluten free old-fashioned oats, not blended
1/4 teaspoon baking powder
⅛-1/4 teaspoon salt (depending on if your peanut butter is salted)
1/4 cup chocolate chips (I used mini dark chocolate chunks)
Directions:
Preheat oven to 350 degrees.
Beat together the banana, peanut butter, and dark brown sugar until mostly smooth (a few banana chunks is normal). Mix in the egg and vanilla.
In a separate bowl, combine the oat flour, oats, baking powder, and salt. Gradually add the dry ingredients to the wet, scraping down the sides after each addition. Fold in the chocolate chips.
Divide the batter between 12 greased muffin tins. You will end up putting about 2 tablespoons of it in each tin.
Bake for 18-20 minutes, until just starting to get a bit golden on top.
Nutrition Information: Serving Size: 1 muffin top, Calories: 140 Fat: 7.7g Saturated Fat: 2.1g Carbs: 19.9 Sugar: 8.8g Sodium: 82mg Fiber: 2.3g Protein: 5.2g Cholesterol: 14mg