Dark Chocolate Merlot Cupcakes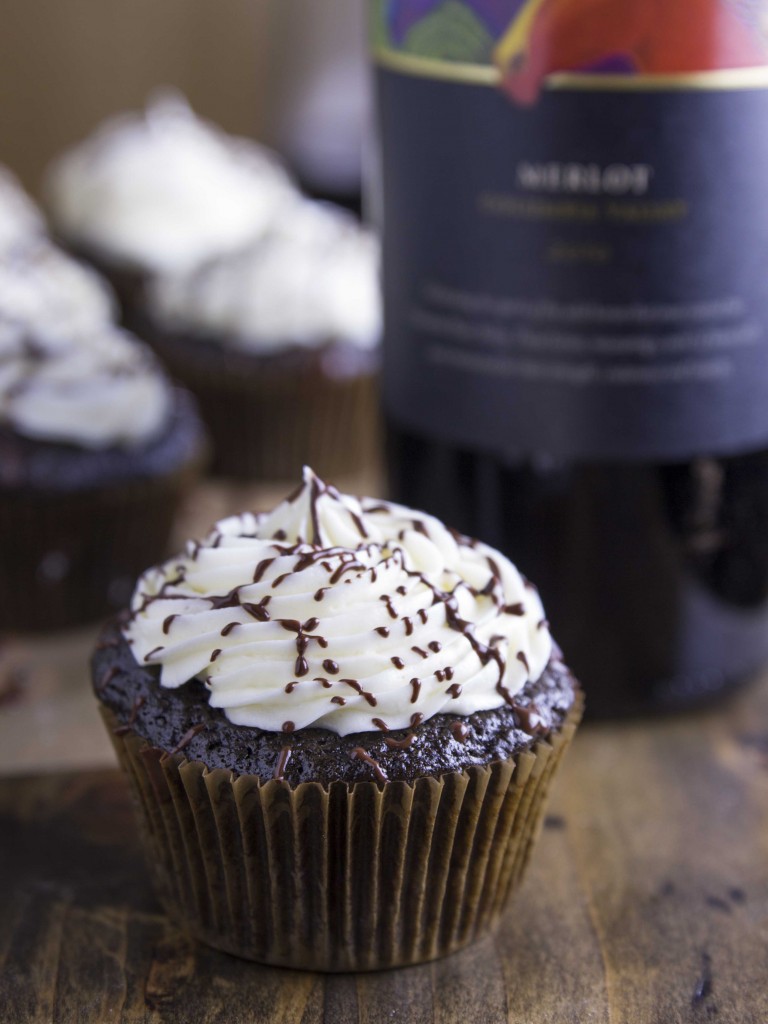 Valentine's Day! Give me all the chocolate. And all the wine. And maybe the two together?
I technically shouldn't drink red wine, because I'm fairly certain that it gives me headaches, so the glass of wine you see in the background of these photos is a total lie. It just sat there, alone, and not being consumed by me.
…Except for maybe just a couple sips. Just between picture taking and cupcake eating. Just to set the mood.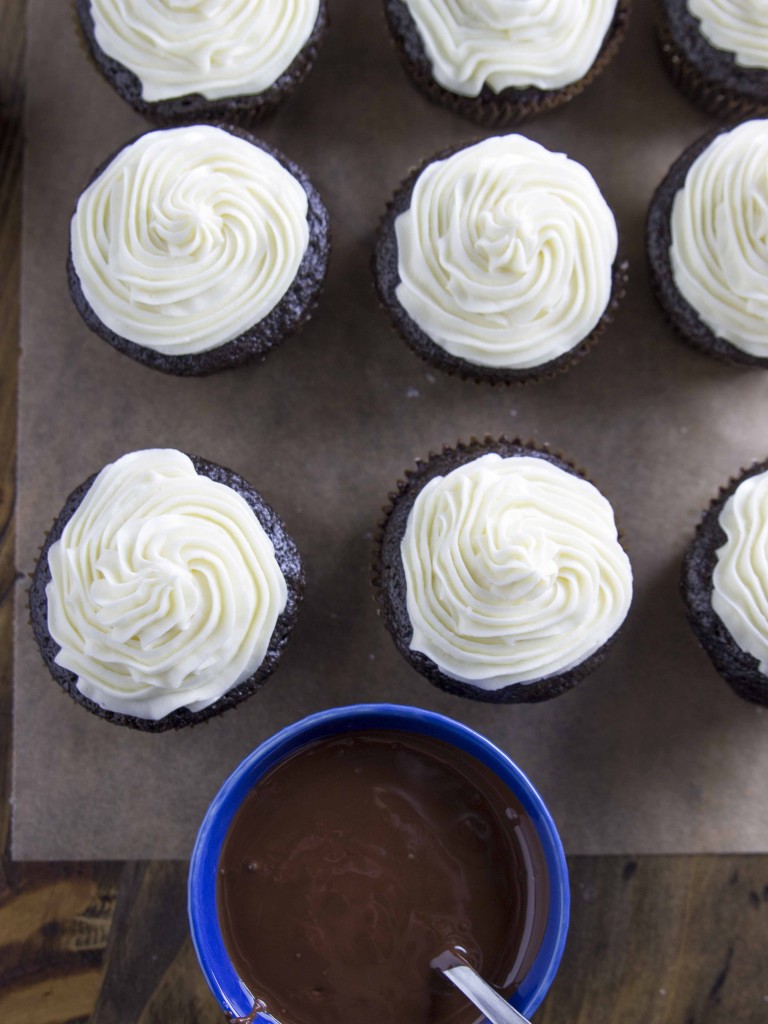 The thing is, I LOVE red wine. I want red wine to be my valentine. I blame all the Scandal I've been watching lately, and the fact that I kind of want to date be drink with Olivia Pope, and help her eat the popcorn she always makes but never touches.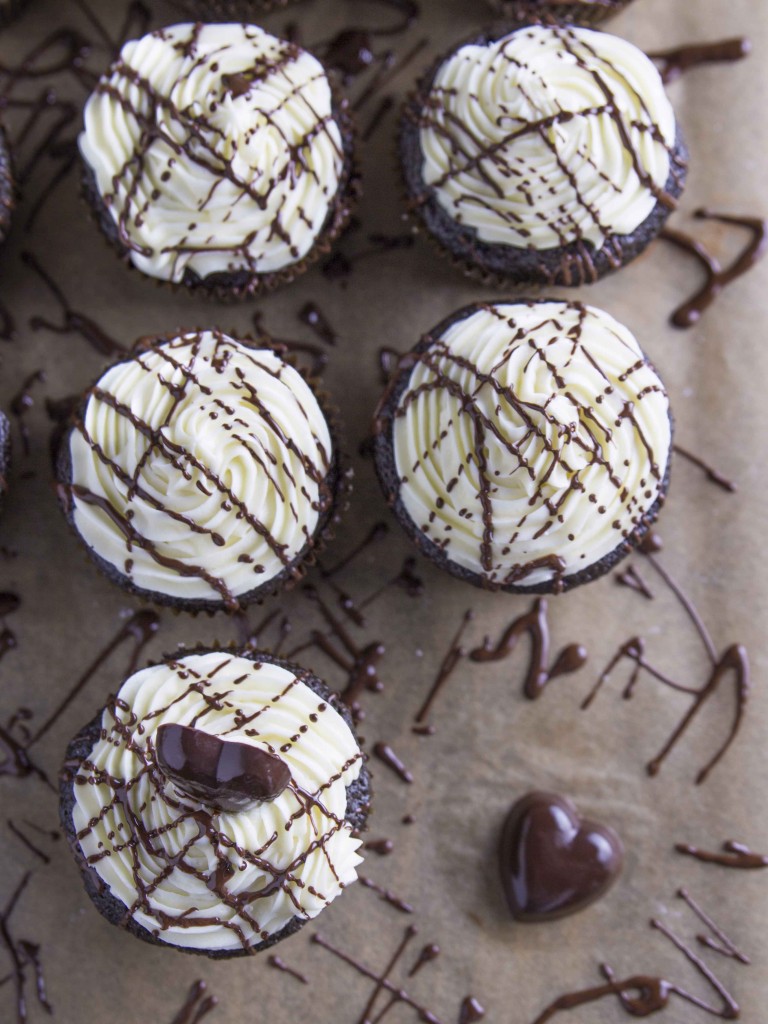 When Ryan and I started dating, we'd make dinner together several times a week and often kill a bottle of red in the process. Nowadays when we make dinner together, our beverages consist of soda water or white wine (for me) and warm Coors Light (for him). It somehow doesn't feel quite as romantic.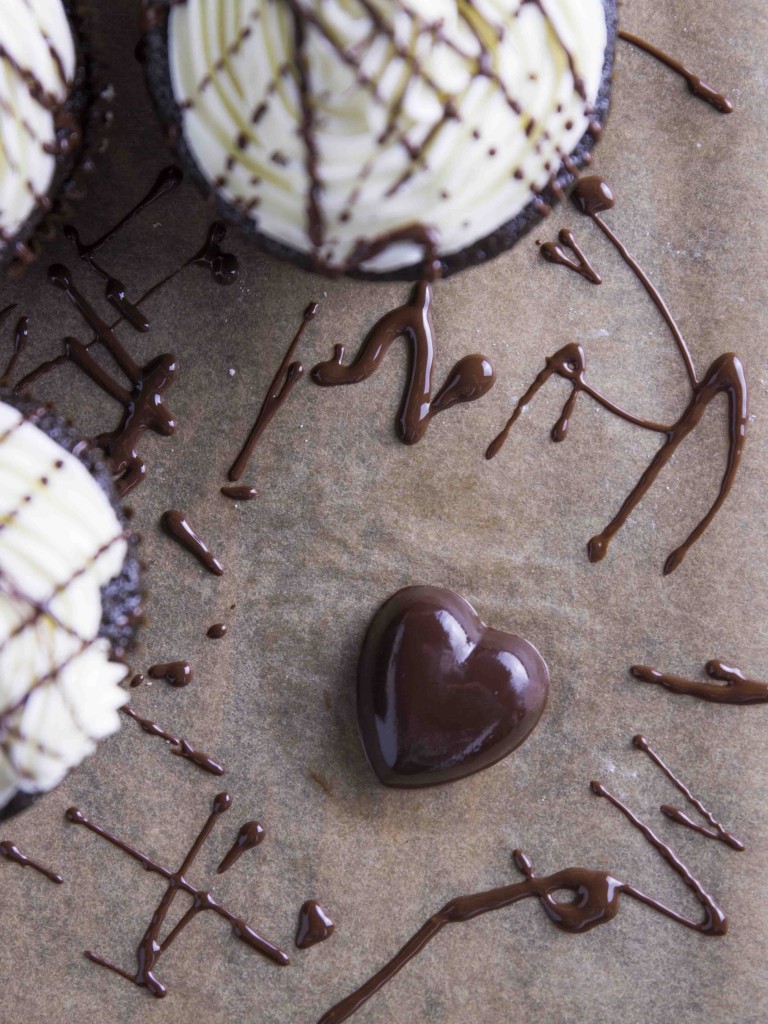 Fortunately these cupcakes are totally romantic, with their mix of merlot, dark chocolate, and whipped cream cheese buttercream. The wine is subtle, but the taste is definitely there. It adds depth and a bit of fruitiness to the deep, dark chocolate flavor.
Can we call a cupcake sexy? If so these cupcakes are total babes.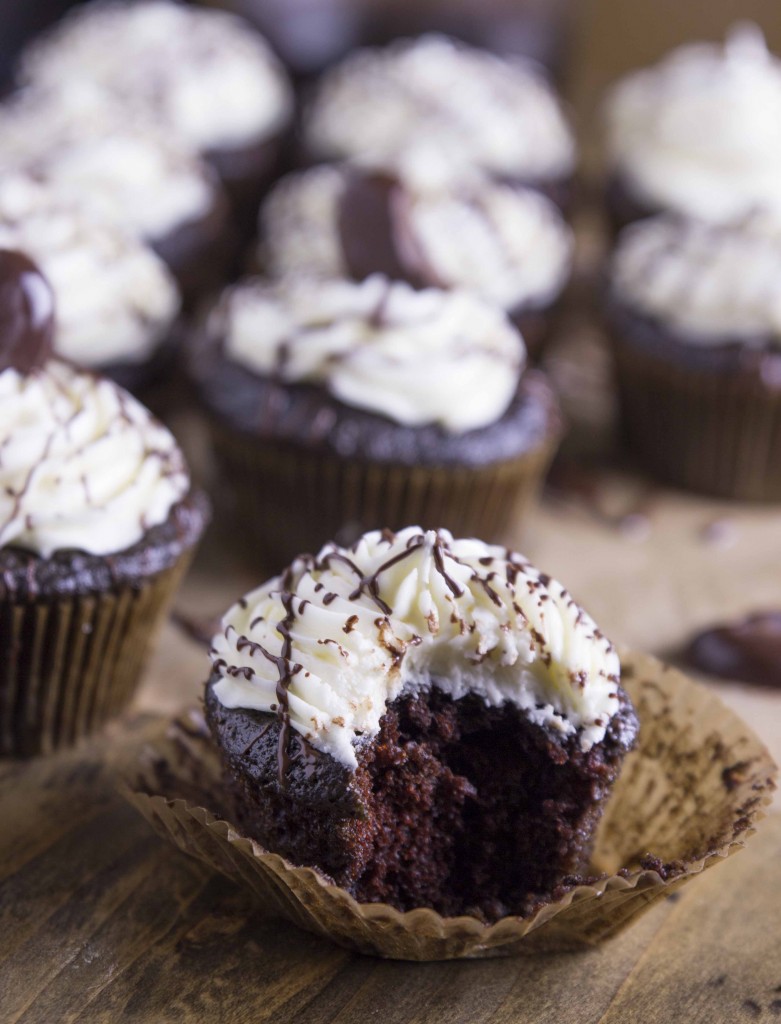 The cake is adapted from my go-to cupcake recipe, which you'll see variations of here, here, and here. It's ridiculously light and fluffy, and just begs to be boozed up for special occasions.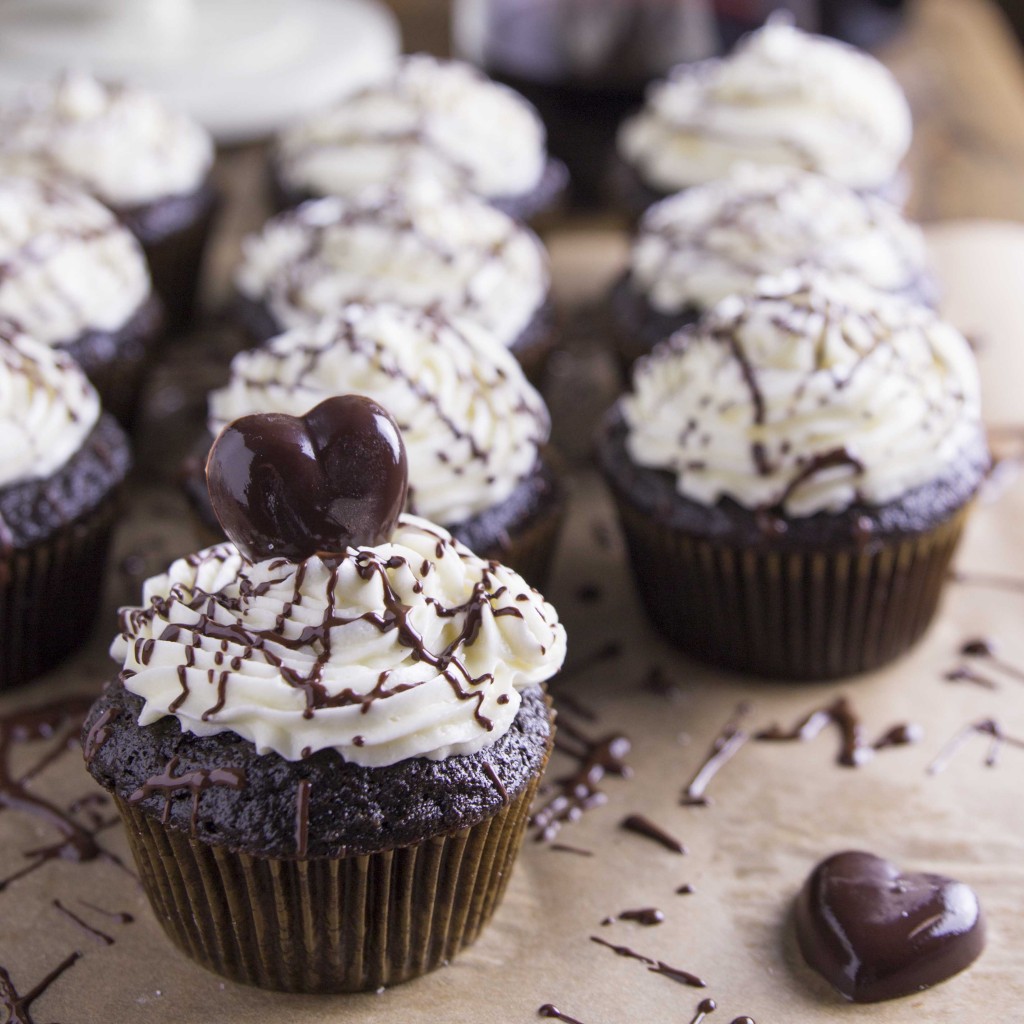 The chocolate hearts and drizzle aren't necessary, but I like how they make the cupcakes look a little fancy, like they're all dressed up for your date night. Of course, our ideal date night consists of being cozy on the couch with Italian food and board games, but at least our cupcakes have some class.


Dark Chocolate Merlot Cupcakes
Light and fluffy chocolate cupcakes made with red wine, topped with a whipped cream cheese buttercream, and drizzled with melted dark chocolate.
Yield: 24 cupcakes
Prep Time: 20 minutes
Cook Time: 15 minutes
Total Time: 35 minutes
Ingredients:
Dark Chocolate Merlot Cupcakes
⅓ cup coconut oil, melted
1 egg, room temp
1 cup buttermilk, room temp
1 tablespoon vanilla extract
1/3 cup dark brown sugar
2 cups unbleached all-purpose flour
1 cup granulated sugar
1/2 cup cocoa powder
1 teaspoon salt
1 tablespoon baking soda
1 cup Merlot (or other red wine), room temp
Whipped Cream Cheese Buttercream
4 ounces cream cheese, room temp
1 stick (1/2 cup) butter, room temp
4 1/2 - 5 cups powdered sugar
1 teaspoon vanilla extract
1/8 teaspoon salt
1 tablespoon half and half or heavy whipping cream
Chocolate Drizzle
1/2 cup dark chocolate chips
2 teaspoons coconut oil
Directions:
Preheat oven to 375.
In a large bowl, whisk together the melted coconut oil, egg, buttermilk, vanilla, and dark brown sugar. In a separate bowl, sift together the flour, granulated sugar, cocoa, salt, and baking soda.
Slowly mix the dry ingredients into the buttermilk mixture. Once everything is incorporated, gradually beat in the wine. Whisk until all lumps are gone.
Coat cupcake liners with nonstick spray, then fill each liner about 3/4 full with batter. Bake for 12-15 minutes, until a toothpick inserted in the center comes out clean. Allow to cool completely on a cooling rack.
While the cupcakes are cooling, make the buttercream. Beat the cream cheese and butter until light and creamy. Add the powdered sugar, one cup at a time, incorporating on low and then beating on medium-high speed to fully mix in the sugar. Once you've added all the sugar, pour in the vanilla and cream, and beat on high for 2-3 minutes, until the frosting is light and fluffy.
For the chocolate drizzle, melt the chocolate and coconut oil together in a glass bowl set over a pot of simmering water. Remove from heat once it is melted.
Pipe frosting onto each cupcake, and then drizzle with melted chocolate. Store in an airtight container in the refrigerator.
If you have a candy mold and want to make the chocolate hearts, just double the recipe for the chocolate drizzle.
15 Responses to "Dark Chocolate Merlot Cupcakes"