Individual Zucchini & Arugula Salad Pizzas with Cauliflower Cheese Sauce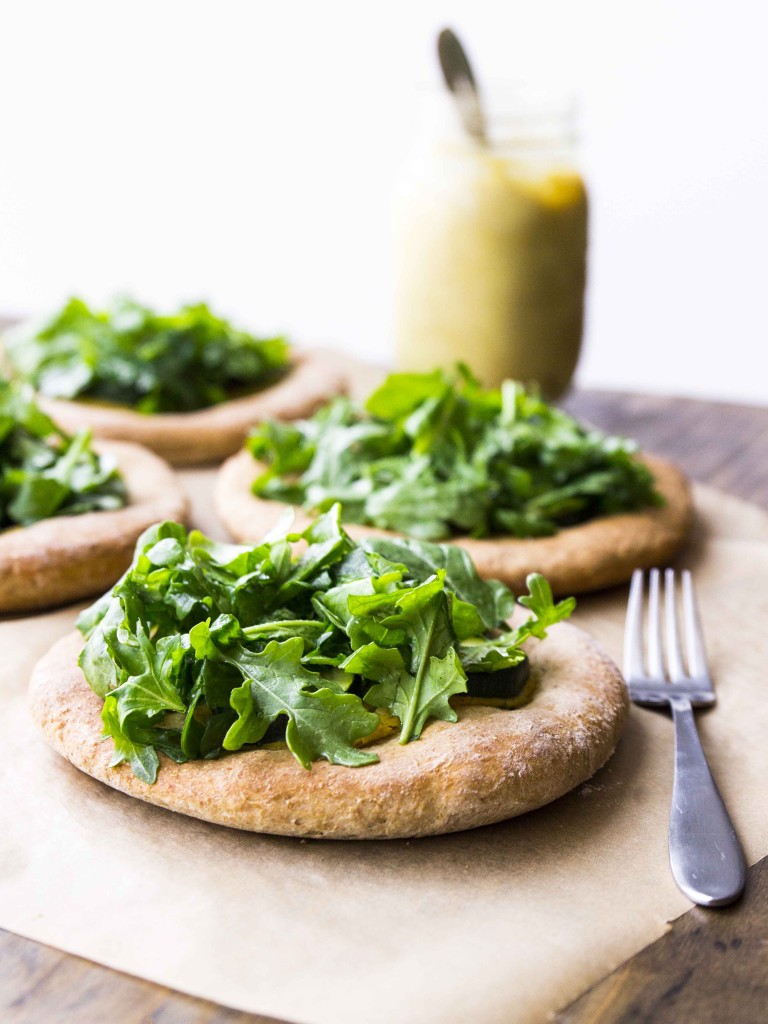 Although Ryan and I usually eat identical dinners (cause I kinda sorta like to cook), on pizza night we eat SEPARATE pizzas. There is no pizza commingling. No siree.


It wasn't always this way, of course. When we first started dating, we'd make pizzas and Ryan would be all, "Sure, that's enough cheese for me," or, "Nah, I don't need pepperoni on half of it, that's fine." These days, the only pizza things we can agree on are whole wheat crusts and marinara (usually). I pile mine with mostly veggies, a few thin slices of fresh mozzarella, and call 'er good. He has a very intricate pizza-building process: spoon on sauce to the very edge of the crust, grate on at least 2 types of cheese, then add veggies (green peppers and onions, always), and spread on a layer of meat (sometimes pepperoni, sometimes venison sausage). This process alone would not raise any eyebrows, but he usually repeats this layering process at least twice, and then tops it all off with another thick (THICK) final topping of cheese.
This recipe is not for Ryan.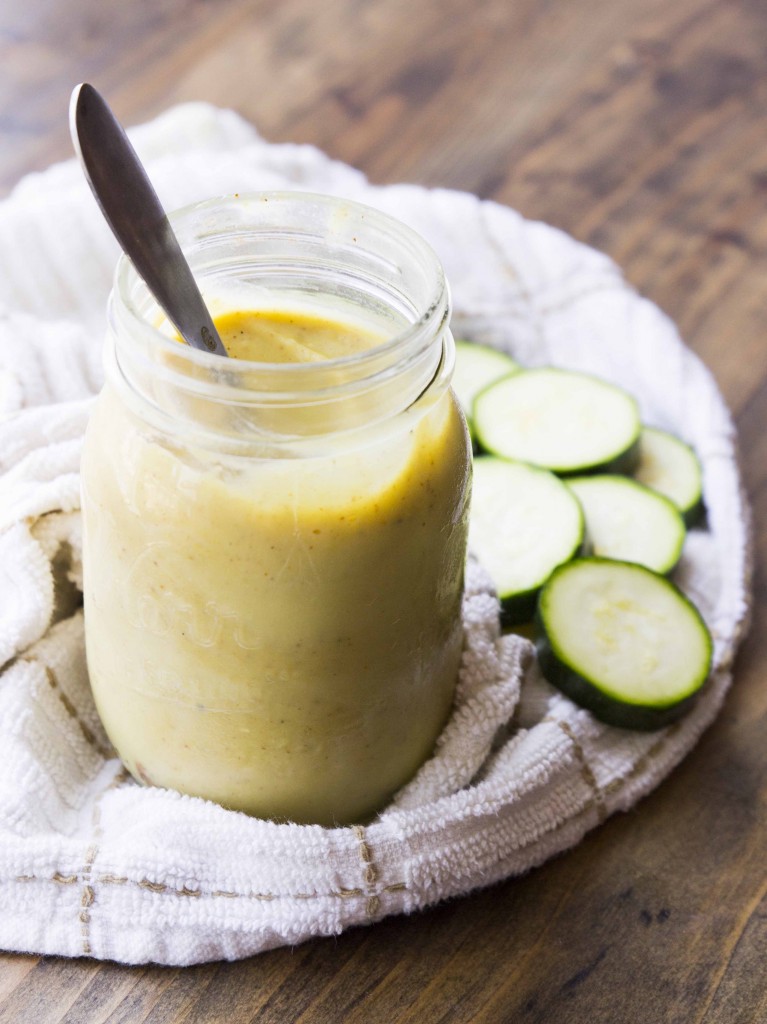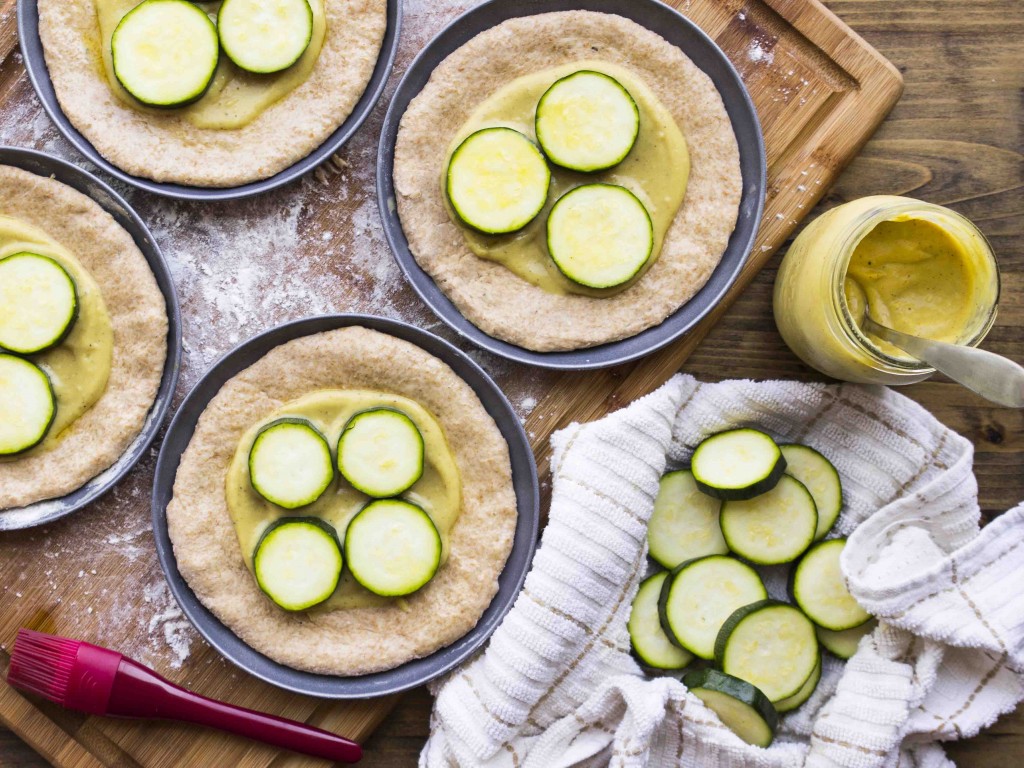 As you might know, I'm not vegan, but I do like playing with vegan options. This cheesy cauliflower sauce, for instance, tastes cheesy, yet is dairy free. It's made with boiled cauliflower, which is then pureed with unsweetened almond milk, nutritional yeast, and a few spices. You can adjust the level of each sauce ingredient to your liking, so taste as you go.
Sidebar: This sauce was inspired by Dana's eggplant queso, which I made a few weeks ago and consequently blew my friggen mind. It sounds so strange! It tastes so much like queso! But it's just vegetables and spices! What!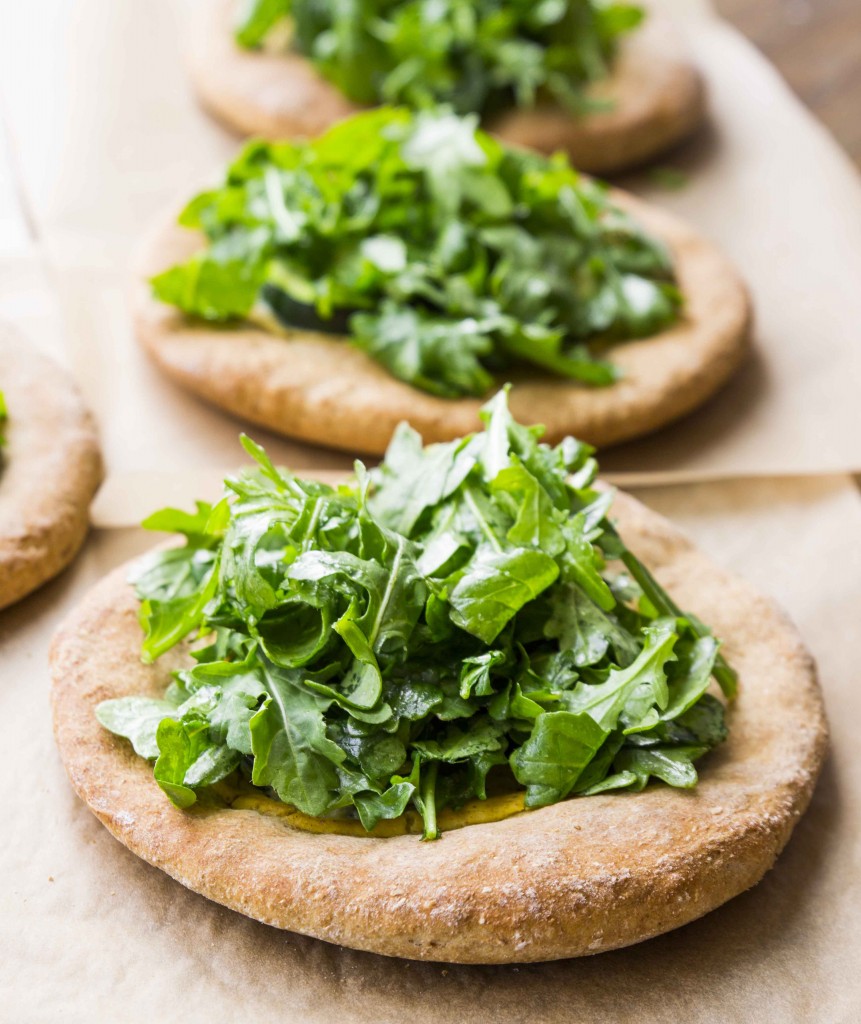 Ahem, anyway, my cheesy cauliflower sauce goes on a perfectly chewy, simple, and fast no-rise pizza crust. Zucchini slices are placed on top of the sauce, and then a little olive oil is brushed on top to make sure things get nicely roasted. While the little pizzas bake, balsamic vinegar simmers into a sweet glaze, and arugula is tossed with olive oil and salt.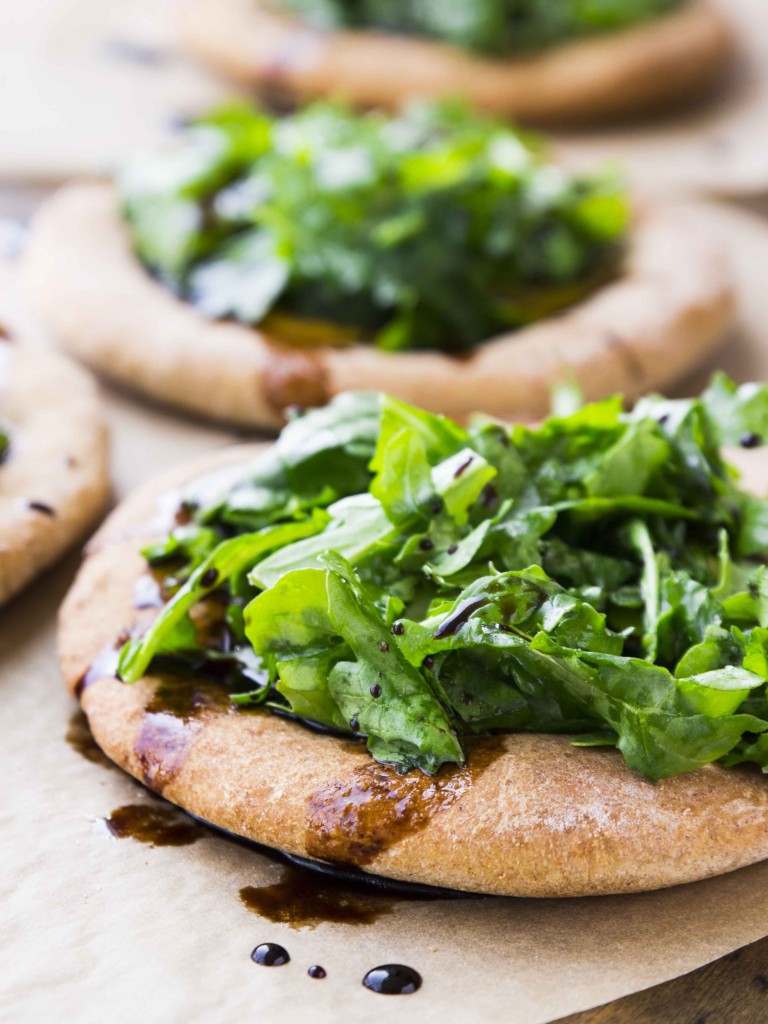 When it all comes together, it's a pretty, chewy, cheesy (but not), fresh salad/pizza hybrid of sorts, and I love every bit of it.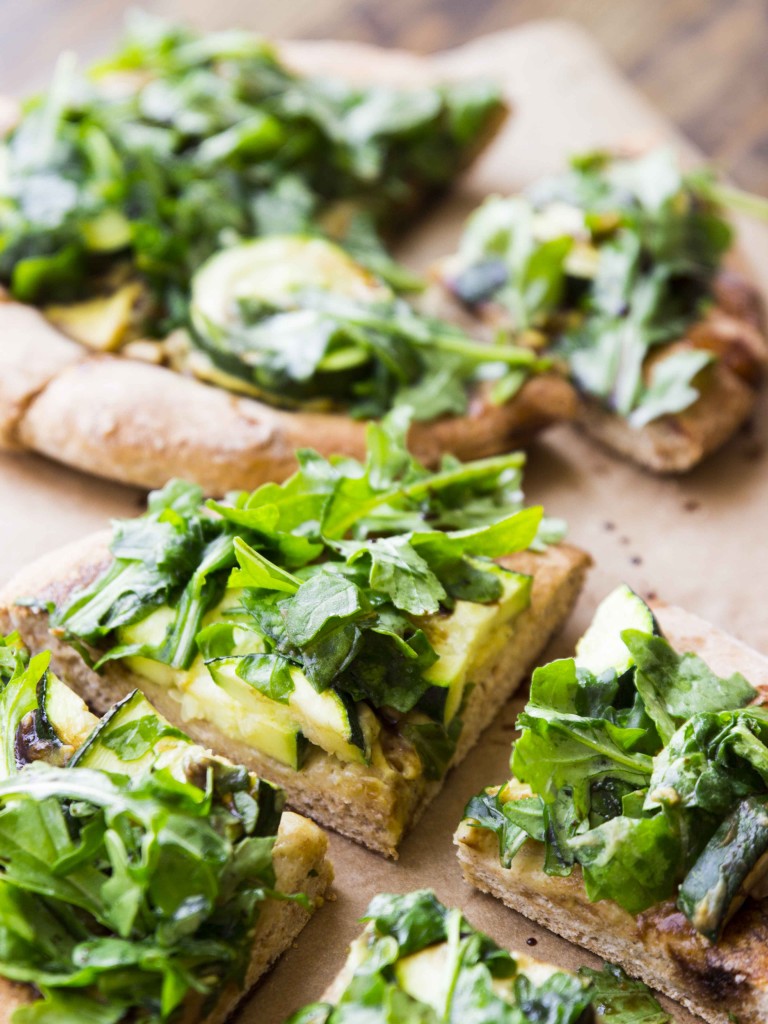 Ryan likes the crust, but thinks it needs more cheese. Typical.


Individual Zucchini & Arugula Salad Pizzas with Cauliflower Cheese Sauce
A fresh, summery pizza topped with cheesy vegan cauliflower sauce, zucchini, a light arugula salad and a drizzle of sweet balsamic glaze
Yield: 4 pizzas
Prep Time: 25 minutes
Cook Time: 15 minutes
Total Time: 40 minutes
Ingredients:
Cauliflower Cheese Sauce
4 cups cauliflower florets (1 3/4 - 2 pound head)
1/2 cup almond milk
1 - 2 tablespoons nutritional yeast
1/2 teaspoon garlic powder
1/8 -¼ teaspoon chili powder
3/4 teaspoon fine sea salt
1/2 teaspoon ground cumin
1/2 tablespoon olive oil
⅛ ground cayenne (optional)
Zucchini & Arugula Salad Pizzas
1 recipe no rise pizza dough
1/2 cup creamy cauliflower sauce (or more/less to taste)
1 medium zucchini, sliced into 1/4-inch thick rounds
1/4 teaspoon fine sea salt
1 tablespoon olive oil, divided
4 cups arugula
1/4 teaspoon fine sea salt
1/2 cup balsamic vinegar
Directions:
For the Sauce:
Bring a large pot of water to a boil. Add the cauliflower, and boil until soft and the florets easily break apart (10-12 minutes).
Drain the cooked cauliflower and rinse with cold water. Transfer to a blender with the milk, and blend until completely smooth. Add all remaining ingredients, and blend until fully incorporated. Taste and adjust seasoning to your liking.
For the Pizzas:
Preheat oven to 400. If you're using a pizza stone, place it in the oven to preheat.
Place the sliced zucchini on a towel (paper or kitchen towel), and sprinkle both sides with some salt (this salt will be rinsed later, so it is not included in the ingredients list). Let sit for 15 minutes. This will draw the moisture out of the middle of the zucchini, and improve its texture. After the 15 minutes are up, rinse with cool water and pat dry.
Divide your pizza dough into 4 balls, and pat each into a 7-inch circle. I have individual 7-inch pizza pans, so I simply greased and floured those and then patted the dough down, but if you don't have those, you'll want roll out your crusts on a piece of parchment and bake on a pizza stone, or on a large pizza pan.
Brush the top of each pizza with 1/4 teaspoon of olive oil, a couple tablespoons of the cauliflower cheese sauce (or however much you want), and zucchini slices. Brush the tops of the zucchini slices with 1/2 teaspoon olive oil.
Bake the pizzas either on floured and greased pizza pans, or on parchment/pizza stone for 18-20 minutes, until the crusts are golden.
While the pizzas bake, make your balsamic glaze. Simply place the balsamic in a small saucepan, and simmer until it reduces in volume by half (about 15-20 minutes). Place in the fridge to cool slightly, as this will allow it to thicken a bit.
Place the arugula, remaining olive oil, and 1/4 teaspoon salt in a large bowl. Gently toss together.
Top each cooked pizza with 1/4 of the arugula, and then drizzle on the balsamic glaze.
You will not need all of the sauce. Store the leftovers in the fridge for 4-5 days, and use on more pizzas, as a spread on sandwiches, or as a dip for veggies.
I used The Fauxmartha's no-rise pizza crust, and it was AMAZING. So easy, chewy, crisp on the outside, and perfect. I only modified a few things, so I figured you could hop on over to her site to get the scoop. The only changes I made were the following: 1) Omitted the parmesan 2) Used 2 cups whole wheat and 3/4 cup unbleached all purpose flour instead of the amounts listed in her recipe 3) Rolled my dough into 7-inch pizzas instead of 9-inch.
6 Responses to "Individual Zucchini & Arugula Salad Pizzas with Cauliflower Cheese Sauce"