Whole Grain Raspberry Coconut Muffins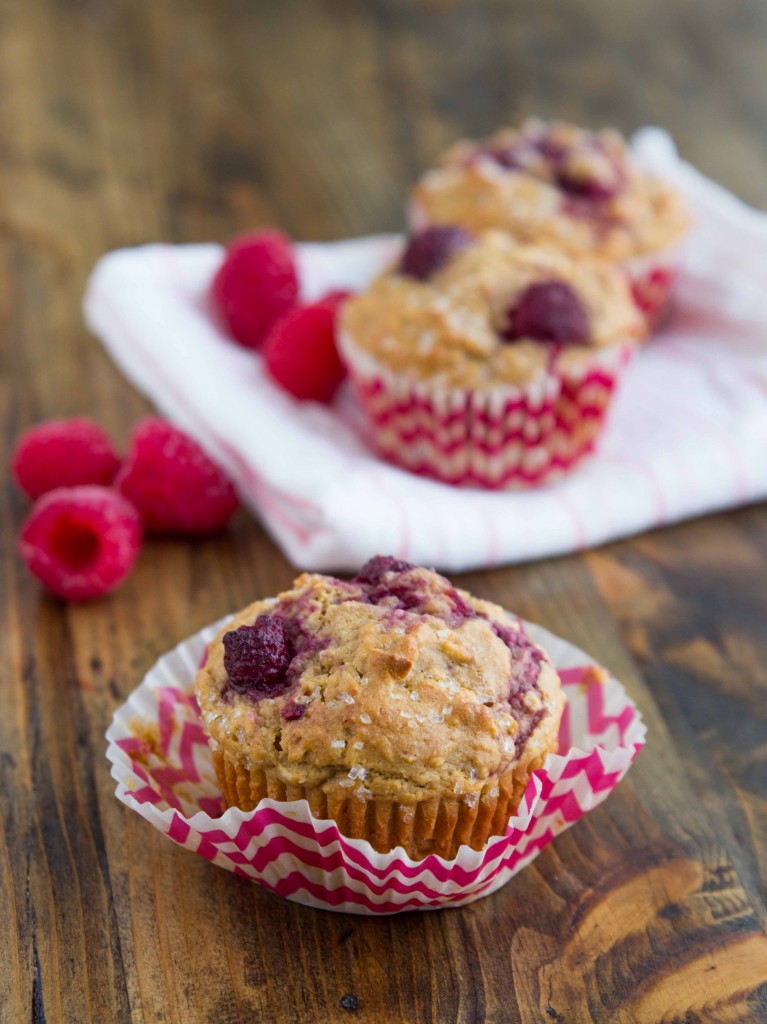 I've always been someone who sits down to meals, because I like focusing when I stuff my face. Eating is one of my favorite things, so why not cherish it, right?
Lately, however, I seem to be all about quick, portable foods. I'll reheat a pizza slice in the microwave and take bites while wiping down the kitchen counters with my free hand. Or I'll devour a muffin in a sleepy haze on my way back to bed after turning on the coffee maker in the morning.
Note to self: Work on mindful eating.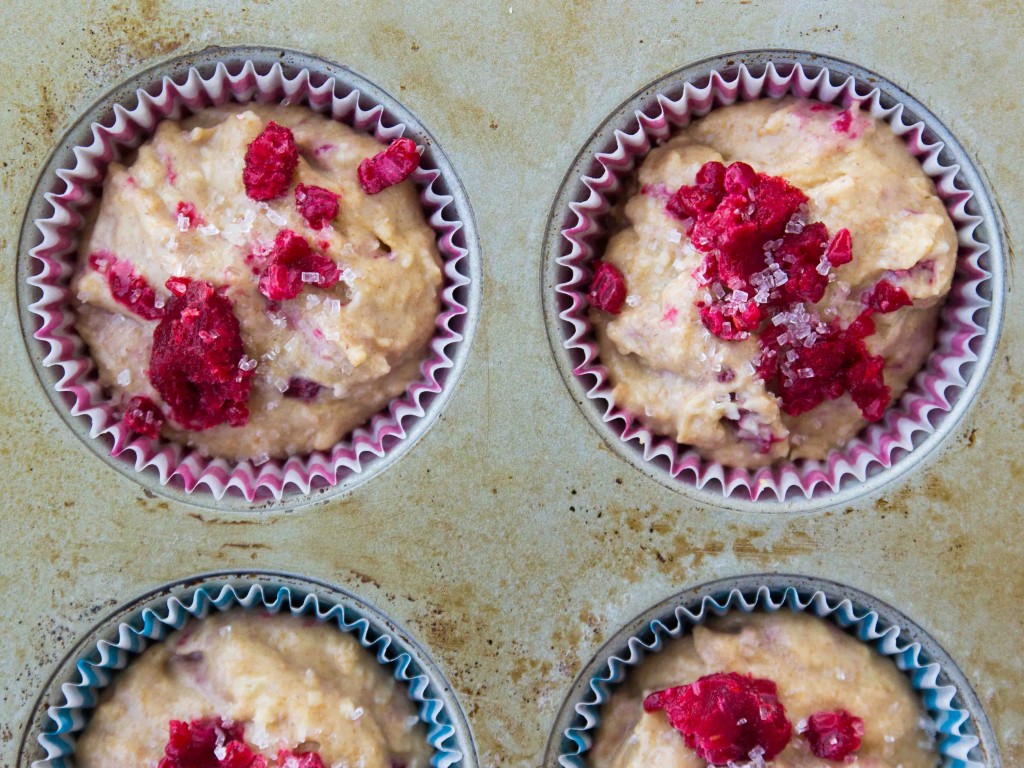 I made a batch of these cute, berry-filled muffins on Sunday night, after Ryan and I returned from his cousin's wedding in Wisconsin. It would have been better had I baked them before our weekend, as there were several times when Ryan joked that he should carry granola bars in his pocket to feed me in emergency situations, and my hunger level (aka "hangry" level) became a running joke with some of his family members.
Portable baked goods belong with long weekends away from home. They just do.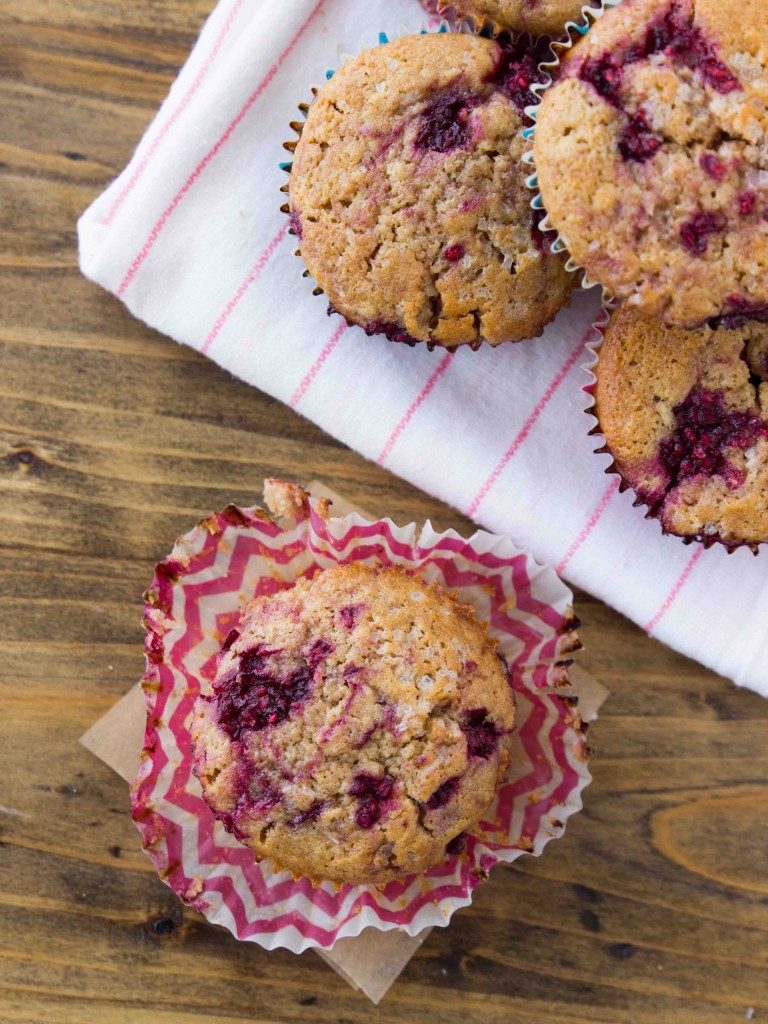 Because I want to help you guys avoid "hangry" episodes, I'm sharing these muffins, which are perfect for your long summery weekends. These muffins come with options. These muffins just want to be loved. These muffins want to be whatever you want them to be.
For example…
I've made these muffins vegan, and I've also made them with an egg.
I've made these muffins healthy, and I've made them with extra sugar and oil.
I've made these muffins with whole spelt flour, and I've made them with whole wheat flour. You can make them with straight-up white flour if you want.
Maybe you even want to make them gluten free? I haven't done that, but you go, Glen Coco!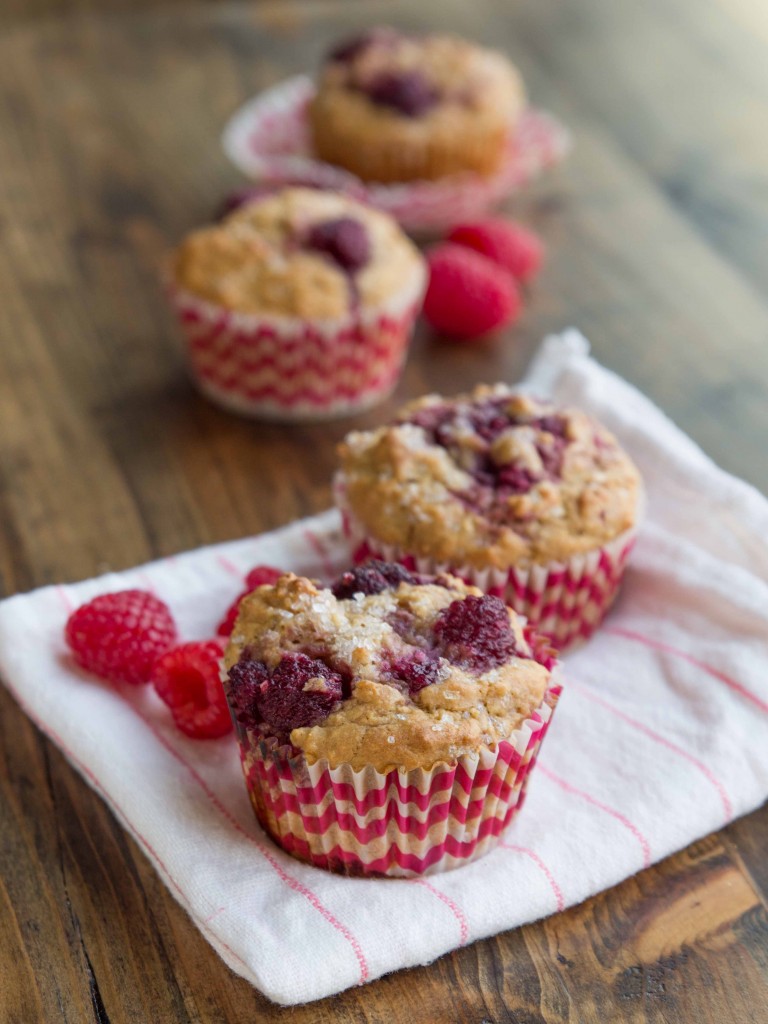 I personally like my muffins 100% whole grain (spelt or whole wheat), with less sugar and oil, so I can eat them for breakfast with some peanut or almond butter drizzled on top (…or dipped in the jar on my sleepy, pre-coffee walk back to bed). Mmmmmm yes.


Whole Grain Raspberry Coconut Muffins
Fluffy, whole grain, lightly-sweetened coconut raspberry muffins. Easy to make, and perfect for snacking.
Yield: 12 muffins
Prep Time: 10 minutes
Cook Time: 12 minutes
Total Time: 22 minutes
Ingredients:
1 1/4 cup light coconut milk
1 tablespoon apple cider vinegar
1/4 cup coconut oil
1/4 cup unsweetened applesauce
1/4 cup coconut sugar (or cane sugar)
1/4 cup dark brown sugar, packed
1 tablespoon ground flaxseed mixed with 1 tablespoon warm water (or 1 chicken egg, room temperature)
2 teaspoons vanilla extract
1 3/4 cup whole wheat pastry flour (or whole grain spelt flour)
1/2 cup shredded unsweetened coconut
2 1/2 teaspoons baking powder
1/8 teaspoon fine sea salt
1 1/2 cup raspberries, fresh or frozen
2 teaspoons cornstarch
Sparkling sugar, for topping (optional)
Directions:
Preheat oven to 400 degrees.
Measure out the coconut milk, then remove 1 tablespoons. Add the apple cider vinegar, whisk, and let sit for 5 minutes.
Whisk together the coconut oil, applesauce, sugars, coconut "buttermilk" mixture, egg (flax or chicken), and extract.
In another bowl, combine the flour, coconut, baking powder, and salt.
Gradually add the dry ingredients to the wet, mixing until just combined. I like to mix my quick breads by hand with a whisk so I don't overmix them.
In a separete bowl, toss 1 cup of the raspberries with the cornstarch. This will help keep all the berries from sinking to the bottom. Gently fold the cornstarch-coated berries into the batter.
Line a muffin tin with liners, and liberally coat each liner with nonstick spray. Divide the batter between the 12 muffin tins (about 1/4 cup in each). Top the muffins with the remaining raspberries, and a sprinkle of sparkling sugar (if using).
Bake for 20-23 minutes, until lightly golden on top and a knife inserted in the center comes out clean.
I have made these with a flax egg, as well as a chicken egg, and both work equally well.
For a sweeter, more indulgent muffin, replace the 1/4 cup applesauce with 1/4 cup more coconut oil, and add another 1/4 cup of cane or coconut sugar.
If you dislike whole wheat flour, these are great with whole grain spelt flour. If you're not concerned with keeping them whole grain, they may also be made with unbleached all purpose flour. I have not tried making these with gluten free flour, so please let me know if you do.
4 Responses to "Whole Grain Raspberry Coconut Muffins"