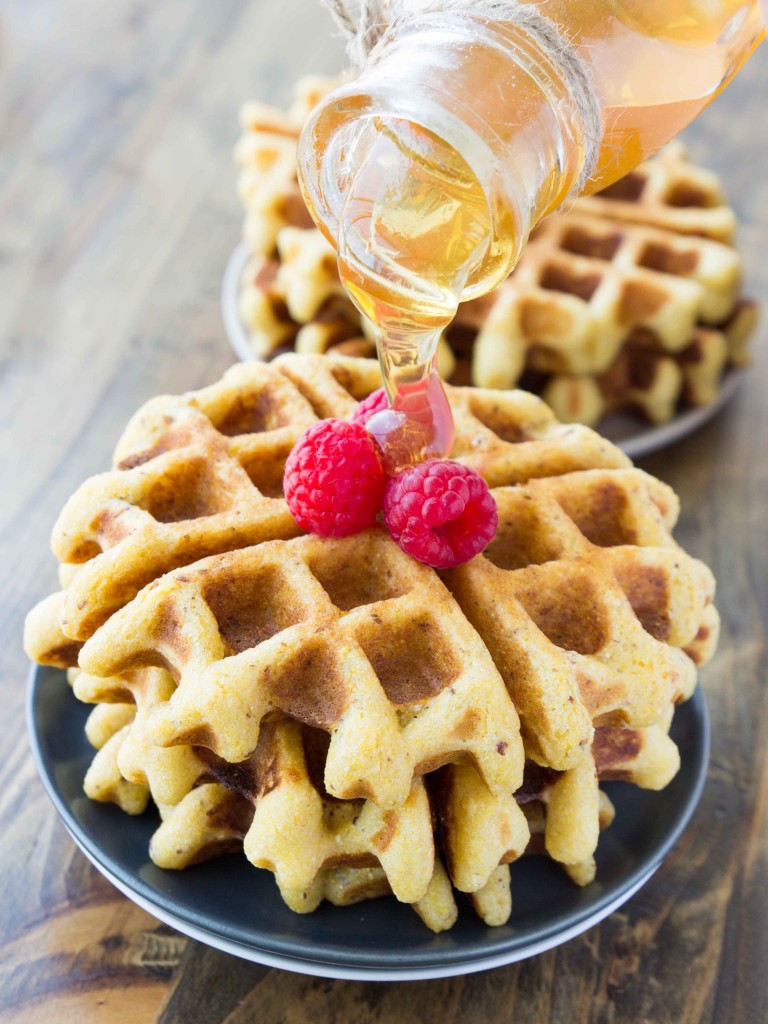 Dear Cornbread,
I'm sorry for all the smack I used to talk about you. I was out of line.
I used to wish you were something different – something saltier, maybe cheesier, and definitely less sweet. I used to think you looked better on the outside than you tasted on the inside.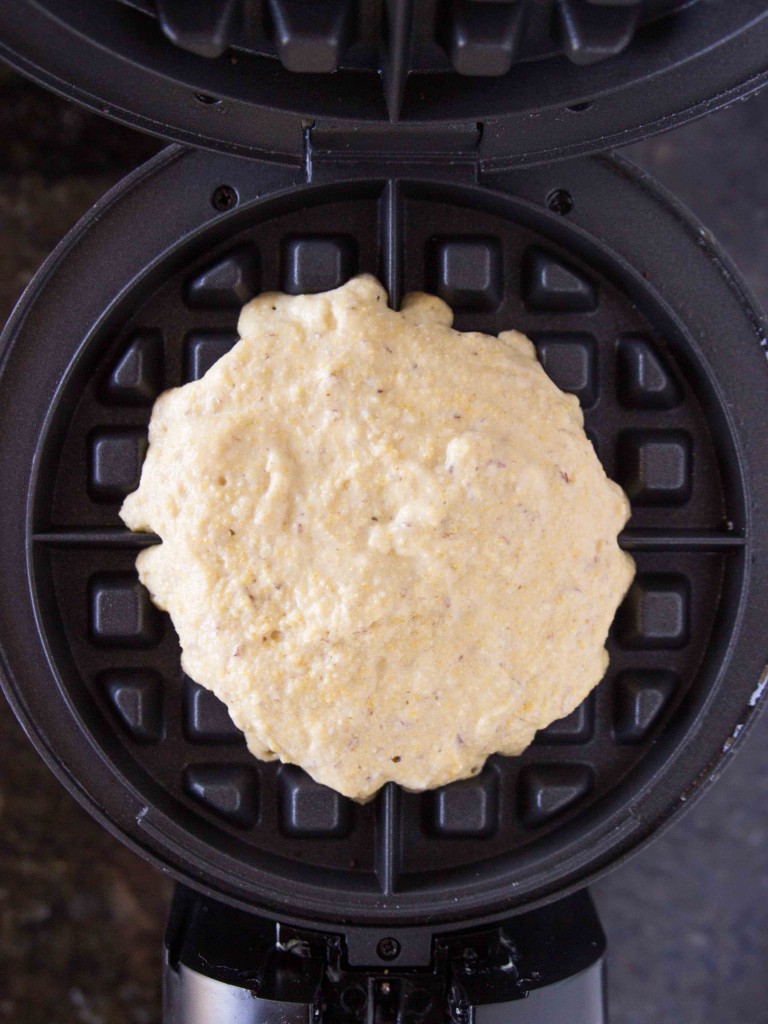 Then I had a raspberry cornbread cake that altered my whole cornbread outlook. Then I made some high protein jalapeño cheddar cornbread muffins (book recipe!), and THEN I made some golden brown, crispy, cornbread waffles.
I now realize that you are perfect in that grey area of salty and sweet. You shine in that grey area.
These waffles are lightly sweetened with honey, just slightly salty, and oh-so-crispy. They become golden brown on the outside, but have a fluffy center with just a bit of cornbread texture.
I've made this recipe 3 times in the past 2 weeks, and every time they turned out fantastically crunchy and flavorful. You can make them with non-dairy milk and a flax egg, or with the standard dairy milk and chicken egg – either way is perfect! The recipe makes 3 Belgian waffles (slightly smaller than 8″), but if you are serving a larger crowd you can easily double (or triple?) it.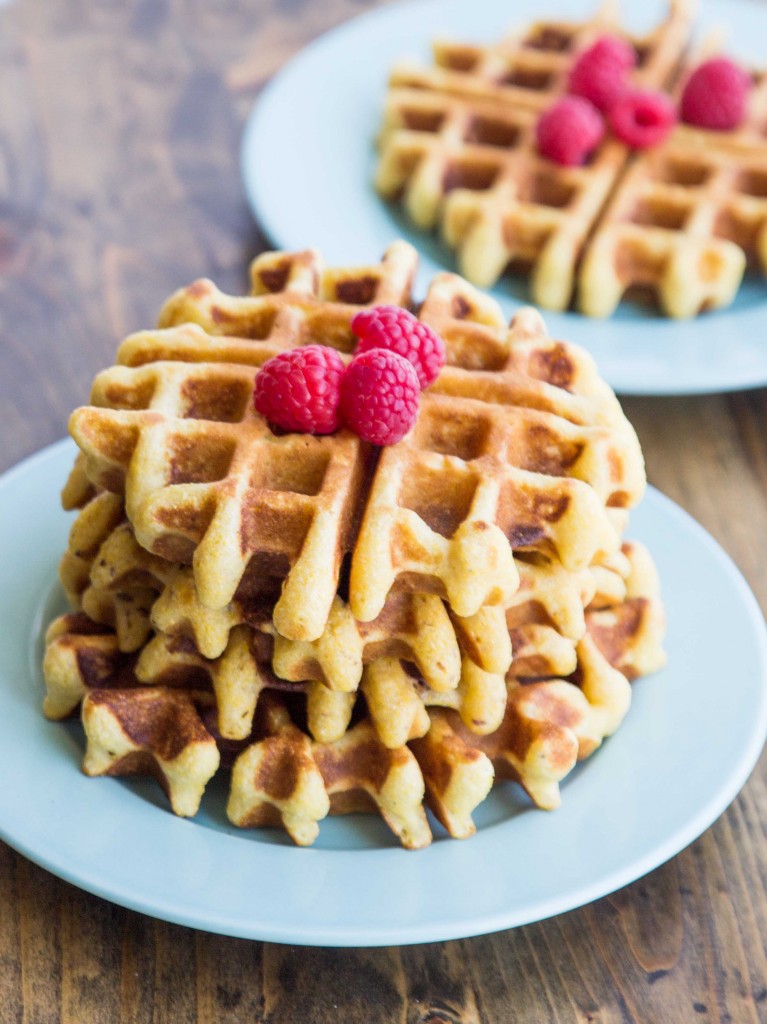 You just keep being you, cornbread, because you are pretty great.


Crispy Whole Grain Honey Cornbread Waffles
These golden brown waffles are crispy on the outside, and filled with fluffy cornbread on the inside. 100% whole grain, easy to make, and reheat beautifully in the toaster.
Author:
Katie of Veggie and the Beast
Recipe type:
Waffles, Breakfast
Ingredients
¾ cup unsweetened almond milk (see note)
1 tablespoon apple cider vinegar
1 flax egg (see note)
3 tablespoons coconut oil, melted
1 tablespoon honey
½ cup whole wheat pastry flour
¾ cup organic yellow cornmeal
1 teaspoon baking powder
¼ teaspoon kosher salt or sea salt
Instructions
Combine the milk and apple cider vinegar. Let sit for 5 minutes.
After 5 minutes, whisk in the egg, oil, and honey. Set aside.
In a separate bowl, whisk together all of the dry ingredients. Pour the wet ingredients into the dry, and stir until just incorporated. Let sit for 10 minutes (the mixture will thicken, and the cornmeal will soften in this time).
Drop ½ cup of batter onto a preheated waffle iron, and cook according to your waffle iron's instructions. You will end up with 3 waffles - recipe can easily be doubled to serve more.
Top the golden brown waffles with fruit and a drizzle of honey.
Notes
This recipe was tested as written, but also with dairy milk and a chicken egg. Both turn out great.

If you want them to be completely vegan, swap out the honey with maple syrup or agave nectar.

1 flax egg = 1 T ground flaxseed mixed with 3 T warm water. Let sit for 5 minutes.

Leftovers can be kept in an airtight container in the refrigerator, and reheated in the toaster for up-to 5 days.
You Might Also Like...