Summer Squash and Pesto Ricotta Lasagna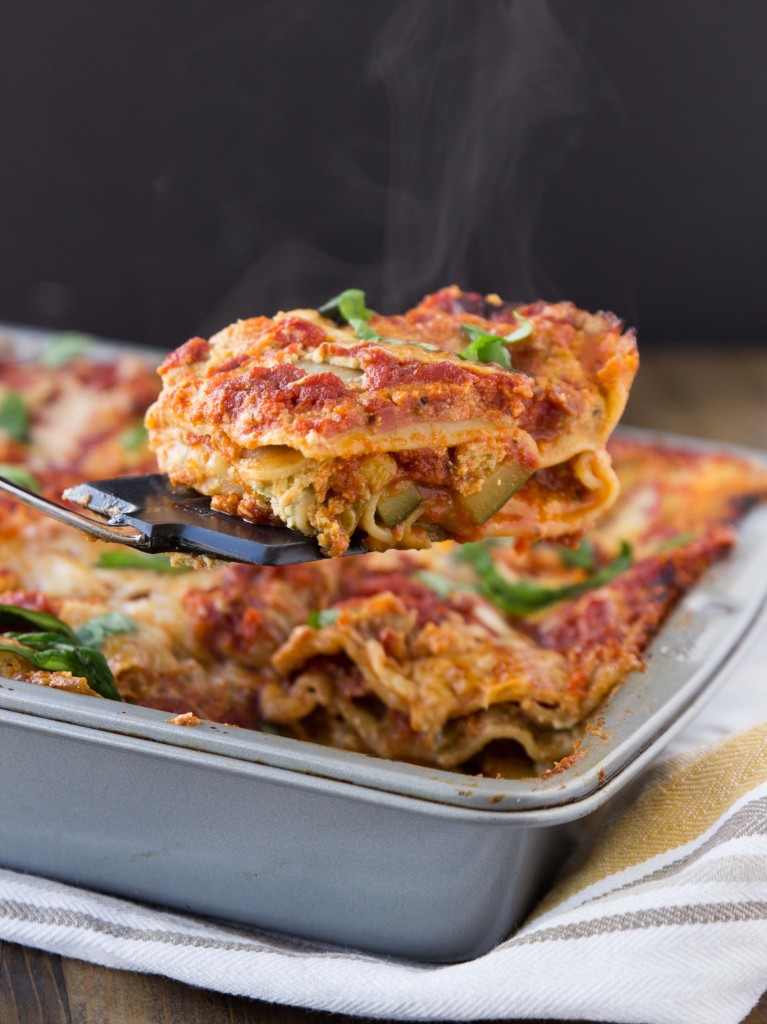 I know that turning on your oven for 50 minutes sounds like the worst thing ever in late July. I get it, but I'm hoping I can convince you otherwise.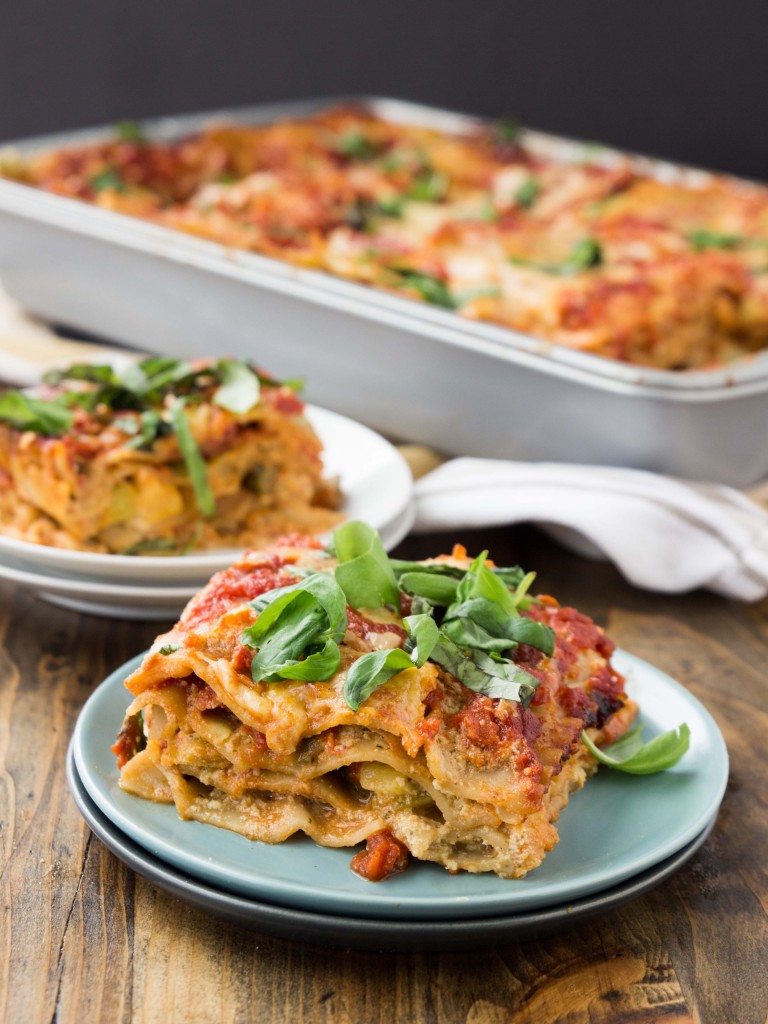 I've been eating mostly salads, grilled veggies and veggie burgers, and other oven-free foods lately. I love raw veggies when it's hot out, but this weekend I felt the need to switch things up and throw some of summer's best produce into the oven.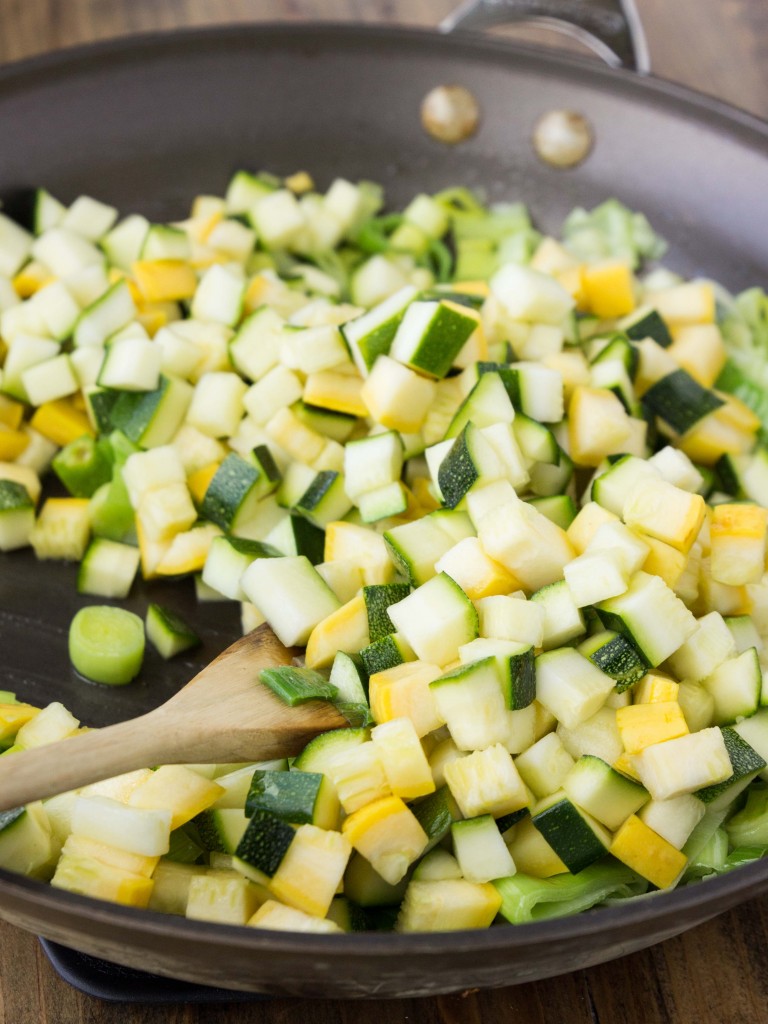 Being a Minnesotan, there's only a small window of time when fresh, organic, local produce is available at the co-op. Since zucchini is starting to take over gardens around the state, I used that seasonal, beautiful squash in this summertime lasagna.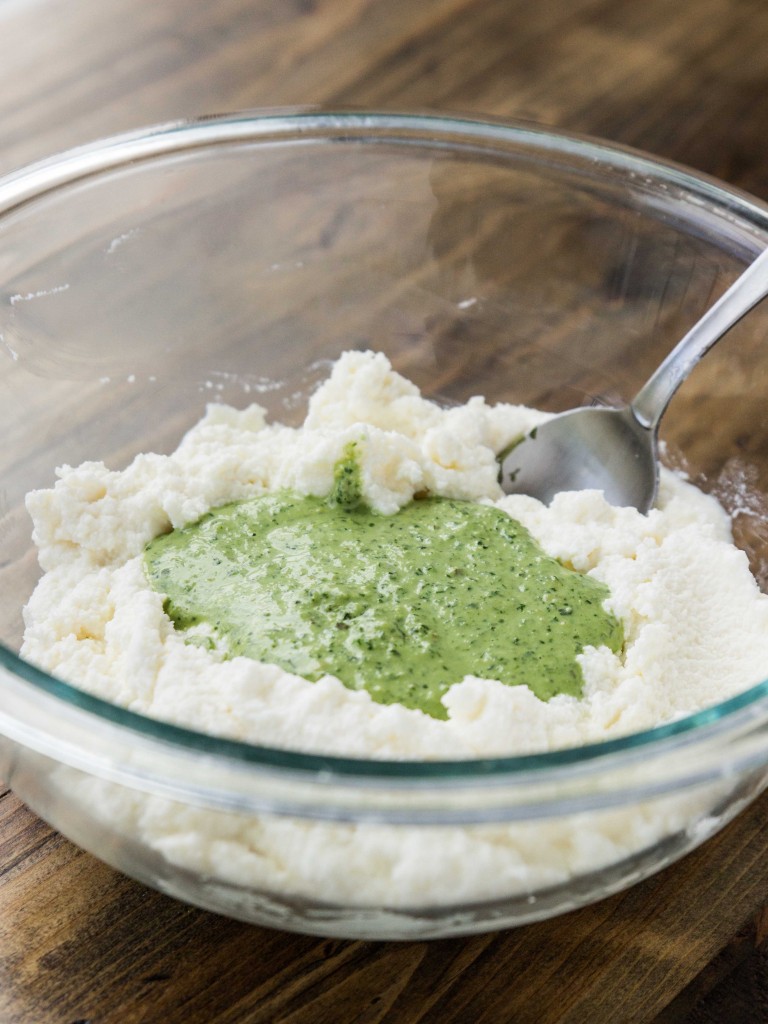 When we started dating, Ryan would probably have been uninterested in vegetarian lasagna. He would assume it was bland, because lasagna was all about the meat to him. I assume most people feel this way, and I understand why, but I have to disagree.
These days, when we're at a restaurant and he considers ordering lasagna, he says, "Well, I shouldn't order that here, because you make really good lasagna at home."
Such a sweet talker! That's a man after my heart.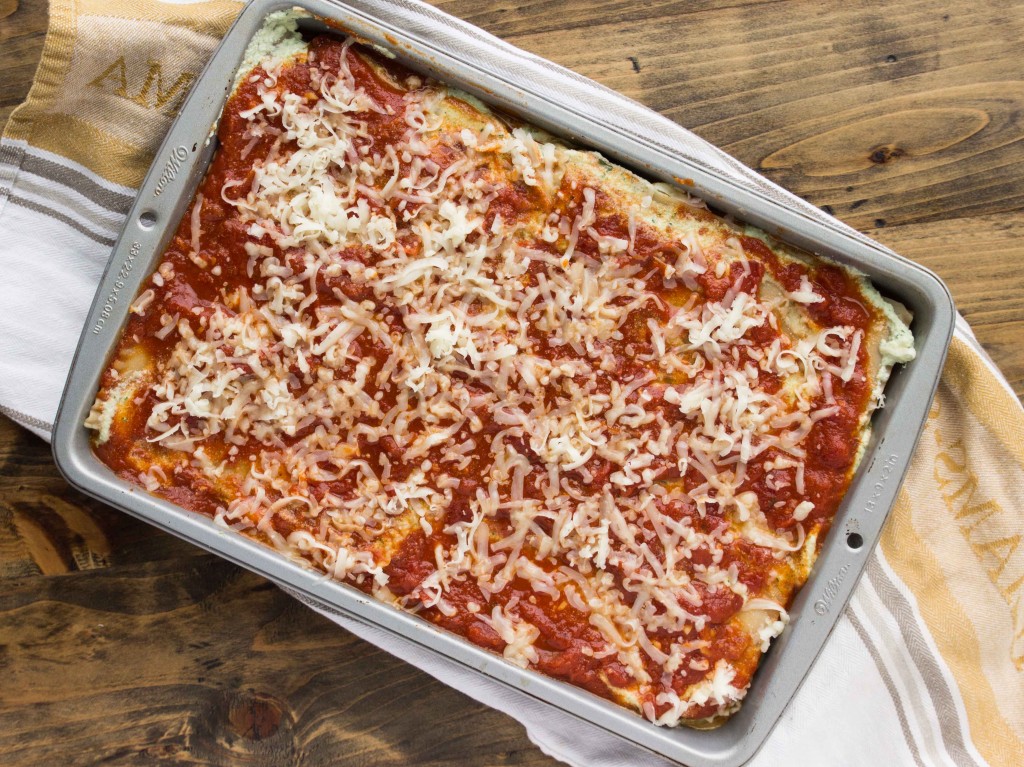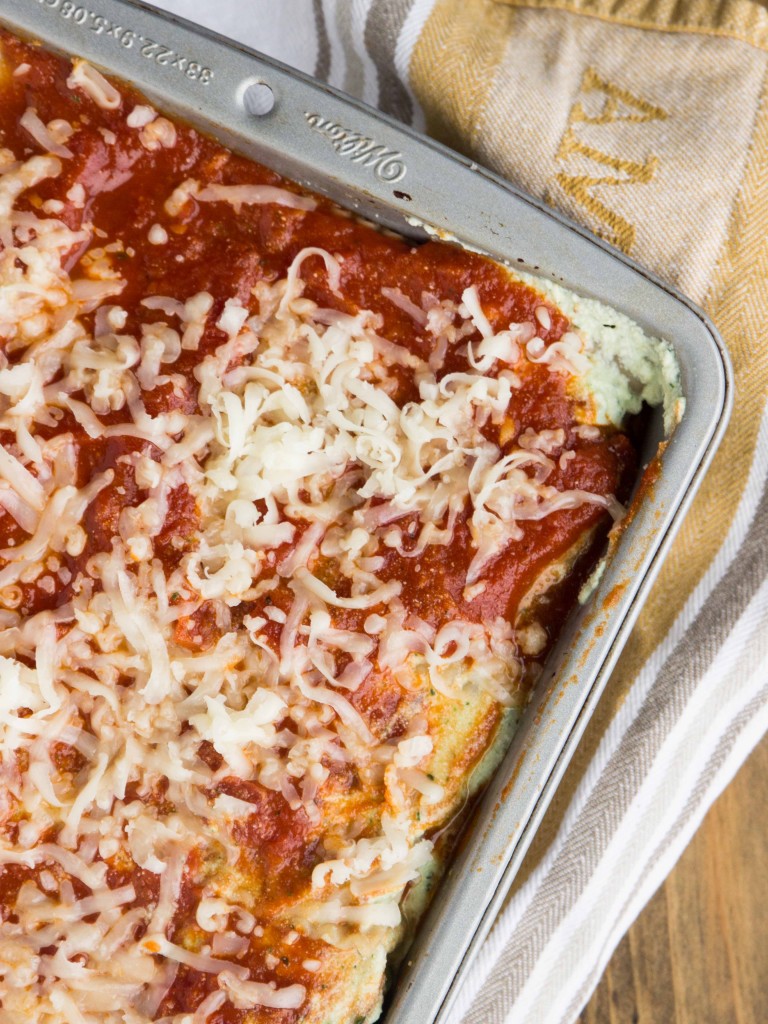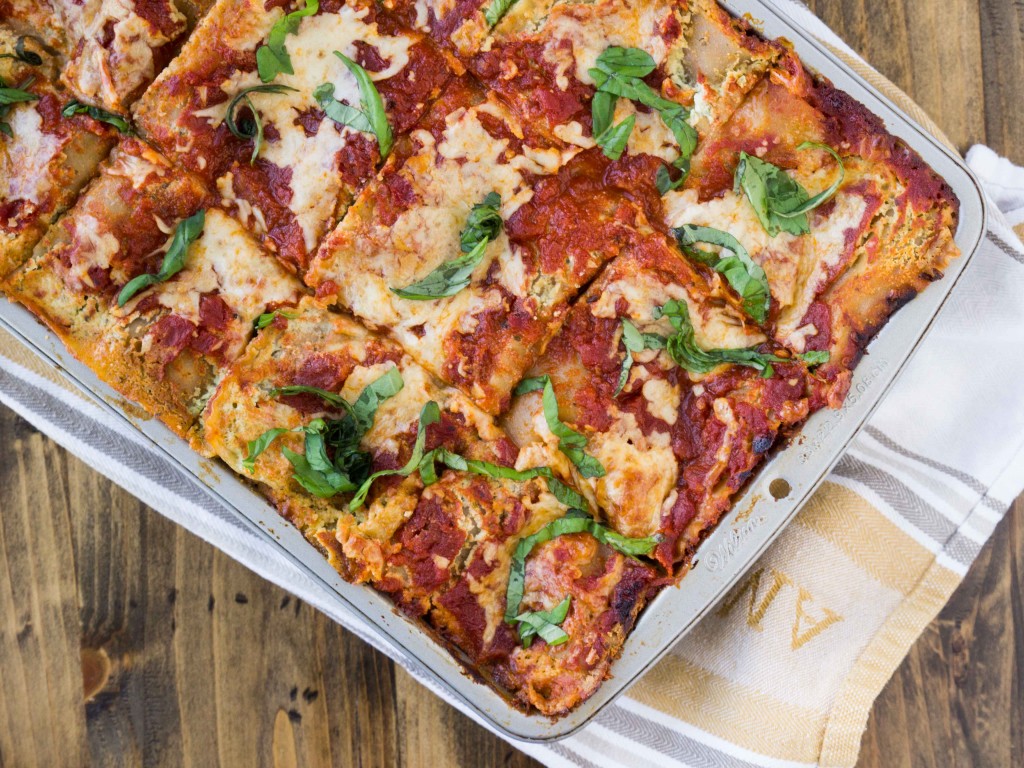 To make vegetarian lasagna interesting, you need to layer in the flavors. Instead of plain ricotta, I swirled in some homemade basil pesto. Instead of canned marinara, I made my own with high-quality crushed tomatoes with basil, and dark brown sugar to give it a little smoky sweetness. The vegetable layer includes the fresh, seasonal zucchini and yellow squash I couldn't resist at the co-op, as well as some super-flavorful sliced leeks. When I don't know what to add to a dish to give it more flavor, I usually reach for leeks. They have a deep, savory flavor that takes dishes a step further than a regular old onion ever could.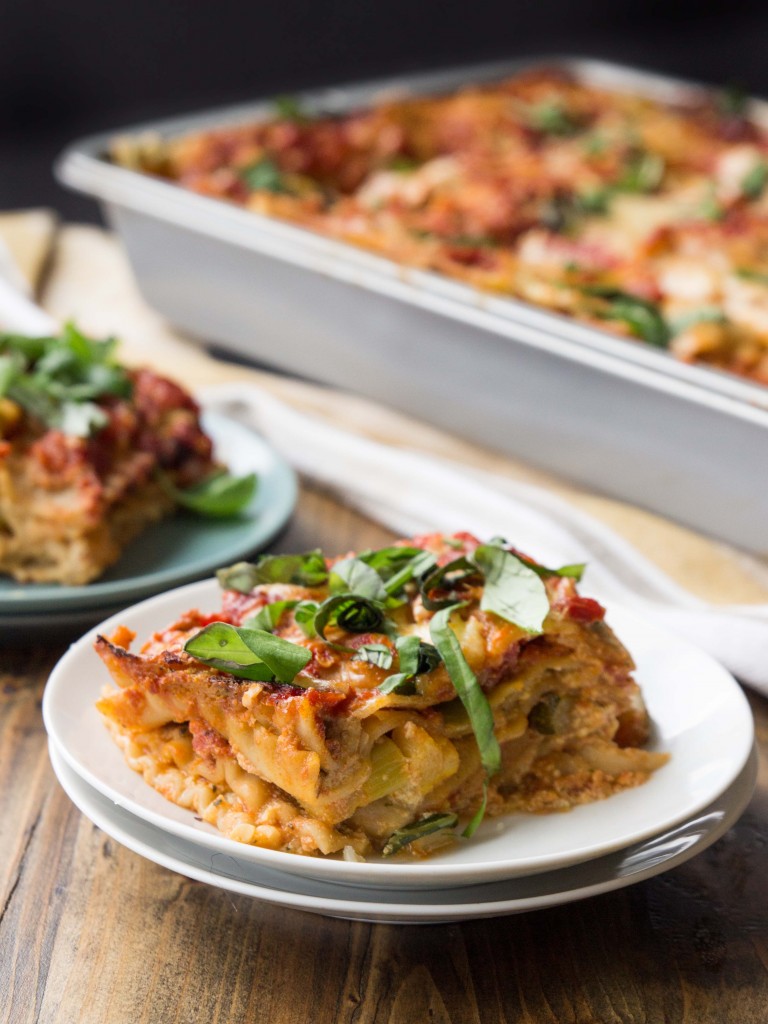 I'll admit that lasagna takes more time and effort than most of my meals, but I don't mind putting in some extra elbow grease when the result feeds me for DAYS. I made this lasagna on Sunday, and enjoyed 3 slices before heading out of town to meet up with Ryan in northern MN. I gave half of the pan to my sister, and I still have another 3 slices waiting for me in the freezer when I return.

Summer Squash and Pesto Ricotta Lasagna
A vegetarian lasagna bursting with flavor from summer squash, basil pesto ricotta, and a homemade tomato sauce.
Yield: 12 servings
Prep Time: 50 minutes
Cook Time: 50 minutes
Total Time: 1 hour 40 minutes
Ingredients:
Vegetables
2 tablespoons olive oil
2 leeks, sliced
2 zucchini, cut into ½-inch pieces
2 yellow squash, cut into 1/2 inch pieces
¼ teaspoon fine sea salt
¼ teaspoon ground black pepper
Pesto Ricotta Filling
1/4 cup pine nuts
2 cloves garlic
2 cups fresh basil leaves
1/2 teaspoon salt
1 tablespoon water
2 tablespoons olive oil
1 16-ounce container part skim ricotta
Marinara Sauce
2 tablespoon olive oil
2 cloves garlic, minced
2 (28-ounce) can crushed tomatoes with basil
2 tablespoons tomato paste
½ teaspoon fine sea salt
1/4 cup dark brown sugar
¼ teaspoon crushed red pepper
Assembly
16 whole wheat lasagna noodles
3 cups shredded mozzarella (3/4 cup each layer)
Fresh basil, for garnish
Directions:
Vegetables:
Place the chopped zucchini and yellow squash on a towel and sprinkle with salt. Let sit for 10 minutes. This will draw some of the moisture out from the middle of the squash, and improve its texture.Rinse the chopped zucchini and yellow squash and pat dry with a towel.
Heat the olive oil in a large skillet, then add the leeks and half of the salt. Cook until softened, 3-5 minutes.
Add the zucchini and yellow squash, remaining salt, and pepper. Cook, stirring frequently, for 7-10 minutes, until softened. Set aside.
Pesto Ricotta Filling:
Place the pine nuts and garlic in a food processor, and process until finely chopped.
Add the basil and process until finely chopped.
Drizzle in the water and olive oil while the processor is running. Scrape down the sides as necessary. Process until mostly smooth (pesto consistency).
Mix the pesto in to the ricotta. Set aside.
!Marinara Sauce:
Heat the olive oil in a medium pot over medium heat.
Add the garlic and cook for 30 seconds, then add the tomatoes, tomato paste, salt, brown sugar, and red pepper.
Bring to a boil, then reduce the heat to low, cover, and simmer for 20-25 minutes.
Assembly:
Preheat oven to 350.
Cook lasagna noodles according to package directions.
Spread 1/2 cup of sauce in a 9x13 inch baking dish. Top with 4 lasagna noodles. Spread ¼ of the pesto ricotta on top of the noodles, ⅓ of the veggies, 1 cup of the sauce, and 3/4 cup shredded mozzarella. 
Repeat this full layering process twice, and then top with 4 more noodles, and the last of the pesto ricotta, sauce, and cheese.
Cover with foil, and bake for 40 minutes. Remove the foil and bake for another 10 minutes.
Let sit for 10 minutes before cutting. Slice into 12 pieces, and serve with sliced fresh basil on top.
If you don't want to make your own marinara, you can substitute 4 1/2 cups of your favorite sauce.
13 Responses to "Summer Squash and Pesto Ricotta Lasagna"
Pingback: Food Love - A Cookie Named Desire