Spicy Salsa and Bean-Stuffed Poblano Peppers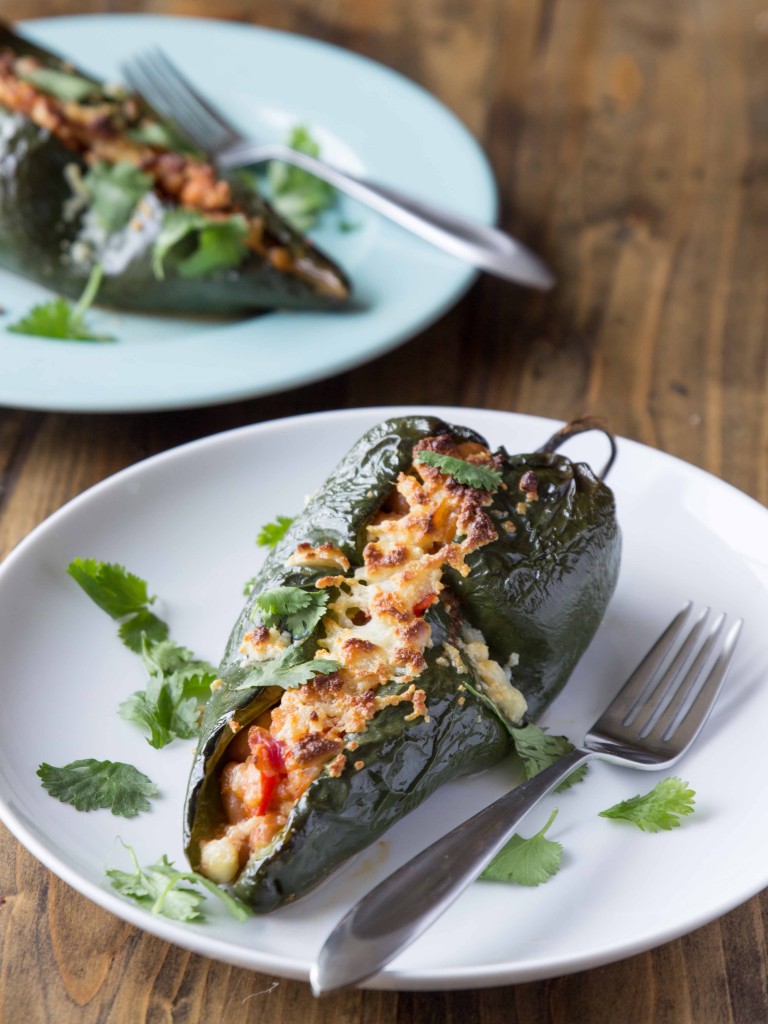 My blog is having a sort of existential crisis lately. WHO AM I. WHAT AM I EVEN DOING.
I'm in one of those creative lulls where I just want to eat peanut butter with a spoon, top it with a few chocolate chips and call it good.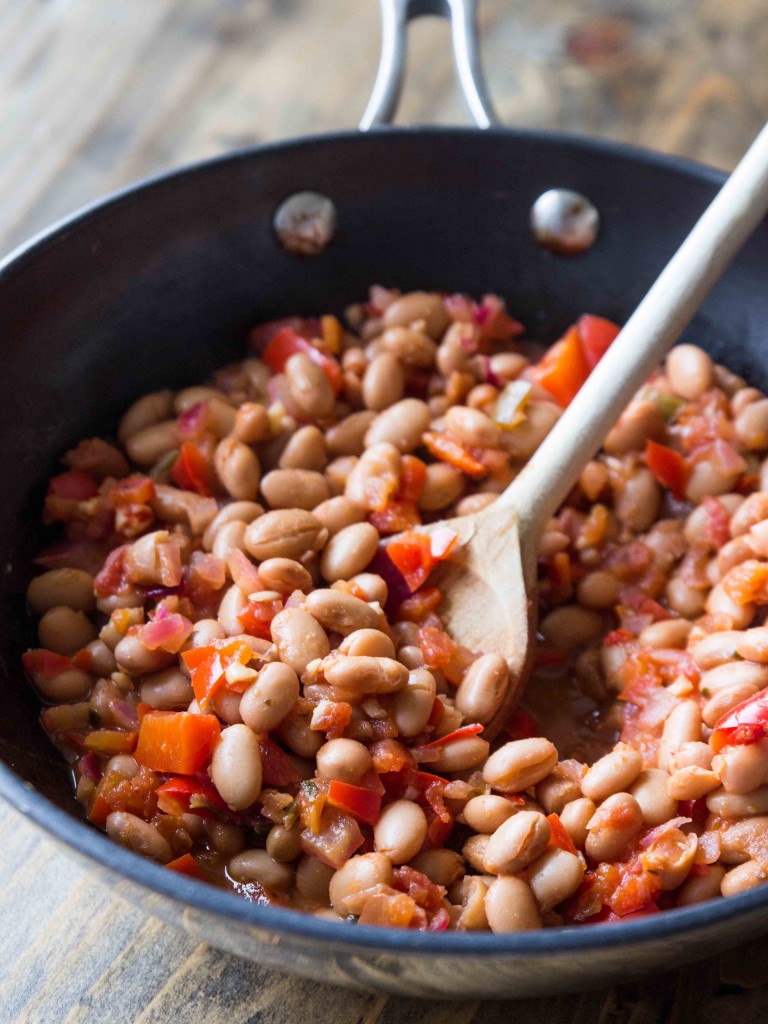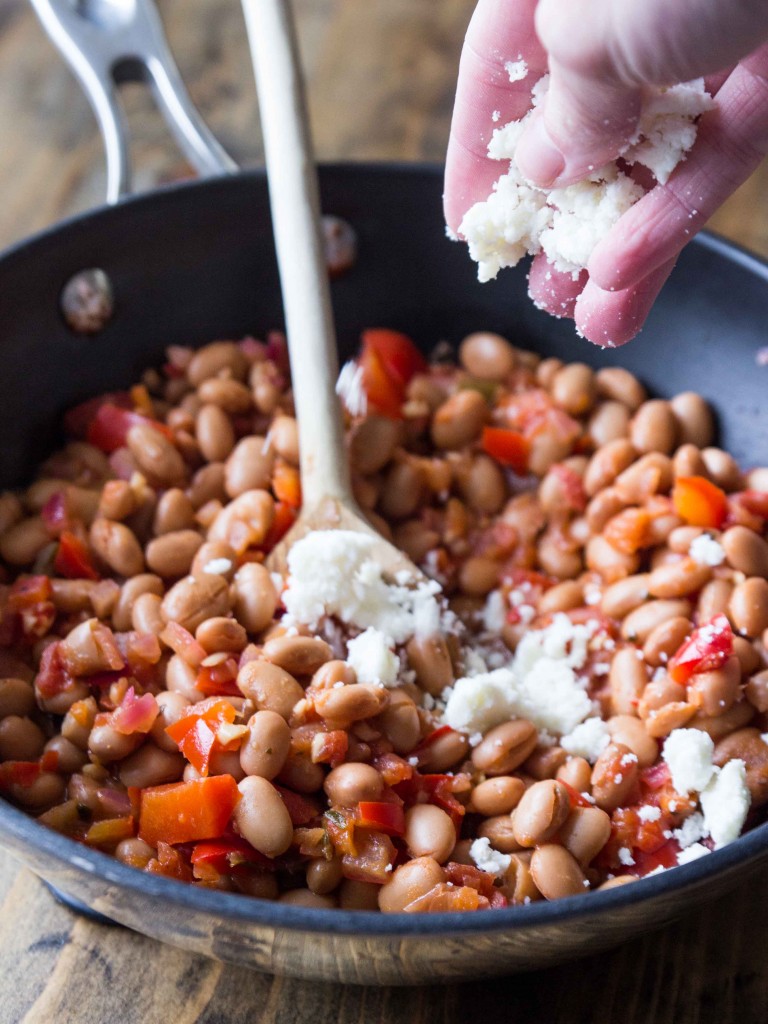 I tried to make some interesting things lately, like chia jam, which is supposed to be easy but mine turned out sososo gross. I told my mom this and she goes, "Who makes chia jam?"
I do, mom! Or at least I try to.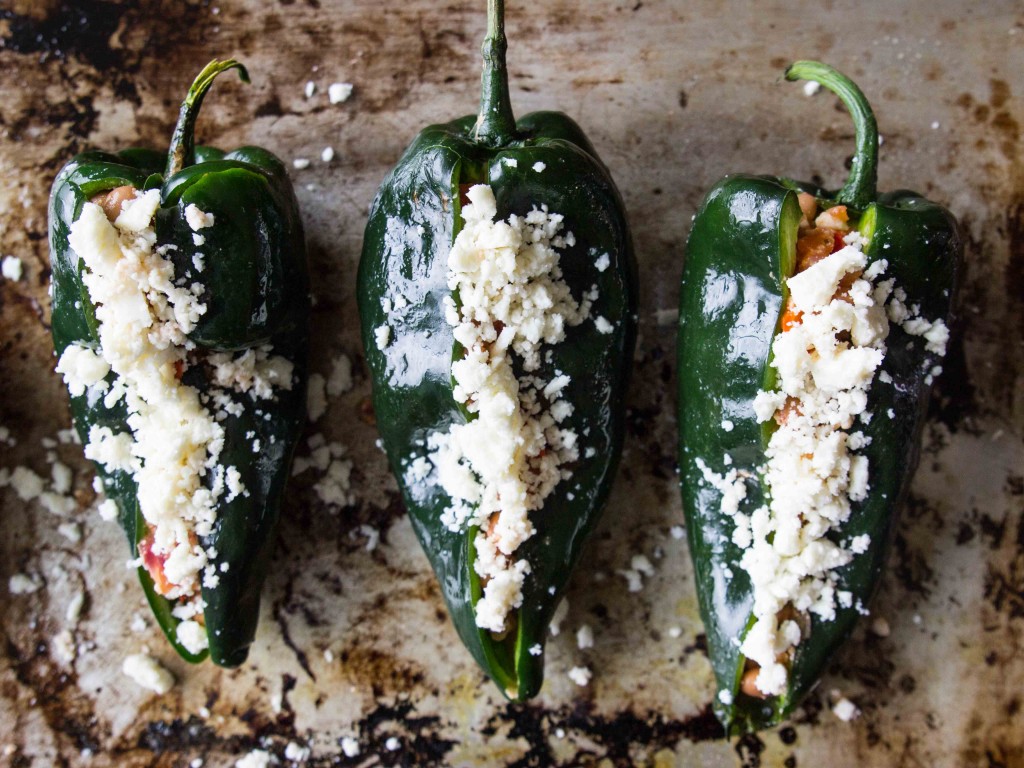 But then I wonder if those who read this blog even want to make things like chia jam? Do they wish I would post crazy indulgent desserts more often? Or more vegan meals? Or vegetarian comfort food?
See? Crisis of self, right here on this internet space. Your thoughts are welcome and encouraged.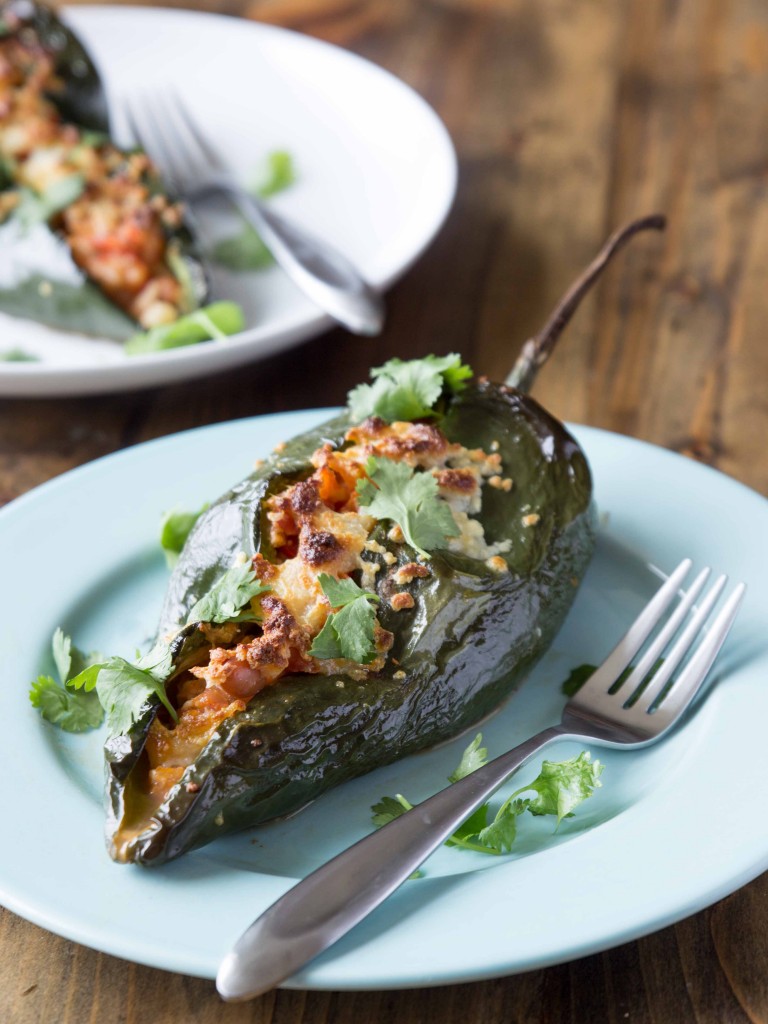 Although I may be a little wishy washy in my sense of blog-self, I have realized one focus I want to hone in on: easy meals. My favorite meals, and the ones I come back to again and again, are simple, needing a short list of ingredients and minimal time.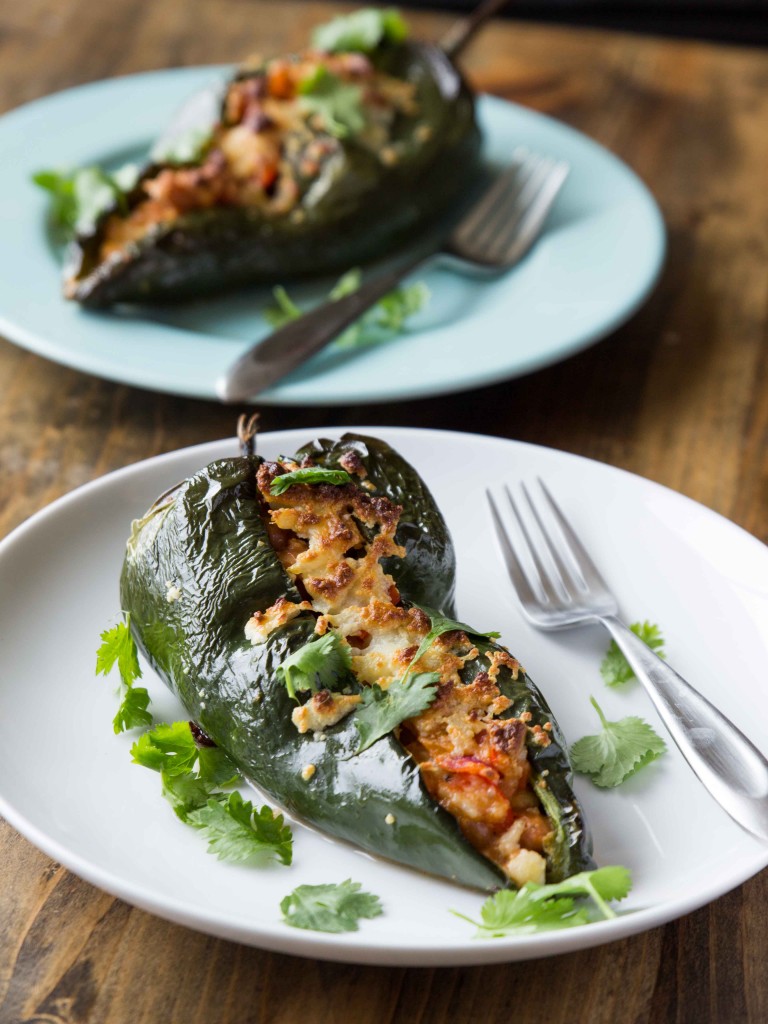 These peppers, for instance, are healthy, high protein, grain and gluten free, and so easy to throw together. The filling is a flavorful mixture of onion, red bell pepper, pinto beans, lime juice, and salsa.
While the bean mixture is still warm, I stirred in some queso fresco to give the filling a bit of creamy tanginess. Stuff the peppers with the filling, brush some oil on to ensure the peppers roast up nice and tender, and then top it all off with a sprinkle of extra cheese.
Easy meal for the win!

Spicy Salsa and Bean-Stuffed Poblano Peppers
A healthy, filling, and super flavorful vegetarian meal. Poblano peppers stuffed with a spicy, creamy mixture of beans, veggies, salsa, and queso fresco, and then baked until bubbly and golden.
Yield: 4 servings
Prep Time: 5 minutes
Cook Time: 30 minutes
Total Time: 35 minutes
Ingredients:
4 poblano peppers
1/2 tablespoon olive oil
2 cloves chopped garlic
1/4 of one red onion, diced
1/4-1/2 teaspoon kosher salt, divided
1/2 of one red bell pepper, diced
1 (15-ounce) can pinto beans, drained and rinsed
Juice of 1 lime (about 2 tablespoons)
1/4 cup medium chunky salsa (or your favorite salsa)
6 ounces crumbled queso fresco, divided
1/2 tablespoon grapeseed or non-GMO canola oil
Directions:
Preheat oven to 425 degrees.
Slice each pepper down the center, and scrape out the seeds and membranes with a spoon (or your hands). Set aside on a greased baking sheet.
Heat the olive oil in a skillet over medium heat. Add the garlic and cook for 30 seconds, then add the onion, half the salt, and cook for 2-3 minutes, until translucent. Stir in the red bell pepper and lime juice, and cook for another 3 minutes, until the softened.
Pour in the beans and salsa. Cook for 1 minute, stirring, until incorporated. Taste and add salt to taste.
Remove the pan from the heat, and stir in 4 ounces of the cheese. Divide the bean mixture and stuff into the 4 peppers. Brush the oil onto the outside of each pepper, then top the peppers with the remaining cheese.
Bake for 20-25 minutes, until the peppers are softened and the cheese is golden brown and bubbly.
9 Responses to "Spicy Salsa and Bean-Stuffed Poblano Peppers"