Double-Glazed Vegan Pumpkin Scones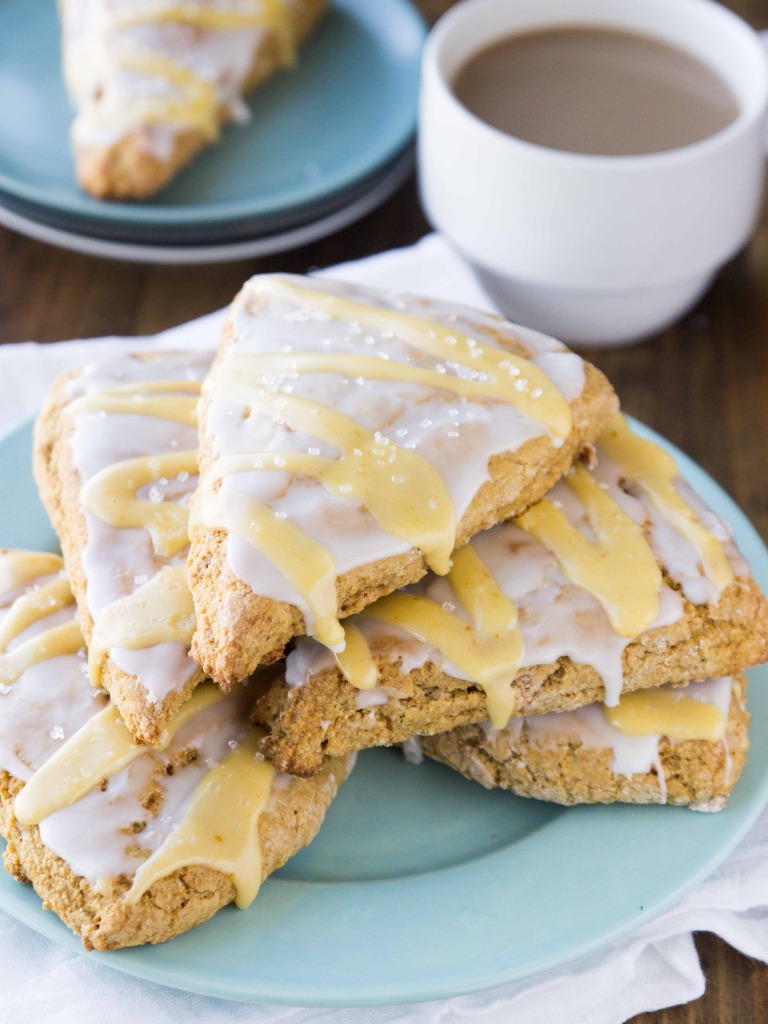 Happy Halloween! BoOoOoOo.
I used to love Halloween. My friend Anna and I would start talking mid-summer about what our costumes would be. My favorite costume was a garden gnome, for which I wore green tights, an oversized blue shirt (that I rubbed with bronzer so it would look dirty), a doctored santa hat (took out the white sections), and a beard. A couple years ago I went as an emoticon; I wore all black and stuck tape to myself into a :P face. The whole "sexy" halloween costume was never really my thing.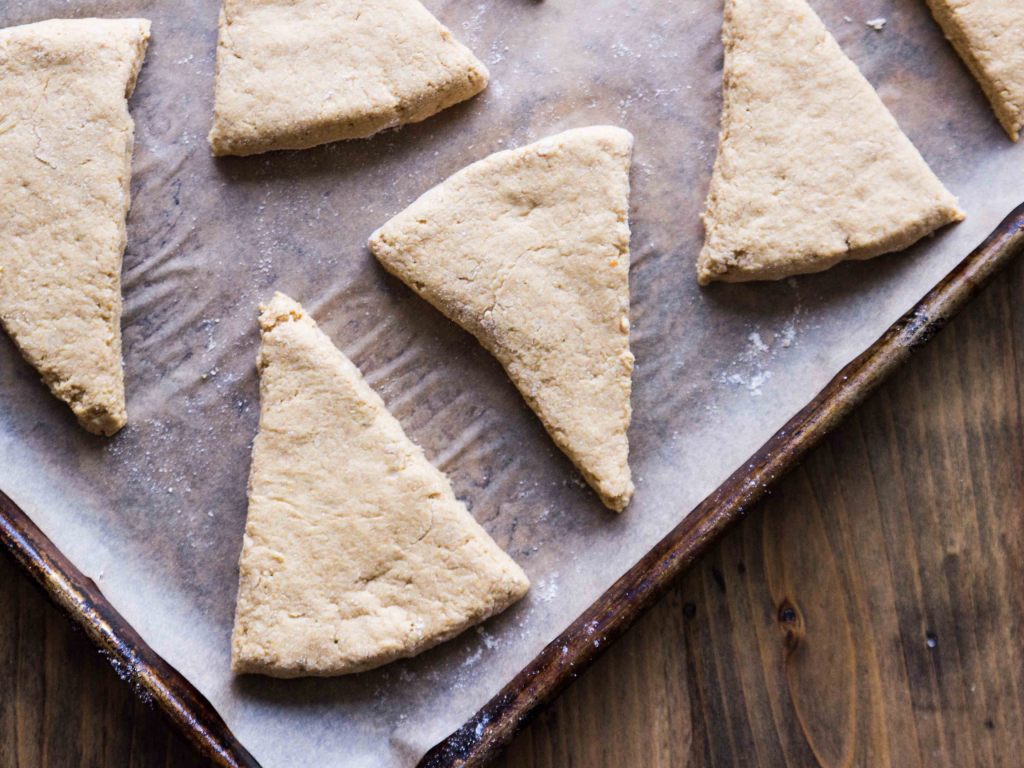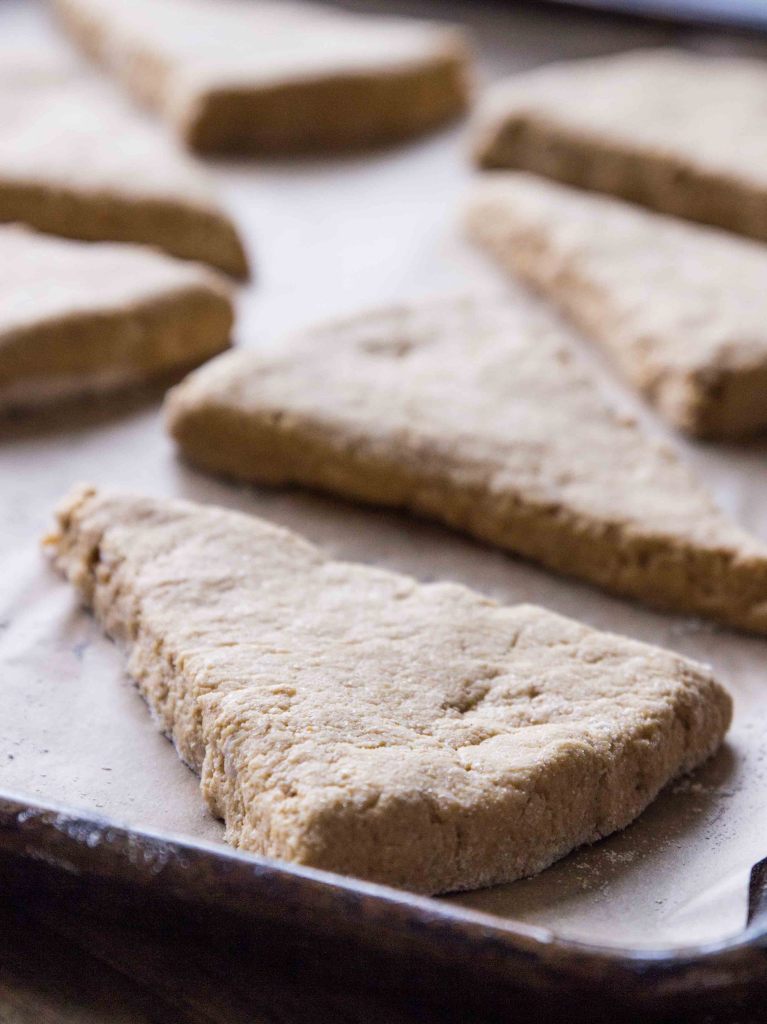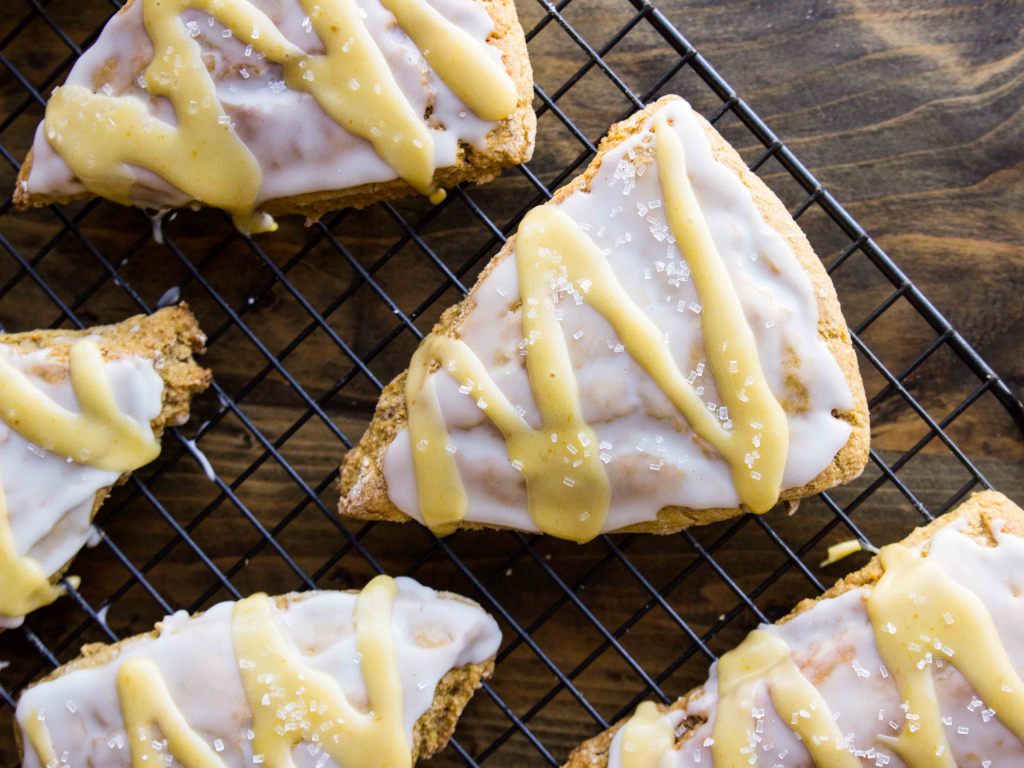 For the past few years I haven't done much for Halloween. The drive to be costume clever doesn't seem to be there anymore, and I suppose the interest in partying at a bar isn't really there either. Last year Ryan and I stayed home and dressed up our dog (Teia the Lion – rawr!), and I thought that was kind of perfect.
I was planning on sharing this recipe next week, but sharing a pumpkin recipe on Halloween just felt RIGHT. Also, since it's Friday, now you can make them this weekend! Kick the last month of pumpkin-flavors off with a bang!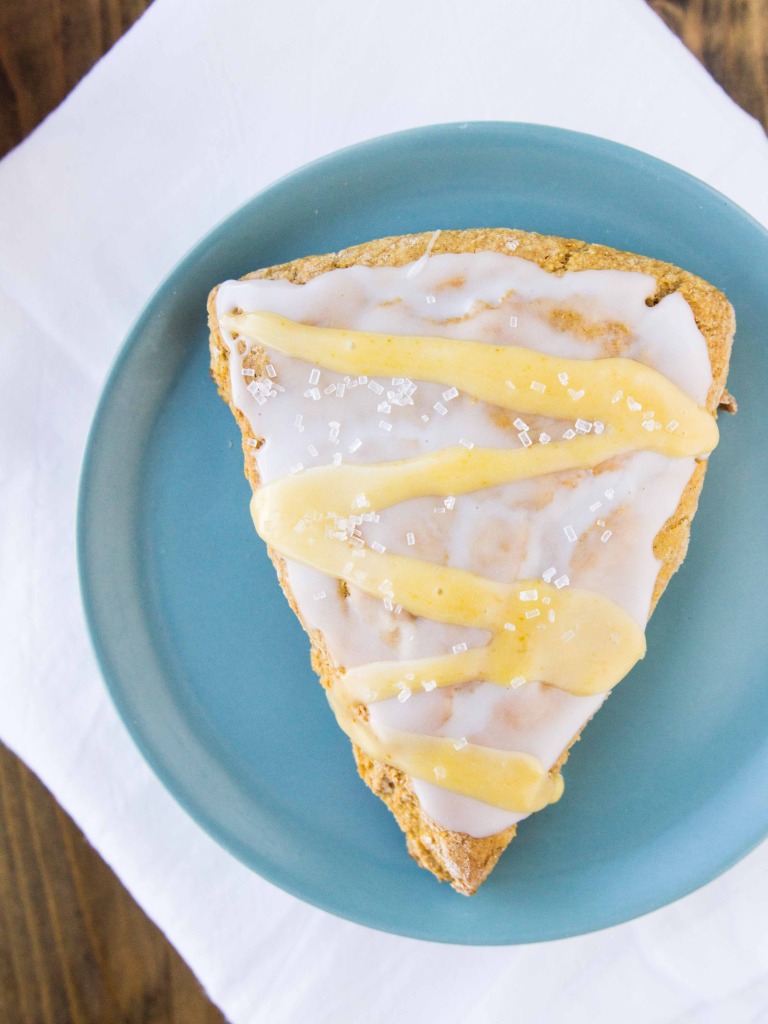 Ha, just kidding, I eat pumpkin things all year, but apparently it's socially acceptable to eat pumpkin between September-Thanksgiving. It's also socially acceptable to listen to Christmas music AFTER Thanksgiving, but that never happens. I'm apparently not very socially acceptable.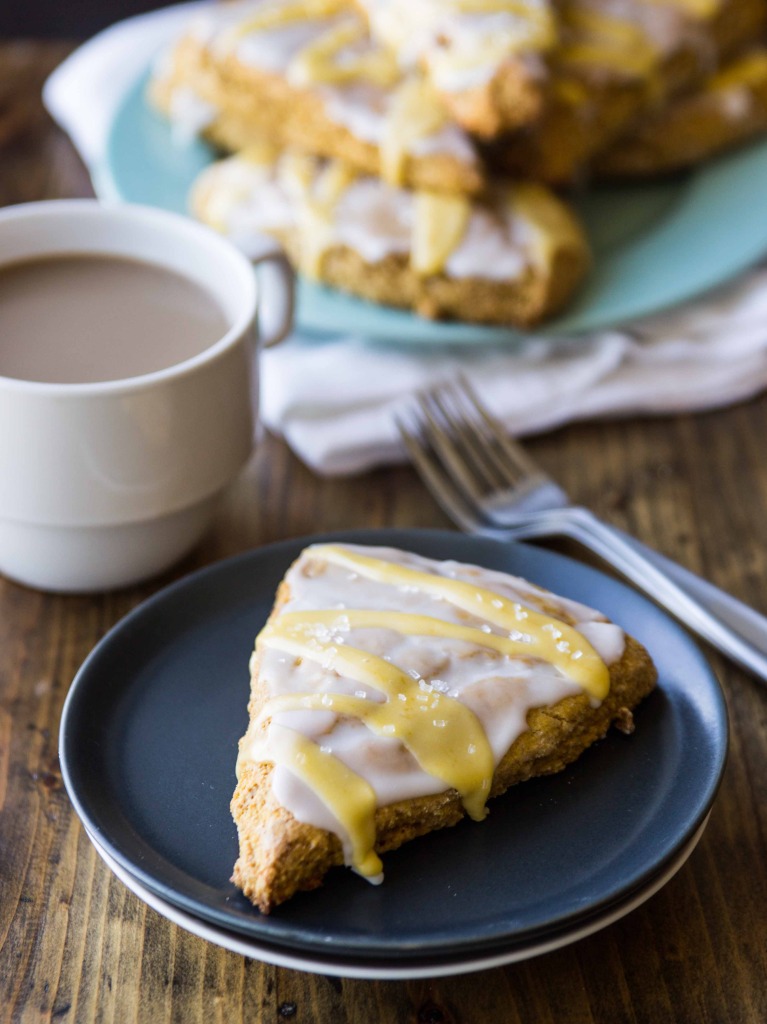 I also don't subscribe to the idea that scones need to be dry. I know you're supposed to dunk them in your coffee, but why start with something that's hard and dry? These scones have a softer texture than most, but still have that crumb that makes a scone a scone. They're based off of the Starbucks pumpkin scone, which I love, but is full of white flour, loads of sugar, and preservatives that I try to avoid.
In my version, I used all whole wheat flour, a touch of maple syrup for sweetness, and coconut oil in place of butter. I have also made these with butter and they turned out the same, so if that's what you have on hand I've included a note about that below.
I used 2 glazes so the scones would have that Starbucks look, but because of that there's a good amount of sugar going on here. If you want to reduce the sugar, just go with one glaze, and/or instead of covering the scone just drizzle it on – bam, less sugar and all the flavor!
I love the combination of the sweet glaze with the thick, pumpkin-infused scone. It's fall morning comfort at it's finest!
As I've mentioned before, I'm not one to name something "Skinny," because I don't feel comfortable with the connotation, and I use the word "Healthy" sparingly in recipe titles, but these are DEFINITELY a better-for-you alternative to the coffee-shop version!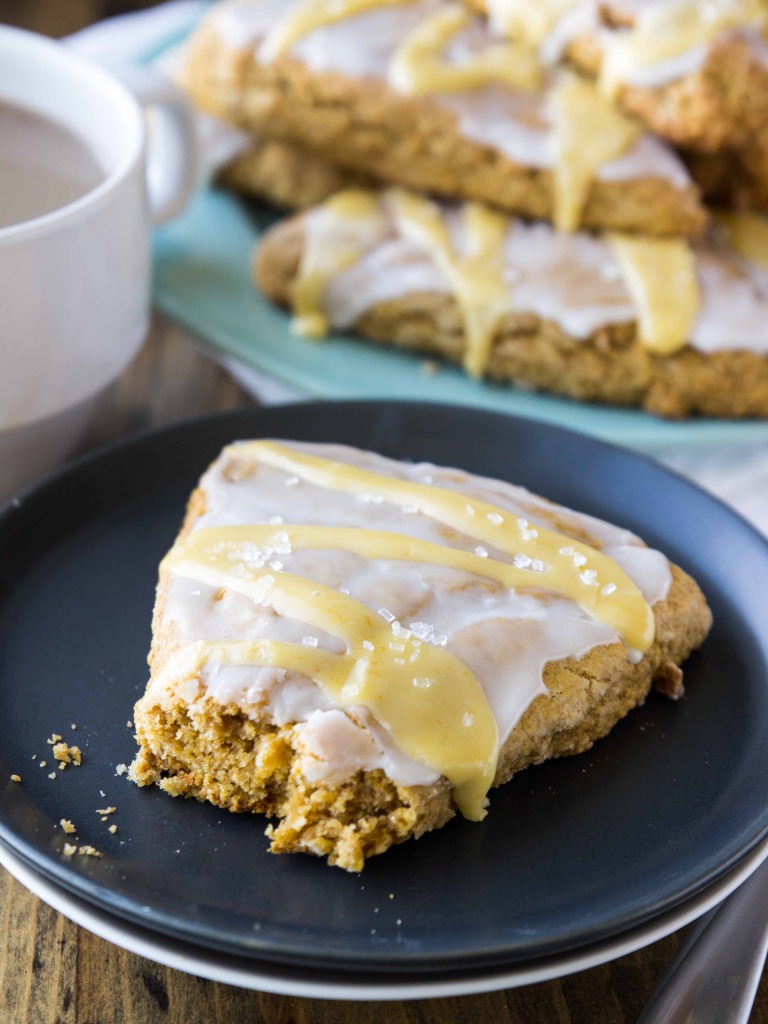 If you make these, or any of my recipes, please take a pic and tag me on Instagram (@veggiebeastblog). It really truly makes my day!


Double-Glazed Vegan Pumpkin Scones
Soft, flaky whole wheat pumpkin scones drizzled with two glazes! A better-for-you (and vegan!) version of the Starbucks pumpkin scone!
Yield: 8 scones
Prep Time: 15 minutes
Cook Time: 20 minutes
Total Time: 35 minutes
Ingredients:
Vegan Pumpkin Scones
2 cups whole wheat pastry flour
1 tablespoon baking powder
½ teaspoon salt
2 teaspoons pumpkin pie spice
1/3 cup coconut oil (solid, not melted) or 5 tablespoons butter/vegan butter, cold and cubed
2/3 cup pumpkin puree
3 tablespoons unsweetened almond milk, divided
1 flax egg (1 tablespoon ground flax mixed with 3 tablespoons warm water)
1/2 tablespoon vanilla extract
⅓ cup maple syrup
Simple White Glaze
1 cup powdered cane sugar
1 tablespoon unsweetened almond milk
Pumpkin Maple Glaze
1 tablespoon pumpkin puree
1/2 teaspoon maple syrup
1/2 cup plus 3 tablespoons powdered cane sugar
Directions:
Preheat the oven to 400.
In a large bowl, mix together the flour, baking powder, salt, and pumpkin pie spice. Add the coconut oil to the dry ingredients, mixing until you have pea-sized pieces. I used a pastry blender and my hands to do this. You definitely want to have pieces of oil visible in the dough, so don't incorporate it fully!
In a separate bowl, whisk together the pumpkin, 2 tablespoons of the almond milk, flax egg, vanilla, and maple syrup.
Add the wet ingredients to the dry, and mix until just combined. You can do this with your mixer on medium speed, or just with a wooden spoon. You do NOT want to overmix the dough, so stop right after everything comes together.
Use your hands to form the dough into a ball, and then set it on a WELL-FLOURED surface (the dough is sticky, so the floured surface is key). Pat down slightly, sprinkle with a little more flour, then use a rolling pin to roll the dough out to ½-inch thickness. I wanted to have 8 triangle scones, so I used a pizza cutter to cut my scones into triangles. If you want smaller scones, use a biscuit-cutter, or really whatever you want/have on hand.
Gently move the scones to a parchment-lined baking sheet (I used a floured spatula to move them). Brush with remaining almond milk. Bake for 15-17 minutes, until the tops are golden.
After removing the scones from the oven, make the glazes while they cool slightly. For the simple white glaze, just whisk together the powdered sugar and milk. Set aside.
For the pumpkin maple glaze, whisk together the pumpkin and maple syrup, and then add the powdered sugar.
Use a spoon to coat the slightly-cooled scones with the simple white glaze. Wait 10 minutes for the glaze to set, and then use a spoon to drizzle on the pumpkin glaze.
Store in an airtight container at room temperature.
Store in an airtight container on the counter for up-to 4 days. If it's hot in your place the icing may melt a little.
I topped mine with some sparking sugar for the photos (because PRETTY!), but it's definitely not necessary.
Nutrition Information: Serving Size: 1 scone with both glazes, Calories: 339, Sugar: 8.9g, Sodium: 157mg, Fat: 9.8g, Saturated Fat: 7.9g, Carbs: 59.5g, Fiber: 3.8g, Protein: 3.3g
9 Responses to "Double-Glazed Vegan Pumpkin Scones"