Simple Gouda and Sage Biscuits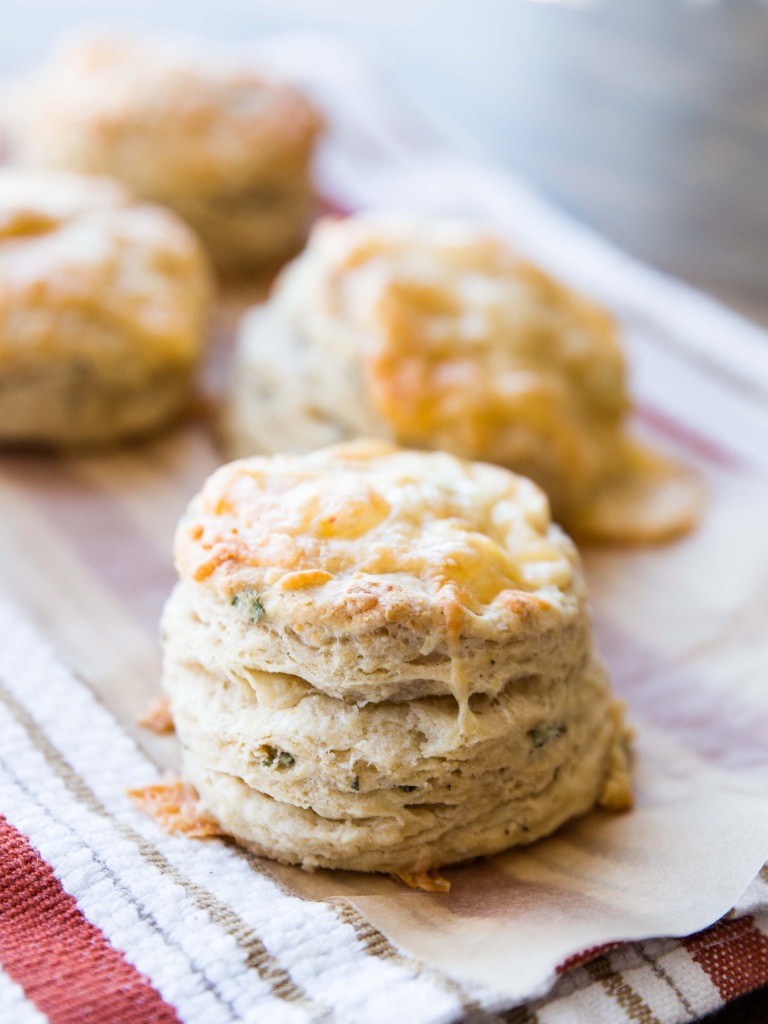 When you're a vegetarian at Thanksgiving, it's really all about the sides and the bread. Sometimes they are one in the same, like with my mom's ridiculously buttery and carbalicious stuffing. My plate usually fills up with that stuffing, green bean and artichoke casserole, and a big buttered roll. Carbs beside buttery cheesy vegetables beside carbs.
This year I'm going to hopefully add a little healthy goodness with a lentil loaf, which I'm already being made fun of incessantly for because "lentil loaf" sounds about as appealing as "nutritional yeast," but I'm giving it a try anyway.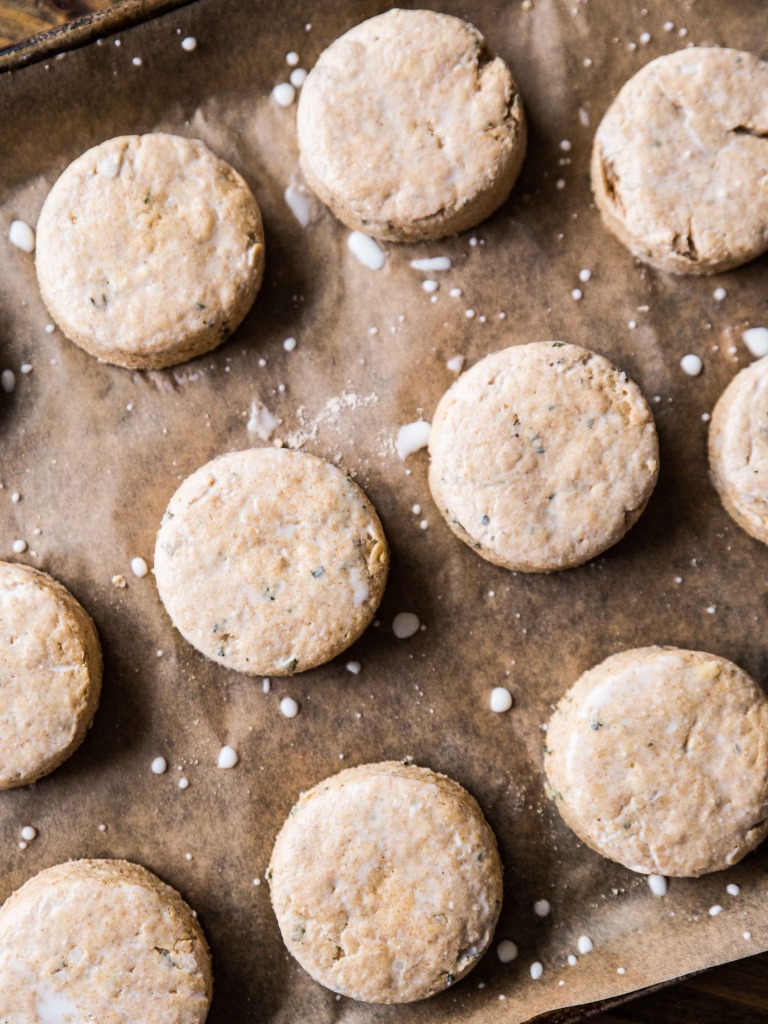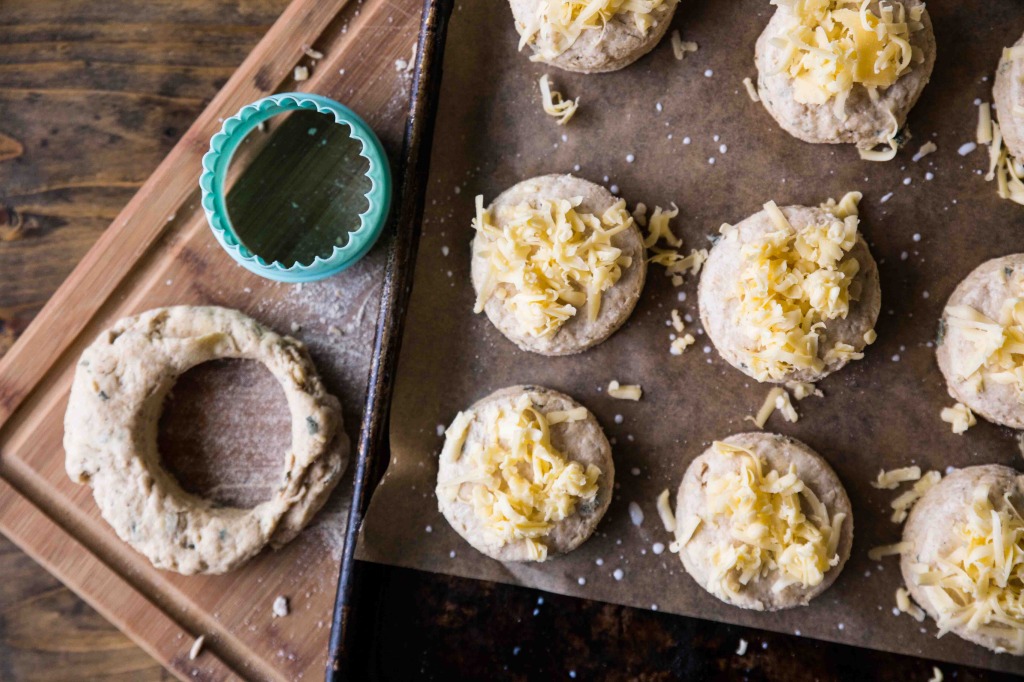 One thing's for sure – I'm going to help make our Thanksgiving even carb-ier with these biscuits. Oh me oh my these biscuits. They're buttery, flaky, savory, rich, and daaaaang good when warm and slathered with butter.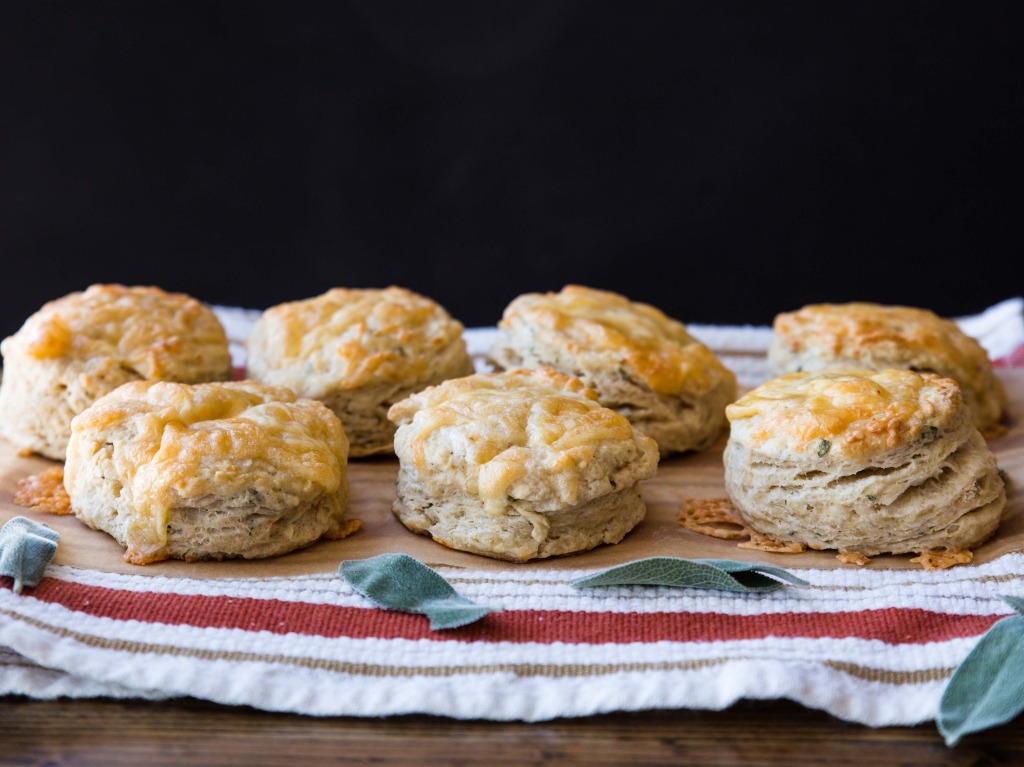 I already brought them to my weekly family dinner last night, and received rave reviews. It's not always easy to please those people, so when they approve I know I've got a winner.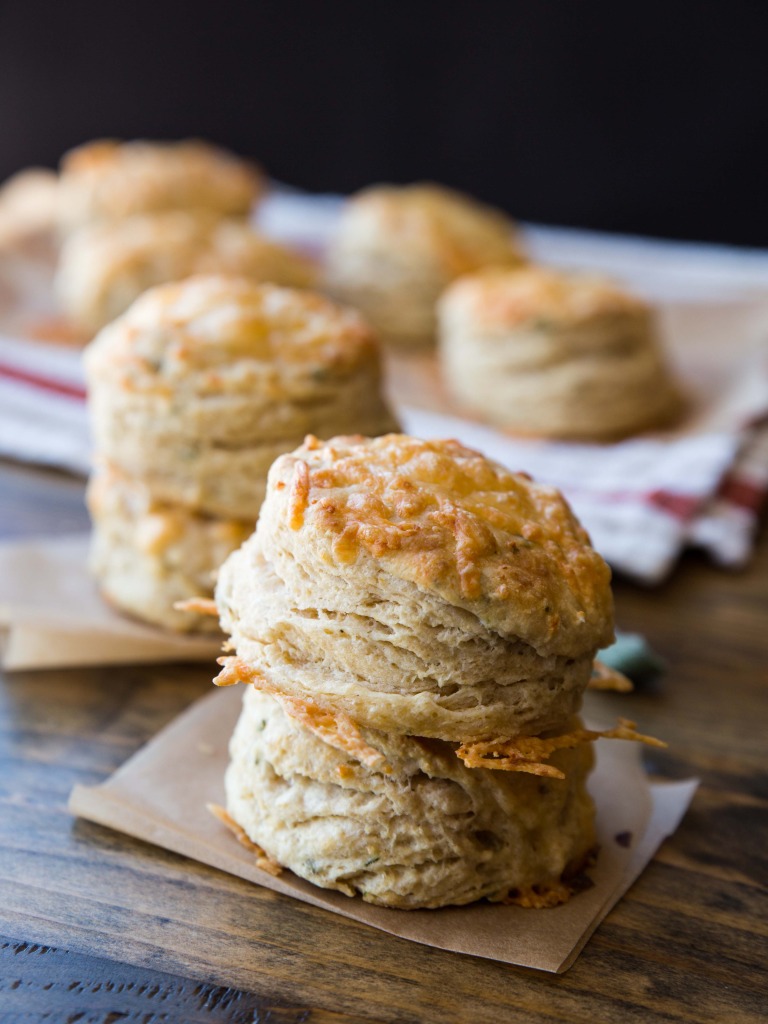 These biscuits start with a mix of unbleached all purpose flour (for fluffiness) and whole wheat flour (for hearty healthiness), salt, pepper, hella lot of baking powder, and cold butter. Once that's all incorporated, we fold in the flavor powerhouses of these biscuits: fresh sage and gouda cheese. After adding some homemade buttermilk, we roll out the dough, cut them biscuits up, brush with a little more milk, and cover with the rest of the cheese. They bake up high and golden and bubbly with melted gouda, and then they are devoured within minutes.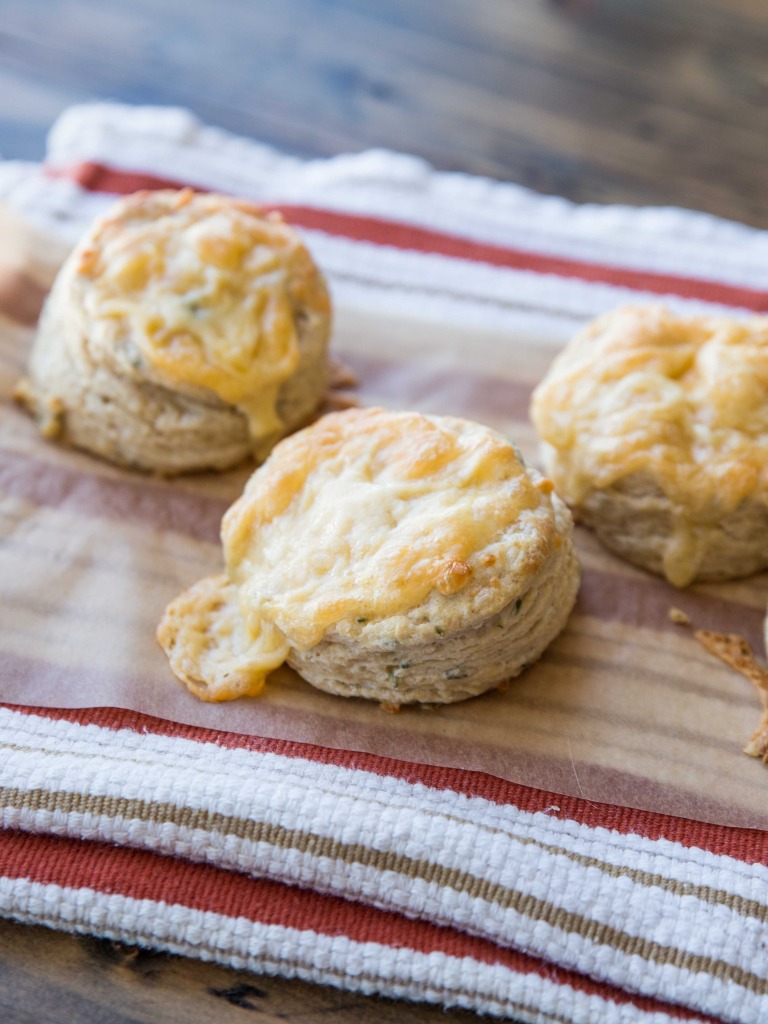 I'm thankful for carbs.

Simple Gouda and Sage Biscuits
Fluffy, buttery and flavorful biscuits made with gouda and sage. Easy, quick, and perfect for special occasions.
Yield: 10 biscuits
Prep Time: 10 minutes
Cook Time: 12 minutes
Total Time: 22 minutes
Ingredients:
1 cup milk (see note)
1 tablespoon apple cider vinegar
1 1/2 cups white whole wheat flour
1 1/4 cups unbleached all purpose flour
1 tablespoon cane sugar
1 1/2 tablespoon baking powder
1 1/4 teaspoon sea salt
¼ teaspoon ground black pepper
6 tablespoons unsalted butter, cubed and chilled
4 ounces gouda cheese, shredded (about 1 cup), divided
1/4 cup sage leaves, packed, finely chopped
Directions:
Preheat oven to 425
Measure out 1 cup of milk. Remove 1 tablespoon and set aside to use later.
Pour 1 tablespoon of apple cider vinegar into the cup of milk. Mix and let sit for 5 minutes.
In a large bowl, whisk together the flours, sugar, baking powder, salt, and pepper. Add the cubes of butter, and use a pastry blender/your hands to rub in the butter until you only have small pieces visible in the dough.
Fold in the sage and 1/2 of the cheese, and then pour in the milk and vinegar mixture. Use a wooden spoon to mix until a loose dough forms. Turn out onto a floured surface, and knead for one minute, until you have a smooth dough.
Roll out into 1/2-inch thickness, and use a 2 5/8 biscuit cutter to cut out biscuits. Place biscuits on a parchment-lined baking sheet. Form the scraps into a ball and roll out again into 1/2-inch thickness, and cut out biscuits. You should end up with 10 biscuits total.
Brush the remaining tablespoon of milk on the biscuits, then top with remaining cheese. Bake for 12-14 minutes, until lightly golden on top.
If not eating right away, store in an airtight container and reheat at 325 for 10 minutes.
You can replace the milk and apple cider vinegar with 1 cup buttermilk. I find that when I buy a carton of buttermilk it ends up sitting in my fridge unused, so I make my own.
Nutrition Information: Serving Size: 1 biscuit, Calories: 240, Sugar: 3.2g, Sodium: 390mg, Fat: 11.1g, Saturated Fat: 6.8g, Carbs: 28.8g, Fiber: 2.6g, Protein: 7.8g, Cholesterol: 33mg