Green Machine Quesadillas with Spicy Chipotle Cream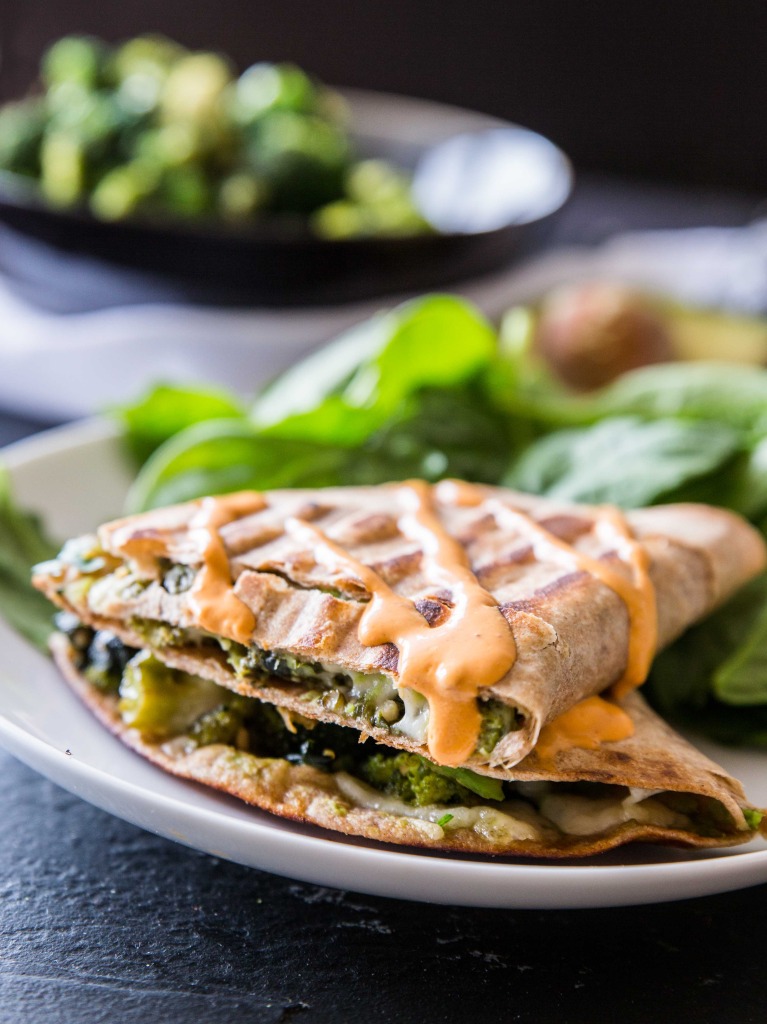 Let's eat some green with them cookies, eh?
I've been on a sugar high lately. I'm inspired to bake all the sugary, thick, buttery (or sometimes vegan buttery) yums, and gosh darn it I'm going to do it.
Have you guys started your holiday baking yet? What have you made? Anything I should know about? Tell me all about it, please.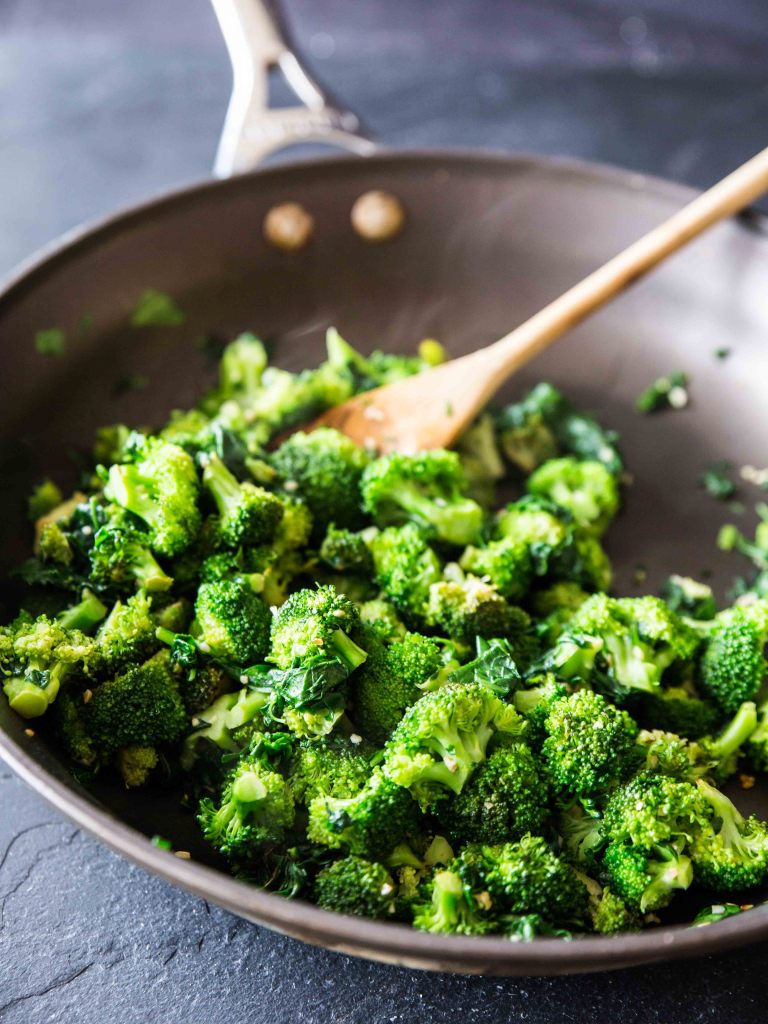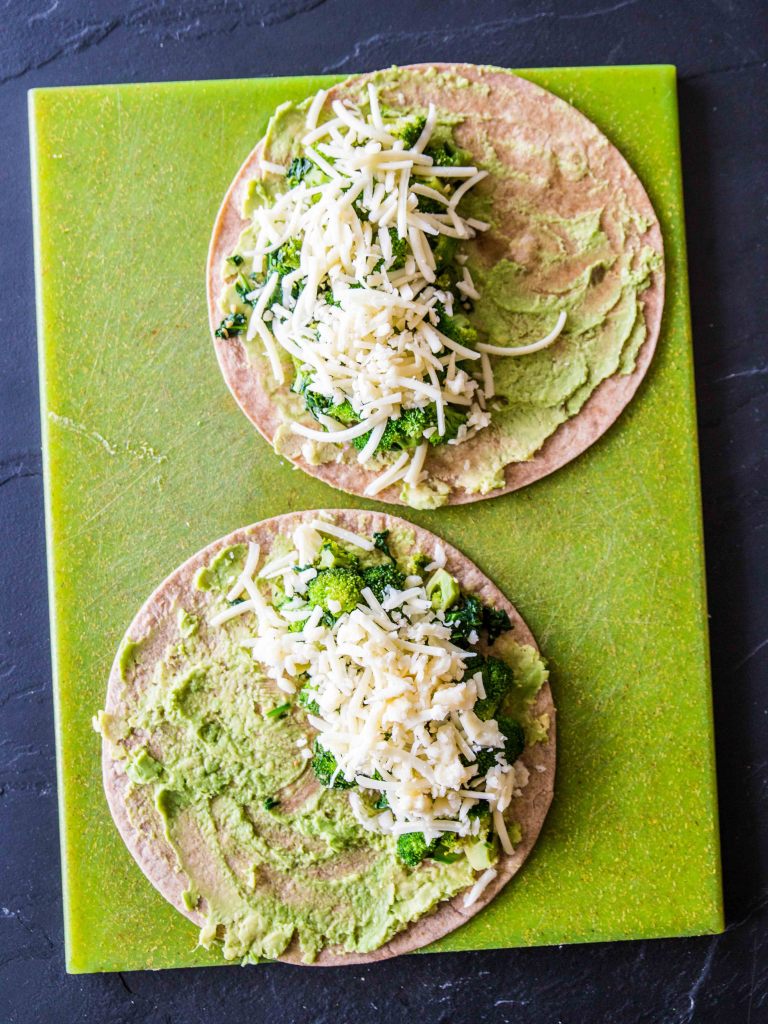 After a particularly indulgent week of testing cookie recipes, I decided to gain some greens in my life with these quesadillas. Each tortilla is spread with some smashed avocado (just enough for a little richness, and to help the quesadilla stick together when it's folded over), and a hella lot of chopped broccoli and spinach.
Since a quesadilla really isn't a quesadilla without cheese, I used creamy, oh-so-meltable fontina to cover those veggies. I baked it up in my panini press (you can use a fry pan) until golden and crisp, and then covered it with my very favorite part – that sauce!
Oh goodness that sauce. It's hot, smoky, and just so darn easy. A few ingredients in a blender and BAM, flavor and spice and everything nice.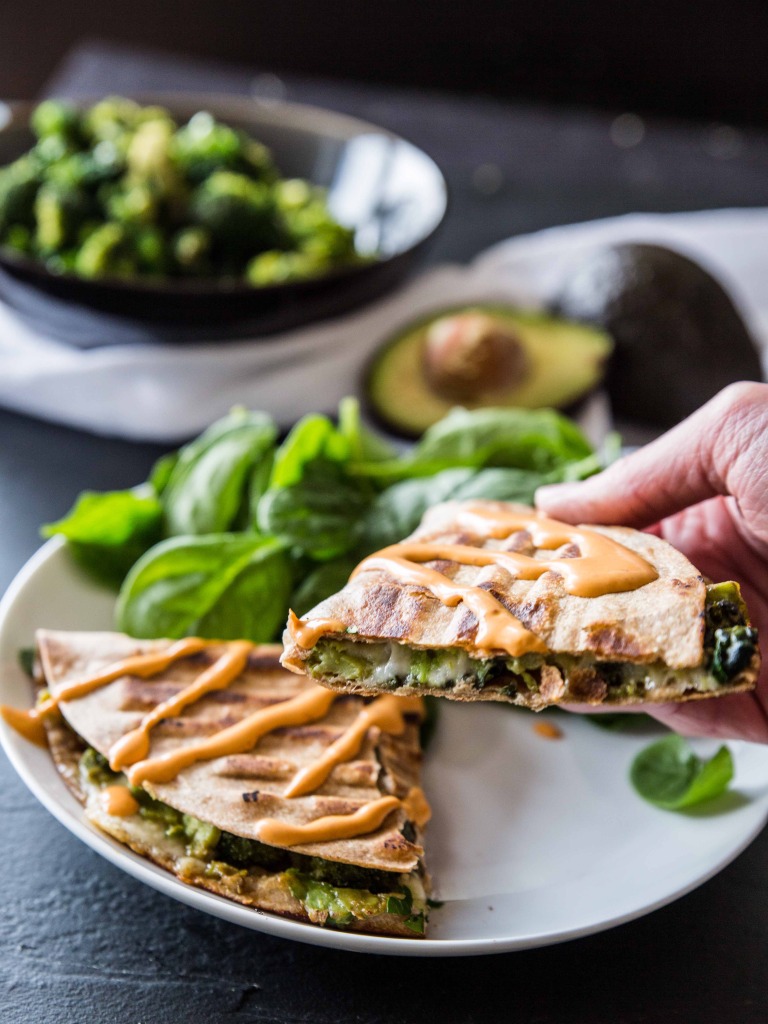 Chipotle peppers in adobo sauce, which you can find canned in the Mexican aisle of your grocery store, give the sauce heat and smokiness, while the creamy texture and a bit of tang come from Chobani's nonfat Greek yogurt – one of my favorite healthier sauce ingredients. The recipe as written below will give you more sauce than you need, and I did that intentionally – it makes a GREAT salad dressing and/or veggie dip!
With all that goodness, these babies will fill you up with vitamins A and C, fiber and protein…which is perfect, since later you'll fill up with cookies. Right? Not just me?

Green Machine Quesadillas with Spicy Chipotle Cream
A delicious way to get your greens! Avocado, broccoli and spinach are folded up in a tortilla with melty fontina, and drizzled with a spicy chipotle cream sauce.
Yield: 4 quesadillas
Prep Time: 10 minutes
Cook Time: 10 minutes
Total Time: 20 minutes
Ingredients:
Green Machine Quesadillas
1 tablespoon olive oil
3 cloves garlic, minced
4 cups chopped broccoli florets
¼ teaspoon sea salt
4 cups spinach, loosely packed, chopped
1 ripe avocado
¼ teaspoon sea salt
5 ounces fontina, shredded (about 1 heaping cup)
4 whole wheat tortillas
Spicy Chipotle Cream
4 chipotle peppers in adobo sauce, seeds removed
1 cup nonfat plain Greek yogurt (I used Chobani)
1/4-1/2 teaspoon kosher salt
2 tablespoon olive oil
Directions:
Heat the olive oil in a large non-stick pan. Add the garlic and cook for 30 seconds, until fragrant. Add the broccoli and 1/4 teaspoon salt and cook, stirring frequently, for 7 minutes. The florets will turn bright green and soften in this time. Add the spinach and cook for another 2-3 minutes, until wilted. Set aside.
Spread 1/4 of the avocado on each tortilla. Top half of each tortilla with 1/4 of the broccoli/spinach mixture, and 1/4 of the cheese. Fold over and press down. Cook in a panini press coated with nonstick olive oil spray. If you don't have a panini press, cook in a nonstick pan for 3-4 minutes on each side, using 1/2 teaspoon of olive oil for each side.
While the quesadillas cook, combine the chipotle cream ingredients in a blender and blend until smooth. Taste and adjust salt level as necessary.
Drizzle each quesadilla with 2 tablespoons chipotle cream sauce.
I used a 5-ounce block of fontina, because I had it and YUM...but if you want to keep the fat in this recipe a little lower, you could just go with 4 ounces, which would result in 1 ounce of cheese for each quesadilla.
Nutrition information is a rough estimate for 1 quesadilla with 2 tablespoons of drizzled sauce. You will have leftover sauce, which is a good thing - it makes a great salad dressing!
Nutrition Information: Serving Size: 1 quesadilla with 2 tablespoons chipotle cream. Calories: 474, Sugar: 4.4g, Sodium: 771mg, Fat: 29.4g, Saturated Fat: 9.9g, Carbs: 36.9g, Fiber: 10.4g, Protein: 20.9g, Cholesterol: 43mg
8 Responses to "Green Machine Quesadillas with Spicy Chipotle Cream"