High Protein Double Bean Juicy Lucys + Book Talk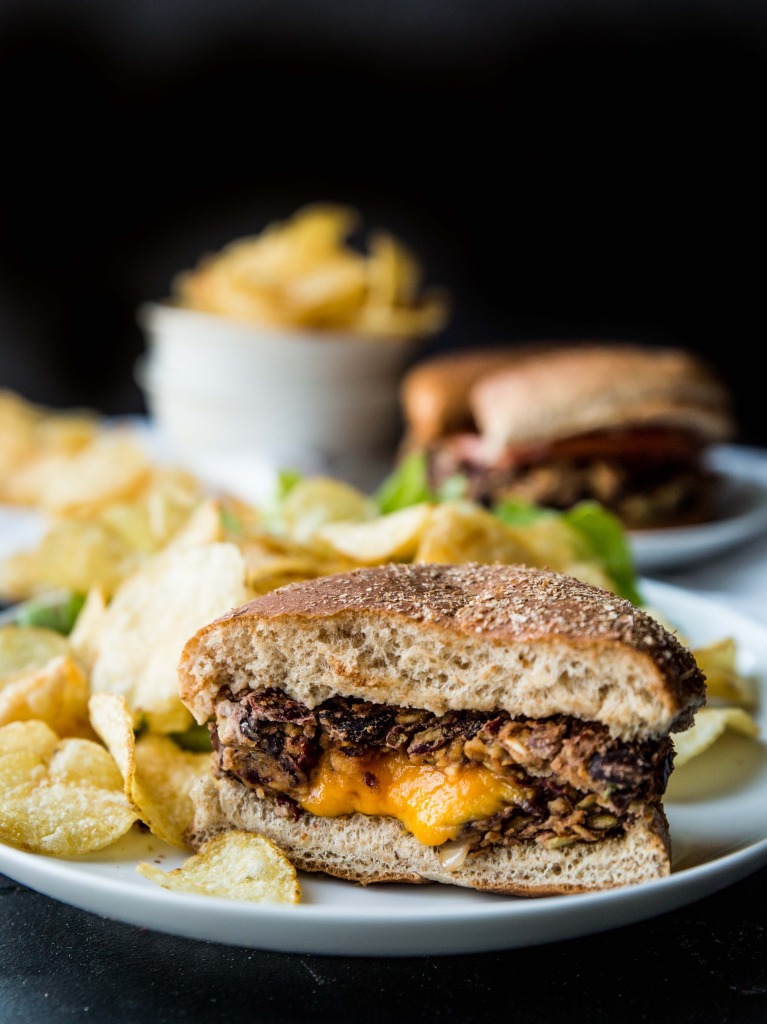 Last week a friend asked me if there was a reason I hadn't shared more about the book on my blog. I've mentioned it in passing here and there, but I didn't want to be all "Hey guys! I have a book!" when it seemed like such a far-off reality. Now, with the release date just a couple short weeks away (some of you who pre-ordered have already received your copies), I figured it's time to share a bit.
…via cheesy burger goodness, of course.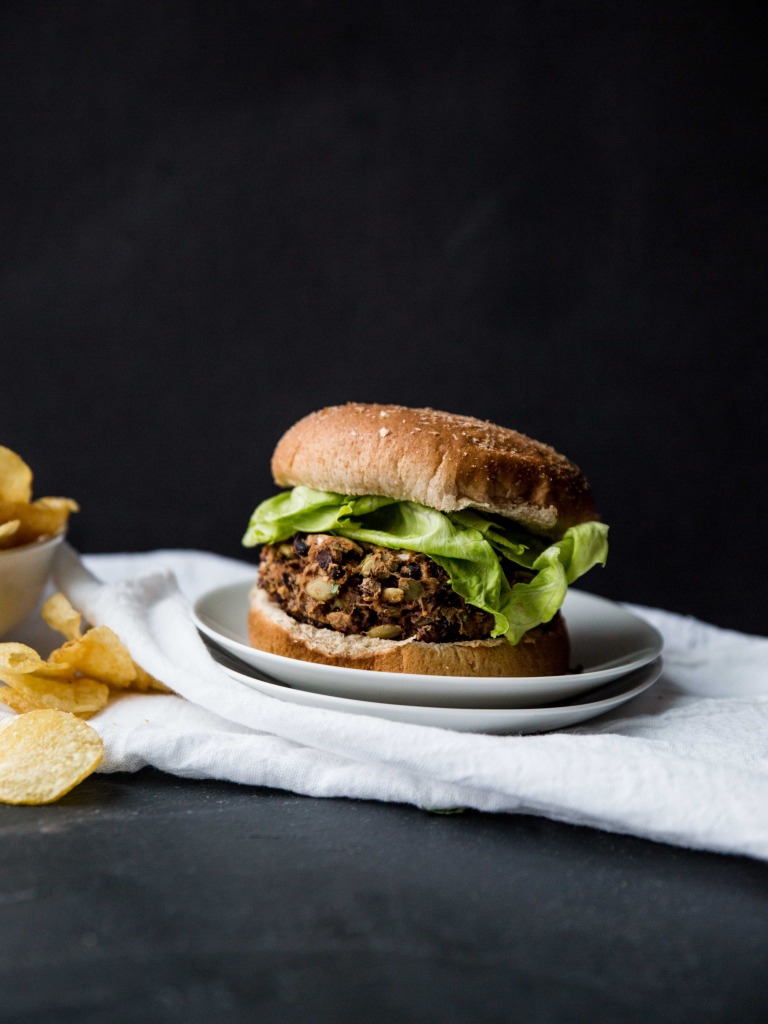 If you're new here, or if you're all, "Whaaaaat are you even talking about, Katie," here's the gist: I have a book on high protein vegetarian food, aptly named The High Protein Vegetarian Cookbook, coming out on January 5th. It is full of 75 recipes ranging from breakfast to dessert to snacks to meals, all with at least 10g of protein (for main courses), or 6 grams of protein (for snacks/desserts).
There is zero, zilch, nada protein powder used in the book. Instead, the protein comes from real food ingredients like whole grains, beans, lentils, dairy, nuts, seeds, etc.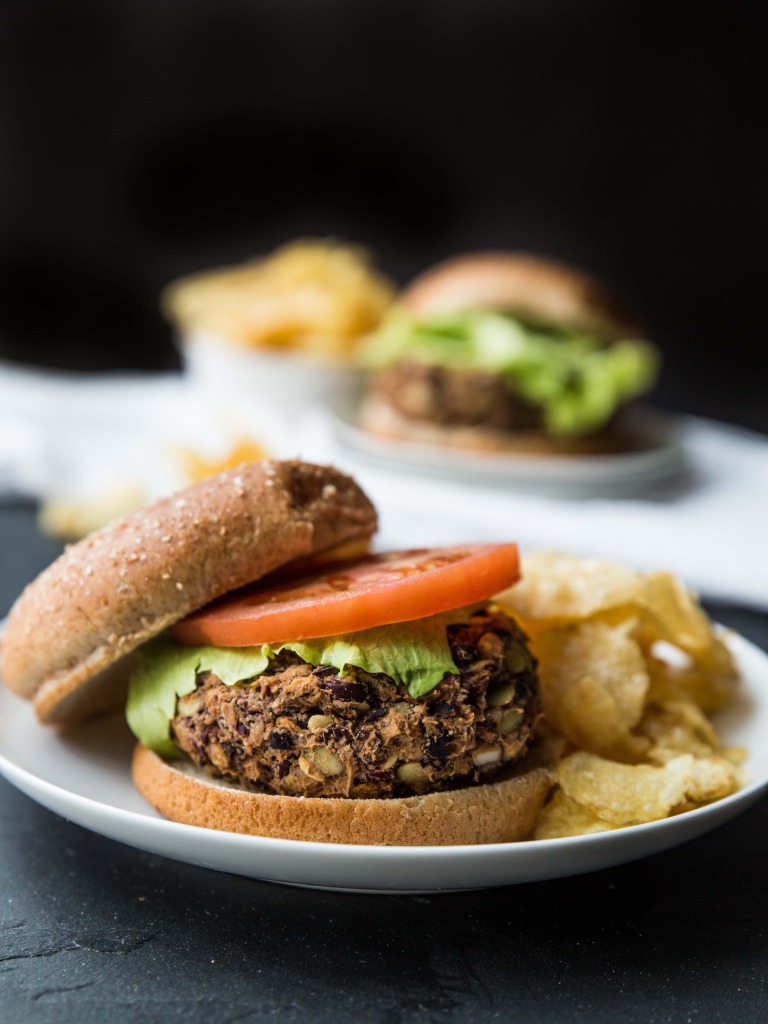 The book took over my life for 8 months of testing, retesting, photographing, and eating. Lots of eating. I learned more than I thought possible, had lots of fun, suffered a few breakdowns (sorry, Ry!) and now I get to hold it in my hands and it is just so darn exciting I can't even take it.
The book is available on Amazon
now, and as of January 5th it will be in Barnes and Noble, Indiebound, Powells, Books-A-Million, as well as several smaller stores. This means that on January 5th I'm going to go to my nearby Barnes and Noble and just stare at it on the shelf because THAT IS CRAZY.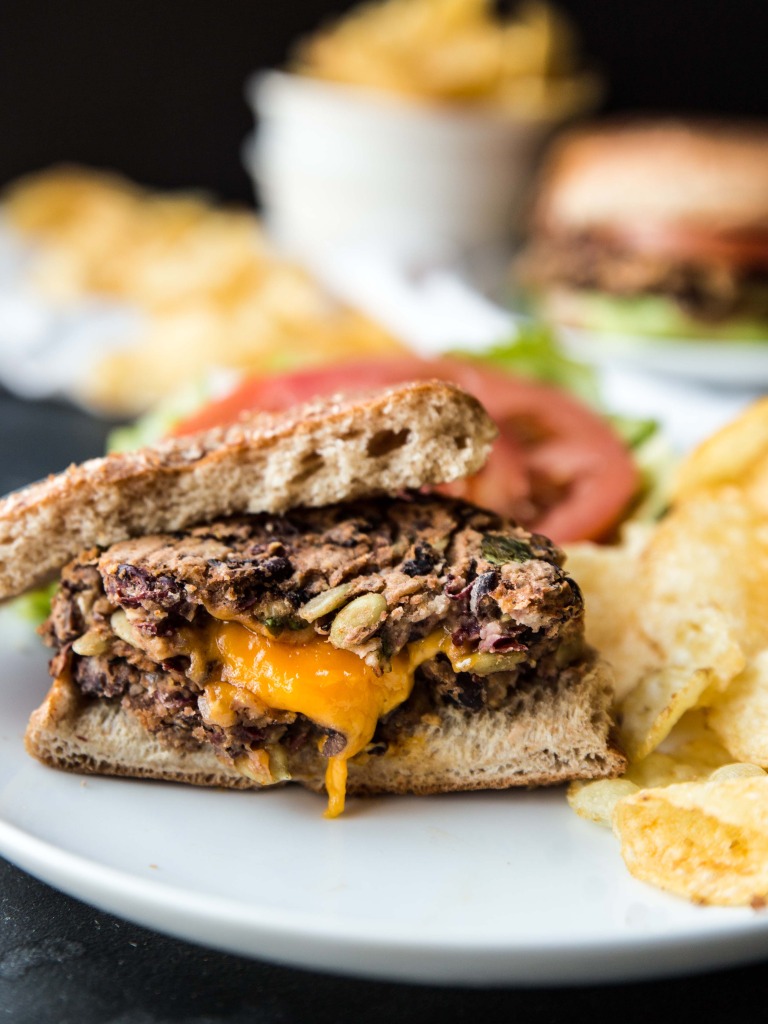 Over the next few weeks I'm going to share some book recipes on the blog, so you can get an idea of what you'll find in those pages. First up is the ultimate vegetarian juicy lucy, aka cheese-stuffed burger. Ryan thought I lost my mind, and maybe I did, because I made this recipe 9 times before I perfected it. The winning version has a rather long ingredient list, but the flavor and texture are so worth it that I doubt you'll mind. I like using flax as the binder in my burgers, so the patty itself is vegan, but then there's that cheese…
…and I do love that cheese. It's not an overwhelming amount, but just enough to give you that melty sharp cheddar center, and take these burgers over the top.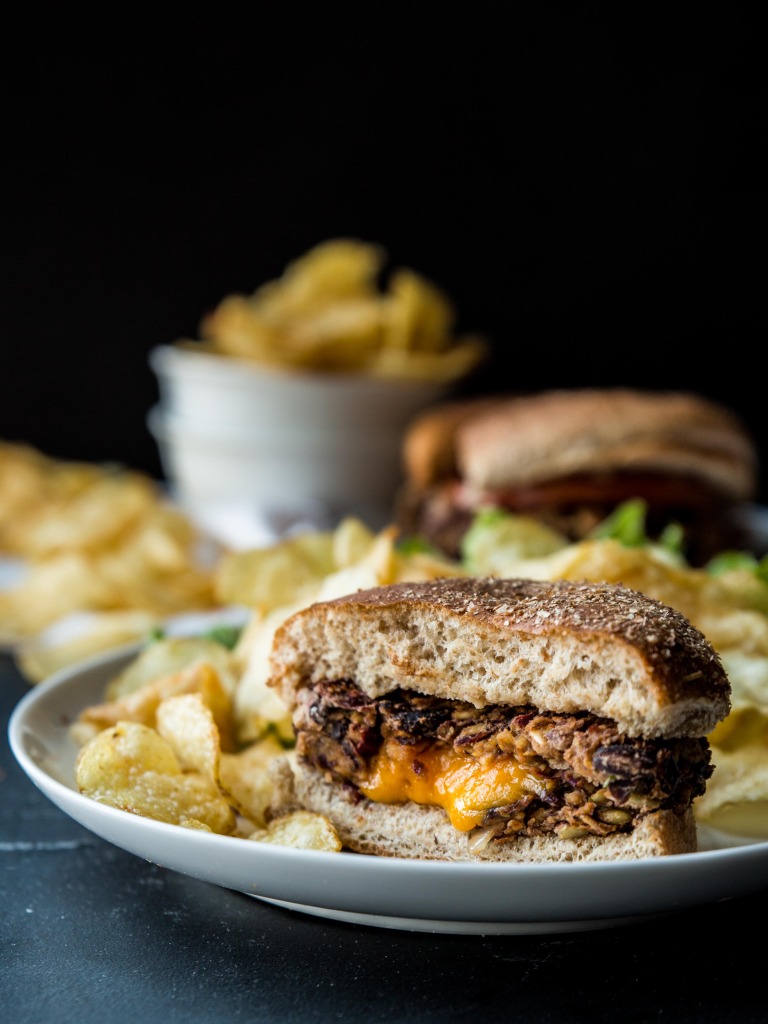 If you get a book, tell me about it! I want to hear what you think, and I also want to sign it for you – send a pic/copy of your receipt to veggieandthebeastblog@gmail.com, along with your address, and I'll send you a signed bookplate.
Thank you to everyone for your support! Means more to me than you know.


High Protein Double Bean Juicy Lucys
Big and flavorful veggie burger patties stuffed with sharp cheddar! A recipe from The High Protein Vegetarian Cookbook.
Yield: 5 burgers
Prep Time: 45 minutes
Cook Time: 30 minutes
Ingredients:
2 tablespoons ground flaxseed mixed with 6 tablespoons warm water
1 (15-ounce) can no-salt-added black beans, rinsed, drained, and patted dry
1 (15-ounce) can no-salt-added red kidney beans, rinsed, drained, and patted dry
1 tablespoon low-sodium soy sauce or tamari
2 cloves garlic, minced
1 shallot, diced
½ cup old-fashioned oats (gluten free if desired)
½ cup raw, unsalted, hulled pepitas
1/2 teaspoon dried oregano
1/2 teaspoon paprika
1/2 teaspoon chili powder
¼ teaspoon ground cumin
3 tablespoons cilantro, chopped
1/2 teaspoon ground black pepper
1/2 teaspoon fine sea salt, or to taste
1 tablespoon olive oil
2 ½ ounces sharp cheddar, cubed
5 whole wheat hamburger buns (or buns of choice)
Directions:
Combine the flaxseed and water, mix with a fork, and let sit for 5 minutes.
Pour the beans in a bowl and mash well with a fork. Mix in soy sauce, garlic, shallot, oats, pepitas, all spices and olive oil. Taste and adjust seasonings to your liking.
Pour in the flax mixture, mix well, and refrigerate for 30 minutes.
Preheat oven to 350.
Scoop out ¼ cup of burger dough, and flatten into a patty. Top with ½ ounce of cheddar, and then shape another patty out of ¼ cup of batter to place on top. Make sure to seal the sides completely, and pack the patty together tightly so no cheese melts out while the burgers bake. Repeat with remaining bean mixture and cheese. This recipe will make 5 large patties.
Place the patties on a parchment-lined baking sheet, and bake for 15-20 minutes on each side. Let sit for 5 minutes before serving.
Serve each burger on a whole wheat bun with desired toppings.
Vegan Option: The patty is flavorful and full of texture without the cheese, so just omit it! Or you could try putting some vegan cheese in the middle, but I have not tried it so I can't say how successful that would be.
Nutrition Information: Serving Size: 1 burger and 1 bun, Calories: 457, Sodium: 617mg, Fat: 17.5g, Saturated Fat: 5g, Carbs: 57.5g, Fiber: 12.9g, Protein: 22g, Cholesterol: 15mg
13 Responses to "High Protein Double Bean Juicy Lucys + Book Talk"