Coconut Curry Sweet Potato Chowder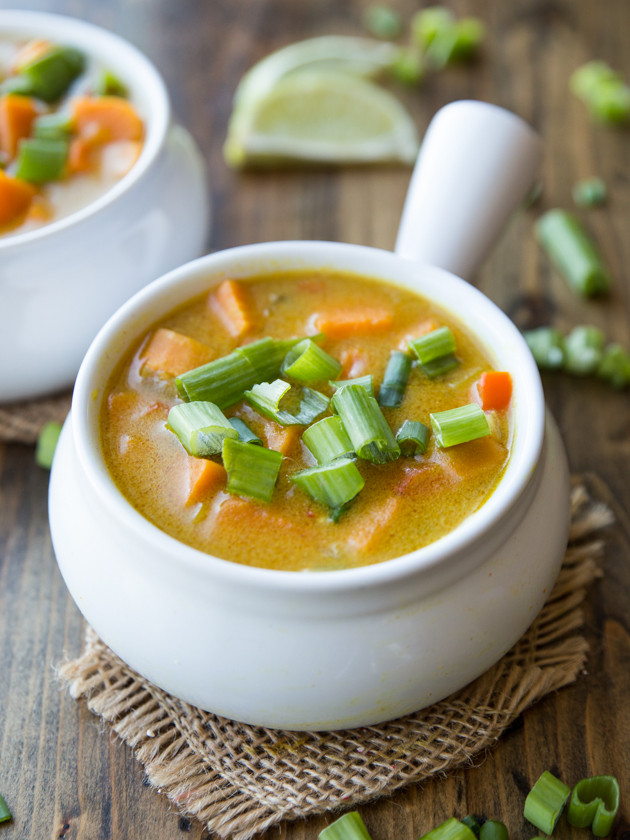 It's the kind of cold that feels like a slap in the face as soon as you walk out the door. The kind that brings on chapped hands, red cheeks, and icicle hair. The kind that allows you to use the outside as a freezer. The kind that screams for soup.
Maybe it's not like that where you are, and if so you're one lucky devil. You're also lucky if you don't have a dog who wants to go outside in the cold dark at 6am.
Good thing she's cute.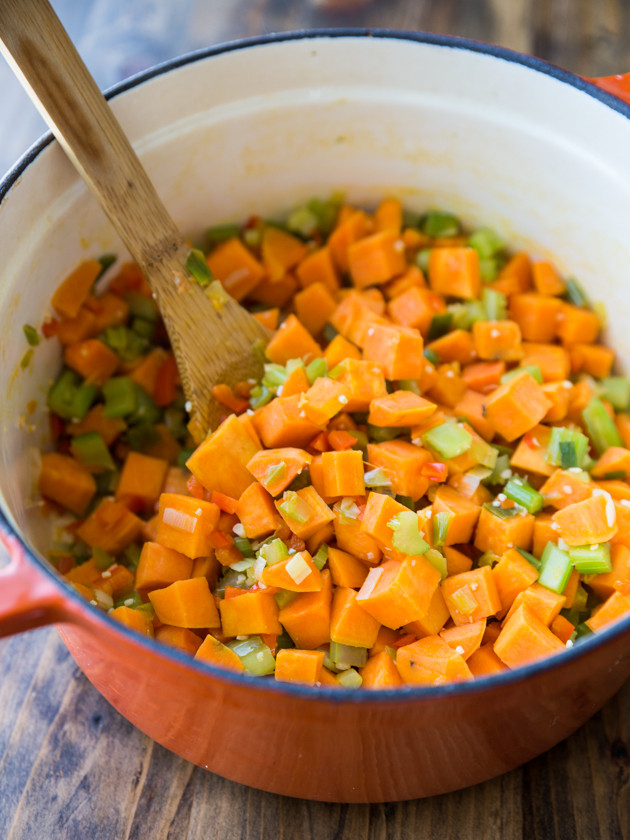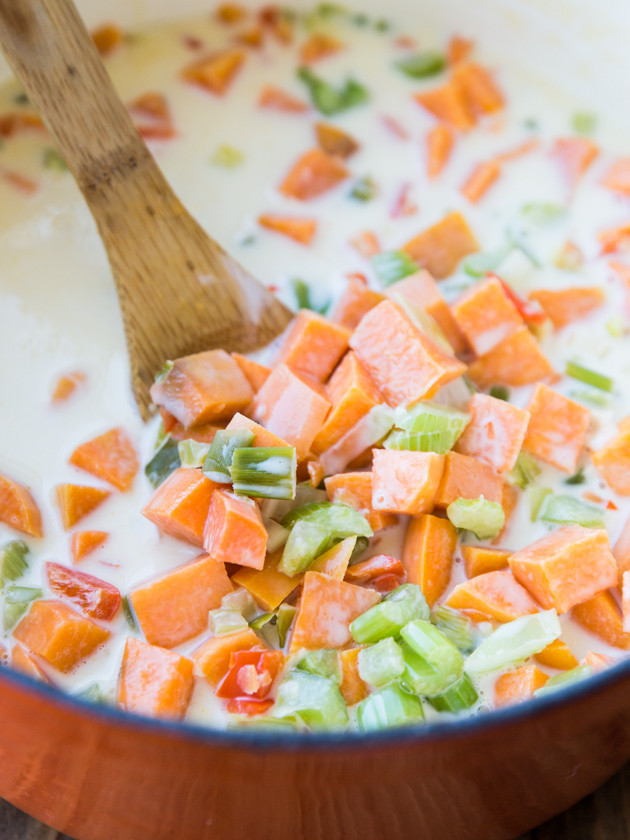 Apart from the cold, I have to admit that I kind of love soup season. There's nothing cozier than cuddling up with a warm blanket and a big bowl of soup…especially when there's curry involved.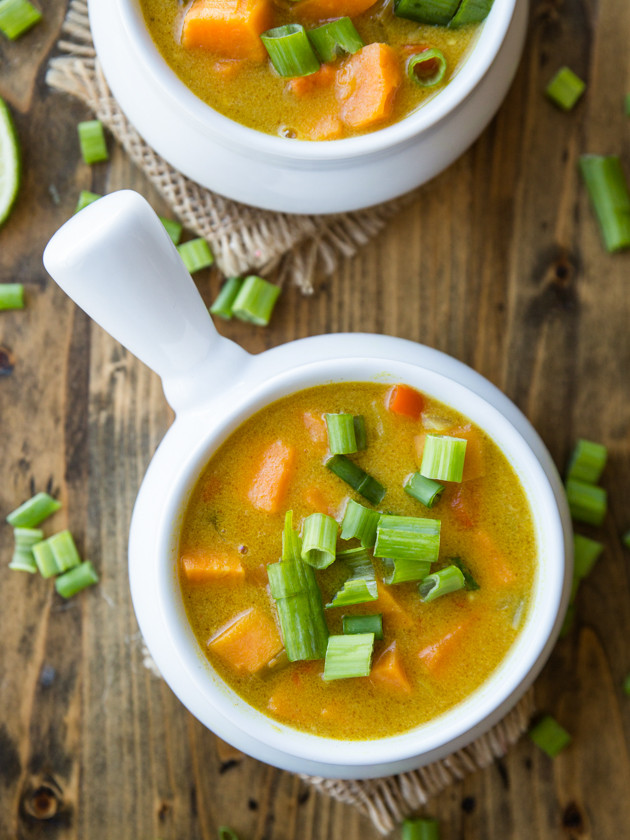 This soup is a hybrid of a creamy chowder with a spicy curry. It's bursting with veggies, including my favorite as of late: sweet potatoes. Not only are they super healthy, but I love the depth of flavor sweet potatoes add to savory dishes. In this chowder, they bring a subtle sweetness to the spicy, creamy curry flavor.
Thanks to the creaminess of coconut milk, this chowder is vegan, and it can also be gluten free depending on the flour you use as a thickener. I used brown rice flour to keep it gluten-free friendly, but you can sub all-purpose if you're not concerned about gluten.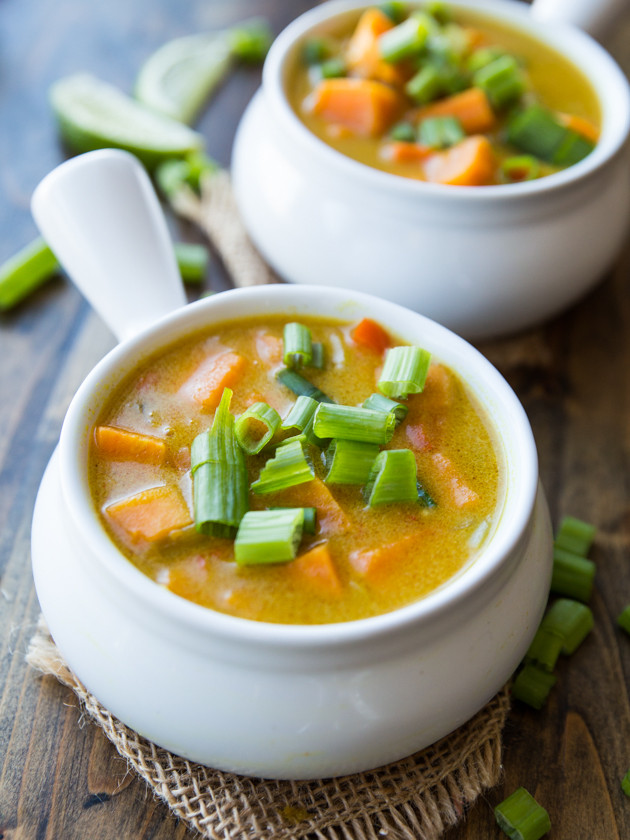 Bring it on, frigid Minnesota January.


Coconut Curry Sweet Potato Chowder
Creamy and rich coconut curry soup with sweet potatoes. Subtly sweet, spicy, and totally comforting!
Yield: 7.5 cups (5 servings)
Cook Time: 35 minutes
Total Time: 35 minutes
Ingredients:
1 ½ tablespoons coconut oil
3 cloves garlic, minced
1 bunch green onions, white and light green parts sliced, and tops sliced and reserved for garnish
5 celery stalks, diced
1 red bell peppers, diced
4 sweet potatoes, peeled and cut into 1-inch cubes
1 can light coconut milk
1 can full fat coconut milk
1-2 teaspoons sea salt (to taste)
1 tablespoon curry powder
1 1/2 teaspoon ground cumin
1/2 teaspoon chili powder
¼ teaspoon ground cayenne
½ lime, juiced
1 cup water
2 tablespoons flour (I used brown rice flour)
Directions:
Melt the coconut oil in a large soup pot. Add the garlic and cook for 30 seconds. Add the sliced green onion (the white and light green portions) and 1/4 teaspoon salt, and cook for 3-4 minutes, until softened. Pour in the remaining vegetables, and cook, stirring frequently, for 10 minutes
Pour in the coconut milk, spices, remaining salt to taste, and lime juice. Pour in the water, reserving a few tablespoons. Whisk the flour into the remaining water, and pour into the soup pot.
Bring to a boil, reduce heat to low, cover, and simmer for 20 minutes.
Top with he remaining sliced green onions (the dark green tops).
Feel free to use 2 cans of light coconut milk if you'd like to lower the fat in the recipe. I like the creaminess that a can of full-fat adds to the base, but light would work fine.
Nutrition Information: Serving Size: 1.5 cups, Calories: 360, Fat: 24.7g, Saturated Fat: 22.0g, Sodium: 846mg, Carbs: 32.1g, Fiber: 5.0g, Sugar: 9.0g, Protein: 5.6g, Cholesterol: 0mg
5 Responses to "Coconut Curry Sweet Potato Chowder"