Vegan Salted Caramel Lava Cakes, for Two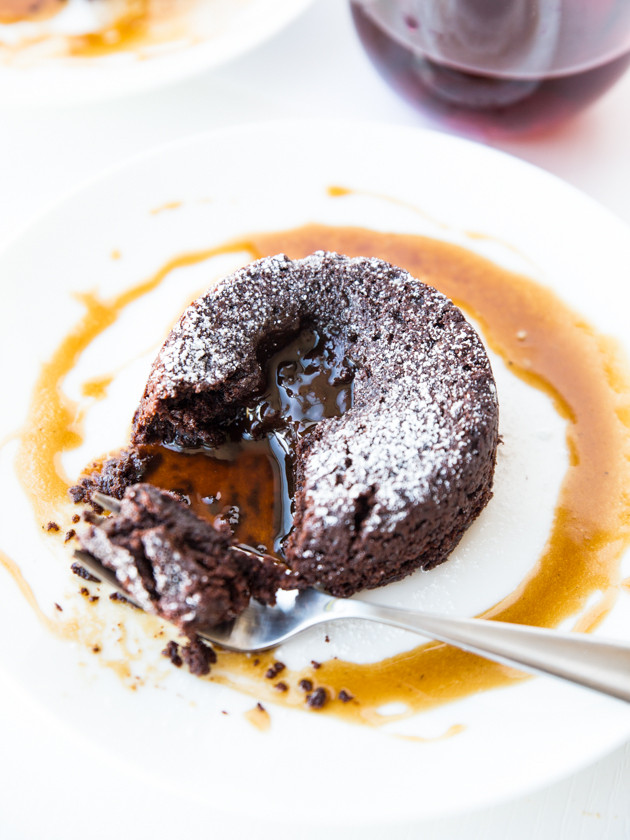 Welcome, friends, to my life for the past week.
So much cake.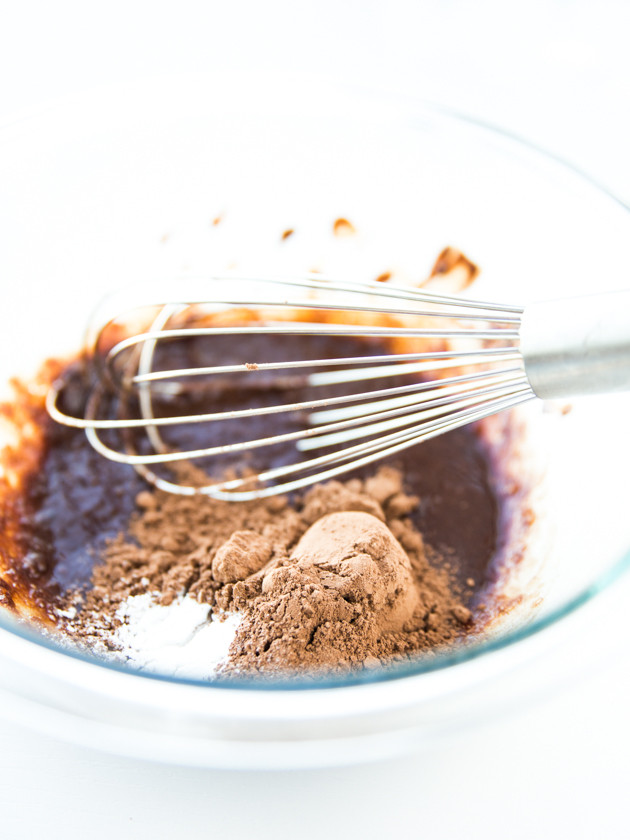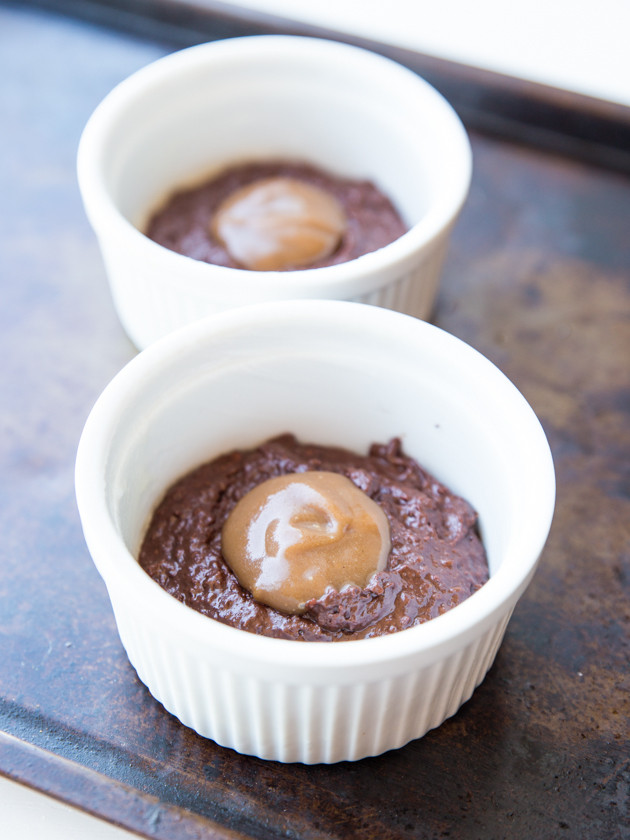 It started off because I wanted to create a vegan version of these molten nutella lava cakes for two, and then it took on a life of its own. I made this recipe a good 7 times, which equates to, uhhh, a lot of individual cake consumption.
It took several baking excursions for me to realize that the sunken, gooey center is exactly what you want. That's the honey hole…or rather the salted caramel hole, if you will. Will you? I will, and I did.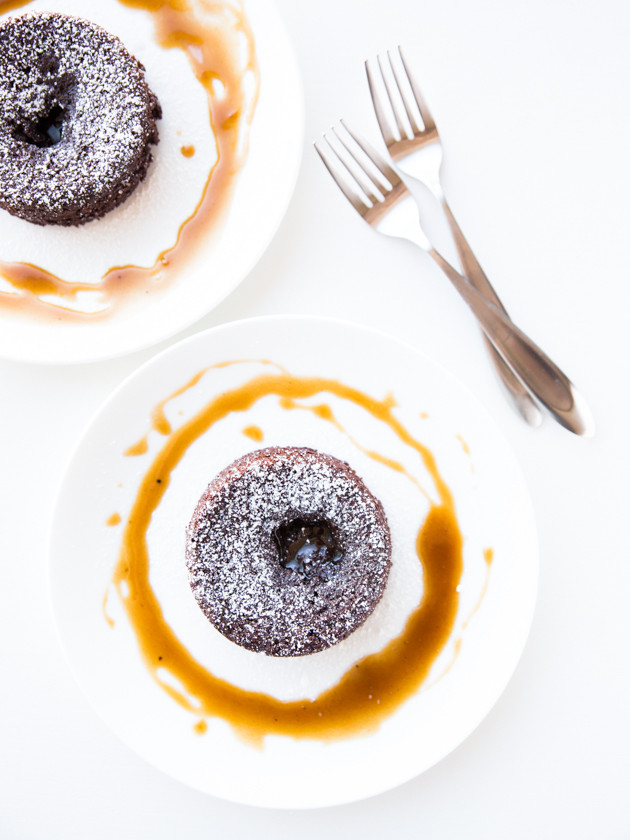 The ingredients are simple and vegan, starting with a little coconut oil and some vegan chocolate chips which are melted until smooth and silky. Whisk in some applesauce for healthy moisture, cane sugar and vanilla extract for sweetness, and a flax egg to bind it all together. Sprinkle in the cocoa powder for extra chocolatey goodness, baking powder for LIFT, and unbleached all purpose flour to keep everything stable and fluffy. Into two very VERY greased ramekins (you don't want any sticking!) goes most of the batter, then a dab of salted caramel, and then the rest of the batter. Bake for 10 minutes at 450, be patient and let them sit for a few minutes, and voila – melty chocolatey yums for two.
Then pour wine for pictures at 11am on a Saturday, and proceed to not understand physics and spill red wine all over your new white props. Nope.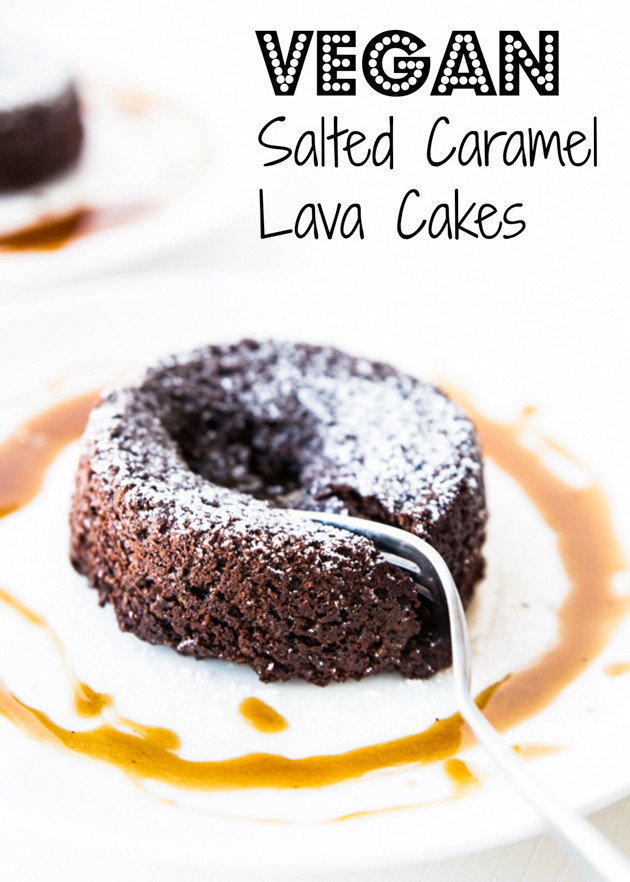 For the salted caramel, I used this recipe, boiling it for 3 minutes instead of 1, and making sure to let it cool completely so it thickens. You can use that recipe, another favorite recipe, or even store bought (although it may be difficult to find a vegan variety).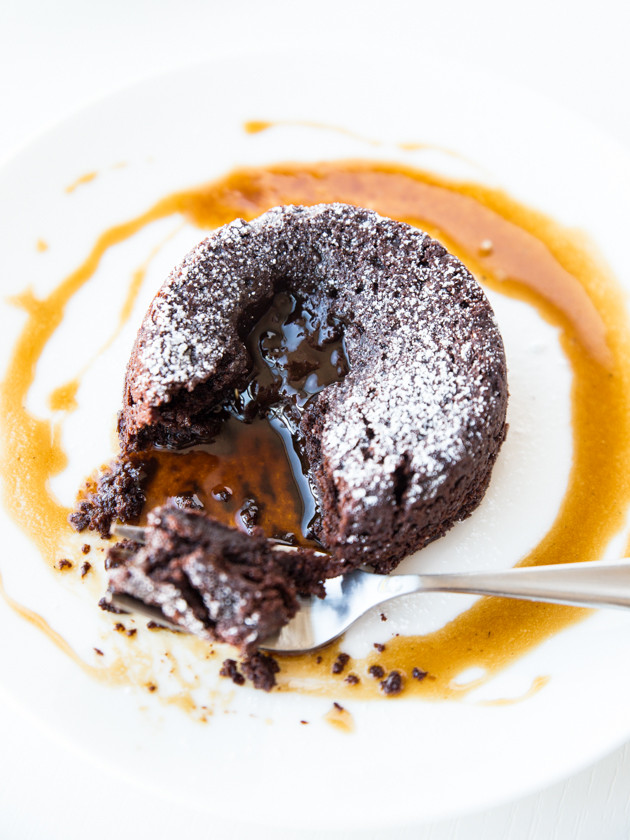 If you're looking for a decadent dessert for an at-home Valentine's Day, or any day really, this is IT, friends. Do it.


Vegan Salted Caramel Lava Cakes
Gooey vegan chocolate cakes filled with salted caramel. Decadent, easy, and perfect for date night!
Yield: 2 cakes
Prep Time: 10 minutes
Cook Time: 10 minutes
Total Time: 20 minutes
Ingredients:
1 tablespoons ground flax
2 tablespoons warm water
1/2 tablespoon coconut oil
1/3 cup semisweet chocolate chips
3 tablespoons unsweetened applesauce
2 tablespoons cane sugar, ground until fine (or granulated)
½ teaspoon vanilla extract
1/8 teaspoon salt
3 tablespoons cocoa powder
½ teaspoon baking powder
3 tablespoons unbleached all purpose flour
1 tablespoon Salted Caramel (see note)
Directions:
Preheat oven to 450.
Combine the flax and water, and let sit for 5 minutes.
Place the chocolate chips and coconut oil in a medium-sized glass bowl. Set over a pot of simmering water, and let melt, using a rubber spatula to stir occasionally. Once melted, remove from heat.
Pour applesauce, sugar, vanilla, and flax/water mixture into the melted chocolate, and mix. Add the salt, cocoa powder, and baking powder, and whisk until just incorporated. Add the flour and whisk again until just incorporated.
Liberally grease 2 7-ounce ramekins. Divide ⅔ of the batter among the ramekins, then put ½ tablespoon of salted caramel in the center of each ramekin. Top with the remaining batter, spreading evenly.
Bake for 10-11 minutes. Let sit for 5 minutes, then use a knife to gently cut along the sides to separate the cake from the ramekin. Top one ramekin with an upside-down plate, then invert. Let the ramekin sit upside down for 15 seconds, and gently lift. The center will be a little sunken and very gooey - that's what you want! Repeat with other ramekin.
Serve warm with additional salted caramel (if you wish, which you probably do)
I used this caramel recipe, but to get a thicker caramel, I boiled it for 3 minutes instead of 1. You can sub your favorite caramel recipe if you have one you like.
Nutrition Information: Serving Size: 1 cake, Calories: 393, Total Fat: 19g, Saturated Fat: 12g, Cholesterol: 0mg, Sodium: 191mg, Potassium: 402mg, Carbs: 58g, Fiber: 6g, Sugars: 37.4g, Protein: 3.5g
13 Responses to "Vegan Salted Caramel Lava Cakes, for Two"