Shredded Brussels Sprout and Kale Salad with Garlic Dijon Roasted Sweet Potatoes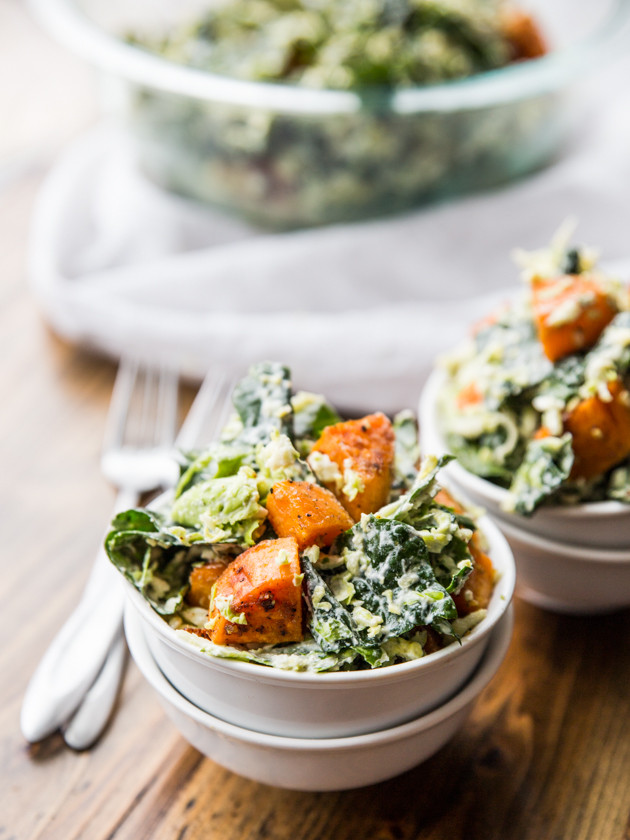 Hi hey! I missed you. Last week, for the first time in a long time, I took a week off of blogging. No posts, no pictures, nada. It wasn't intentional – the weekend before I tested and photographed recipes, only to decide that nothing was good enough to share. whomp whomp, blog life.
After multiple recipe fails, instead of posting the recipe I have for you today, which I had ready to go, I decided to just, well, not. It was kind of freeing to not worry about stats/social media/followers for a few days, and instead chill my life out a bit.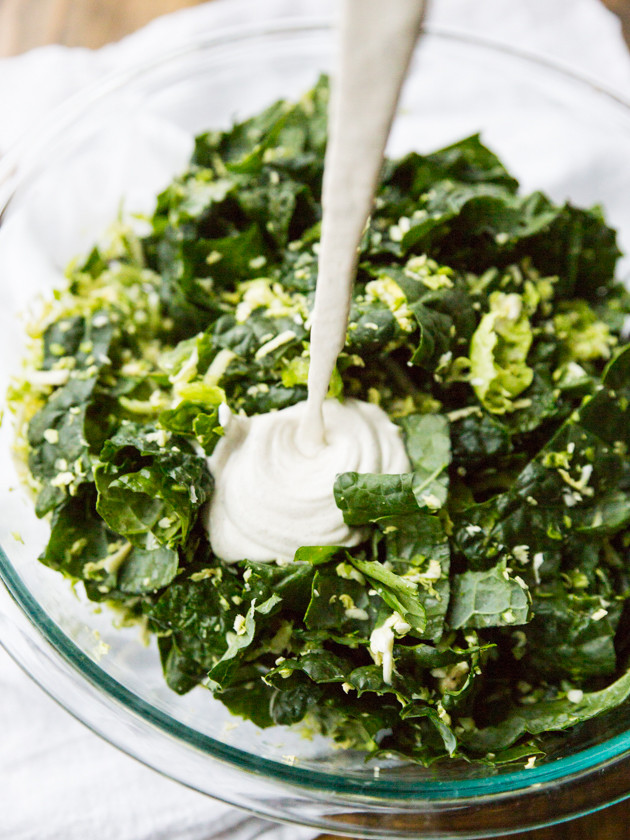 Since I didn't cook for the week, I reached for organic boxed mac and cheese, not-so-organic frozen pizza, and a range of delivery/takeout options. When I went to bed on Saturday, I realized I spent the entire day without eating one fruit or vegetable, which isn't too surprising given that my breakfast was a sprinkled cake donut. High five!
To summarize, it was a very un-Katie week. Ryan loved it, and I kind of did too, but now I feel the need to inhale all the vegetables I can get my hands on.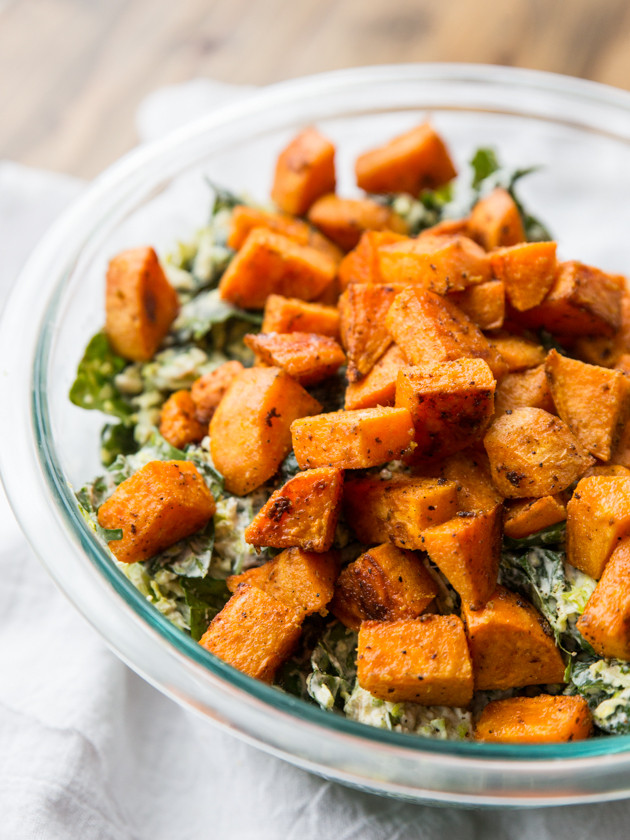 I made this salad several weeks ago as a sort of detox from an overload of Christmas cookies and Rumchata, so it feels fitting to share it after a similarly indulgent week. It's hearty, creamy, lightly sweet and nutty, and so dang good for you. As long as you remember to soak the cashews in the morning (or the night before), it comes together really quickly too – simply shred the sprouts, chop the kale, and blend the dressing while the potatoes roast, then toss it all together.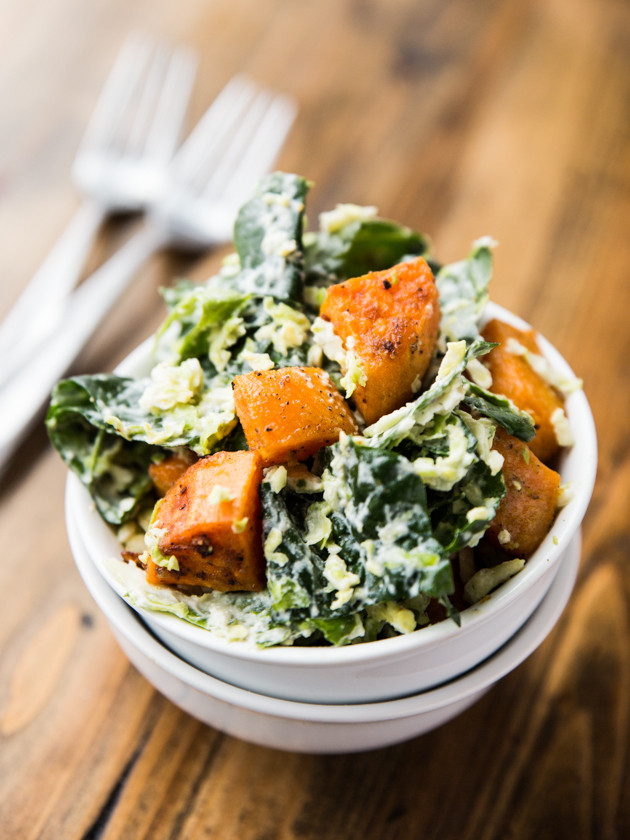 Since the ranch dressing is cashew based, it does firm up when stored in the refrigerator. No worries though – a couple tablespoons of almond milk and a quick zap in the microwave will bring the creaminess back, so you can enjoy this salad for days after you make it.
Easy, healthy, and full of flavor – This may just be the salad to bring me back into the cooking habit.

Shredded Brussels Sprout and Kale Salad with Garlic Dijon Roasted Sweet Potatoes
An easy, flavorful salad made with shredded brussels sprouts, kale, and garlic dijon roasted sweet potatoes, coated in a creamy dairy free ranch.
Yield: 6 servings
Prep Time: 10 minutes
Cook Time: 25 minutes
Total Time: 35 minutes
Ingredients:
3 sweet potatoes, peeled and cut into 1-inch cubes
¼ cup olive oil
2 tablespoons dijon mustard
¼ teaspoon black pepper
¼ teaspoon garlic powder
1 bunch lacinado/tuscan kale, stems removed, chopped
1 pound brussels sprouts, shredded
Directions:
Preheat oven to 375. Place the sweet potatoes in a large bowl. Whisk together the olive oil, dijon, pepper, and garlic powder. Pour over the sweet potatoes, and toss to coat.
Place the potatoes on a parchment-lined cookie sheet. Roast for 20-25 minutes, shaking the pan a few times to ensure even roasting.
Pour the ranch over the shredded brussels sprouts and kale. Use your hands to massage it into the greens.
Add the roasted sweet potatoes, and toss.
If not serving right away, store in an airtight container in the fridge. When ready to eat, add 1-2 tablespoons of almond milk to every serving, and microwave it for intervals of 15 seconds just until the dressing becomes creamy again.
The cashews for the dairy free ranch need to soak for at least 6 hours, so plan ahead!
Nutrition Information: Serving Size: 1/6th of recipe, Calories: 315, Fat: 19.8g, Saturated Fat: 3.4g, Sodium: 294mg, Carbs: 31.3g, Fiber: 6.7g, Sugar: 6.6g, Protein: 9.1g
20 Responses to "Shredded Brussels Sprout and Kale Salad with Garlic Dijon Roasted Sweet Potatoes"
Pingback: Friday Foodie Favorites: March 13, 2015

Pingback: Friday Fun | Julie's Jazz

Pingback: Friday's Simply Smitten - Blush & Blooms