Open-Faced Lemon Pepper Artichoke and Arugula Sandwiches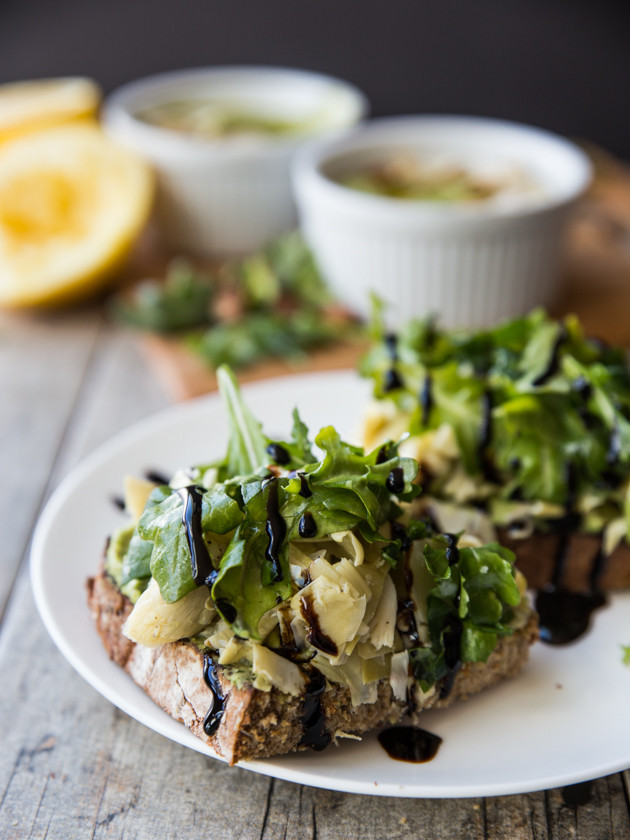 …aka fancy toast, because I am alllll about the toast lately. Chunky almond butter chia seed toast for breakfast, avocado toast for lunch (psst – sometimes this is breakfast too…), and soup or salad for dinner…with a side of toast.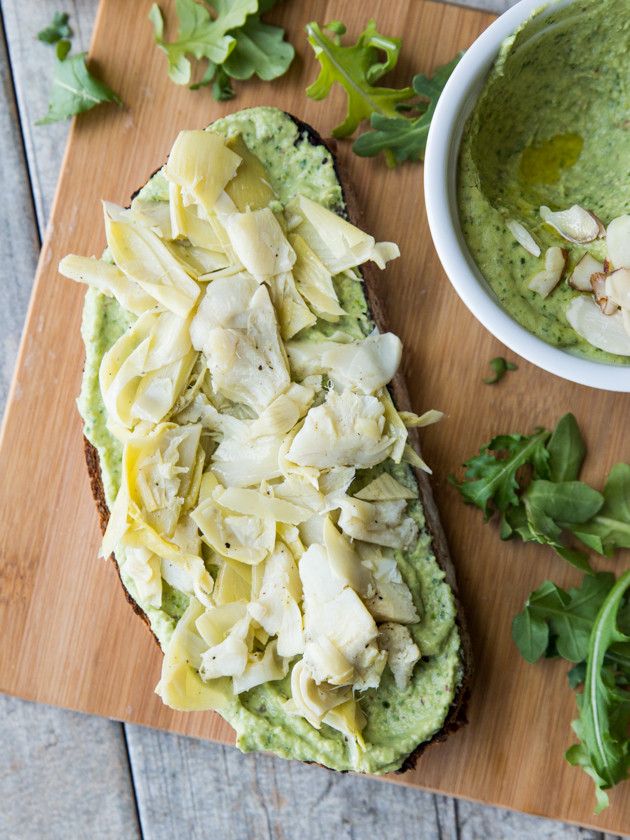 I've learned in my 29 years that when I enter intense food phases, it's best not to fight them. Instead, I lean into them, like when I ate peanut butter at every meal for a good month or so this winter, resulting in numerous rounds of curried peanut soup, thai peanut noodles, and scotcharoos.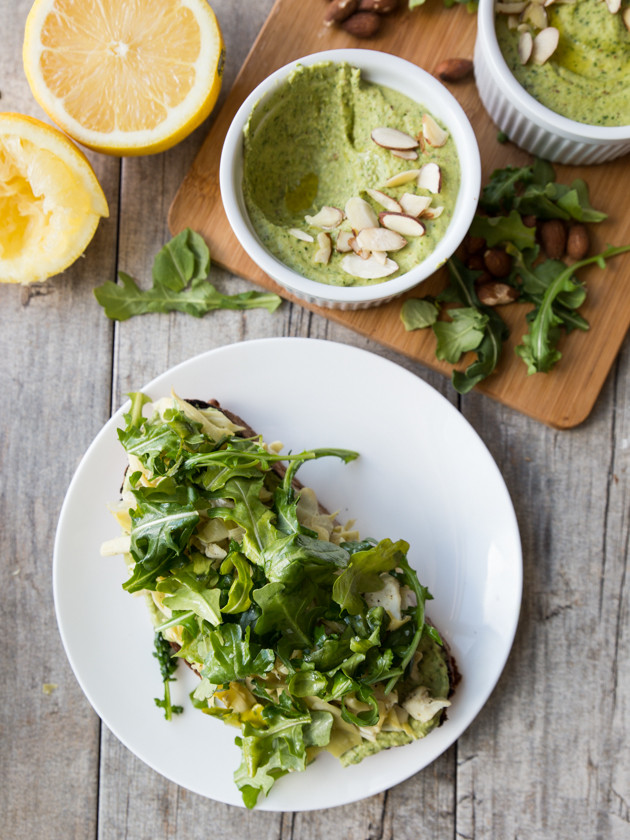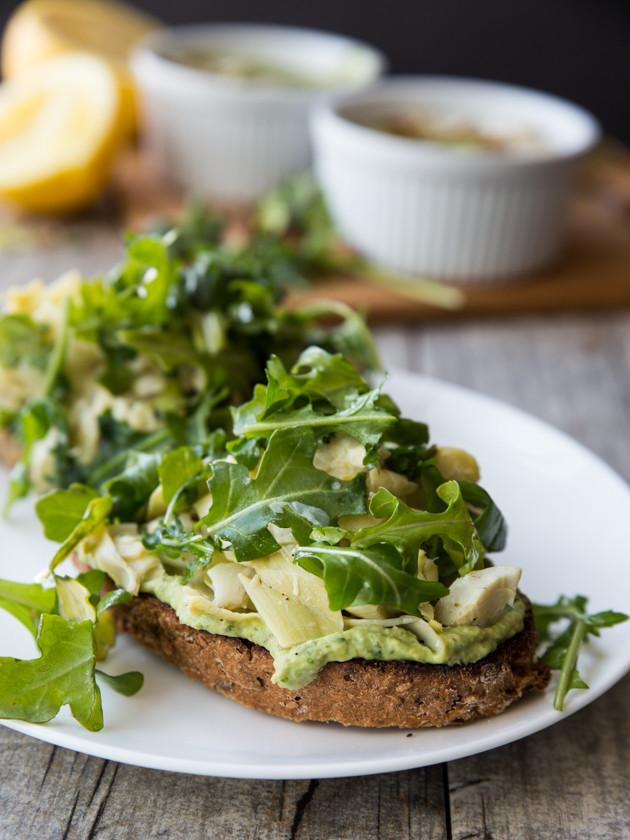 Now, with my need for thick, seeded whole wheat bread toasted with toppings all day every day, I at least can make myself feel fancy about it. For these toast sandwiches, I broiled bread until golden on top, then slathered on the almond arugula white bean hummus from earlier this week, piled on chopped artichokes sautéed with olive oil, lemon juice, and black pepper, and finished it off with baby arugula tossed with a pinch of salt and olive oil, and drizzled with sweet balsamic glaze.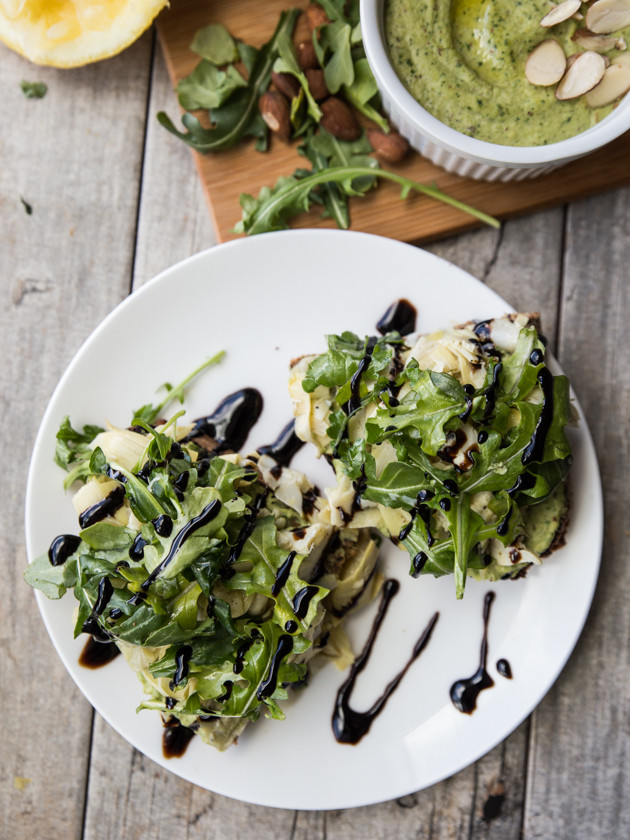 SO FANCY. Also most definitely a knife and fork meal – if you try to pick this up and eat it you will look like a fool. A fool with sticky, balsamic-covered stainable fingers.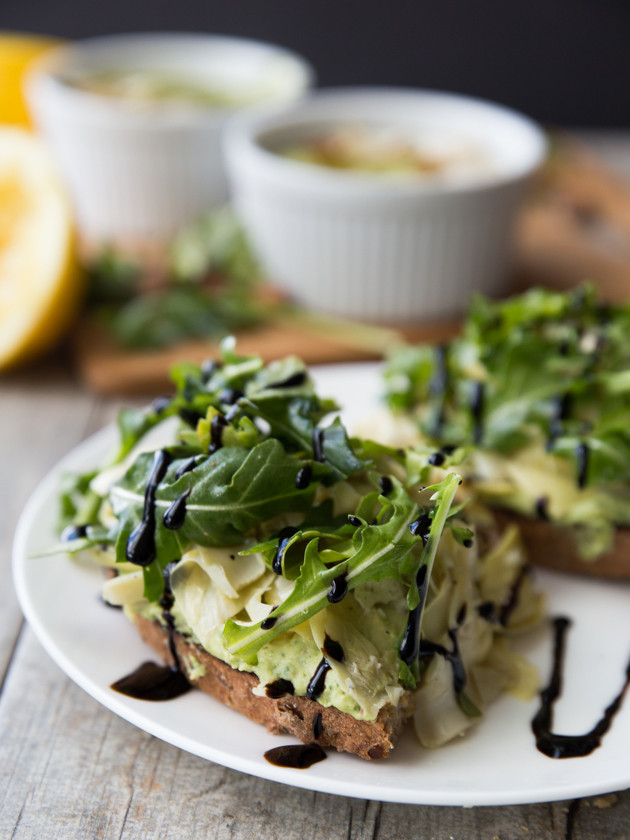 Creamy, rich, savory, subtly sweet, fresh, and colorful! Heeeey spring, I missed you.

Open-Faced Lemon Pepper Artichoke and Arugula Sandwiches
A healthy springtime meal made with almond arugula white bean hummus, lemon pepper artichokes, fresh baby arugula, and sweet balsamic glaze.
Yield: 2 sandwiches
Prep Time: 5 minutes
Cook Time: 5 minutes
Total Time: 10 minutes
Ingredients:
2 slices hearty whole grain bread
1 ½ teaspoon olive oil, divided
1 (15-ounce) can artichokes (BPA free), drained, rinsed, and roughly chopped
1 tablespoon lemon juice
⅛ teaspoon black pepper
2 cups baby arugula, packed
Pinch salt
Balsamic glaze, to taste
Directions:
Set the oven to broil, and place the bread in the oven. Broil until golden brown (about 3-5 minutes).
While the bread is in the oven, heat 1 teaspoon of olive oil in a non-stick pan over medium heat. Add the artichokes, lemon juice, and pepper. Cook for 5 minutes, stirring frequently, until the liquid is absorbed.
Place the arugula in a bowl, and toss with the remaining olive oil and a pinch of salt.
Top each piece of toast with 2 tablespoons hummus, 1/2 the artichokes, and half the arugula. Drizzle with balsamic glaze.
Nutrition information does not include the balsamic glaze, since the amount you use is up to you. You can make your own, using the recipe linked to above (sub agave for honey to keep vegan), or use store-bought in a pinch.
Nutrition Information: Serving Size: 1 sandwich, Calories: 295, Total Fat: 8.8g, Saturated Fat: 1.4g, Trans Fat: 0.0g, Cholesterol: 0mg, Sodium: 614mg, Potassium: 1,123mg, Total Carbohydrates: 46.6g, Dietary Fiber: 18.3g, Sugars: 5.3g, Protein: 15g
6 Responses to "Open-Faced Lemon Pepper Artichoke and Arugula Sandwiches"
Pingback: Lemon Recipes | Randall Beans

Pingback: October Seasonal Produce – What's Fresh