Salted Caramel Coconut Macaroon Cups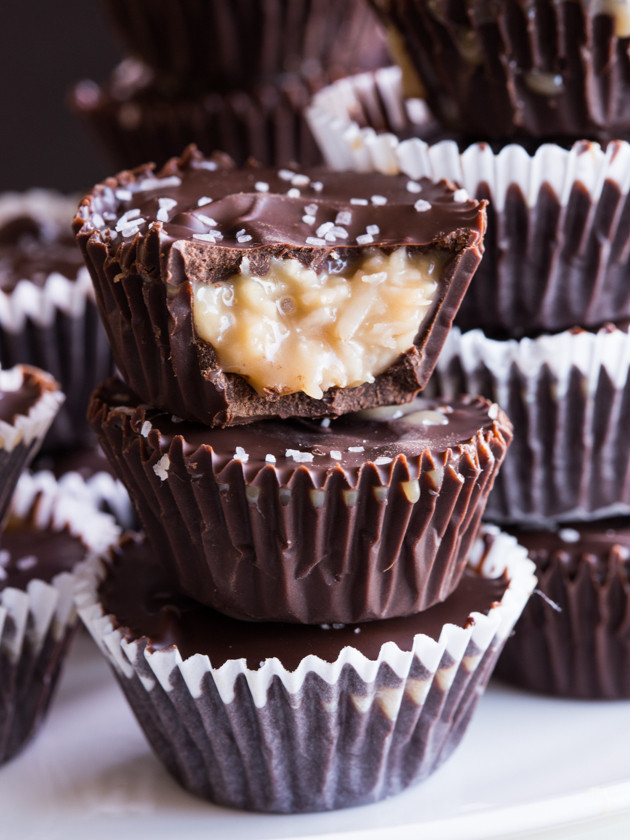 Hi there. Me again, with another dessert. I know what you're thinking: with a blog name like "Veggie and the Beast" shouldn't there be some…vegetables? It's confusing.
Only after making these cute little chocolate coconut cups did I realize that those two main ingredients were the same ingredients used in last week's post. Chocolate and coconut forever and always.


Speaking of that post, in which I opened up about about my mostly-vegan diet as of late, I have an ironic update. I felt great about writing that post – I had been eating vegan for a couple weeks, and hadn't even had a craving for dairy. "This is easy," I thought. "Why would I ever not be vegan?" And then, as the craving gods would have it, I woke up the next morning with the most intense need for my favorite pizza place in town. That was Tuesday, and the craving persisted until Friday, when I asked Ryan to finally take me out to dinner FORTHELOVEOFPIZZA.
And you know what? If I want something I'm going to eat it. I like to keep things pretty simple like that. I realize I may lose some vegan followers, but I hope the majority of you are aware and accepting of my vegetarian diet. I like vegan meals and treats, but I also like cheesy and creamy vegetarian dishes. Sometimes I also like baking with butter, or eating the milk chocolate candy my mom gave me for Easter (those hard-shell cadbury eggs, you know?), and I don't see that changing permanently. Can we still be friends? I hope so.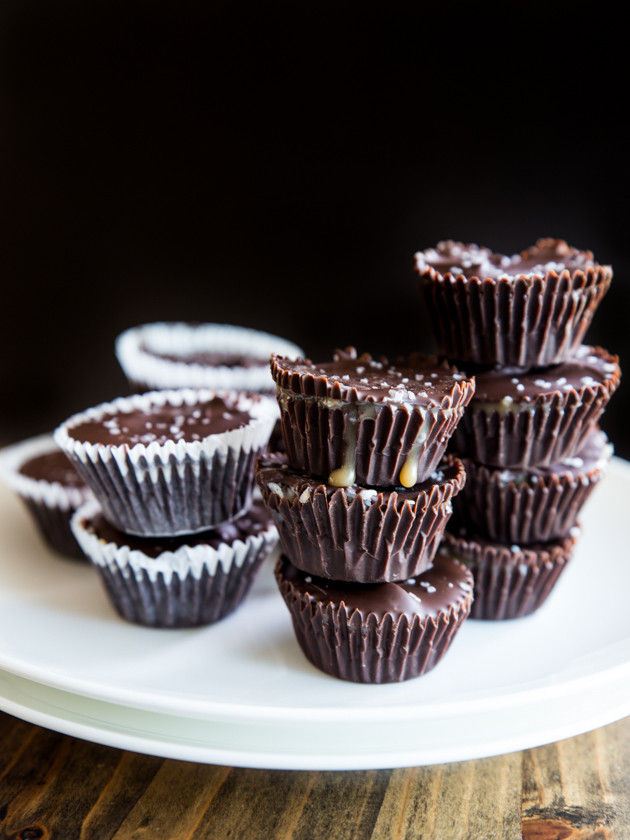 Despite all this "I'm not a vegan" talk, the recipe I'm bringing you today IS vegan, and gluten free, and entirely awesome. It probably sounds a little putsy, but it really goes pretty quickly, and the result is well worth it: chocolate, sweetened coconut, and rich salted caramel that will drip all over everything. You've been warned.
It's like an inside-out macaroon covered with caramel. What could be better? I almost put peanut butter in there too, but that felt like just a tad too much.
I've made these twice so far, and the first time I experimented with date caramel, and it was good, but it didn't WOW me. It also wasn't as drippy/messy as I wanted. That being said, if you like date caramel you can definitely use that here – go for it! You be you!
The second time around I tweaked my go-to brown sugar caramel recipe, and I knew I had a winner when I bit into the candy and the thick-yet-drippy caramel fell onto my bare foot. Teia loved that part…she also eats grass, but still.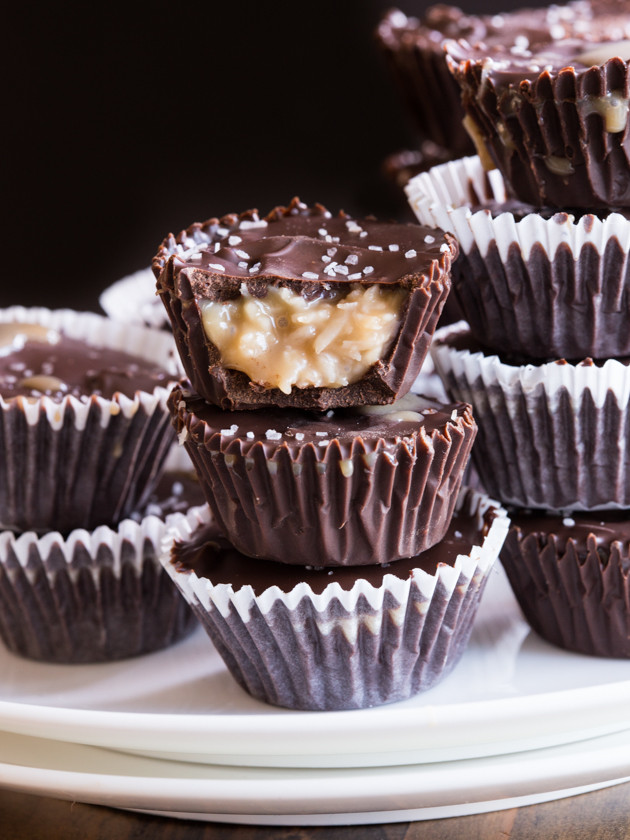 Now that I've posted two dessert recipes in a row…ahem, two chocolate and coconut dessert recipes in a row, I promise to be back with the veggie variety very shortly…maybe tomorrow? Probably tomorrow.

Salted Caramel Coconut Macaroon Cups
Dark chocolate cups filled with a sweet coconut and rich salted caramel filling! Vegan and gluten free.
Yield: 24 cups
Prep Time: 30 minutes
Cook Time: 10 minutes
Total Time: 40 minutes
Ingredients:
Chocolate Cups
2 cups semisweet chocolate chips (dairy free, if needed), divided
1 tablespoon coconut oil
Salted Caramel Filling
1/2 cup brown sugar
1/2 cup plus 2 tablespoon full fat coconut milk, divided
3 tablespoons coconut oil
¼-1/2 teaspoon sea salt
Coconut Macaroon Filling
1/2 cup full fat coconut milk
2 tablespoons agave nectar
1 cup unsweetened shredded coconut
Directions:
Line a mini muffin pan with 24 paper liners. Set aside.
Bring a small pot of water to a simmer. Set a glass bowl on top - it should be big enough to sit on top of the pot without falling in. Add 1 cup of chocolate chips and 1/2 tablespoon coconut oil to the glass bowl, and use a rubber spatula to stir occasionally until the chips are melted.
Drop 1 teaspoon of chocolate in each muffin liner, and use a silicone brush to brush the chocolate up the sides. Set in the freezer while you prepare the fillings.
Whisk together the brown sugar and 2 tablespoons coconut milk in a saucepan. Once the sugar is dissolved and the mixture just starts to bubble, whisk in the coconut oil. After the coconut oil melts, pour in the remaining coconut milk and bring to a boil. Let boil, stirring constantly, for 2 minutes. Remove from heat and stir in the salt, then place in the refrigerator to chill while you get the coconut filling together.
For the coconut filling, bring the 1/2 cup coconut milk to a boil. Let boil for 3 minutes, whisking constantly, then remove from the heat and stir in the agave and coconut. Place in the refrigerator to chill for 5 minutes.
Once the fillings are no longer hot (you just don't want them to melt the hardened chocolate) fill each hardened chocolate liner with 2 teaspoons of caramel, and 1 teaspoon of coconut filling. Place in the freezer while you melt the remaining chocolate.
Melt the remaining chocolate and coconut oil in the same way you did the first time. Remove the muffin pan from the freezer, and top each liner with 1 teaspoon melted chocolate, using the back of your teaspoon to gently spread over the top. Sprinkle on some sea salt, if desired, then pop into the freezer until set (about 10-15 minutes), or store in the refrigerator until ready to eat.
Once set, these may be stored in an airtight container in the refrigerator for several days.
Nutrition Information: Serving Size: 1 macaroon cup, Calories: 194, Total Fat: 13g, Carbs: 19g, Protein: 2g, Sodium: 23mg, Sugar: 15g
13 Responses to "Salted Caramel Coconut Macaroon Cups"