Whole Wheat Banana Maple Pecan Scones
I first fell in love with scones at Caribou Coffee at the age of 13. To be honest, I didn't know what a scone WAS before those Caribous started infiltrating my midwestern world. Tell me I'm not the only one?
My mom would never think of choosing to eat a scone, hence my scone-less childhood. "They're dense and dry," she'd say. "Why not eat a muffin?" she'd say. Once I started frequenting those Caribous (and WOW did I ever frequent them), Teenage Me was all, "You don't know me! I need a cinnamon chip scone!"
And so on and so forth.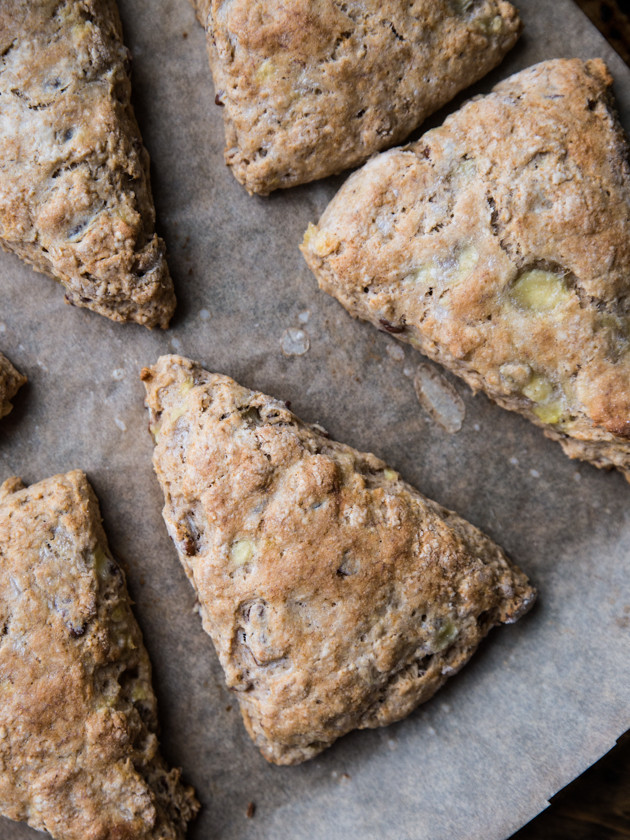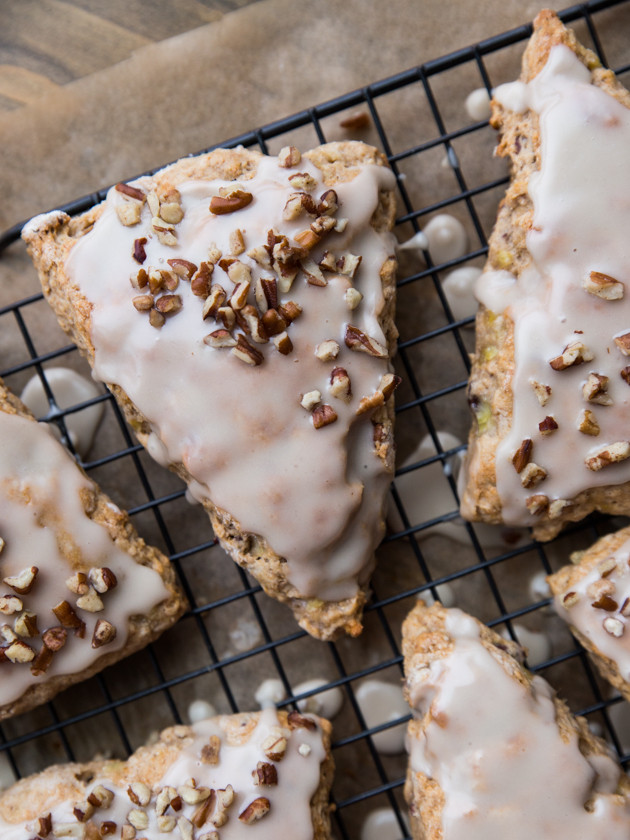 I'm happy to say that since that time 16 (eep) years ago, I have branched out in the scone world. Although Teenage Me would never admit it, I've also had some scones that make me understand my mom's point of view. Some scones ARE dry, and too dense, and not worthy of my affection.
These scones though? Teenage Me is jumping up and down in defiance of my mom, saying LOOK AT THESE SCONES, MOM.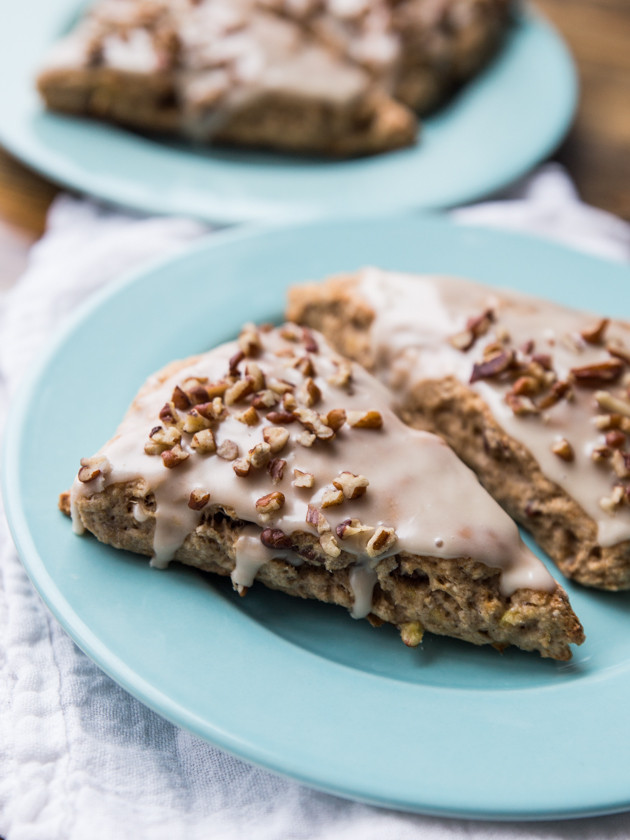 They get their moisture from very ripe bananas and coconut oil, a touch of warm spice from cinnamon, and a little crunch from chopped pecans. Maple syrup adds to the banana sweetness, and a decadent maple glaze finishes the whole thing off. They're a perfectly decadent sweet breakfast treat for slow weekend mornings with big mugs of coffee.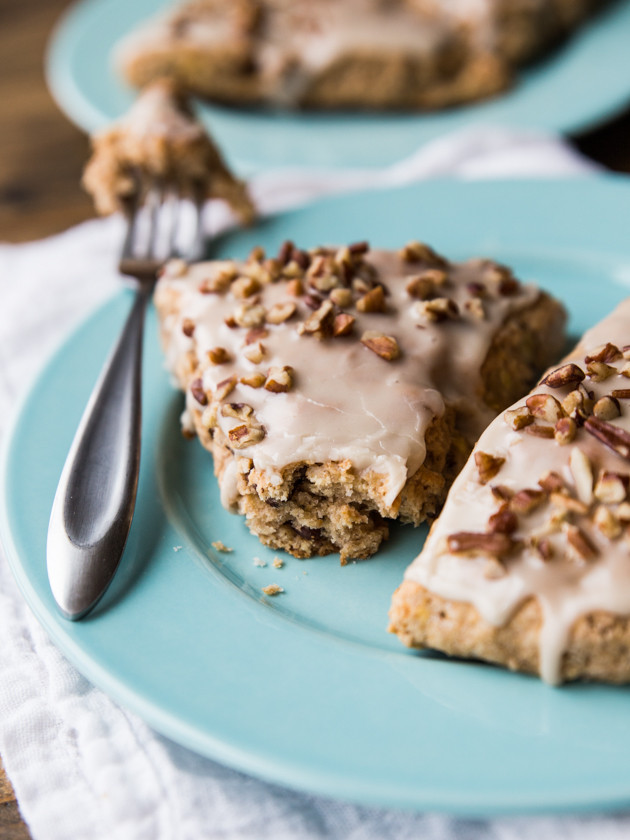 Hello, craveable scones.


Whole Wheat Banana Maple Pecan Scones
Sweet and nutty banana scones made with wholesome ingredients like whole wheat flour, coconut oil, and pecans, then covered with a maple glaze for a little extra decadence.
Yield: 8 scones
Prep Time: 25 minutes
Cook Time: 20 minutes
Total Time: 45 minutes
Ingredients:
Banana Maple Pecan Scones
2 cups whole wheat pastry flour
1 tablespoon baking powder
½ teaspoon salt
1 teaspoon ground cinnamon
1/3 cup coconut oil (solid, not melted)
1/2 cup chopped pecans
1 cup mashed over-ripe bananas (about 3 bananas, but be sure to measure)
3 tablespoons milk, divided (I used unsweetened almond milk)
1/2 tablespoon vanilla extract
⅓ cup maple syrup
Maple Glaze
1/4 cup maple syrup
3/4 cup powdered cane sugar
Extra chopped pecans, for sprinkling (optional)
Directions:
In a large bowl, whisk together the flour, baking powder, salt, and cinnamon. Add the coconut oil, and use a pastry blender or your hands to incorporate it until you only have pea-sized pieces visible. Stir in the pecans.
In another bowl, mix together the bananas, 2 tablespoons of the milk, vanilla, and maple syrup.
Pour the wet ingredients into the dry, and use a wooden spoon to mix until incorporated. Do not overmix!
Liberally flour a large piece of parchment paper. Use floured hands to shape the dough into a ball - it will be wet, so you may need to re-flour your hands several times. Set the ball of dough on the floured parchment, and pat into a 1/2" thickness. Stick in the freezer for 10 minutes - this will make cutting/transferring much easier.
Preheat oven to 400 degrees.
After 10 minutes, use a pizza cutter to slice the circle into 8 pieces. Use a floured spatula to transfer the pieces to a parchment-lined baking sheet. Brush the remaining milk over the scones.
Bake for 17-20 minutes, until lightly golden. Let cool for 10-15 minutes. They'll still be warm, but not hot to the touch.
While the scones are cooling, whisk together the maple syrup and powdered sugar until smooth.
Cover each scone with 1 tablespoon of glaze, using the back of the spoon to spread over the entire scone. While the glaze is still wet, sprinkle on additional chopped pecans, if desired.
I have no qualms abut eating a sugary and decadent breakfast every so often, but if you want a lower-sugar option, you can top each scone with 1/2 teaspoon of turbinado sugar before baking, and leave off the glaze.
These are fairly decadent and filling, so if you're going for more of a snack as opposed to a breakfast, I would cut the circle of dough into 16 pieces instead of 8.
Nutrition Information: Serving Size: 1 scone with glaze, Calories: 362, Fat: 12.4g, Cholesterol: 0mg, Sodium: 156mg, Potassium: 417mg, Total Carbohydrates: 60.5g, Dietary Fiber: 4.7g, Sugars: 30.3g, Protein: 3.9g
11 Responses to "Whole Wheat Banana Maple Pecan Scones"
Pingback: Nutrition Myths! | fit4infinity