Cracker-Crusted Zucchini Chips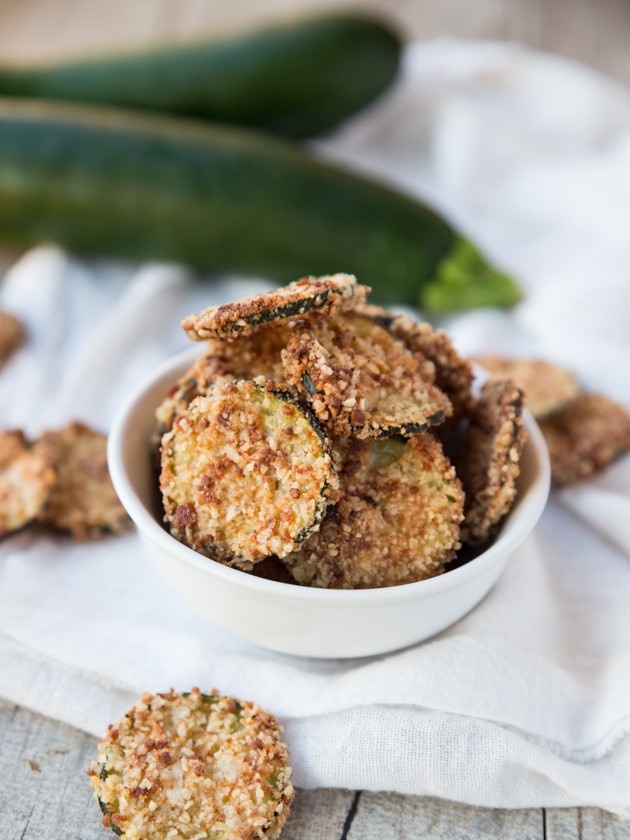 Hi friends! After 10 lovely days in France, Ryan and I are back to the daily grind. Mostly, anyway, except with a little dose of jet lag.
I'm working on editing my photos so I can dedicate a full post to the trip, because WHOA was it amaaaazing. In the meantime, though, I have a healthy little snack for you today.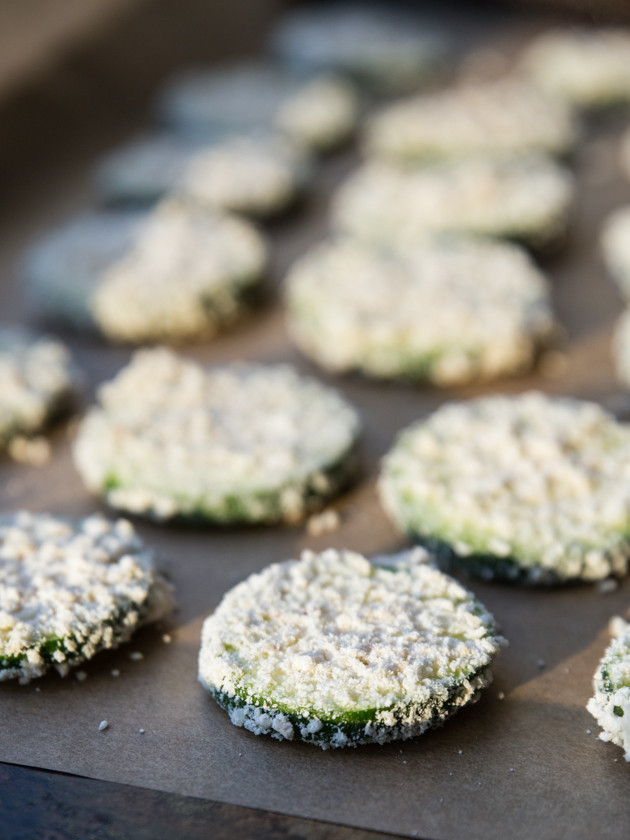 I actually made these before leaving for France, thinking they were ready to be posted, but realized 2 nights ago that I neglected to write down instructions. SO, after another round of recipe testing to ensure I knew what I was talking about, I have some more crispy rounds to snack on as I share the recipe with you today.
This recipe is fairly simple, and a tasty way to feast on a summertime veggie. I realize we're not in the "holy crap I have so much zucchini WHAT do I do with it?!" phase of summer yet, but I just want to make sure you're prepared for when we get there.
Side note: At that time, when you're drowning in zucchini, also make this.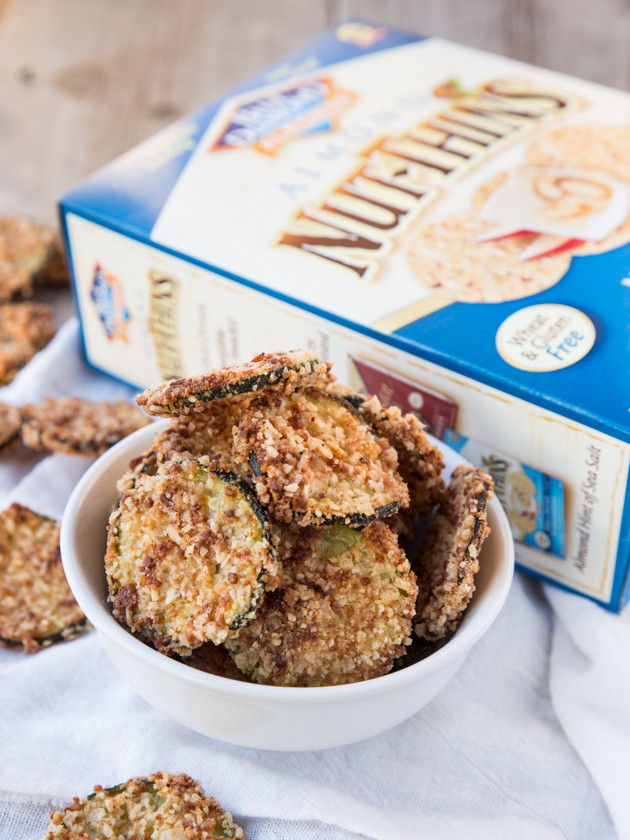 Today's recipe coats thinly-sliced zucchini in a crispy mixture of cracker crumbs, parmesan, and garlic powder. Milk gets the coating to stick, while cornstarch and a mist of olive oil spray helps the zucchini slices crisp up as they bake. As a bonus, these little rounds are completely gluten and wheat free, thanks to the Nut Thins crackers in the coating. Nut Thins are light and crisp, so they add the necessary crunch without weighing the zucchini down.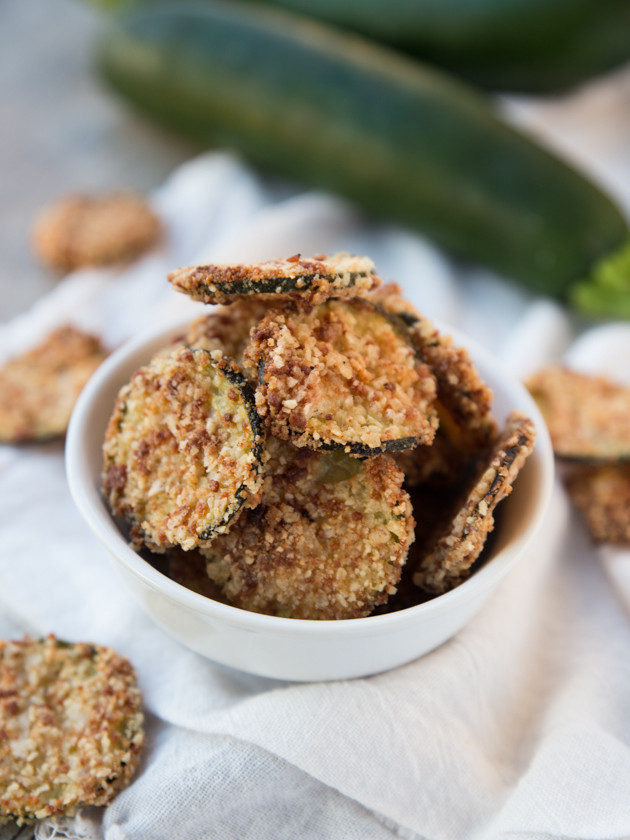 Have a wonderful Thursday! I'll be back with some pictures and lots of words about France this weekend.
This post is sponsored by Blue Diamond Nut Thins. I only work with brands that I personally enjoy – thank you for supporting the brands that help this blog stay up and running!


Cracked-Crusted Zucchini Chips
Crispy zucchini chips coated in crushed crackers and parmesan. Gluten free and super addictive!
Yield: 2 servings
Prep Time: 15 minutes
Cook Time: 30 minutes
Total Time: 45 minutes
Ingredients:
1 zucchini, cut into 1/8" slices
1 cup Blue Diamond Almond Nut Thins (about 2 servings, or 32 crackers)
1 1/2 tablespoon arrowroot or cornstarch
3 tablespoons grated parmesan
1/2 teaspoon garlic powder
3 tablespoons milk of choice
Pinch of salt
Olive oil spray
Directions:
Preheat oven to 425. Line a baking sheet with parchment paper.
Thinly slice the zucchini (⅛") and set aside
Pulse the Nut Thins in a food processor until fine crumbs form. Transfer to a bowl and toss with the starch, parmesan, garlic powder, and pinch of salt.
Pour the milk into a separate bowl, and set up an assembly line of sorts: zucchini, milk, and cracker/starch mixture. Dunk each zucchini slice into the milk, then into the crumbs and press down to evenly coat all sides. Place on the parchment-lined baking sheet. Once all zucchini slices are coated, coat with olive oil spray.
Bake for 15 minutes, flip each zucchini slice over, spray with additional olive oil spray, and bake for another 10-15 minutes, until golden. Serve immediately by themselves, or with ketchup for dipping.
Nutrition Information: Serving Size: 1/2 of recipe, Calories: 238, Carbohydrates: 33g, Fat: 8.4g, Protein: 7g, Sodium: 246mg, Sugar: 3g
2 Responses to "Cracker-Crusted Zucchini Chips"