Super Greens Pumpkin Seed Pesto and Goat Cheese Pasta with Burst Tomatoes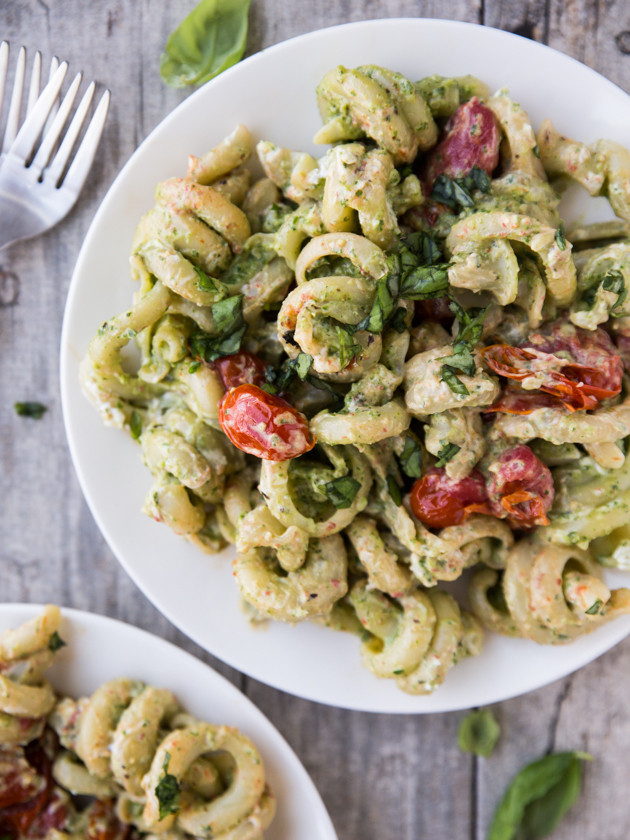 Apart from the salads, the best meal I had in France was…an Italian pasta dish.
I know, I'm the worst.
While hiking around Biarritz one day, Ryan and I both got hit with an intense pasta craving. A quick Google search brought us to a cute little Italian restaurant near our hotel, where we both devoured huge plates of fresh pasta. My dish included wide, flat noodles that were similar to pappardelle, but with wavy edges like lasagna noodles, coated in the freshest pesto I've ever tasted. Even Ryan, who often scoffs at the basil used in restaurants, took a bite of the basil leaf that garnished my plate and said, "Now that's some good basil." When the picky basil farmer approves, you know you're in for a treat.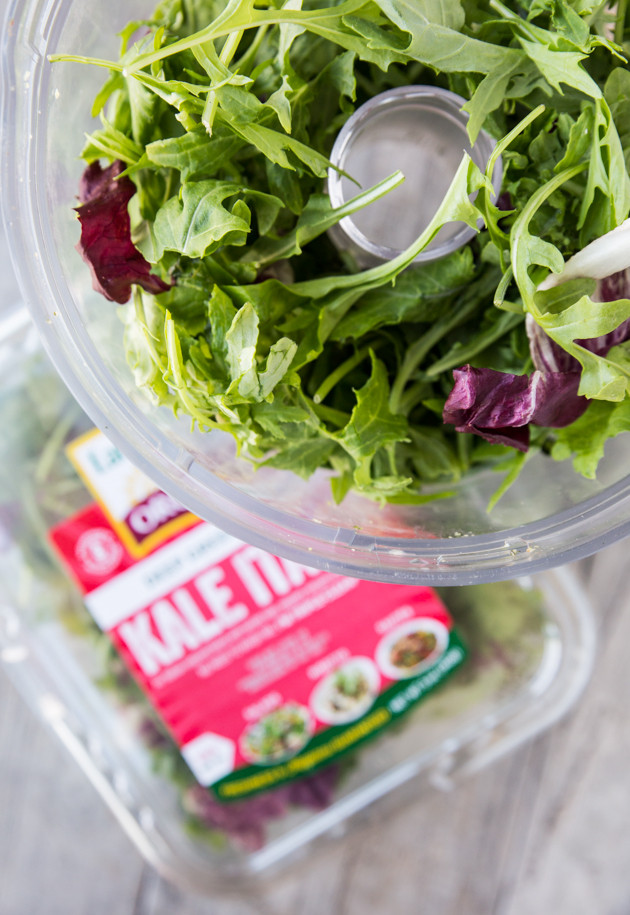 Since I have access to the freshest basil in town (thanks, Ryan!), I could have easily made a simple basil pesto pasta to share with you today, but instead I opted to mix things up by swapping out traditional pine nuts with pumpkin seeds, and some of the basil with Earthbound Farm Organic Kale Italia, which is a mix of baby kale, mizuna, arugula and radicchio. The greens are a little peppery, a little tangy, and they add an extra zing and freshness to the pesto that takes the dish up a notch.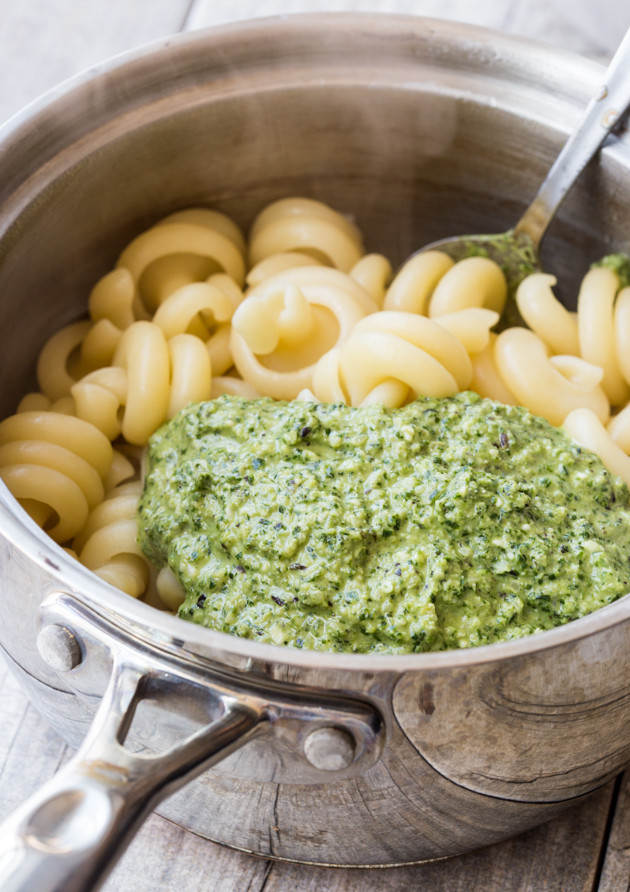 Apart from the pesto, this dish also has burst tomatoes which, yes, I posted about a few weeks ago. I just can't stop with the burst tomatoes, because they're like candy to me. Juicy, savory, slightly sweet candy that should probably be the finishing touch on all my recipes from here on out forever and ever, amen.
Just kidding. I think.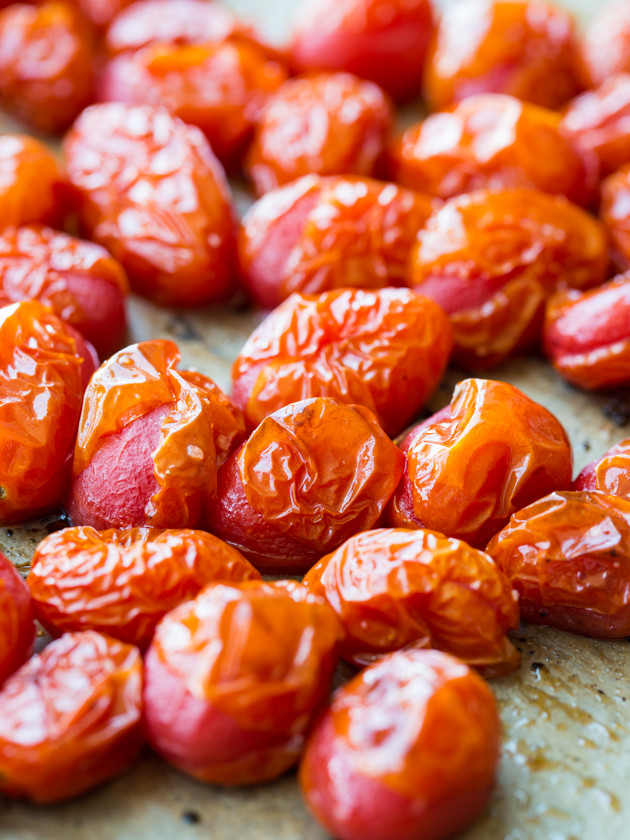 Those magic tomatoes get folded in after you stir the pesto and goat cheese into the hot pasta. There's only a small amount of goat cheese, but it melts into the pesto, creating a creaminess throughout the whole dish.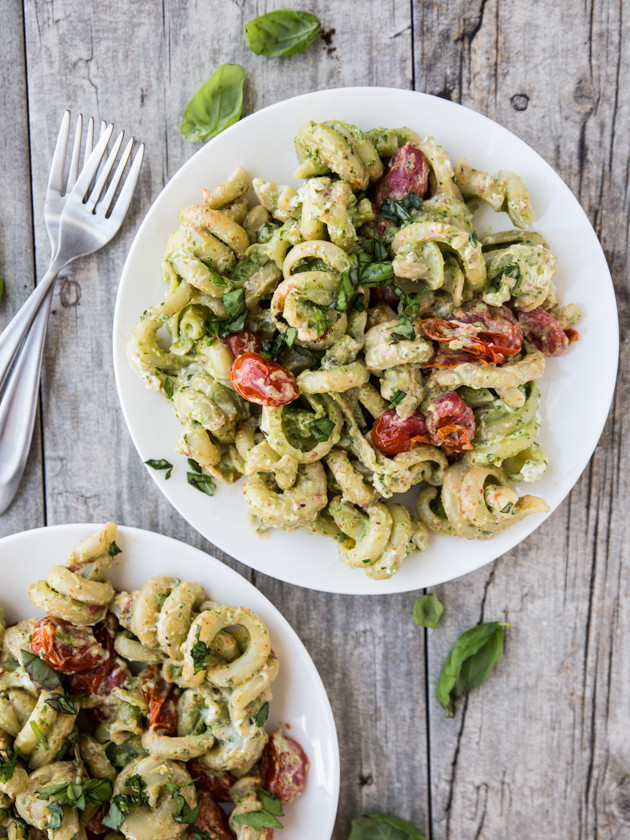 Although I usually use whole wheat pasta because it's an easy healthy swap, I decided to live dangerously and go with white pasta for this recipe. I really wanted a curly noodle, so I couldn't resist the organic (white flour) trotolle staring me in the face in the pasta aisle. The twisty shape holds so much sauce, making it perfect for this dish. If you can't find trotolle, fusilli or rotini would work as well (and feel free to use the whole wheat variety if you can find it).
Rich, juicy, creamy, and fresh – what more could you want in a summery pasta dish? If you're planning on giving this a try, be sure to grab this Earthbound Farm coupon so you can get a deal on your Kale Italia!

Super Greens Pumpkin Seed Pesto Goat Cheese Pasta with Burst Tomatoes
Basil pesto pasta made with a mix of healthy leafy greens, mixed with juicy burst tomatoes and creamy goat cheese. Fresh, summery, and easy!
Yield: 4
Prep Time: 15 minutes
Cook Time: 20 minutes
Total Time: 35 minutes
Ingredients:
1 pint cherry tomatoes
1 teaspoon olive oil
⅛ teaspoon salt
8 ounces pasta of choice (I used trotolle)
¼ cup raw pepitas
2 cloves garlic
1 cup fresh basil leaves, packed
2 cups Earthbound Farm Kale Italia, packed
¼-½ teaspoon sea salt (or to taste)
¼ cup vegetable broth
3 tablespoons olive oil
2 tablespoons grated parmesan
2 ounces crumbled goat cheese
Directions:
Preheat oven to 400 degrees. Line a baking sheet with parchment paper, then place the cherry tomatoes on top. Drizzle with olive oil, shaking to evenly distribute, and then sprinkle with salt. Roast for 15-20 minutes, until just starting to burst.
Cook pasta according to package directions.
Combine the pepitas and garlic in a food processor, pulsing until finely chopped. Add the basil, Kale Italia, salt, and vegetable broth, and process until mostly smooth. Drizzle in the olive oil with the processor running. Stir in the parmesan.
Drain the cooked pasta and return to the hot pot. Stir in the pesto, then the goat cheese, and fold in the tomatoes. Divide across 4 plates and top with additional fresh basil for garnish.
Nutrition Information: Serving Size: 1/4 of recipe, Calories: 404, Total Fat: 22.1g, Saturated Fat: 6.3g, Cholesterol: 58mg, Sodium: 450mg, Potassium: 453mg, Total Carbohydrates: 39.1g, Dietary Fiber: 2.0g, Sugars: 2.8g, Protein: 15.2g
This conversation is sponsored by Earthbound Farm. The opinions and text are all mine.
5 Responses to "Super Greens Pumpkin Seed Pesto and Goat Cheese Pasta with Burst Tomatoes"