Gluten Free Double Chocolate Peanut Butter Molasses Cookies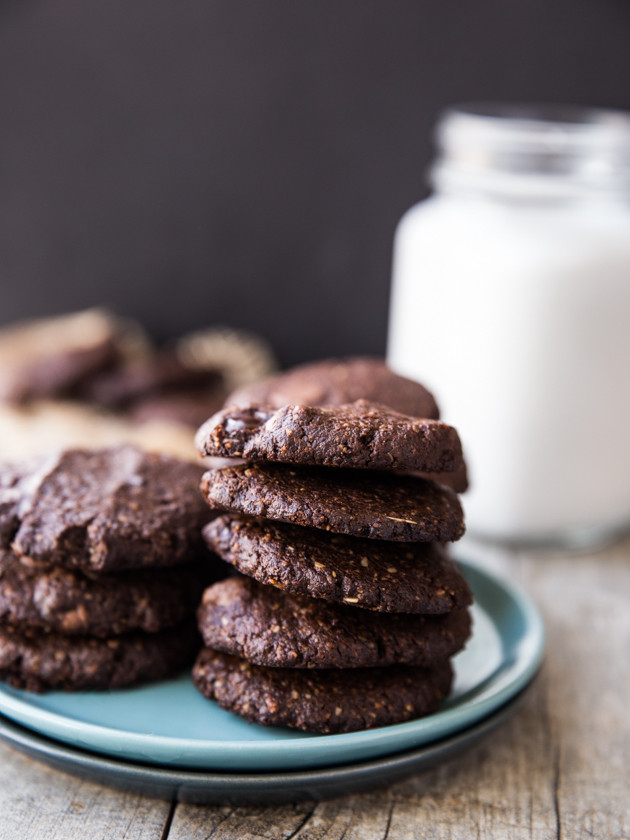 I've been on a bit of a health kick lately, which makes the fact that I'm posting two dessert recipes this week a little strange. Fortunately these two desserts are slightly more better-for-you alternatives to the usual suspects, so we can drink our kale smoothies and eat dessert, too!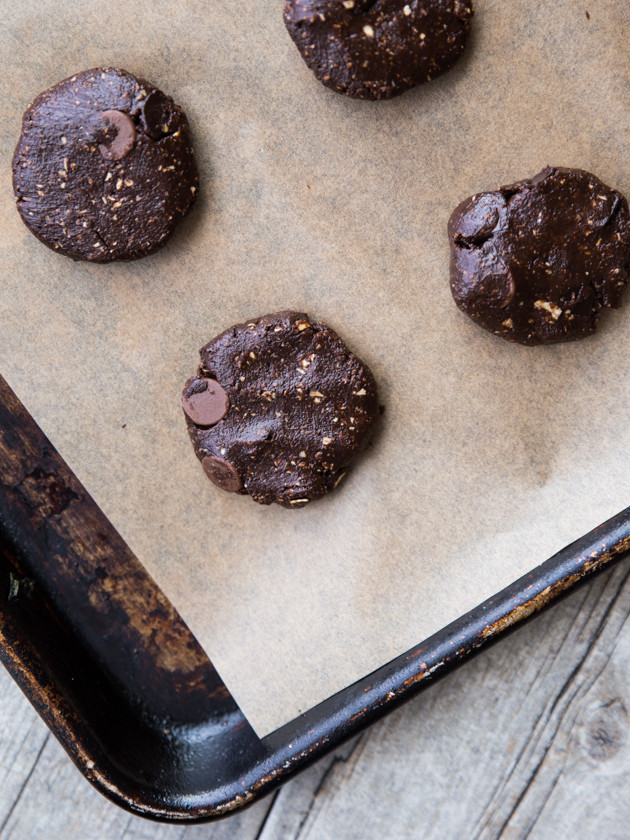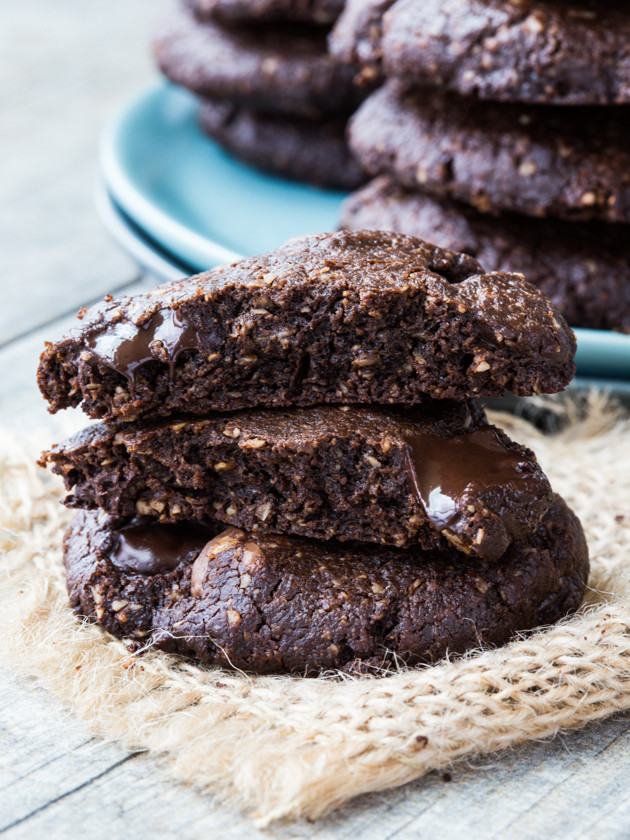 The aforementioned "health kick" isn't too different than how I normally operate; I've mostly been trying to eat more veggies at every meal, and move my body more every day. I've had a serious issue with fatigue lately (maybe always?), so I'm hopeful that a hefty dose of leafy greens along with some exercise every morning (THANKS, Summer Sweat Series by Lee and Monique) will help kick me out of my tired funk.
If that doesn't work? A little chocolate should do the trick.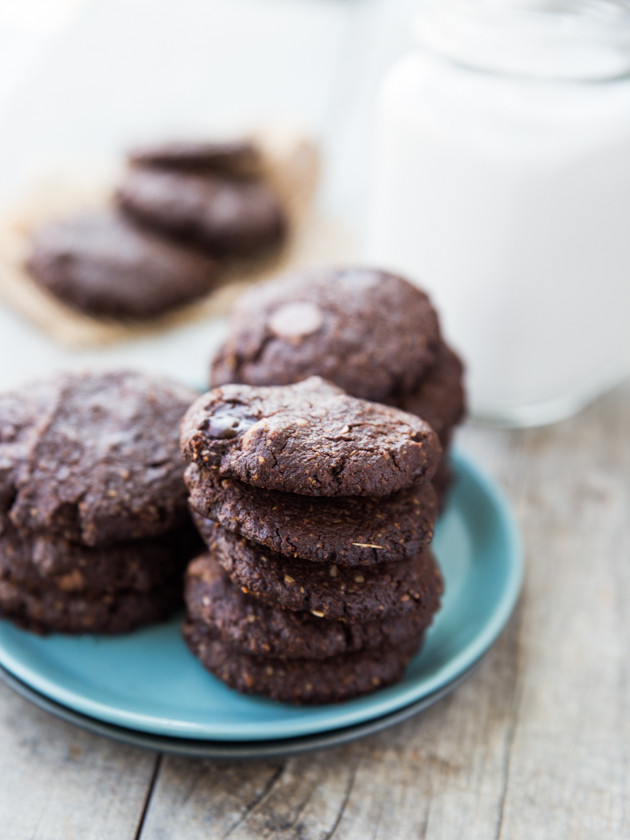 These cookies are based off of my thin and crispy almond butter oat cookies, the cookies that convinced this fat-and-chewy-cookie lover that a crisp bite to a cookie can be a good thing. For this easy recipe, oats, cocoa powder, cane sugar, baking powder and salt are blended into a flour, then added to the wet ingredients, which include solid coconut oil whipped with peanut butter and mixed with molasses and vanilla.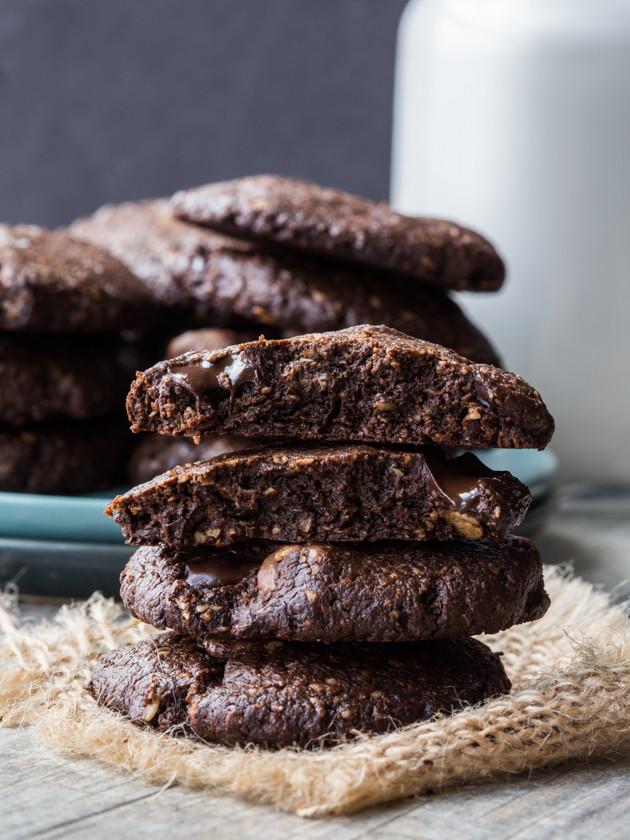 The resulting cookies are deeply chocolatey and lightly peanut buttery, with a rich molasses flavor. They're crisp, a little crumbly, and very buttery (tasting). They're also perfect when crushed and swirled into dessert number two of the week, which is coming Thursday!


Gluten Free Double Chocolate Peanut Butter Molasses Cookies
Crispy, deeply chocolatey peanut butter molasses cookies! Vegan and gluten free.
Yield: About 2 dozen
Prep Time: 15 minutes
Cook Time: 10 minutes
Total Time: 25 minutes
Ingredients:
1 cups old-fashioned oats (gluten free, if needed)
½ cup unsweetened cocoa powder
½ cup cane sugar
1/4 teaspoon sea salt
1/2 cup virgin coconut oil, solid
1/2 cup natural creamy salted peanut butter
¼ cup molasses
1 tablespoon vanilla extract
⅔ cup chocolate chips or chunks, or a mix of the two
Directions:
Preheat oven to 375.
Combine oats, sugar, cocoa powder, and salt in a food processor, and process until a flour forms.
In a bowl, beat together the solid coconut oil and peanut butter until creamy. Add the molasses and vanilla. Add the dry ingredients, and then fold in the chocolate chips.
Shape 1 tablespoon of dough into a ball, and then flatten with your hand. Place on a parchment-lined baking sheet. Repeat with remaining dough, and bake for 9-11 minutes.
Let sit on the cookie sheet for 5 minutes, then transfer to a cooling rack. They will be fragile while they cool, so move them carefully.
Nutrition Information: Serving Size: 1 cookie, Calories: 141, Total Fat: 9.2g, Saturated Fat: 5.7g, Cholesterol: 1mg, Sodium: 37mg, Potassium: 113mg, Total Carbs: 13.9g, Dietary Fiber: 1.8g, Sugars: 8.9g, Protein: 2.3g