Cookies n' Peanut Butter Cream Popsicles
Oh boy oh boy oh boy, do I ever have a good one for you today. Remember those cookies from earlier this week? The super chocolatey peanut butter and molasses ones? As I mention in the post, they have a buttery, crispy and slightly crumbly texture, so for this recipe we're putting those crumbs to good use…possibly the BEST use.


My cravings for ice cream have been fierce lately, but the store bought kind just hasn't been cutting it for me. I would make my own at home, but my ice cream maker has been leaking blue fluid in the freezer, and I'm a little worried about approaching that situation. SO, popsicles to the rescue!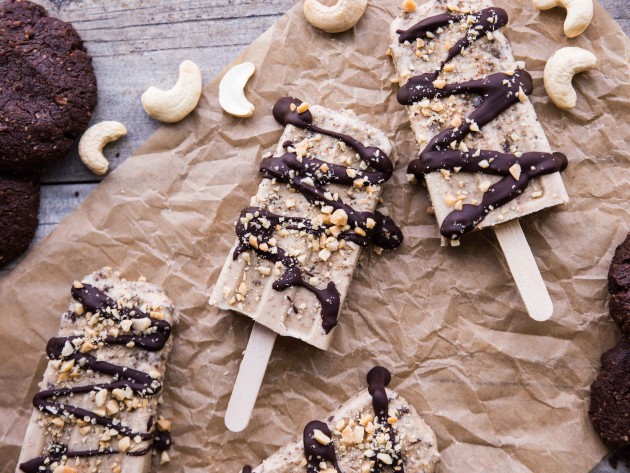 I love popsicles because 1) they're easy to make (the hardest part is getting them out of those damn molds), and 2) portion control! I tend to over-scoop with my ice cream, so it's good to have a finite end to the ice cream goodness.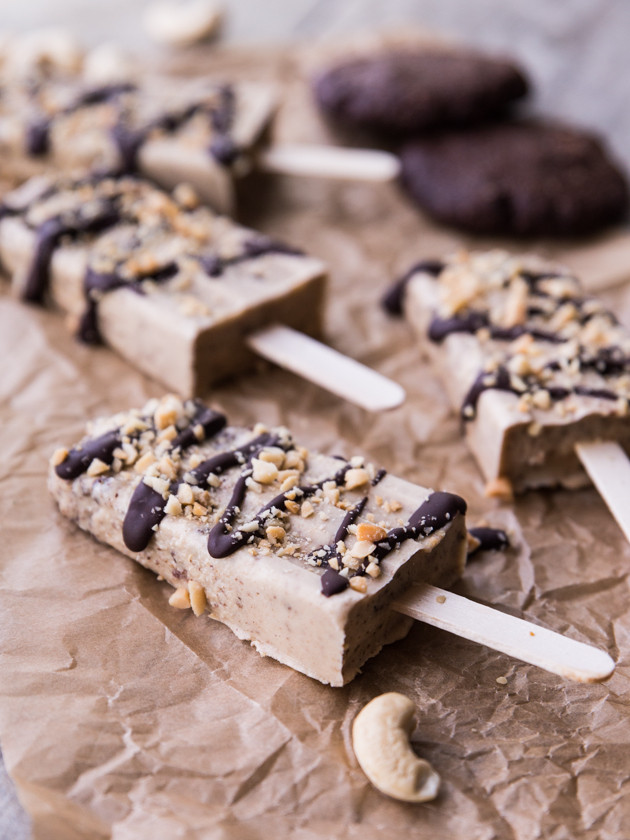 These popsicles are particularly easy, as long as you plan ahead and start soaking your cashews in the morning (or the night before). After draining the soaked cashews, you blend them up with some Almond Breeze Almond Milk, agave nectar, peanut butter, and a pinch of salt. Blend until smooth; I recently purchased a Vitamix (THANKS credit card rewards!), but I actually made these before it arrived, and my trusty little Magic Bullet did a great job. Hooray for blended things that don't require an expensive heavy-duty blender!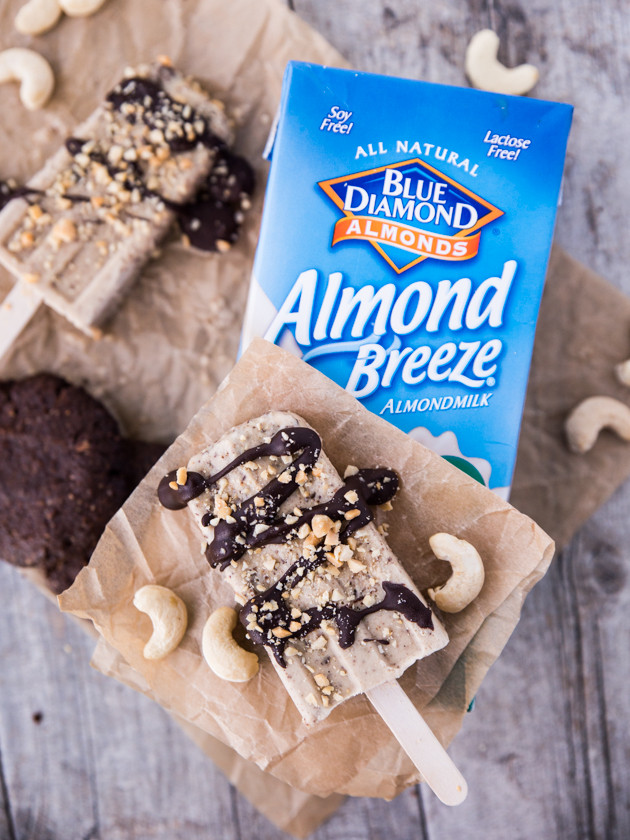 Stir your crushed cookies into the almond milk mixture, freeze in popsicle molds, and a couple hours later prepare yourself for fantastic summer dessert time.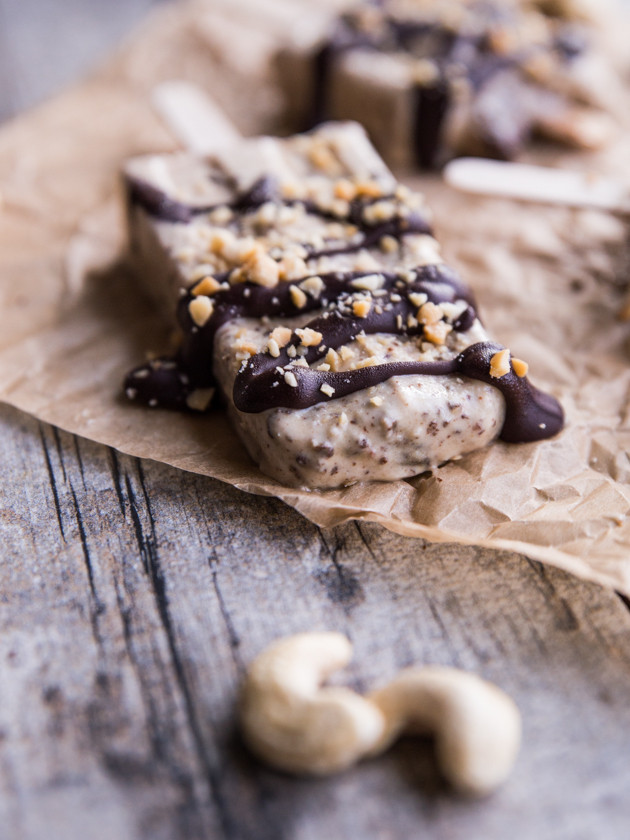 The ice cream is smooth and creamy with a light peanut butter flavor, but the bits of chocolate from the cookie crumbs take these over the top. Peanut butter n' chocolate texture magic.
If you're not feeling up to baking cookies, I assume you could crush chocolate sandwich cookies, but the pops will no longer be gluten free. I also think the texture of the oat cookies works perfectly with the creamy pops, but I may be a tad biased :)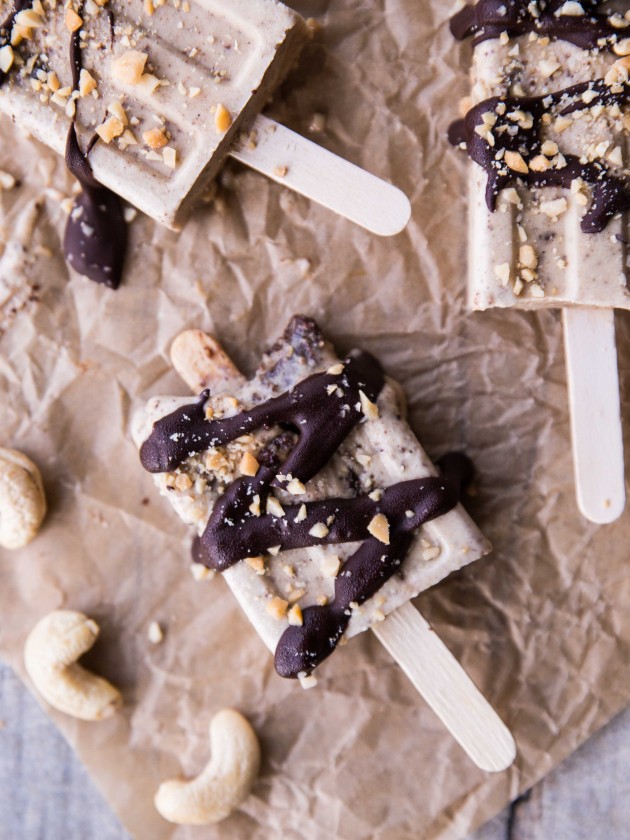 Let me know if you make these! Snap a photo and tag me on Instagram (@veggiebeastblog). Happy almost summery weekend!
This post is sponsored by Almond Breeze Almondmilk. All opinions are my own.


Cookies n' Peanut Butter Cream Popsicles
Creamy peanut butter ice cream popsicles mixed with chocolate cookie crumbs. Vegan and gluten free!
Yield: 8 popsicles
Prep Time: 10 minutes
Total Time: 3 hours 10 minutes (including freezing time)
Ingredients:
Directions:
Drain the cashews, then transfer to a blender with the almond milk, agave, peanut butter, and salt. Blend until completely smooth.
Add the crushed cookies and stir with a spoon. Divide the mixture among your popsicle molds - mine made 8 pops.
Freeze until set. If you want to drizzle your pops like in the photos, melt 1/2 cup chocolate chips and 1 teaspoon coconut oil in a double boiler (or glass bowl over simmering water), and chop peanuts.
Once set, remove from molds, and if desired, drizzle with melted chocolate and chopped peanuts. Place back in the freezer for a few minutes to allow the chocolate to harden.
I've never had success getting cashews perfectly smooth with my food processor, so unfortunately I think the blender is the only way to go to avoid frustration and wasted ingredients.
I found the best way to remove the popsicles from their molds is to dip the molds in a container filled with warm (not hot) water very briefly, then carefully pull the popsicles out.
Nutrition information is for 1 popsicle without drizzle/peanuts, because the popsicles are great without the drizzle (I really just did it for aesthetics), and also everyone has their own opinion about how much drizzle you need.
Nutrition Information: Serving Size: 1 popsicle, Calories: 259, Total Fat: 16.8g, Saturated Fat: 5.66g, Cholesterol: .62mg, Sodium: 59.12mg, Potassium: 189.62mg, Total Carbs: 24.79. Dietary Fiber: 2.62, Sugars: 15.36, Protein: 5.54