Roasted Strawberry Banana Soft Serve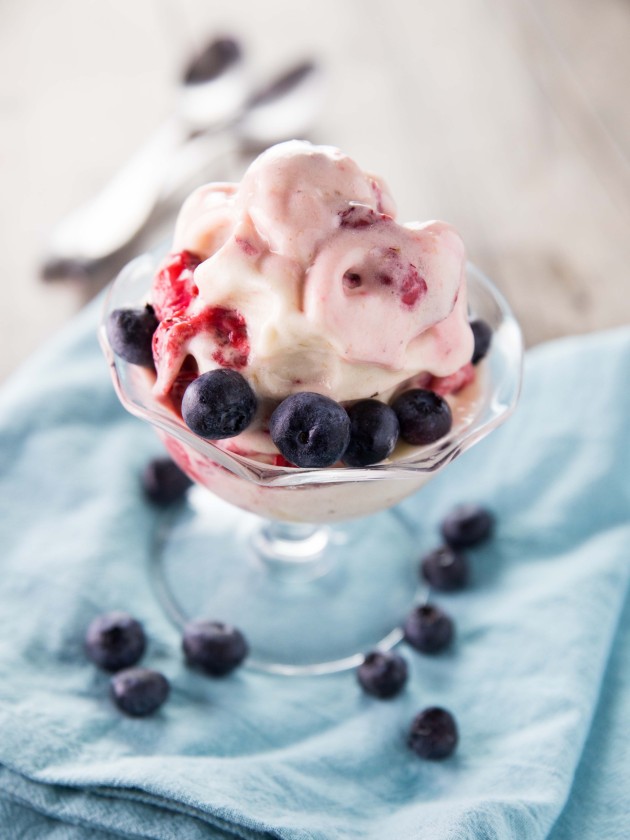 Happy almost 4th of July! I'm writing you from the wonderful land of bluff-country Wisconsin, where Ryan and I will be spending a few days relaxing, hiking, sitting in the creek, and wedding planning (!!!). We've decided that our married life will begin with a ceremony and reception next to the creek by his dad's house next July, and I could not be more pumped about that plan.
I ALSO could not be more pumped about my recent purchase of a Vitamix. Having a Vitamix in my kitchen has been a dream of mine for years, so recently when I realized my credit card rewards could get me one for "free" (somewhat free, you know), I basically catapulted myself into the keyboard to order it. I've been making green smoothies every day, and I've also found myself in love with the simple banana ice cream that the internets have been going crazy over for the past few years.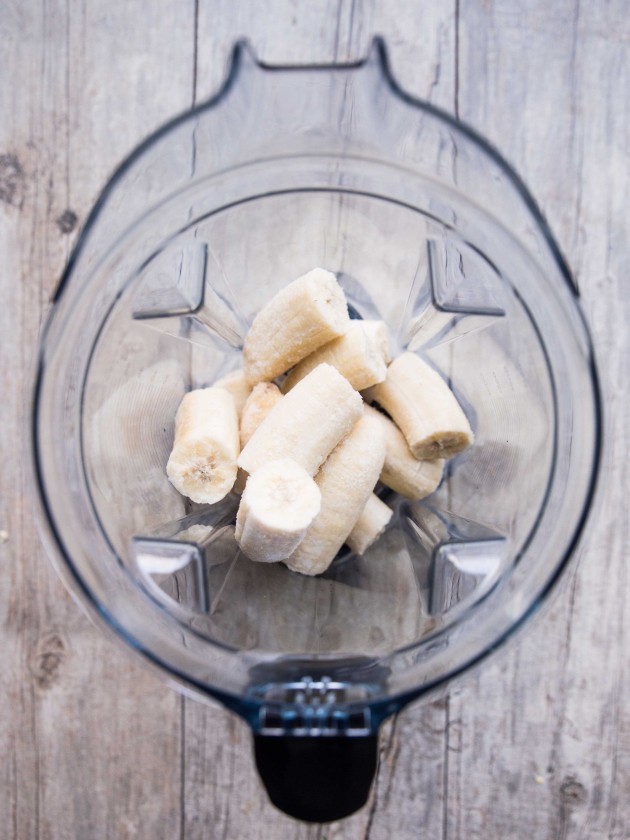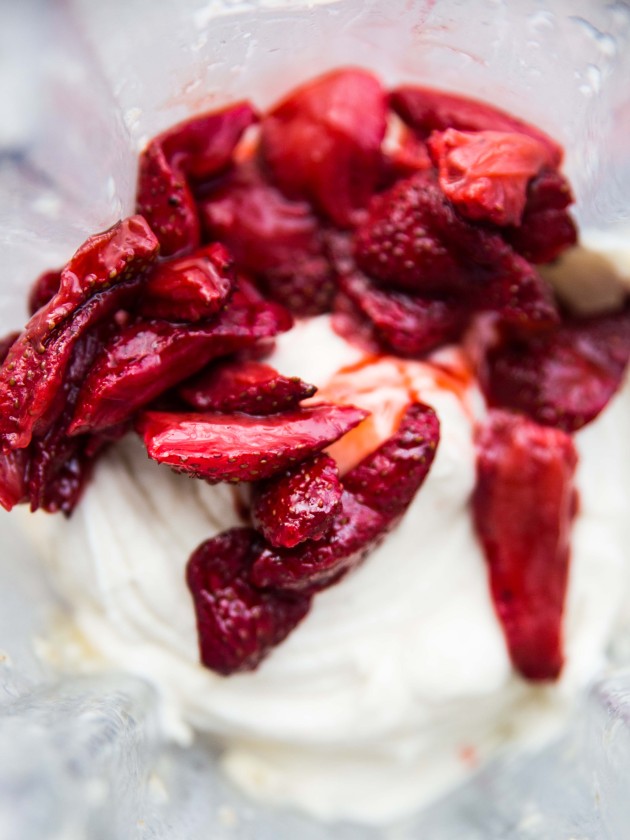 I realize banana ice cream isn't anything new – by now you all (probably) know that you can throw frozen bananas in a high speed blender and end up with a frozen dessert that magically rivals the taste and texture of soft serve. It's brilliantly easy, delicious, and secretly healthy.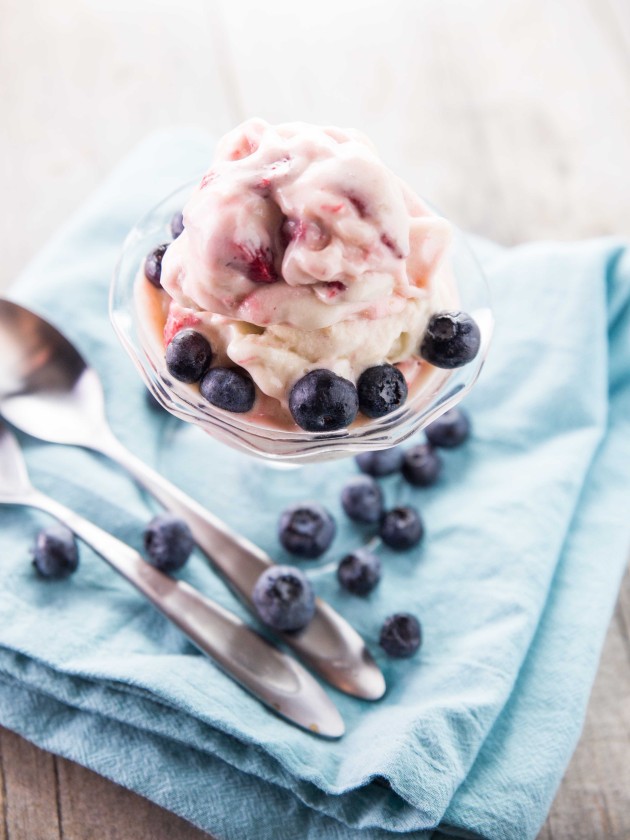 For my first batch I made Lindsay's peanut butter ice cream, the second time I made the straight forward banana version, and the third time I roasted strawberries and folded them in. Since summer makes me want fruit with every meal or snack, I loved the pretty patriotic twist, and with the 4th of July right around the corner, I realized I should probably share it with you.
Creamy, fruity, red and white love. With blueberries on top, because we like to keep things cute around here.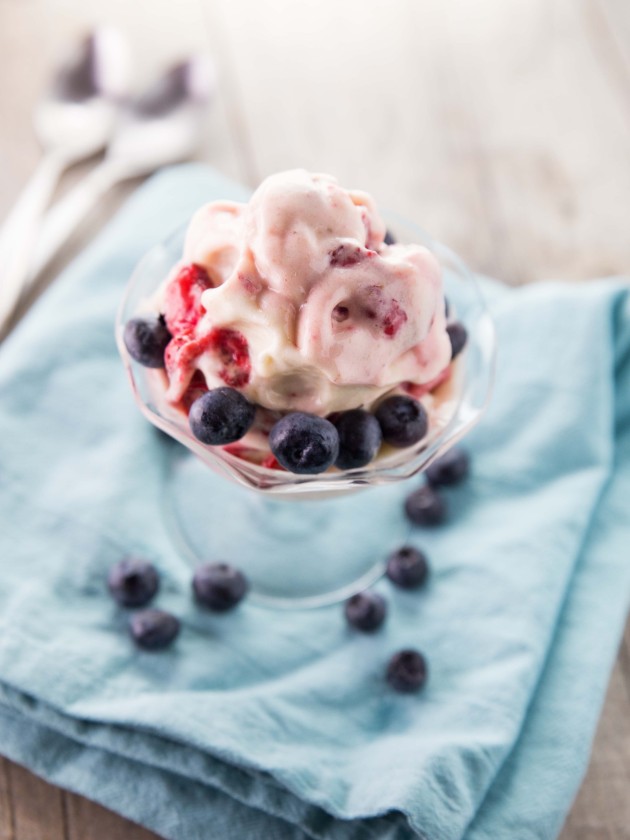 I realize that this marks 3 dessert recipes in a row in this blog space that includes the word "Veggie" in the title, but I promise I have some savory dishes coming your way next week. Stay tuned, friends. In the meantime, have a wonderful 4th!


Roasted Strawberry Banana Soft Serve
Rich and creamy banana soft serve swirled with juicy roasted strawberries!
Yield: 2 servings
Prep Time: 15 minutes
Cook Time: 25 minutes
Total Time: 40 minutes
Ingredients:
2 cups strawberries, hulled and quartered
1 tablespoon cane sugar
½ teaspoon vanilla extract
3 frozen bananas
Directions:
Preheat oven to 375 degrees.
Toss berries with sugar and vanilla, then turn out onto a parchment-lined baking sheet. Bake for 20-25 minutes, until soft and juicy. Transfer to the refrigerator to cool completely.
When ready to make the ice cream, break the frozen bananas into pieces, and transfer to a blender. Blend until thick and smooth, scraping the sides of the blender with a spoon as necessary.
Pour in the cooled strawberries and fold in with a spatula or spoon.
Serve immediately, topped with additional berries (blue for 4th of July), or chocolate chips.
If gluten free, make sure you use a gluten free vanilla extract.
Nutrition Information: Serving Size: 1/2 of recipe, Calories: 229, Total Fat: 1.0g, Cholesterol: 0mg, Sodium: 3mg, Potassium: 856mg, Total Carbohydrates: 57.6g, Dietary Fiber: 7.5g, Sugars: 34.8g, Protein: 2.9g