Peanut Ginger Noodle-Stuffed Grilled Red Peppers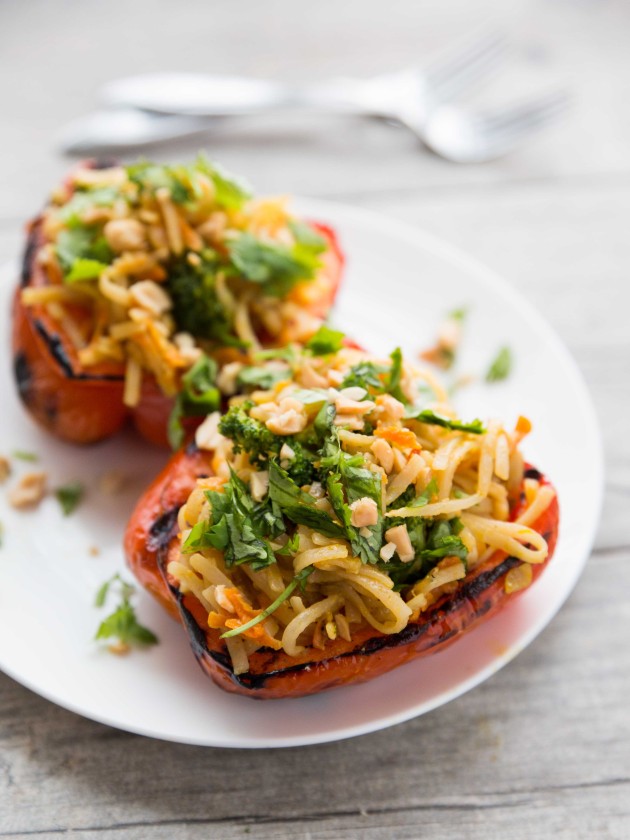 Well, here we are at another day when we stuff stuff with stuff. Ryan's favorite type of day.
That man of mine likes food inside of food, and I've recently been loving grilled vegetables, and I ALWAYS love peanut noodles, so let's do this!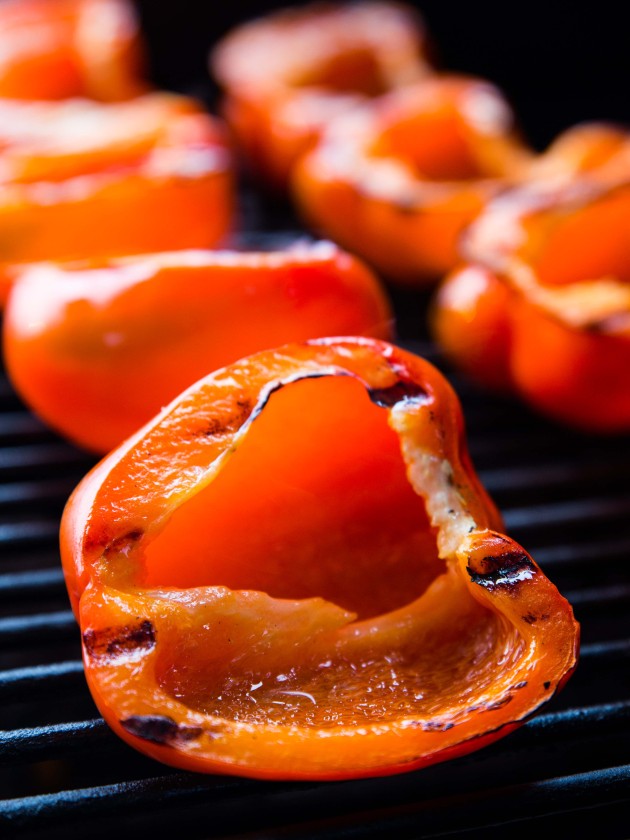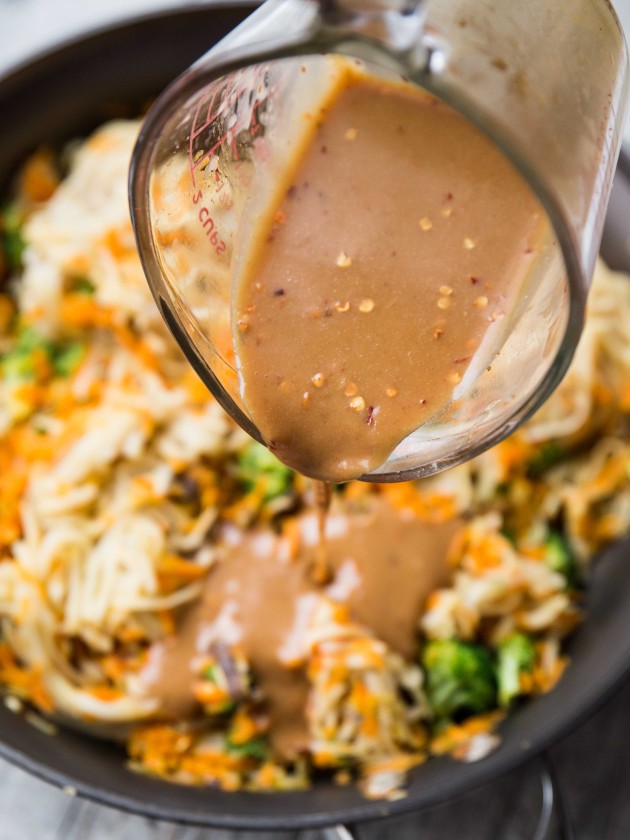 I'm embarrassed to say that before this year, I was a little scared of grilling vegetables. Would I grill pizza? All the time. Veggie burgers? Yes! But simple sliced, oiled and seasoned veggies? Agh! The horror!
Sometimes I don't make sense. I think I was afraid that the sliced veggies would fall through the grill, or that they'd stick, so my summertime veggies stayed roasted or sautéed…until this year.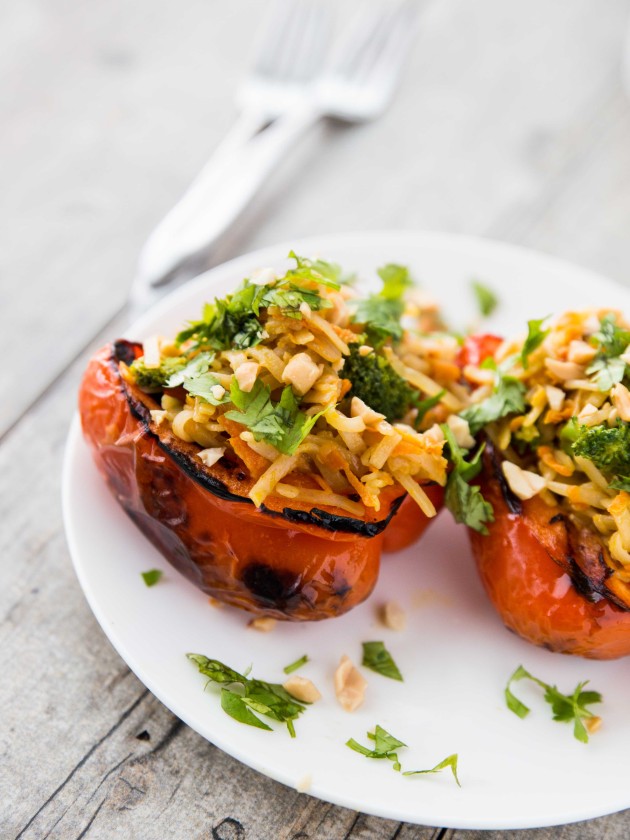 Most of my recipe ideas lately have revolved around the grill, partially because I'm trying to stay outside as many seconds as possible, but also because it's been humid as hell and a hot oven seems like a poor choice. Ryan and I signed up for a CSA that provided some gorgeous greens, so I've been grilling romaine and kale and anything else I can get my hands on! Grilled kale turns into a crispy, smoky kale chip, whereas romaine gets all kinds of buttery and charred while retaining some of that fresh crisp texture. Grilled romaine! Who knew?!
The entire blogosphere knew the wonder of romaine before me, I know. I still find it exciting.
Although I'm sure a grilled romaine recipe will be coming your way soon, today we're working with some beautiful red bell peppers, which get grilled until nice and charred. The peppers are lightly salted, subtly sweet and smoky, while the filling is a simple Asian-inspired peanut ginger sauce tossed with brown rice noodles and sautéed veggies.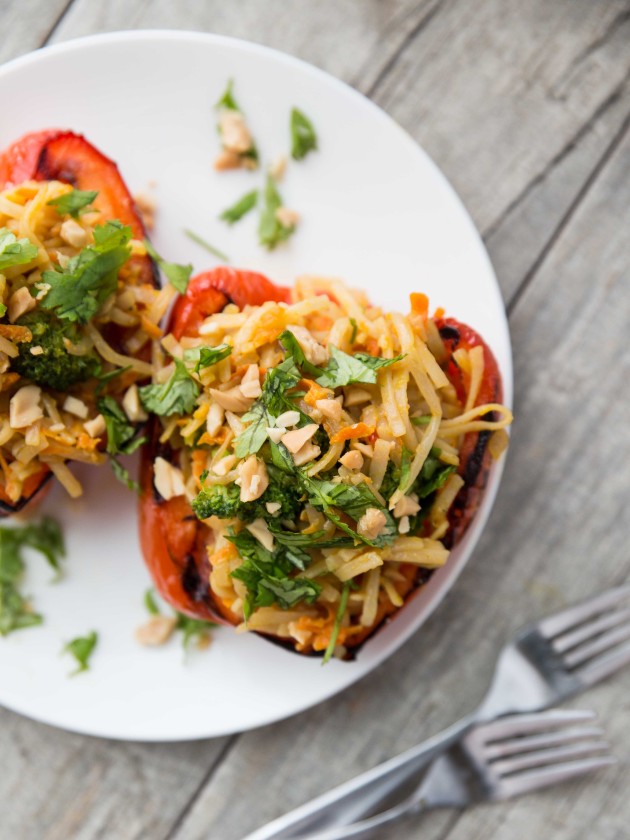 It's easy to put together, and the presentation is cute enough for company. The recipe can serve 4 hungry people, or 8 less-hungry people when accompanied by a salad. Since I like my meals big I ate a full pepper (two heavily-stuffed halves), but I know I'm a bit of an anomaly.
I'm excited and also slightly embarrassed to say that I have another grill-centric recipe coming your way later this week. Now that I'm fully part of the veggie-grillin' world, please tell me – what are your favorite veggies to grill?

Peanut Ginger Noodle-Stuffed Grilled Red Peppers
Flavorful peanut butter ginger noodles tossed with sautéed veggies, and stuffed inside of smoky grilled red bell peppers!
Yield: 4-8
Prep Time: 20 minutes
Cook Time: 20 minutes
Total Time: 40 minutes
Ingredients:
Peanut Ginger Sauce
1/4 cup natural creamy peanut butter
1 teaspoon fresh grated ginger
2 tablespoons reduced sodium tamari
1 ½ tablespoons honey or agave nectar
2 teaspoons rice vinegar
2 tablespoons peanut oil
1/2-1 teaspoon crushed red pepper flakes
1 tablespoon water
Noodle Filling
8 ounces brown rice noodles
1 tablespoon peanut oil
2 cloves garlic
1 shallot, diced
1/4-1/2 teaspoon sea salt
5 ounces shiitake mushrooms, sliced
2 carrots, peeled and grated
2 cups broccoli florets (from about 2 small heads)
Assembly
4 red bell peppers, sliced in half, ribs and seeds removed
Pinch of salt
2 teaspoons peanut oil
Fresh cilantro and chopped peanuts, for garnish
Directions:
For the sauce, whisk together all ingredients except the water. It should be pourable (see photo), but that will depend on the consistency of your peanut butter. If it's not pourable, add 1 tablespoon water. Taste and add salt if you'd like (mine was good as is), or additional red pepper flakes. Set aside.
Cook the noodles according to package directions. Rinse under cold water after cooking if they are ready before the veggies.
For the veggies, heat the oil over medium heat. Add the garlic and cook for 30 seconds, then add the shallot and 1/4 teaspoon salt. Cook for 2-3 minutes, then add the mushrooms and cook, stirring frequently, for 5 minutes, until they've released their juices. Add the broccoli and carrots and cook for 5 more minutes, until the florets are bright green and tender.
While the veggies are cooking, set your grill to medium. Brush the peppers inside and out with oil, and sprinkle with a little salt.
Grill for 5-7 minutes on each side, until charred (grilling times will vary depending on your grill, so check frequently).
When ready to eat, pour the peanut sauce into the pan with the veggies, and stir over medium heat until heated throughout. Taste and add more salt if you like (I added another 1/4 teaspoon sea salt, but I like salt). Fill each pepper with noodles, then top with cilantro and chopped peanuts.
Nutrition Information is for 2 pepper halves (1 full pepper) with 1/4 of the noodles. If you're serving sides with the dish, you may be able to get 8 servings out of this recipe.
Nutrition Information: Serving Size: 1/4 of recipe, Calories: 548, Total Fat: 22.4g, Saturated Fat: 4.1g, Cholesterol: 0mg, Sodium: 634mg, Potassium: 653mg, Total Carbohydrates: 74.9g, Dietary Fiber: 8.2g, Sugars: 17.1g, Protein: 12.7g