Sweet Potato Fry Nachos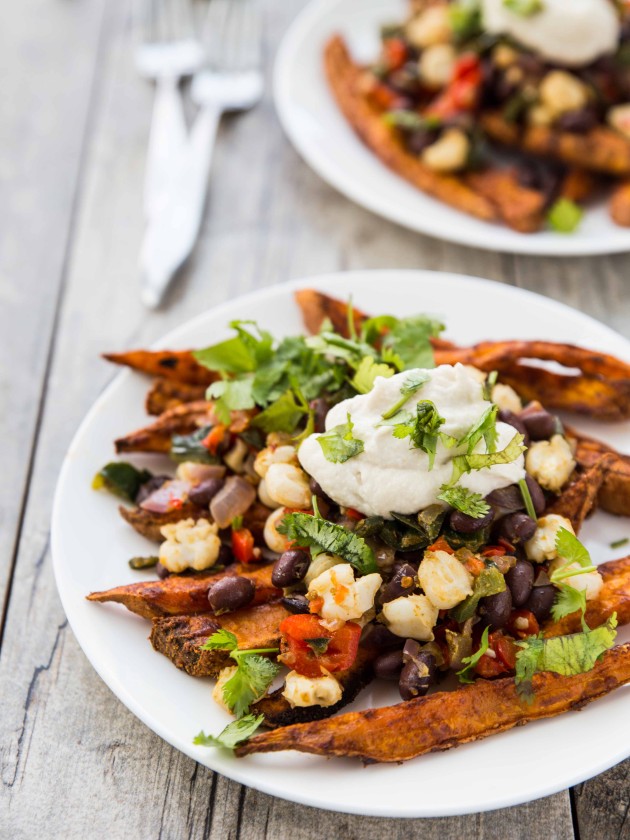 My friend Shelly is a sort of superhero; she has three kids, all under the age of 5, two of which are 2-year-old twin girls. Sounds busy, doesn't it? She also juices vegetables for her entire family every morning (both she and her husband drink a full 16 ounces), meal plans like a boss (the most nutritionally-conscious boss ever, that is), and makes it all look easy.
I want to be Shelly when I grow up.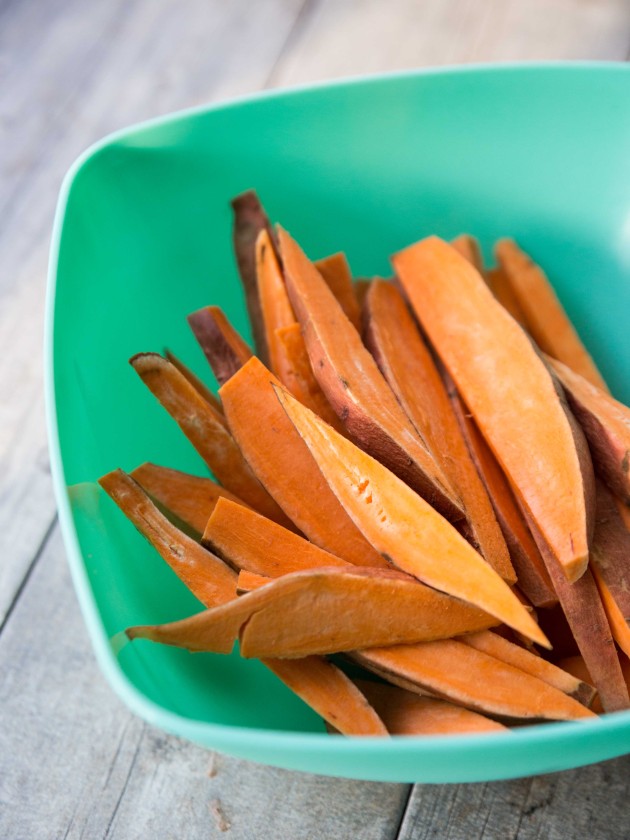 She and her family live out of the country for the majority of the year, so when we see them it's often with a group of friends who come together for dinner parties at their house. Being the superhero that she is, Shelly always makes these dinners that blow me away, partially because I have no idea how to cook for that many people, but also because she feeds a bunch of non-vegans the most delicious, irresistible vegan food. A few weeks ago she made fry nachos that floored me: potato wedges baked until golden and covered with all sorts of veggie goodness. Simple enough, but also brilliant.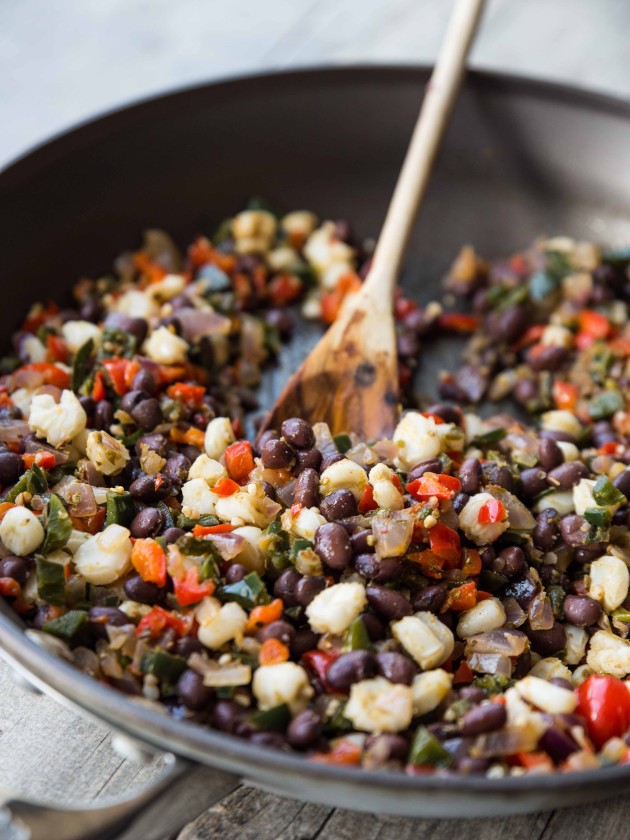 After my two huge helpings that night, I thought about that meal for days, and knew I needed to create a version to post here. I've now made this meal twice, and expect it to become a staple in our household.
For my version, I used sweet potatoes because they're one of my favorite things (especially lately – can't get enough). I baked them with chili powder for a kick, a little salt, and arrowroot starch to help them get a bit of a crust. They do not bake up super crispy, since we're working with larger wedges of potatoes, but they do get a little golden crust on the outside that leads to a tender middle.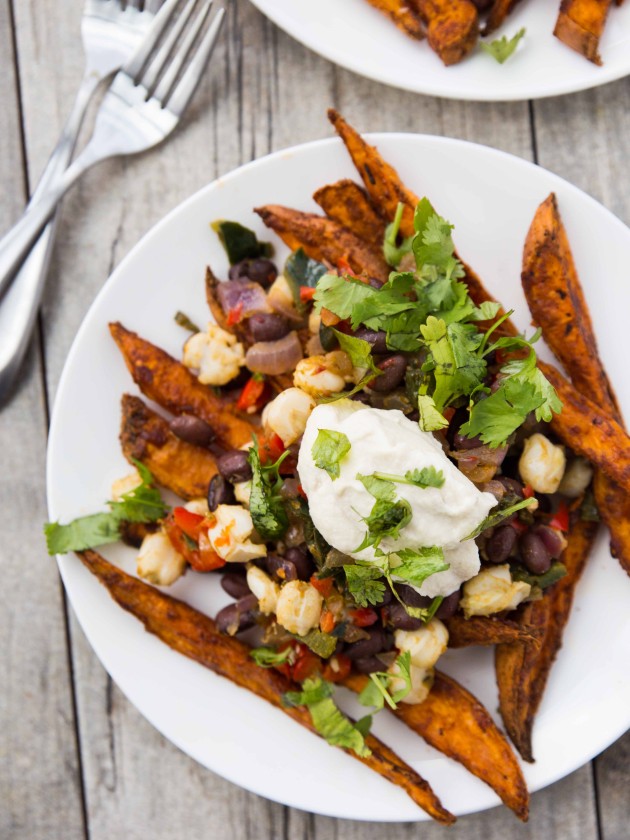 While the 'taters baked, I sautéed up some garlic, onions, poblano and red bell peppers until tender, then added black beans and hominy (you may sub corn if you wish), and spiced it up with ground cumin and dried oregano.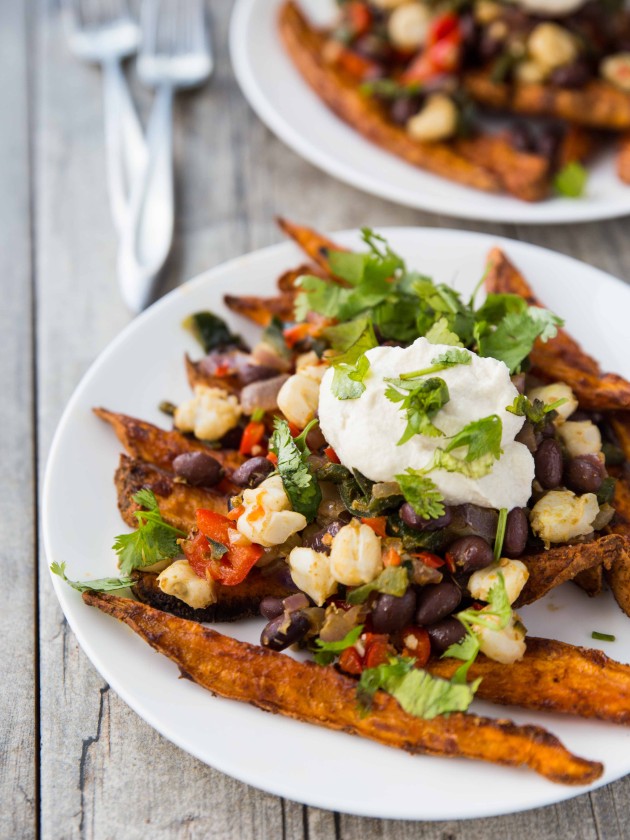 When all is ready, you pile the veggies on the fries and get creative with the toppings; I liked cashew cream and cilantro, but you could also add some salsa, cubed avocado, and a squeeze of lime.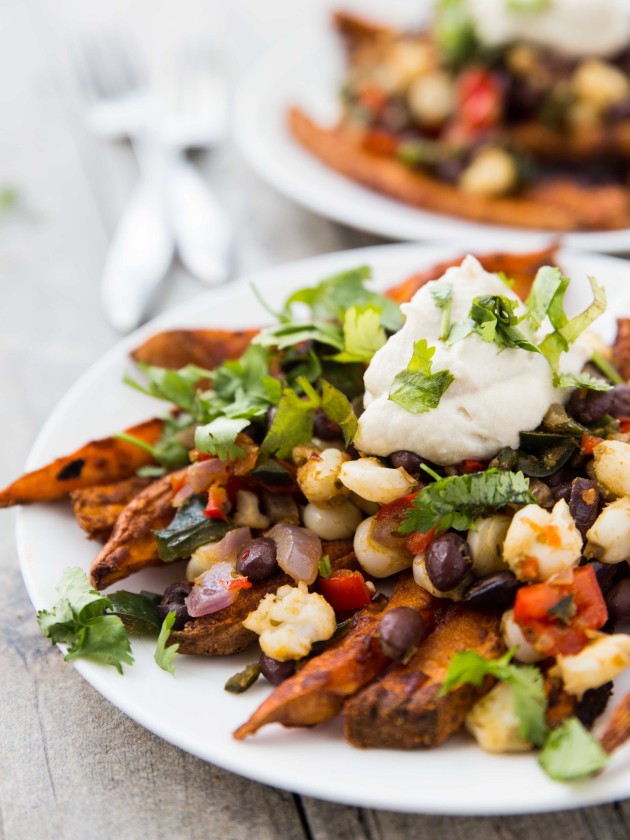 If you're not vegan, maybe you should crumble on some queso fresco or feta? Yes, you probably should.

Sweet Potato Fry Nachos
Super satisfying Mexican-inspired meal of baked sweet potato wedges, piled high with sautéed veggies, and topped with goodies like fresh cilantro and cashew cream.
Yield: 4 servings
Prep Time: 15 minutes
Cook Time: 35 minutes
Total Time: 50 minutes
Ingredients:
Chili-Spiced Sweet Potato Fries
3 sweet potatoes, cut into wedges
2 tablespoons coconut oil, melted
2 tablespoons cornstarch or arrowroot starch
1 tablespoon chili powder
1/4 teaspoon fine salt
Veggies
1 1/2 tablespoons olive oil
1-3 cloves garlic, minced
½ of one red onion, chopped
1 red bell pepper, chopped
1 poblano pepper, chopped
¼-1/2 teaspoon sea salt (to taste)
1 (15-ounce) can black beans, rinsed and drained
1 cup canned hominy, rinsed and drained
2 teaspoons dried oregano
2 teaspoons ground cumin
¼ teaspoon red pepper flakes (optional)
Directions:
Preheat oven to 425 with the rack in the center.
Place the sweet potatoes in a bowl and drizzle with coconut oil and toss to coat. In a small bowl whisk together the starch, chili powder, and salt. Sprinkle over the fries and stir until evenly distributed. Spread the fries out evenly on a parchment-lined baking sheet.
Bake for 30-35 minutes, tossing a few times throughout.
About 15 minutes before the fries are ready, heat the olive oil in a large nonstick skillet over medium heat. Add the garlic and cook until fragrant, then add the red onion and ½ the salt. Cook for 2-3 minutes, until softened. Stir in the peppers and cook, stirring frequently, for 5-7 minutes, until tender. Add the black beans and hominy along with the spices, and cook for a couple minutes until heated through and the spices are distributed.
Remove the fries from the oven and sprinkle with a pinch of sea salt (optional). Distribute across 4 plates, then top each plate with ¼ of the veggies. Top as desired (cashew cream, cilantro, salsa, avocado, etc.)
Nutrition Information: Serving Size: 1/4 of recipe (no additional toppings), Calories: 428, Total Fat: 13.9g, Saturate Fat: 7.0g, Cholesterol: 0mg, Sodium: 386mg, Potassium: 1619mg, Total Carbohydrates: 67.9g, Dietary Fiber: 13.0g, Sugars: 4.1g, Protein: 11.1g