Gluten Free Chocolate Zucchini Muffins
An alternate title for this post could be, "I don't know why it works but it does." I can't tell you why the zucchini-in-desserts thing works, or why these gluten free flours bake up like regular flours without the help of an egg, but they do, and I like it.
This recipe is based off of a recipe I received from my friend Terese's mom, which may be found here. When Ryan and I had a garden a couple years ago, and more zucchini than we knew what to do with, he requested Terese's mom's zucchini cake. That recipe delivers in all kinds of sweet, chocolatey, crunchy-top ways. I believe we ate the entire 9×13-inch pan in about 4 days.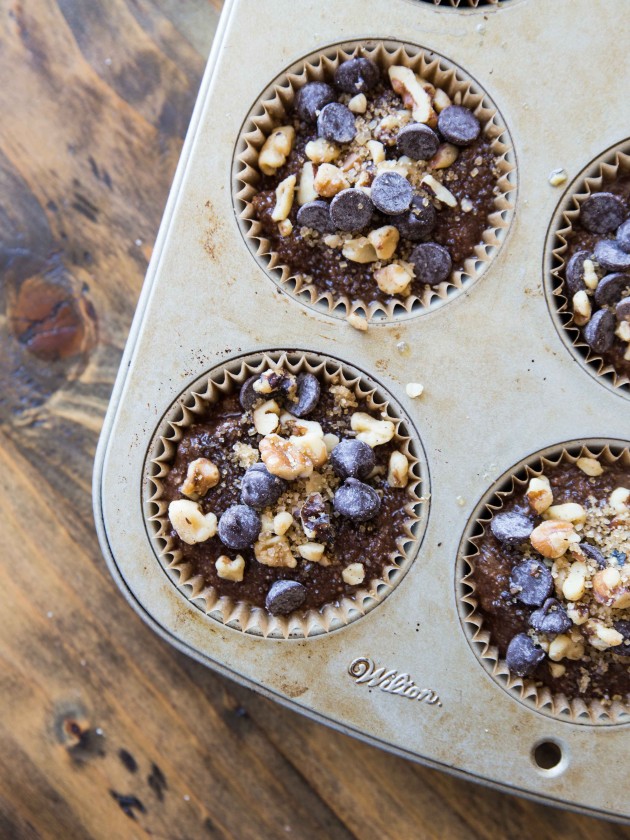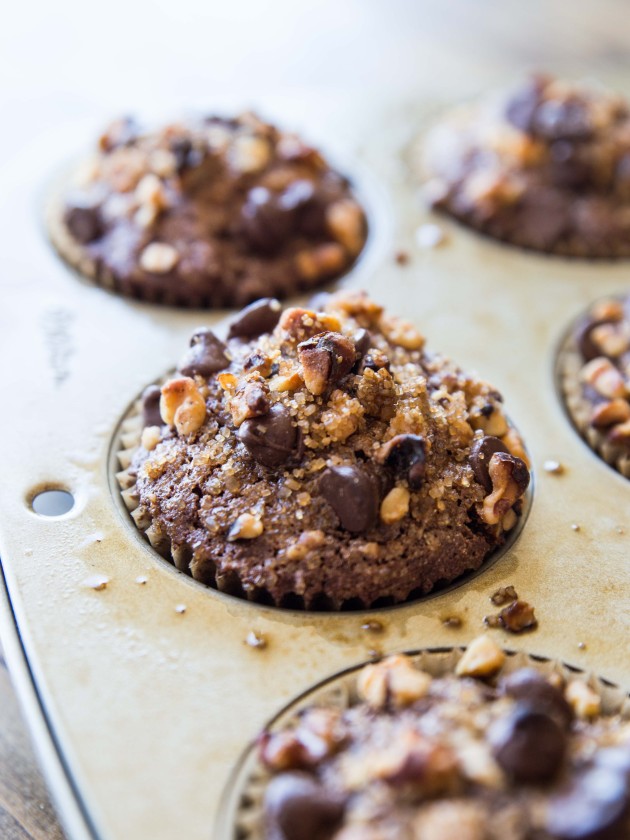 With the arrival of zucchini in our CSA box the past couple weeks, I wanted to revisit the recipe, and give it a somewhat healthier spin. I like to use whole grains in baking whenever possible, but sometimes whole wheat flour makes an otherwise awesome recipe have a little overly healthy feel, through either a denser texture or wheat-y taste. The first time I made these muffins (that are really kind of like cupcakes), I threw caution to the wind and ground up some dry quinoa to create a flour, mixed that with some almond meal, and decided to see what happened, assuming I'd have to rework it several times to account for the lack of gluten.
…but but BUT, guess what – it worked on the first try! And all the gluten free dessert lovers rejoiced, aka I did a little happy dance in my kitchen all by myself.
To make sure I wasn't just lucky with my baking endeavor, I made the recipe again, and handed a muffin to my very picky mother to try. This is a lady who wholeheartedly disagrees with vegetables in her desserts, but she actually LIKED these muffins. She told me they were good! It was a great day in my baker life.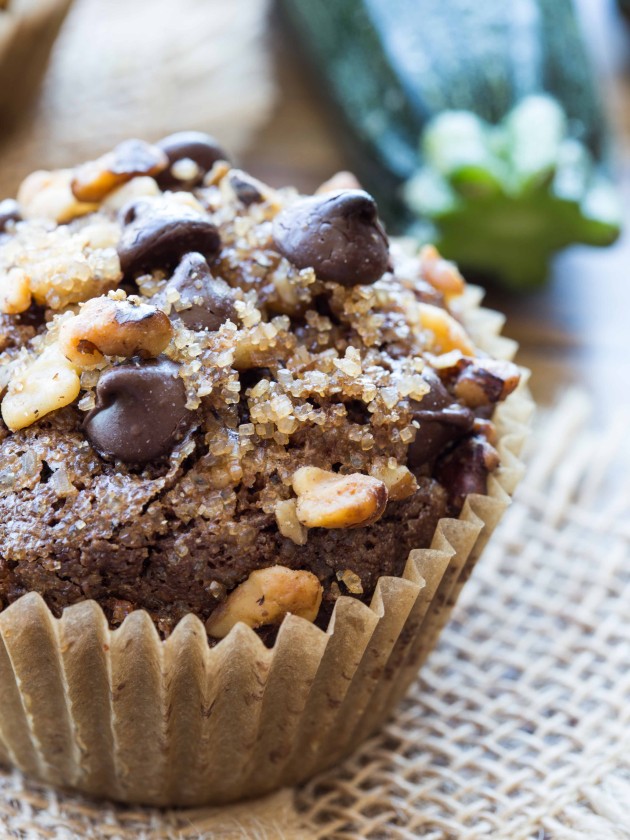 If you have a hefty amount of zucchini, I highly recommend you give these a try! They make a great mid-afternoon snack or after-dinner treat. Maybe you also want to drizzle them with melted peanut butter? You so get me.
Gluten Free Chocolate Zucchini Muffins
Gluten free chocolate zucchini muffins made with quinoa and almond flour! Soft, sweet, and vegan too!
Yield: 12 muffins
Prep Time: 15 minutes
Cook Time: 20 minutes
Total Time: 35 minutes
Ingredients:
Muffins
1 cup quinoa flour (see note)
1/2 cup almond flour
1/2 cup cocoa powder
1 teaspoon baking powder
1/2 teaspoon cinnamon
1/4 teaspoon fine salt
1/2 cup coconut oil, melted
1/2 cup granulated cane sugar
1/2 cup milk of choice
1 teaspoon vanilla (omit for gf, or ensure your brand is gf)
1 cup shredded zucchini
1/2 cup semisweet chocolate chips (vegan, if needed)
Topping
2 tablespoons turbinado sugar
1/4 cup chopped walnuts
1/4 cup semisweet chocolate chips (vegan, if needed)
Directions:
Preheat oven to 400 degrees.
In a medium-sized bowl, whisk together the quinoa flour, almond flour, cocoa powder, baking powder, cinnamon, and salt.
In another bowl, whisk together the coconut oil and sugar, then mix in the milk and vanilla.
Gradually add the dry ingredients to the wet ingredients, stirring with a fork or whisk just until incorporated. Fold in the zucchini and chocolate chips.
Drop scant 1/4 cup of the batter into 12 lined and greased muffin tins.
In another bowl, toss together the topping ingredients, then sprinkle on top of the 12 muffins.
Bake for 20-22 minutes, until a toothpick inserted in the center comes out clean. Let sit in the tin for 5 minutes, then transfer to a cooling rack to cool completely.
Instead of buying expensive quinoa flour, I like to make my own. For this recipe, I blended 1 cup of dry quinoa in my Magic Bullet blender, but I've also had success with smaller amounts of quinoa in a coffee grinder. After blending, I measured out 1 cup of the flour (be sure to measure again, as blending 1 cup of dry quinoa will result in more than 1 cup of flour).
This recipe was tested with unsweetened almond milk, as well as whole milk. Both work great.
If you want lower sugar, feel free to reduce the amount of chocolate chips in the batter, or omit them completely and just have them on top. For me? The more chocolate the better!
Nutrition Information: Serving Size: 1 muffin, Calories: 257, Total Fat: 16.3g, Saturated Fat: 10.8g, Cholesterol: 0mg, Sodium: 63mg, Potassium: 181mg, Total Carbs: 28.0g, Dietary Fiber: 3.0g, Sugars: 17.1g, Protein: 3.0g