Grilled Romaine Salad with Basil Hummus Dressing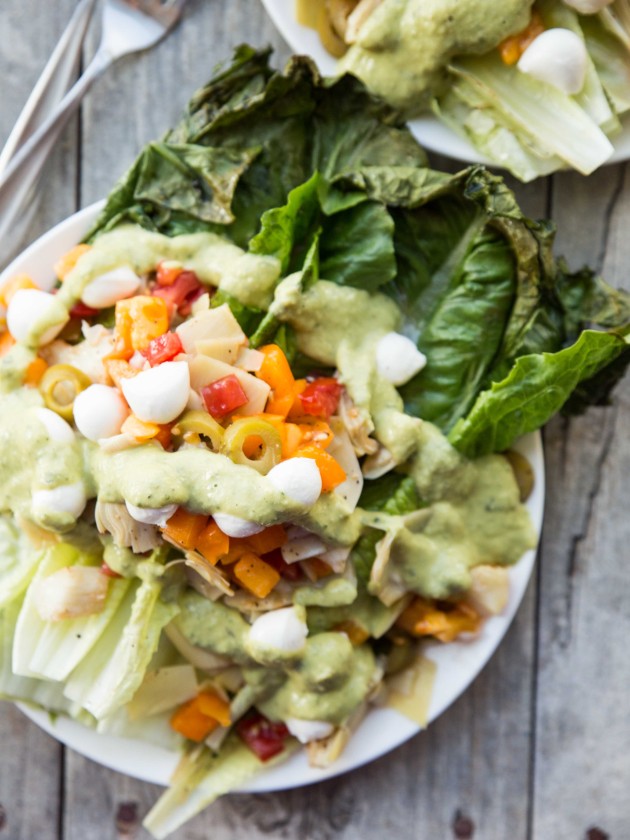 Welcome, friends, to my new favorite thing.
GRILLED ROMAINE! It retains it's crunch, but the leaves become a little buttery with the olive oil and the heat, and then they get just a bit golden brown char that adds a touch of smokiness.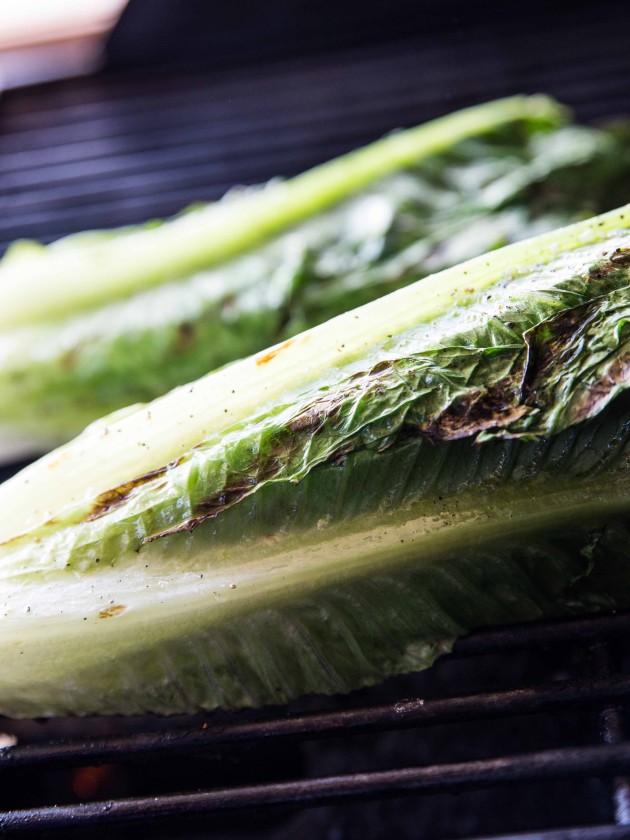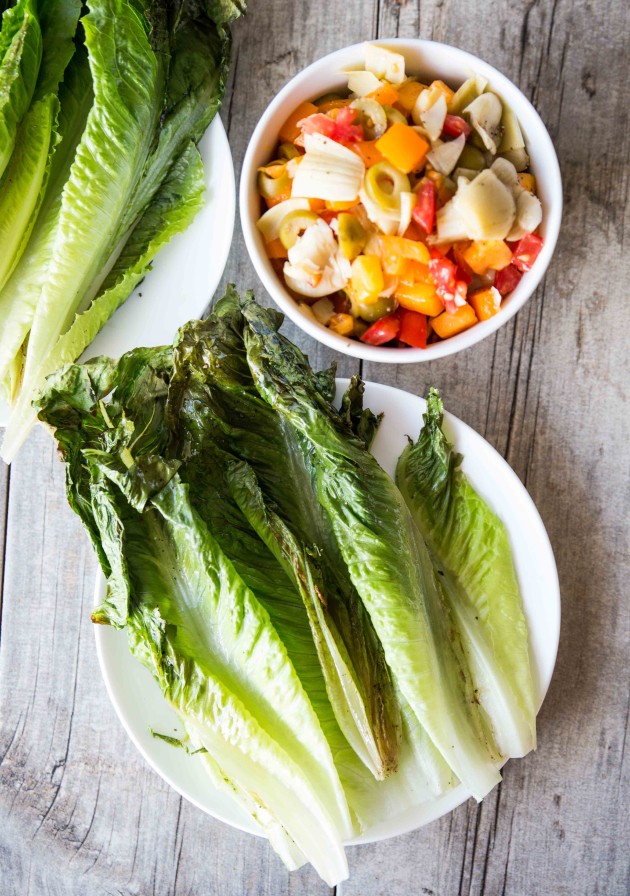 As I mentioned a couple weeks ago, Ryan and I grilled romaine for the first time when we received a huge head in our weekly CSA. That night I covered mine with parmesan, a big dollop of hummus, and tons of fresh veggies. Ryan covered his in buffalo chicken and cheese – which is so cutely typical of him #allbuffalochickenallthetime.
Although I have a general newfound love of grilled veggies, grilled romaine takes the cake. It also results in each person eating a hefty half head of romaine, which satisfies all my needs for nutrient-dense meals.
For the version I'm sharing with you today, I made a basil hummus dressing that just might be my new go-to. For years my "dressing" of choice has been a big scoop of hummus along with balsamic vinaigrette. This dressing hits all those creamy buttons, but in a drizzleable form, and with the added savory hit of basil.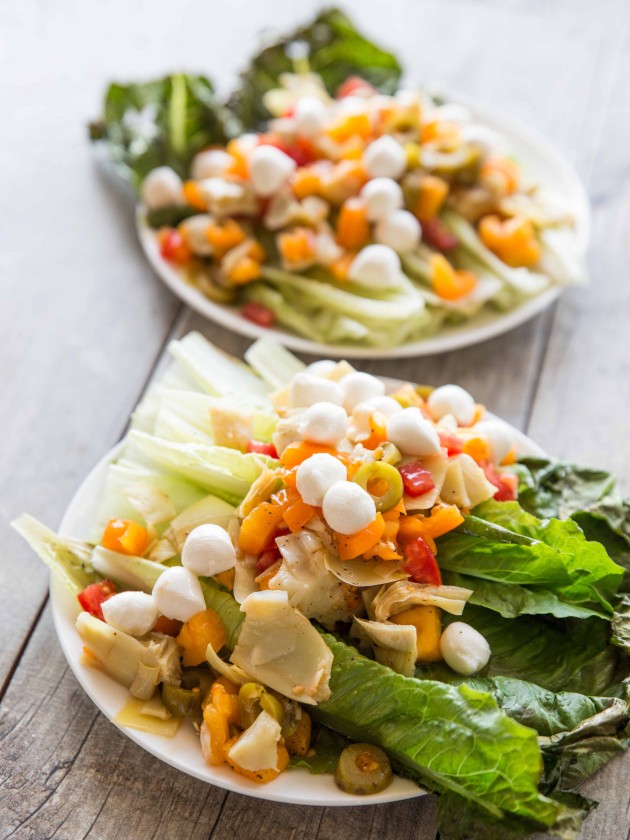 Toppings include a salty, juicy mix of chopped artichoke hearts, sliced green olives, and fresh summer tomatoes. I marinated all the toppings together with a touch of olive oil, salt, and pepper, and let them get cozy while I prepped the dressing and romaine.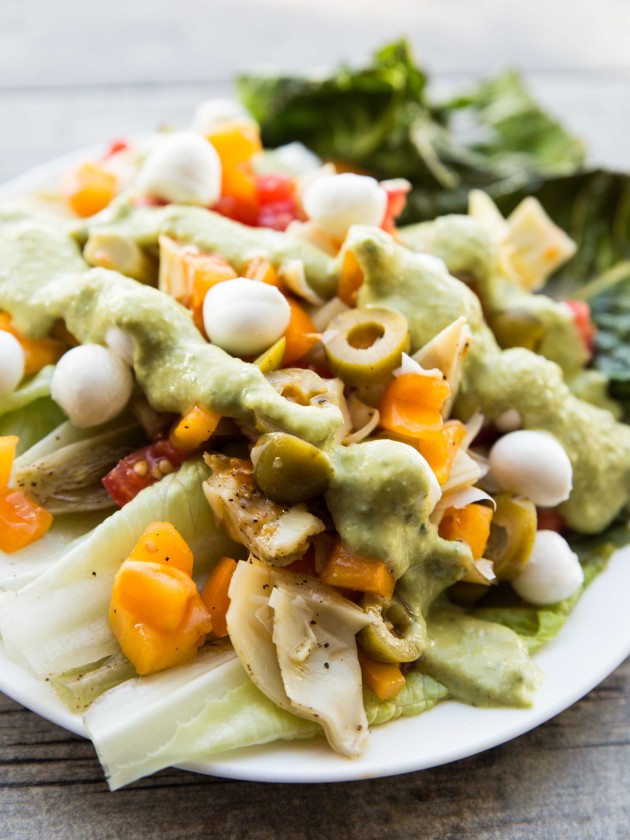 After grilling the romaine for 2-4 minutes on each side, you cut off the bottom core, making all the leaves fall apart, spread prettily on a plate, and then cover with the marinated toppings, fresh mozzarella balls (those are my fave lately), and that basil hummus dressing. It's a flavor bomb of summer yumminess.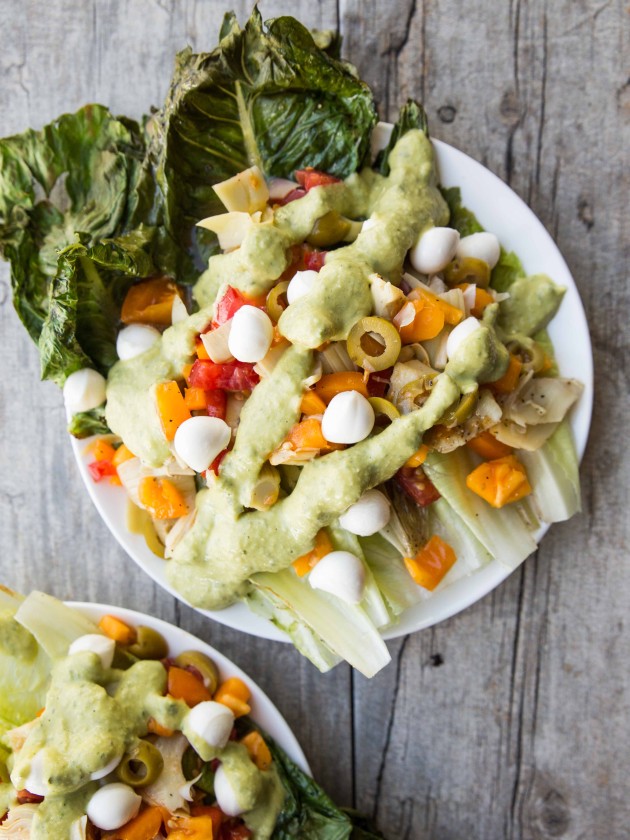 Serving Suggestion: Eat outside with a big glass of chilled rose. DO IT.

Grilled Romaine Salad with Basil Hummus Dressing
Grilled romaine salad topped with artichokes, olives, and fresh summer tomatoes, and finished off with a creamy basil hummus dressing!
Yield: 2 large salads
Prep Time: 15 minutes
Cook Time: 10 minutes
Total Time: 25 minutes
Ingredients:
Salad Toppings
1 heaping cup chopped tomatoes (about 2 normal-sized tomatoes)
1 cup canned artichoke hearts, rinsed and chopped
1/2 cup sliced green olives
1 teaspoon olive oil
Small pinch sea salt (optional, depending on saltiness of artichokes/olives)
Black pepper to taste
Basil Hummus Dressing
1 (15-ounce) can chickpeas, drained and rinsed
1 cup fresh basil leaves, packed
2 clove garlic, minced
2 tablespoons tahini
3 tablespoons fresh lemon juice
1/2 - 1 teaspoon salt
1/2 cup olive oil
1/4-1/2 cup water
Grilled Romaine and Assembly
1 head romaine
1 tablespoon olive oil
Pinch sea salt
Black pepper to taste
2 ounces fresh mozzarella balls
Directions:
For the salad toppings, place all ingredients in a bowl, and toss to combine. Set aside.
For the dressing, combine chickpeas, basil, garlic, tahini, lemon juice, and salt in a food processor or blender. Process until very finely chopped. Drizzle in the olive oil with the processor running, then add the water to thin so it is a thick dressing consistency (should be thick, yet drizzle-able). Set aside.
Preheat grill to medium-low. Discard any romaine leaves that are loose on the outside, and then rinse the entire head under cold water. Shake off the excess water, and slice the head in half lengthwise. Brush each half with olive oil, and sprinkle with salt and several turns of fresh cracked black pepper.
Place romaine heads on the heated grill, grilling for 2-4 minutes on each side (cut side down, left side of the outside, right side of the outside).
Once all sides of the romaine are lightly charred, remove from the grill and cut off the bottom of the romaine core, so all the leaves fall apart. Optional - chop the rest of the leaves, or leave them whole (as in pictures). Place each half on its own plate, divide the toppings across the halves, top with mozzarella, then drizzle each plate with 2 tablespoons of the basil hummus dressing. Eat immediately.
Dressing makes about 2 cups. You only need 1/4 cup for this recipe. Save in an airtight container in the fridge for use on future salads!
Nutrition Information: Serving Size: 1/2 of recipe plus 2 tablespoons dressing, Calories: 383, Total Fat: 17.3g, Saturated Fat: 6.0g, Cholesterol: 15mg, Sodium : 906mg, Total Carbohydrates: 25.8g, Dietary Fiber: 4.0g, Sugars: 8.0g, Protein: 14.9g