Black Bean and Tofu Breakfast Tostadas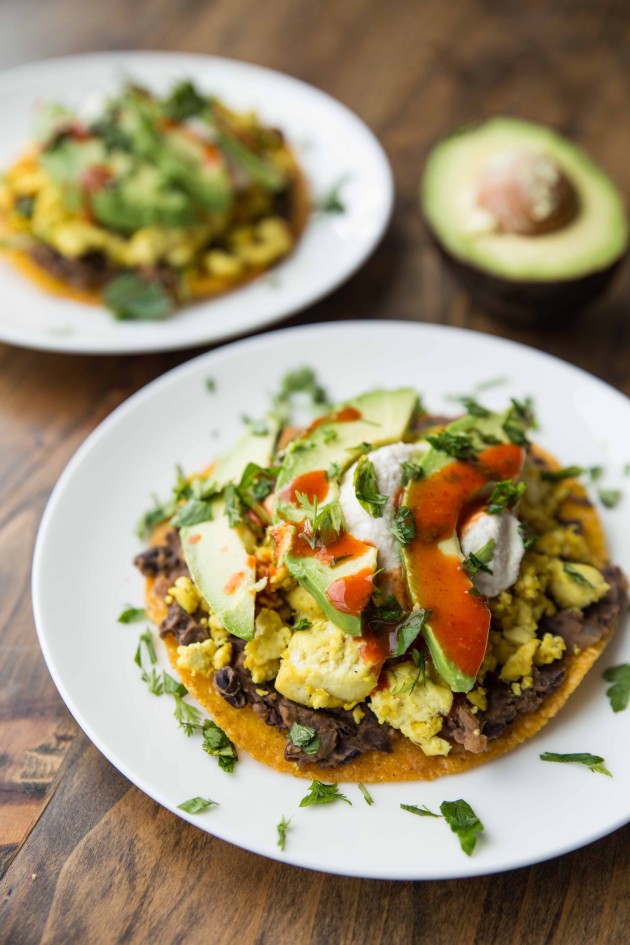 Full disclosure: I'm a vegetarian who loves tofu. Have you noticed? See examples A, B, C, D, etc.
I'm also a vegetarian who doesn't like eggs. I know, people love eggs. I know, eggs are big in the blogosphere right now. I'm not part of that trend, but I AM part of the vegan breakfast tostada trend!
Ok so that's not a thing yet. It's gonna be a thing!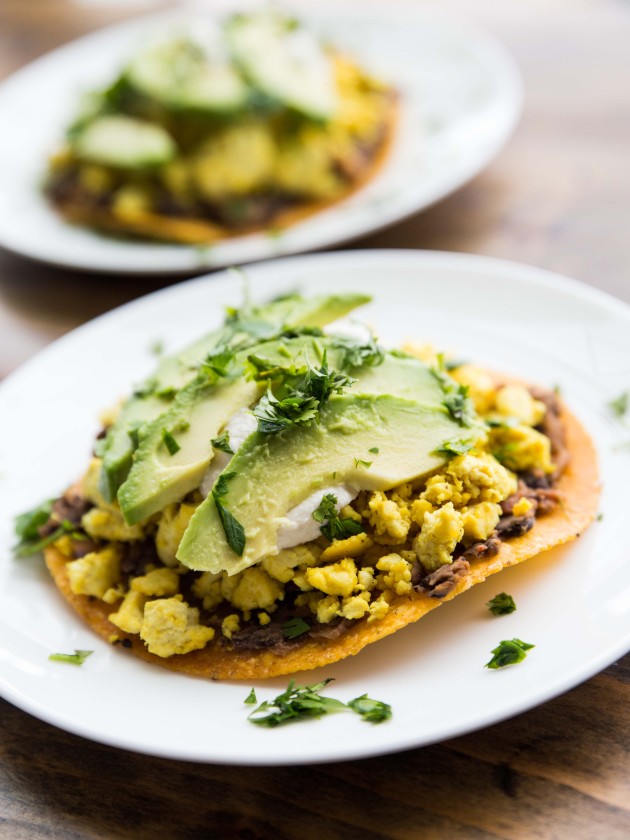 Although there are 3 parts to this recipe, it really comes together rather quickly as long as you're organized. Preheat the oven, get out two pans for your stovetop, cook your onions and beans in one, your tofu in the other. While your proteins cook, brush corn tortillas with oil and bake until crispy. Mash your beans and spread on the tortillas, top with tofu, then finish with whatever the heck you want – my choices were cashew cream, avocado, and hot sauce for smooth, creamy, spicy reasons, but a big scoop of salsa would be great too.
Eating these crispy, savory circles made for a welcome change from my usual AM green smoothie. I ate these on Sunday, and it felt like I was at weekend brunch! A brunch where I can show up in a robe with smeared day-old mascara.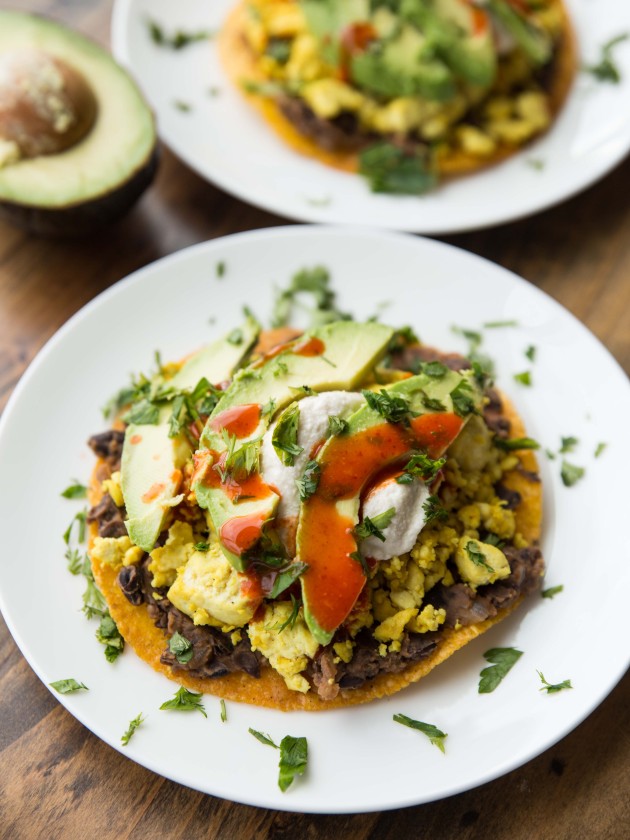 To be honest, these tostadas would be troublesome to eat in public; I piled my tostada so tall that I ended up with cashew cream high on my cheeks and hot sauce up my nose. There is just NOT a graceful way to devour a tostada. Eat these with the ones you love, and maybe not if you're meeting someone for the first time.
That hot sauce up my nose though? So worth it.


Black Bean and Tofu Breakfast Tostadas
Spiced salsa black beans and seasoned tofu on top of a crisp baked tortilla! Flavorful, high-protein savory egg-free breakfast!
Yield: 4 tostadas
Prep Time: 15 minutes
Cook Time: 20 minutes
Total Time: 35 minutes
Ingredients:
Spiced Black Beans
2 teaspoons olive oil
2 cloves garlic, minced
¼ cup chopped white onion
1/8-1/4 teaspoon sea salt
1 (15-ounce) can black beans, drained and rinsed
1 teaspoon each ground cumin, dried oregano, chili powder
2 tablespoons salsa of choice
Tofu Scramble
1 tablespoon olive oil
1 (14-ounce) container firm tofu, pressed and crumbled
3 tablespoons nutritional yeast flakes
½ teaspoon ground turmeric
½ teaspoon sea salt
Crispy Baked Tortillas
4 corn tortillas
1 tablespoon olive oil
Directions:
For the beans: Heat 2 teaspoons olive oil in a skillet over medium heat. Add the garlic and cook it for 30 seconds, then add the onions and salt. Cook for 3-4 minutes, until softened. Add the beans and spices, and cook for a few minutes, until combined and heated throughout. Transfer the beans to a bowl and use a fork or pastry blender to mash. Stir in the salsa.
For the tofu: Heat the oil in a large non-stick skillet. Add the tofu and all spices, and cook, stirring frequently, until the crumbled are slightly firmer and have soaked up all the flavor from the spices.
For the tortillas: Preheat oven to 400 degrees. Place corn tortillas on a greased baking sheet, and brush each tortilla with the olive oil. While the tofu is cooking, bake the tortillas for 5 minutes, flip, and bake for another 3-5 minutes, until golden.
To assemble: Spread ¼ of the mashed beans on each crispy tortilla, then top with ¼ of the crumbled tofu, and desired toppings. I highly recommend cashew cream, avocado, hot sauce, and cilantro!
If not eating all at once, keep the tofu and black beans in separate airtight containers in the fridge, and keep the baked tortillas in a sealed bag on the counter. Reheat black beans and tofu in the microwave before building your tostada.
Nutrition Information: Serving Size: 1 Tostada, Calories: 370, Total Fat: 15.2g, Saturated Fat: 2.5g, Cholesterol: 0mg, Sodium: 429mg, Potassium: 997mg, Total Carbs: 42g, Dietary Fiber: 10.6g, Sugars: 2.2g, Protein: 21.7g
6 Responses to "Black Bean and Tofu Breakfast Tostadas"