Easy White Chocolate S'more Fudge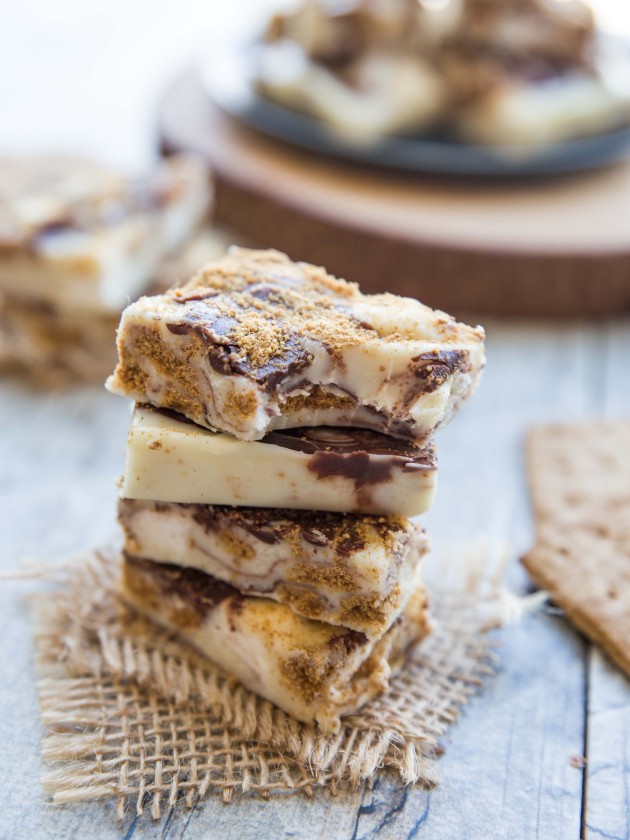 This recipe has been a long time coming. I couldn't discover the beauty of 3-ingredient fudge without trashing it up a bit, you know?
That base recipe has been made in this house several times. All it takes is coconut milk, coconut oil, and high-quality chocolate chips. Boil the milk and oil, pour over the chips, and let sit for a few minutes. Whisk whisk WHISK until smooth, pour into a lined and greased pan or muffin tins, and freeze until set.
So dang easy. Almost too easy. Fudge can be part of your life at any time! It's a beautiful thing.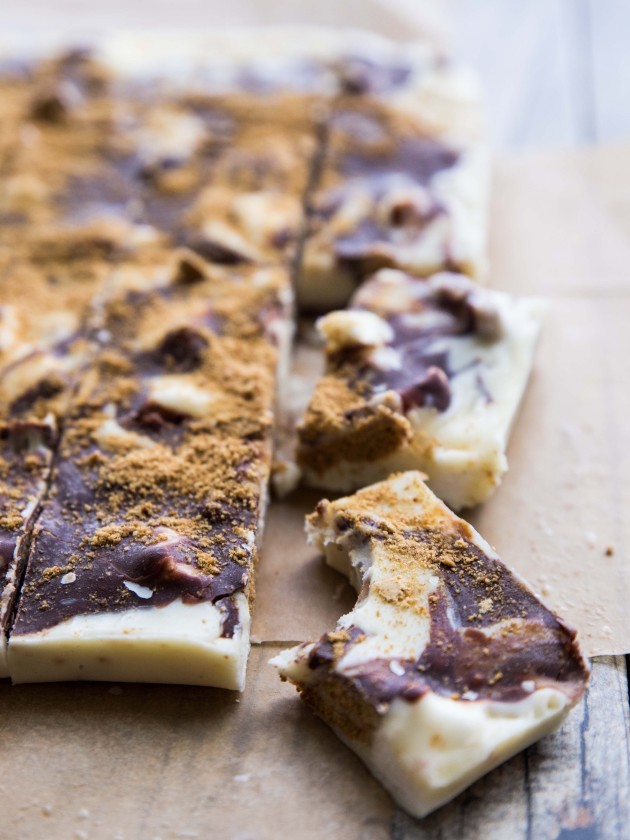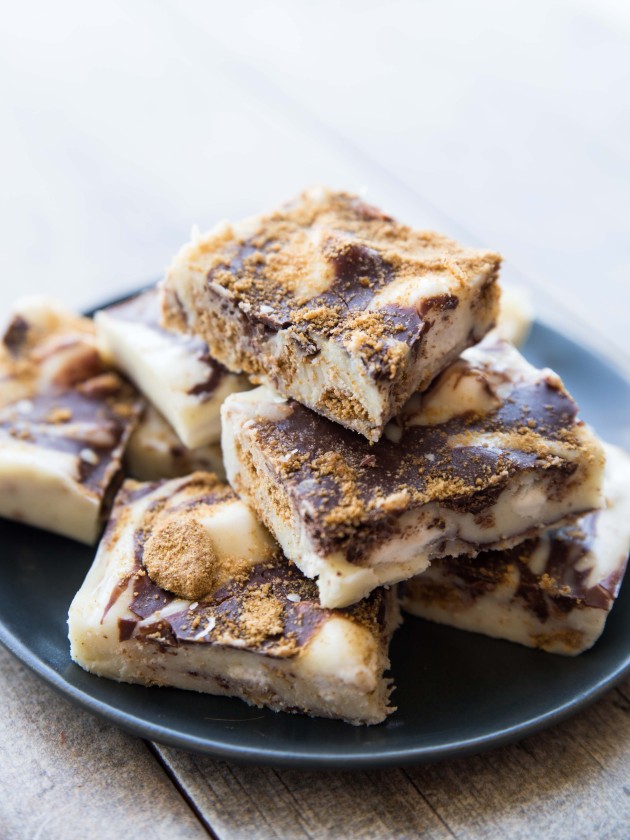 Since I'm all about texture, I wanted to jazz up the smooth fudge with some crispy graham cracker crumbs and chewy marshmallows. I've also had s'mores on my mind because 1) SUMMER, and 2) this post has been getting some extra love lately (which, again, SUMMER).
On a related note, I'm really loving summer this year. Kind of in denial that fall is around the corner. Let's keep the summer vibes rolling with white chocolate s'more fudge!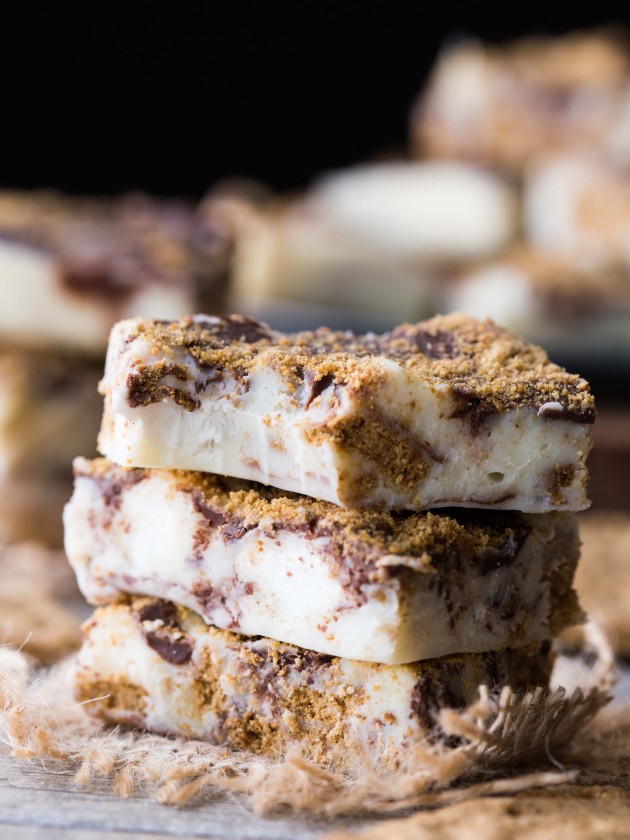 As I've mentioned before, I usually go to my parent's house for dinner every Sunday night. Whenever I bring food for my family to try, I get a little nervous; We have a houseful of picky eaters who don't agree on much where food is concerned. I've also tested their trust before by feeding them desserts with sneaky things hiding inside (such as beans or spinach, you know how I roll), so they're a little skeptical.
I'm happy to report that this fudge was a HIT with all family members. Winner winner s'mores for dinner!
Just kidding. A little.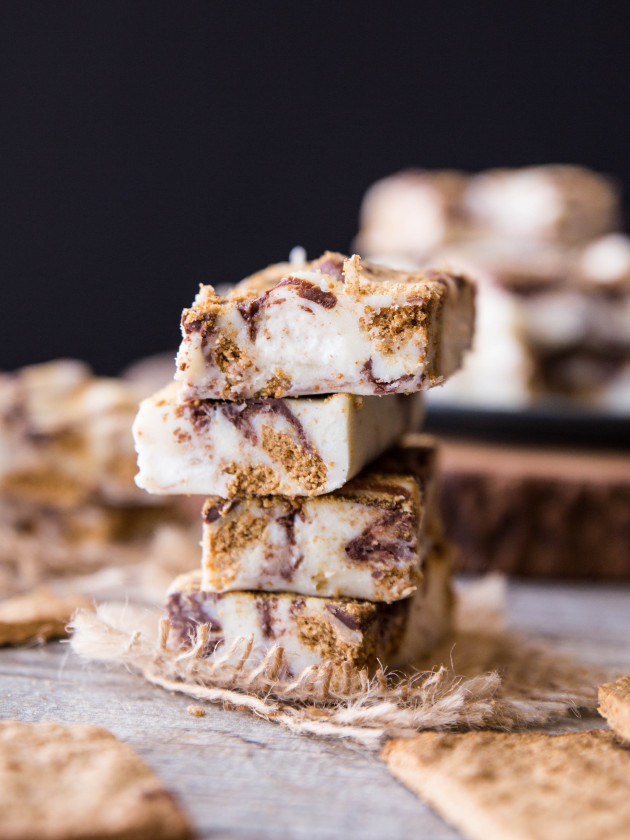 Let me know if you make this fudge! Leave a comment below, or snap a photo and tag me on Instagram @veggiebeastblog.
Have a lovely weekend, friends! I will be perfecting a margarita recipe, which I hope to be sharing with you next week. Will need to test it a bunch, you know, for research and stuff ;)

Easy White Chocolate S'more Fudge
Creamy and rich white chocolate fudge with all the s'more flavor you want, and ridiculously simple!
Yield: 24 pieces
Prep Time: 20 minutes
Total Time: 20 minutes
Ingredients:
Easy White Chocolate S'more Fudge
3 cups high-quality white chocolate chips
3/4 cup full fat coconut milk (from a can)
2 tablespoons coconut oil
1 cup mini marshmallows (see note)
4 sheets graham crackers, crushed (about 1 cup)
Salted Chocolate Swirl
1/2 cup semisweet chocolate chips
1 tablespoon coconut oil
1/4 teaspoon sea salt
Topping
1 sheet graham crackers, finely crushed
Directions:
Place the white chocolate chips in a large bowl.
Shake the can of coconut milk well (you should be able to hear it sloshing around), and then measure out 3/4 cup. If your can is stubborn and the water and cream are separated, you may need to blend them together to get a smooth milk - this will vary from can to can.
Combine the 3/4 cup coconut milk and coconut oil in a small saucepan, and bring to a boil. Pour over the white chocolate chips, and let sit for 3-5 minutes.
While the white chocolate and milk are sitting, add some water to the small saucepan and bring to a simmer, and top with a glass bowl (the bowl should be big enough that the bottom does not sit in the water). Add the chocolate swirl ingredients to the glass bowl, and stir occasionally with a rubber spatula until melted, set aside.
After the white chocolate mixture has been sitting for 3-5 minutes, whisk until completely smooth - this can take a few minutes.
Fold in the marshmallows and graham crackers. Pour half of the mixture into a parchment-lined and liberally greased 8x8 pan. Top with half the semisweet chocolate and run a knife through it a few times to decoratively swirl. Top with the remaining white chocolate and the remaining semisweet chocolate, and again use a knife to swirl together. Top with additional graham cracker crumbs.
Place the pan in the freezer until completely set (about 1 hour). Once set, use a sharp knife to cut into 24 pieces - this will be easiest if you cut them right after being removed from the freezer. After cutting you may store in an airtight container in the freezer or the refrigerator. Do not leave them out at room temperature for long periods of time, as they will melt.
Adapted from The Easiest 3-Ingredient Fudge Bites.
I buy gelatin-free marshmallows. I couldn't find the mini version, so I just chopped larger marshmallows into smaller (mini-sized) pieces.
The flavor of this recipe depends largely on the quality of white chocolate you use - I love buying the white chocolate chips from the bulk section of my co-op, but I also like Ghirardelli chips.
5 Responses to "Easy White Chocolate S'more Fudge"