Fresh Blueberry Ginger Margaritas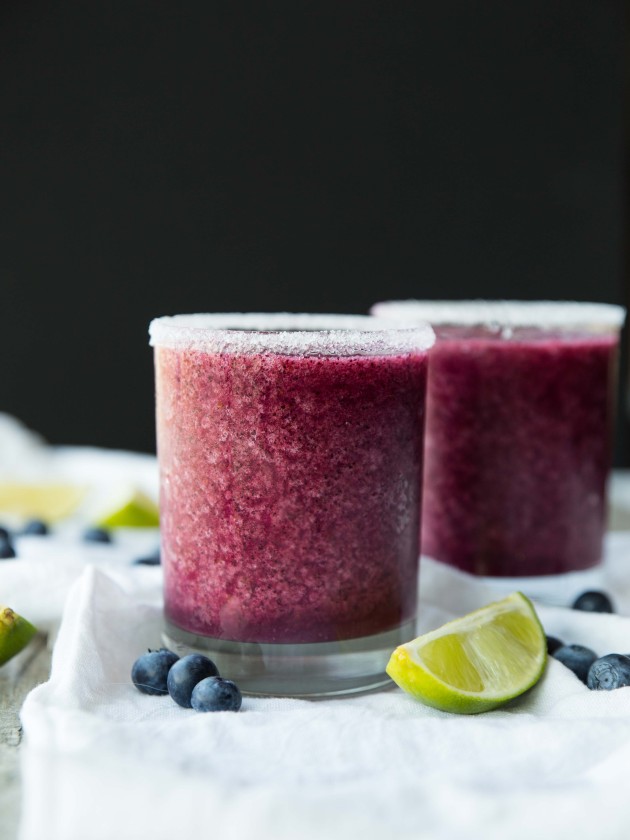 It's Tuesday. It's kind of the whomp whomp day of the week – you're no longer on the high of the weekend, and still so far away from another day of rest. No worries though, because this Tuesday is a margarita day!
I have been eating fresh blueberries by the fistful lately. They're so juicy and sweet this time of year. They make a great healthy snack, but they also make a great addition to boozy drinks, turns out.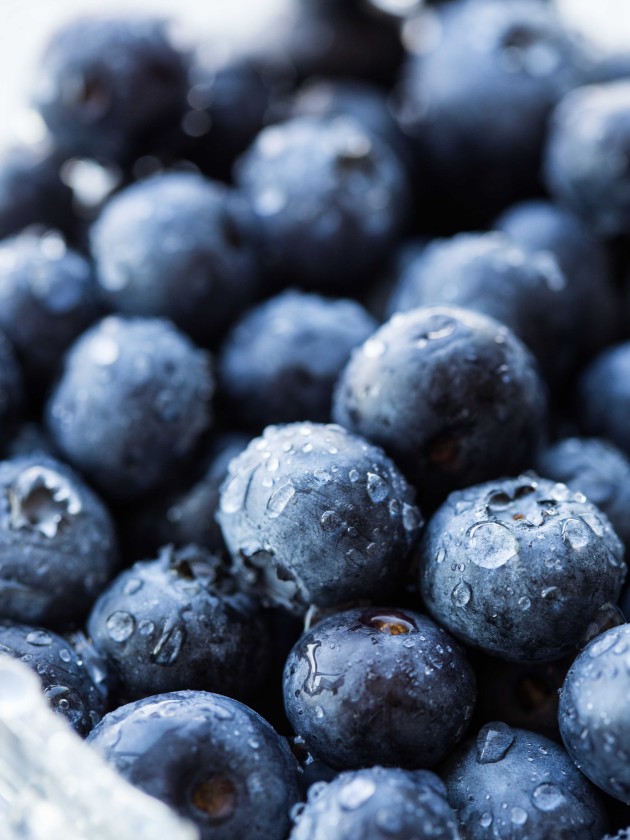 Margaritas are pretty fabulous to begin with: tart, icy, boozy, and just begging to be enjoyed on a sunny patio. I love a good traditional margarita, but when I make drinks at home I like to play with other flavors. Restaurants will charge you extra for those fancy flavored margaritas, but at home you can add all the stuff you want! At-home bartending for the win! In this case, we're adding plump blueberries and spicy ginger to the mix.
I'm kind of having a moment with ginger right now. I add it to my morning smoothies, my asian-inspired sauces, and now, drinks. Only the fresh stuff will do, because even the tiniest bit creates that spicy undertone that I love.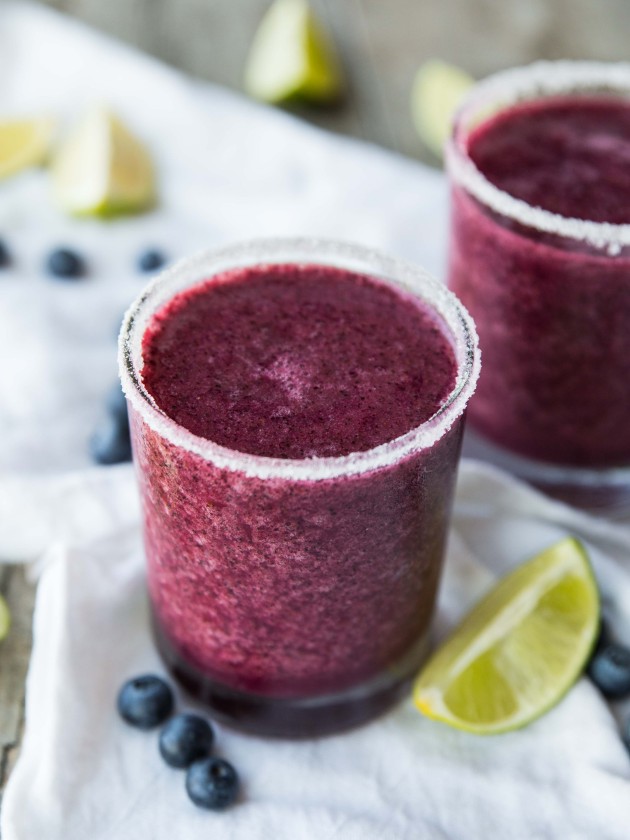 So let's break this down: We have blueberries, which are a superfood, and ginger, which is good for your tummy (along with a host of other things). You guys, this is basically a health drink.

Cheers to good health! And also summertime outdoor drinking. Soak it up – pretty soon those margaritas will be replaced by pumpkin lattes (which doesn't sound so bad, to be honest).
Fresh Blueberry Ginger Blended Margaritas
Fresh and fruity blueberry margaritas with a kick of spice from fresh ginger!
Yield: 2 drinks
Prep Time: 5 minutes
Total Time: 5 minutes
Ingredients:
1 cup fresh blueberries
2 limes, juiced (about ¼ cup)
1-2 teaspoons fresh chopped ginger
2 shots (3 ounces) silver tequila
2 tablespoons agave or honey
3 cups ice cubes
Directions:
Combine all ingredients in a blender. Start with 1 teaspoon ginger. Blend until smooth. Taste and add more ginger to your tastes. I really like ginger, so I used 2 teaspoons.
If you want a sugared rim, pour some cane sugar on a plate, run a wedged of squeezed lime along the rim of each glass, then tip each glass over onto the plate, rubbing it in the sugar. You could also do a salted rim, but I preferred sugar.
Divide the margaritas between the two glasses.
Nutrition Information: Serving Size: 1 drink (half of recipe), Calories: 234, Total Fat: 0.5g, Cholesterol: 0mg, Sodium: 3mg, Potassium: 149mg, Total Carbs: 34.9g, Dietary Fiber: 4.9g, Sugars: 23.4g, Protein: 1.2g