Easy Garlic Butter and Burst Tomato Linguine
I know I should be posting all about pumpkin and chai and fall colors and crisp air etc., but can we have just one last tomato hurrah? We received what might be our final cherry tomato pint in our CSA last week, and I am in complete denial that it's already October. Where did my summer go? What did I even do with all those warm nights and sunshine?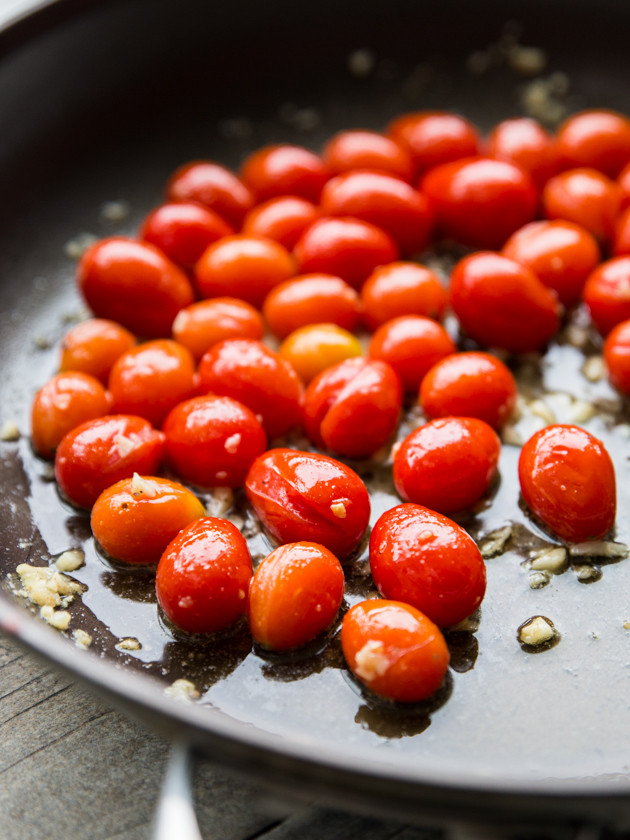 To honor those last warm-weather tomatoes, I decided to let them shine in the simplicity of butter, garlic, and fresh basil. I also only made 2 servings with the whole pint, so the servings are veggie-dense – just the way I like 'em.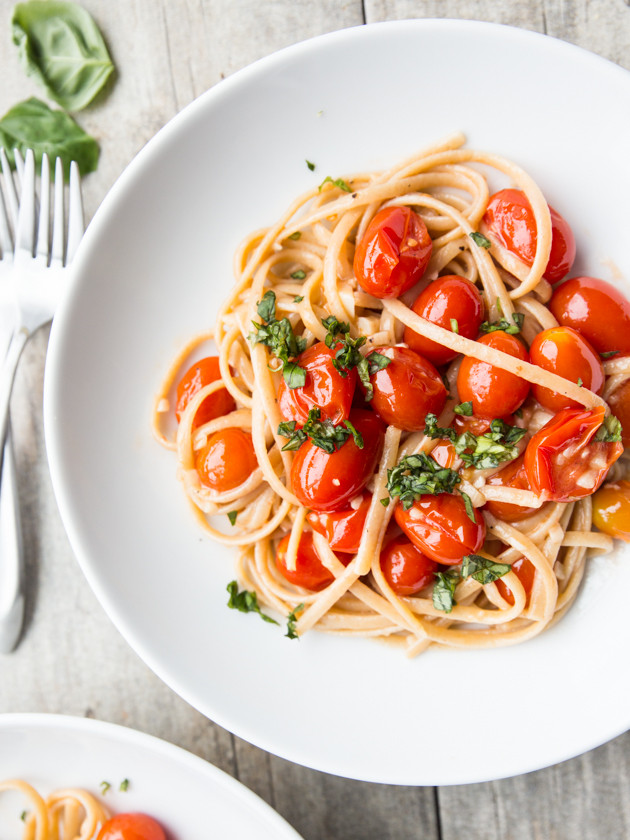 This recipe is easy, with an ingredient list that is short but flavorful.
It starts with butter, which you might find strange if you read this blog regularly. Olive oil and coconut oil are my standby cooking fats, but some recipes just demand the richness of butter, and this is one of those recipes.
Although I definitely don't shy away from the jarred minced garlic, I highly recommend using fresh garlic cloves here. Garlic is a key flavor in this pasta, so the fresher, the better.
Another crucial component: those tomatoes! More importantly, cooking them until their skins are juuust starting to break. It's important to cook them only until this point, because you want those tomatoes to burst when you eat them, not as they're cooking. If they break earlier, you'll have more of a tomato sauce than a butter sauce with tomatoes. Not a bad alternative, but not what we're going for here.
And finally, that starchy pasta water! Just a few tablespoons helps take your simple butter/garlic mixture and make it into a luxurious sauce that coats every piece of linguine.
Despite eating breakfast at 11am on Sunday (love me some sleeping in lately), I ended up eating this plate of pasta for lunch at 12:30. That bite right there (below) went into my mouth, and then I just couldn't stop. I can't say no to those buttery, garlicky, juicy popping tomato yums.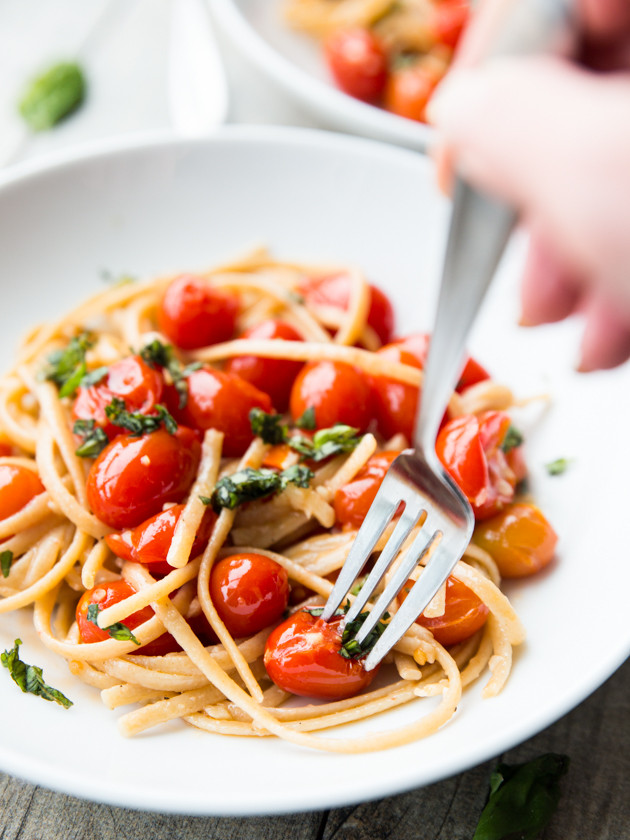 I bought parmesan specifically for this dish, but it was only after I slurped up the last noodle that I realized I forgot my finishing touch. When a dish doesn't even need cheese, you know you have a winner.
Take 15 minutes to send off tomato season with style – and let me know if you make it!

Easy Garlic Butter and Burst Tomato Linguine
Juicy tomatoes and whole wheat linguine tossed with a quick and flavorful garlic butter sauce.
Yield: 2 servings
Prep Time: 5 minutes
Cook Time: 10 minutes
Total Time: 15 minutes
Ingredients:
4 ounces whole wheat linguine
3 tablespoons unsalted butter
2 cloves garlic, minced
1 pint cherry tomatoes
½ teaspoon sea salt
3 tablespoons pasta water
Fresh basil and grated parmesan, for topping
Directions:
Cook pasta according to package directions.
While the pasta is cooking, melt the butter in a skillet over medium-low heat. Add the garlic and cook for 3 minutes, stirring frequently and being careful not to burn the garlic. Add the tomatoes and salt, and stir. Cook, again stirring frequently, until the tomato skins are wrinkled and just starting to split, about 7 minutes.
When the pasta is done, drain (don't rinse), reserving the pasta water. Add the pasta to the pan with the tomatoes, along with 3 tablespoons pasta water. Toss together over medium-low heat until incorporated.
Serve with fresh basil and a sprinkle of grated parmesan, if desired.
Nutrition Information: Serving Size: 1/2 of recipe, Calories: 350, Total Fat: 19.3g, Saturated Fat: 11.3g, Cholesterol: 73mg, Sodium: 727mg, Potassium: 444mg, Total Carbs: 37.4g, Dietary Fiber: 4.2g, Sugars: 5.5g, Protein: 8.6g
7 Responses to "Easy Garlic Butter and Burst Tomato Linguine"