Lentil, Quinoa and Pistachio Meatballs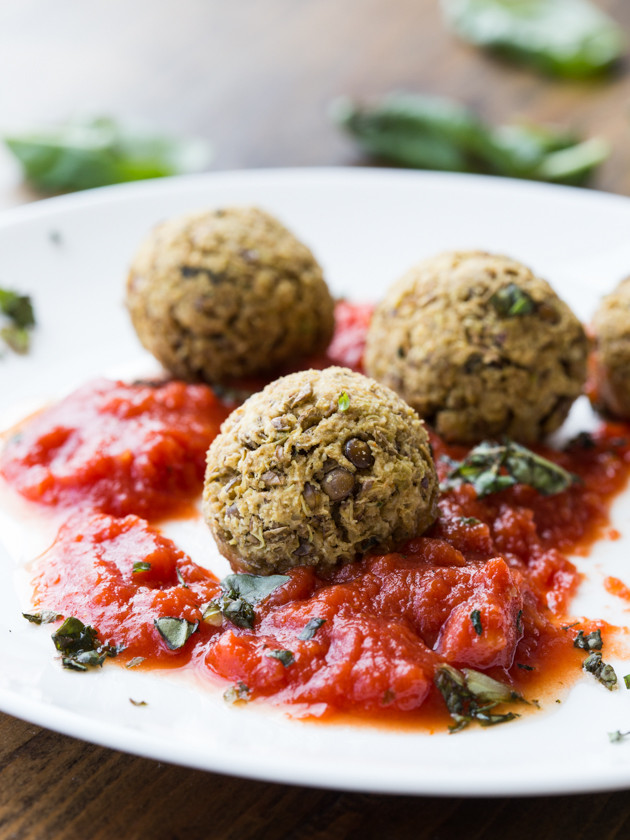 Maybe it's the time of year, but I'm alarmingly okay with laziness lately. I'm usually someone who needs to plan out every minute of the day. For many years I'd roll out of bed early on the weekends to soak up every bit of work-free life. Lately though? Sleeping until 10am, sitting in pajamas drinking coffee, and not doing a damn thing until around noon sounds juuuuuust perfect.
The type A part of me kind of shudders at this reality and hope it's short lived. The other part of me, the part that sees the benefits of this much-needed chill pill, is kind of digging it.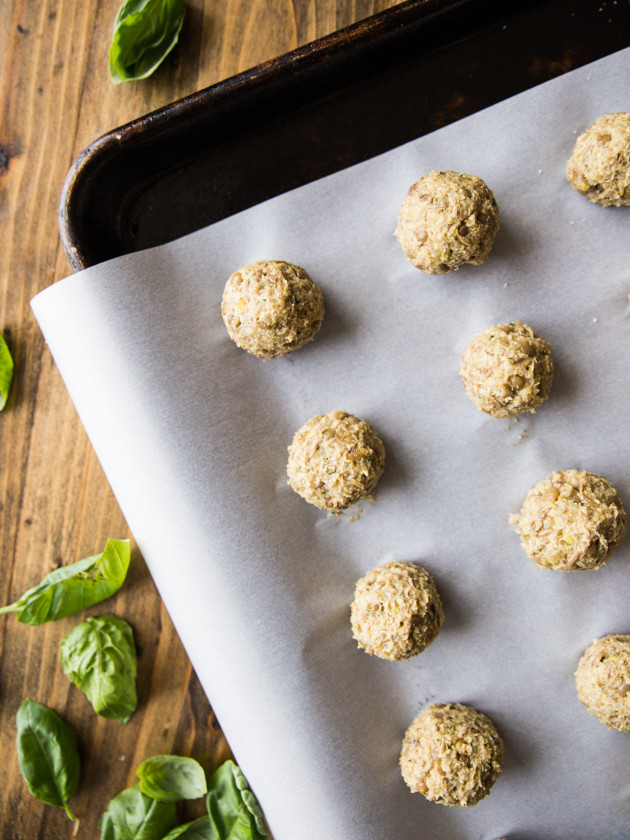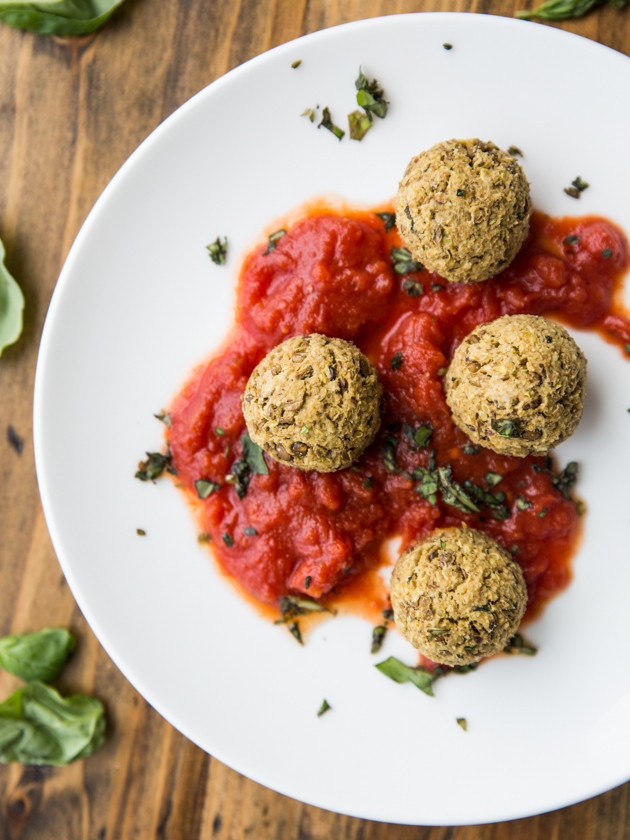 Case-in-point of laziness: I watched all 18 episodes of How to Get Away with Murder last week. Actually, less than a week. Yikes. Season 1 is on Netflix (15 episodes), and Season 2 (current season) is on Hulu. Ryan and I are HOOKED. If you're looking for some addictive binge watching cozy-couch material, get at it.
Fortunately, today's recipe fits right into the cozy-couch lifestyle, because sitting cross-legged on the couch with a big bowl of pasta and meat(less) balls feels so right. It may not be lazy-life approved, since you need to cook the lentils, quinoa, and then bake the balls, but it is rather easy. You can also cook the lentils and quinoa the night before, and assemble the next day.
These "meatballs" are lightly crisp on the outside, tender on the inside, and packed with flavor from basil, garlic, cumin, and chili powder. Some of the cooked lentils are pulsed in the food processor to create a paste that helps bind the meatballs while keeping them moist.
I'm sorry. I hate that word too. It's just the only way to describe what is happening here. See that inside below? Moist.
Eek.
These vegan and gluten free nuggets add heartiness to pasta, or can be eaten on their own with marinara or pesto (or sauce of your choice). Let me know if you give them a try!


Lentil, Quinoa and Pistachio Meatballs
Flavorful "meatballs" made with lentils, quinoa, and pistachios! Enjoy them as a texture and flavor boost on top of pasta, or on their own with marinara!
Yield: ~40 meatballs
Prep Time: 1 hour 15 minutes
Cook Time: 30 minutes
Total Time: 1 hour 45 minutes
Ingredients:
1 cup green lentils, picked through and rinsed
2 ½ cups water
½ cup quinoa, rinsed
1 cup vegetable broth
½ cup fresh basil
½ cup pistachios
3 cloves garlic
1 teaspoon ground cumin
½ teaspoon chili powder
1- 1 1/2 teaspoon sea salt (to taste)
1 flax egg, or 1 chicken egg
1 cup almond flour
Directions:
Bring the lentils and water to a boil. Reduce heat to low, cover, and simmer for 25-30 minutes, until tender but not mushy. Drain excess water.
Add the quinoa to a small saucepan, and toast over medium-low heat for about 5 minutes. Add the broth and bring to a boil, then reduce heat to low, cover, and simmer for 15-20 minutes, until the liquid is absorbed.
In a food processor, pulse together the basil, pistachios, and garlic until finely chopped. Add 1 1/2 cups of the lentils, and pulse again until mostly smooth - it will be like a paste.
Mix together the pulsed ingredients, remaining lentils, and quinoa. Stir in the spices and salt. Taste and adjust to your liking, then add the egg, and stir in the flour ½ cup at a time.
Refrigerate for 30 minutes.
Preheat oven to 400 degrees.
Roll 1 tablespoons of the mixture into a smooth ball, and place on a parchment-lined baking sheet. Repeat with remaining mixture.
Bake for 30-35 minutes, until golden and firm.
Eat with marinara (or sauce of your choice) as an app, or use as a topping for pasta or pizza.
Reheat at 325 for 10 minutes. I do not recommend reheating in the microwave, as you'll lose the texture.
You can make larger meatballs by forming them from 2 tablespoons of mixture instead of 1 tablespoon. Just increase the cook time by about 10 minutes.
If you make the quinoa and lentils ahead of time, and store them in the refrigerator until ready to use, you do not need to refrigerate the dough after assembly.
Nutrition Information: Serving Size: 4 meatballs (1/10th of recipe), Calories: 141, Total Fat: 4.0g, Cholesterol:0mg, Sodium: 284mg, Potassium: 296mg, Total Carbohydrates: 19.2g, Dietary Fiber: 7.4g, Sugars: 0.8g, Protein: 8.1g