Roasted Sweet Potato, Brussels Sprout and Kale Salad with Pistachios and Goat Cheese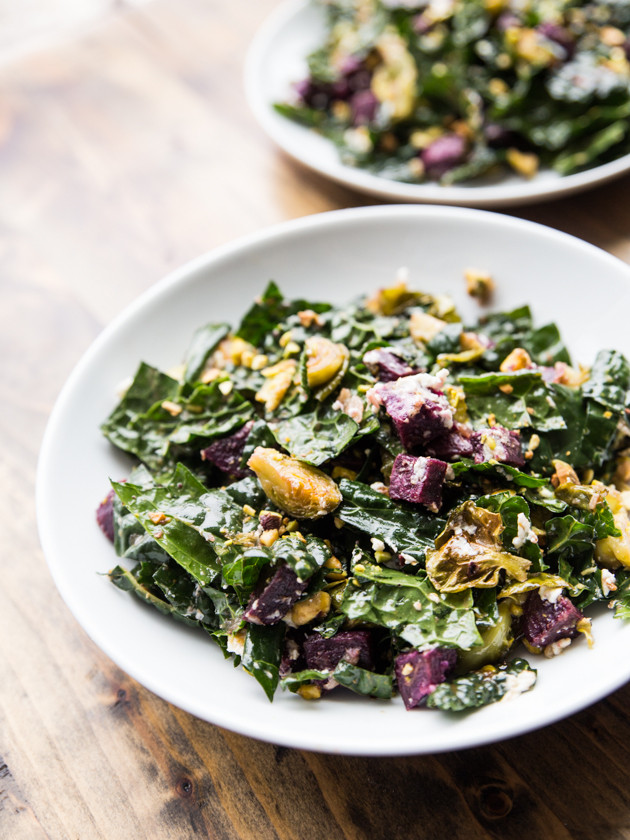 Remember that sweet potato obsession I was talking about last week? It only gets more intense when I find beautiful PURPLE sweet potatoes!
The first time I bought those purple beauties I made myself some baked sweet potato fries. The second time I made this dream salad of sorts, with roasted brussels sprouts, tuscan kale, chopped pistachios, goat cheese, and a warm balsamic dressing.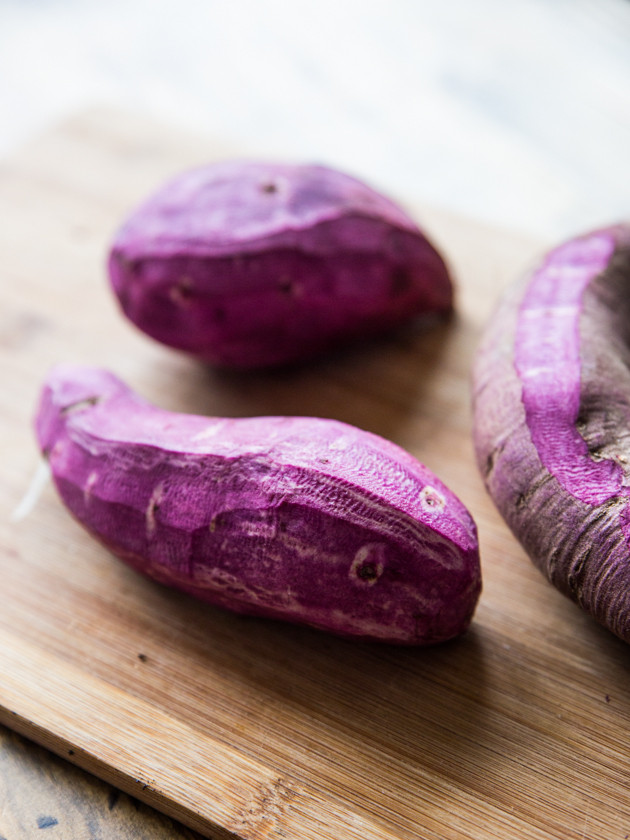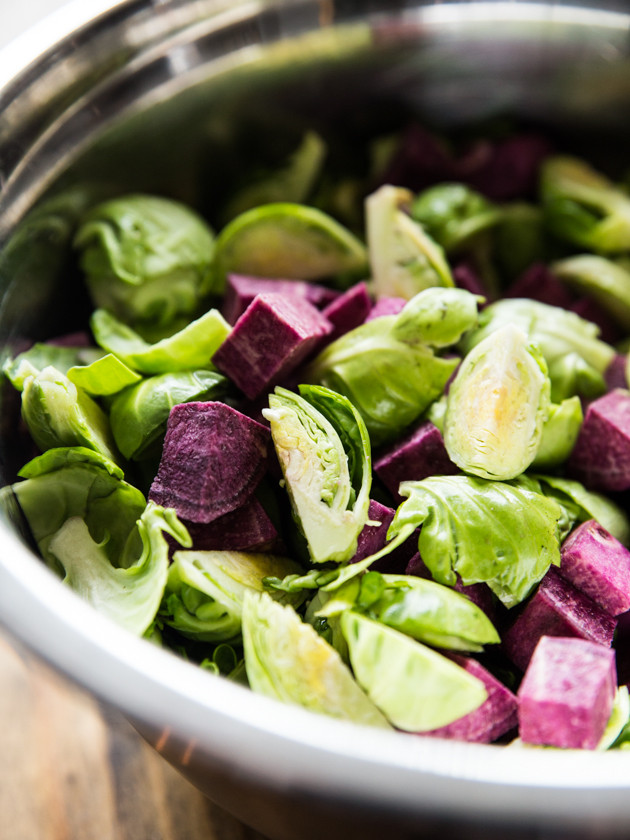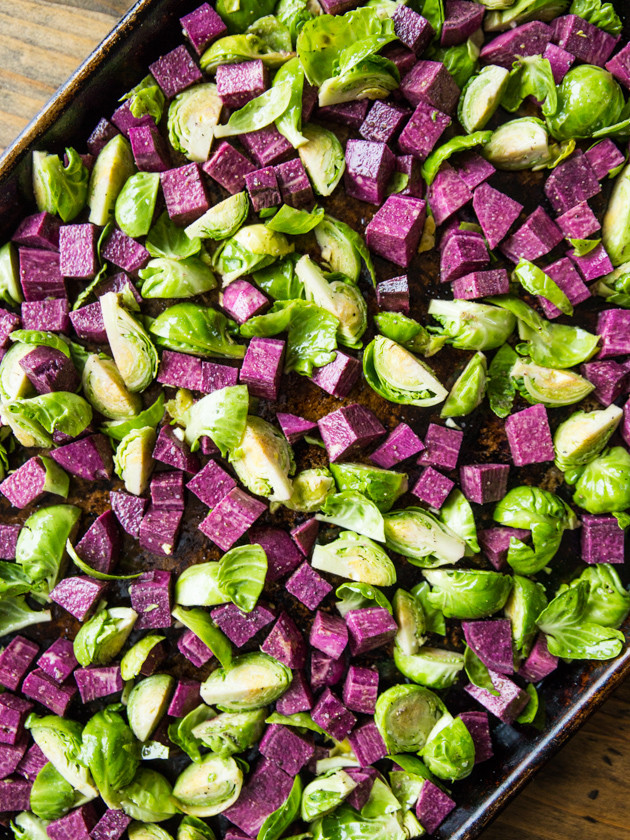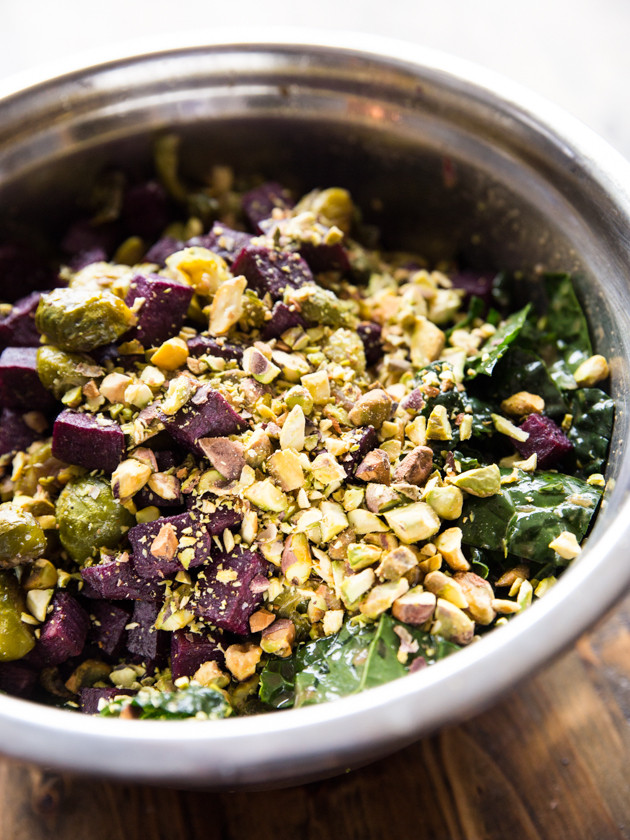 Like this kale salad from last winter, this salad is meant to be enjoyed warm, or at room temperature. You cook garlic, shallot, salt and sugar in olive oil, and then blend it up with balsamic until smooth and emulsified. Rubbing the warm dressing into the kale helps make the greens tender and less bitter. When you toss the creamy goat cheese crumbles with the warm greens and roasted vegetables, it melts ever so slightly, adding extra creaminess to every bite.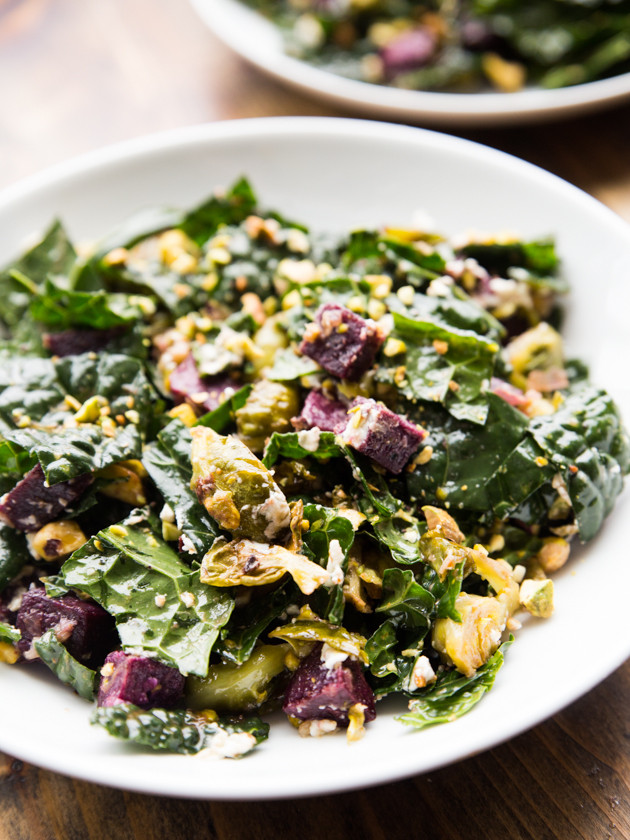 This salad has so many of my favorite things:
Garlicky roasted veggies
Healthy and hearty tuscan kale
Crunchy chopped pistachios
Creamy goat cheese
Subtly sweet and tangy balsamic dressing
Since this salad is both pretty and packed with goodness, I brought it to a Halloween party last weekend. Yes, I'm the girl who shows up to a party with a roasted vegetable salad…and beer, of course, because balance.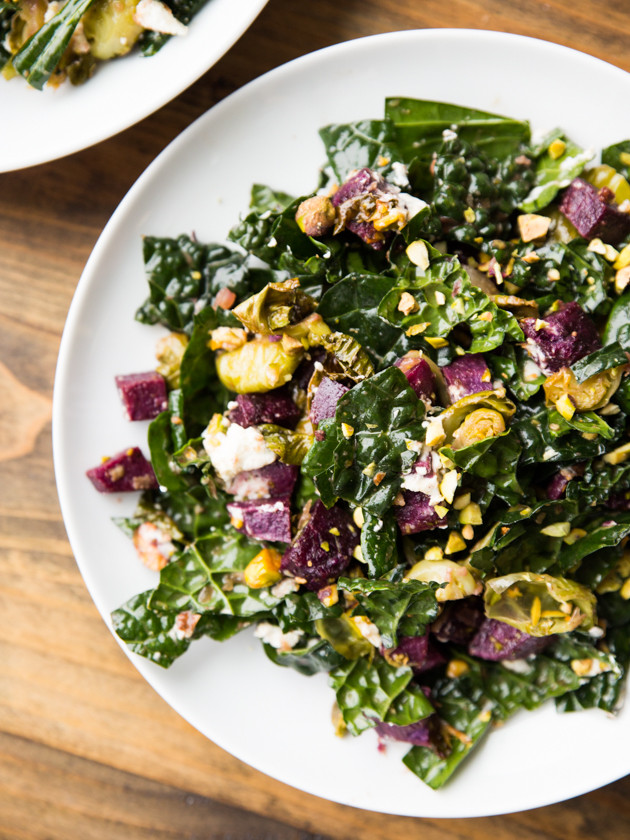 If you can't find purple sweet potatoes, you can definitely sub the standard orange variety. If you don't want to spring for shelled pistachios (they can be pricey – yikes), feel free to swap chopped walnuts or slivered almonds.
This salad would be great for Thanksgiving, but it also reheats well for leftovers (I've been eating it on the side of everything this week). Let me know if you make it!



Roasted Sweet Potato, Brussels Sprout and Kale Salad with Pistachios and Goat Cheese
Garlicky roasted brussels sprouts and sweet potatoes tossed with tuscan kale, warm balsamic shallot dressing, pistachios, and goat cheese.
Yield: 6-8 servings
Prep Time: 15 minutes
Cook Time: 35 minutes
Total Time: 50 minutes
Ingredients:
Roasted Sweet Potato, Brussels Sprout, and Kale Salad
3 purple sweet potatoes, cut into ½-inch cubes (about 4 cups)
4 cups quartered brussels sprouts, stems removed
¼ cup grapeseed oil
1 teaspoon sea salt
½ teaspoon each pepper and garlic powder
1 bunch lacinado kale, chopped, center stems removed (about 6 cups)
4 ounces goat cheese, crumbled
½ cup shelled pistachios, chopped
Warm Shallot Balsamic Dressing
¼ cup olive oil
2 garlic cloves, thinly sliced
1 shallot, thinly sliced (about ½ cup)
½ teaspoon sea salt
1 tablespoon cane sugar
2 tablespoons balsamic vinegar
Directions:
Preheat oven to 350 degrees.
In a large bowl, toss together the potatoes and brussels sprouts with the grapeseed oil, salt, pepper, and garlic powder. Spread onto a large baking sheet, and roast for 30-35 minutes, stirring every 10 minutes or so, until golden and tender.
While the vegetables are roasting, heat the olive oil for the dressing in a small saucepan. Add the garlic and cook for 30 seconds, then add the shallot, salt, and sugar, and cook for 3-5 minutes, until softened. Transfer to a blender, add the balsamic, and blend until smooth.
Place the kale in a large salad bowl, then massage the warm dressing into the kale. Fold in the roasted vegetables, pistachios, and crumbled goat cheese. Serve warm.
Nutrition Information: Serving Size: 1/6th of recipe, Calories: 483, Total Fat: 29.3g, Saturated Fat: 7.3g, Trans Fat: 0.0g, Cholesterol: 20mg, Sodium: 587mg, Potassium: 1501mg, Total Carbs: 46.1g, Dietary Fiber: 8.3g, Sugars: 4.9g, Protein: 13.4g
This salad is best when fresh, but leftovers can be stored in the fridge and then reheated in the microwave.
Feel free to swap in regular orange sweet potatoes, and other chopped nuts for the pistachios.
Vegan/Dairy Free Option: Omit the goat cheese.