High Protein Bulgur Black Bean Chili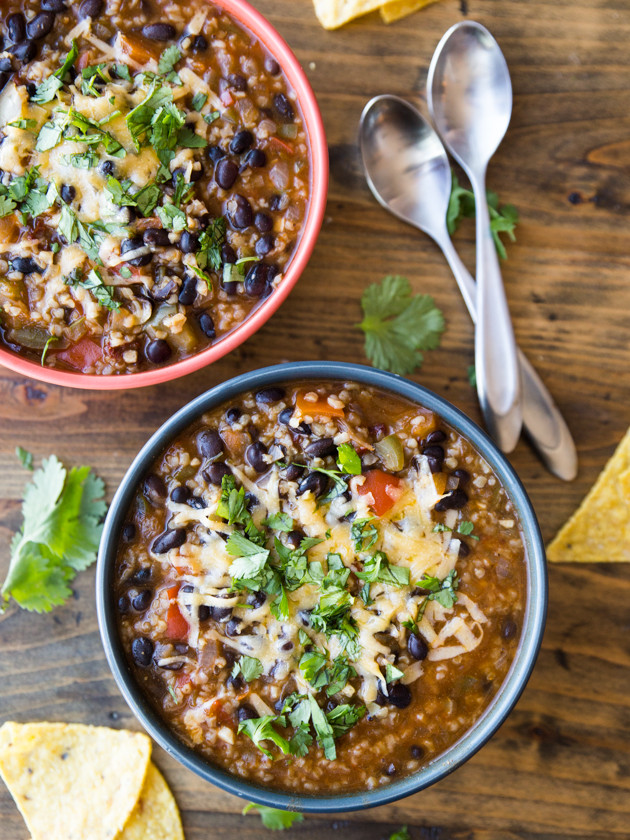 I realize, given what is happening in two days, that this should probably be a recipe with squash, or brussels sprouts, or sweet potatoes, or regular potatoes, or maybe a pie, if I felt fancy. I don't though; I pretty much just want to sit here in my sweatpants with my chili and my new Adele CD.
Truth be told, I don't cook too much on Thanksgiving, so I don't feel overly excited by recipes geared towards that one meal. My mom, despite being a vegetarian who doesn't really love food, feels compelled to make a large traditional Thanksgiving dinner every year. She and I usually fill our plates with the sides, which are deliciously carb-focused: stuffing, mashed potatoes, green bean and artichoke casserole (with bread crumbs), and, of course, rolls.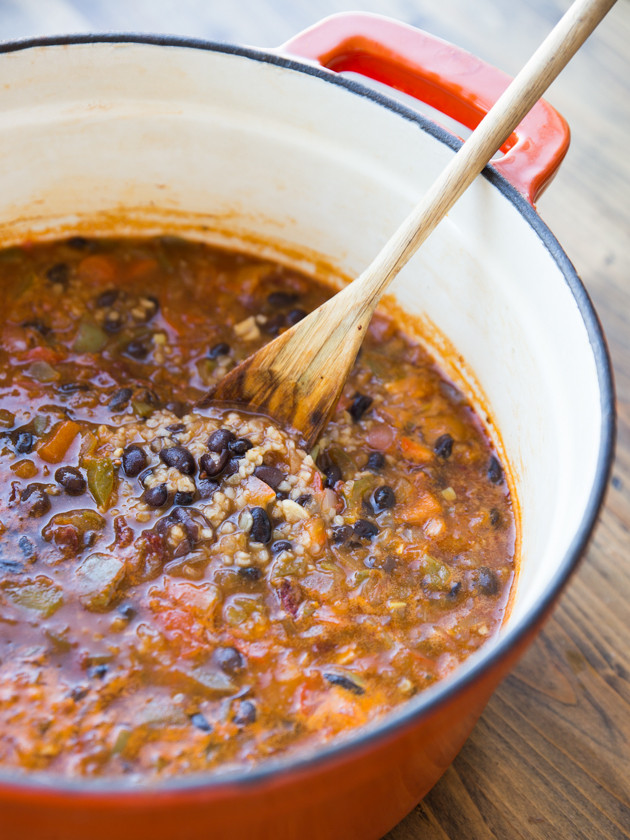 In the past, I have occasionally contributed a vegetarian main (this brussels sprout quinoa gratin was a hit), or replaced our standard white rolls with rosemary parmesan drop biscuits or these gouda and sage biscuits, both of which pack a little whole grain goodness. This year, however, our crowd will be a little smaller, and I don't want to add any more food to a table that's already filled to the brim with well-loved traditional fare.
So instead, today I bring you healthy, filling, protein and fiber PACKED chili that you can make this weekend after the big feast, or during any cold-weather time when you need some warm-your-soul food.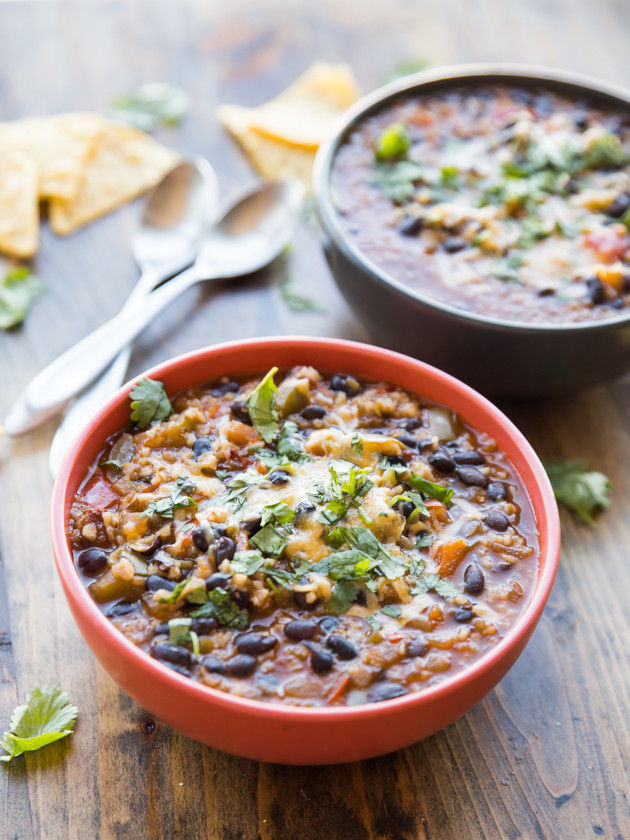 Ever since purchasing The Vegetarian Flavor Bible
a couple months ago, I've been challenging myself to cook with less familiar ingredients and flavor combinations. When I read about bulgur wheat, and the author mentioned that it added great texture to vegetarian chili, I knew I wanted to try it out. I made my first batch of bulgur chili a couple weeks ago, and loved it so much I planned to post it last week.
Before I could get to posting that recipe, I ended up throwing some bulgur into my enchilada skillet recipe on a whim, and LOVED the flavor and texture combo. I realized that adding a little enchilada flavor to my chili might make that recipe even better.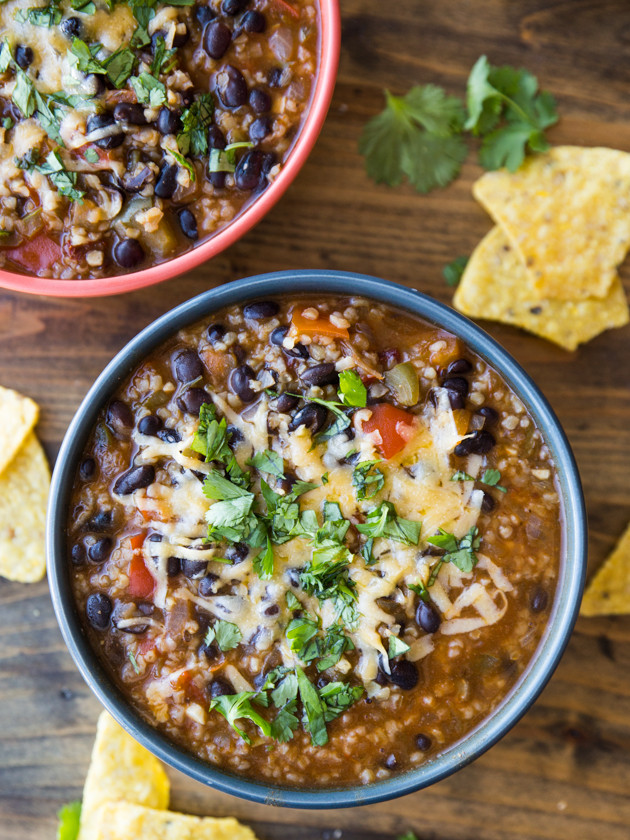 This past weekend I reworked the recipe, swapped out the diced tomatoes that were originally in the ingredient list for a small can of enchilada sauce, and after one bite (and a couple tortilla chip dips) I knew I had a winner.
In addition to tons of flavor and awesome texture, this recipe is high in protein and fiber, thanks to the black beans and bulgur. Bulgur is cracked whole grain wheat that has been partially cooked, meaning it gives you the benefits of whole grains in a short cooking time. It comes in different varieties, but for this recipe I used coarse (#3) bulgur. I purchased it in the bulk aisle of my co-op, but Bob's Red Mill also sells it packaged.
As with all chili recipes, for me the fun comes in the toppings. I always top my chili with crushed tortilla chips (and have a handful on the side for dipping, shh), but I also recommend fresh cilantro. For vegetarians cheddar and sour cream are great additions, and for vegans I suggest this lime cashew cream.
Have a great Thanksgiving everybody! Check ya next week.


High Protein Bulgur Black Bean Chili
Hearty, flavorful and EASY vegetarian chili with almost 20 grams of protein per serving!
Yield: 4 servings
Prep Time: 20 minutes
Cook Time: 18 minutes
Total Time: 38 minutes
Ingredients:
1 tablespoon olive oil
2 cloves garlic, minced
1 red onion, chopped
1/8 teaspoon sea salt (to taste)
1 red bell pepper, diced
1 green bell pepper, diced
2 (15-ounce) cans black beans, rinsed and drained
3 cups vegetable broth
1 chipotle pepper in adobo sauce, seeded and diced (can omit, if you want a mild chili)
1 (10-ounce) can enchilada sauce, or about 1 1/4 cup homemade
3/4 cup bulgur wheat, coarse ground (#3)
1 teaspoon each ground cumin, dried oregano, and smoked paprika
1 lime, juiced
Directions:
Heat the olive oil in a large soup pot or dutch oven over medium-low heat. Add the garlic, red onion, and salt, and cook, stirring for 2-3 minutes, until the onions are soft.
Pour in the bell peppers and cook for another 5 minutes, until tender.
Add all remaining ingredients to the pot, bring to a boil, then reduce heat to low and simmer, covered, for 10 minutes. Taste and add more salt if you wish (this will depend on the saltiness of your broth and enchilada sauce - I added an additional 1/8th tsp). Remove the pot from the burner and set aside, covered, for an additional 10 minutes.
Serve warm with toppings of choice - my favorites are cilantro, sour cream, a little cheddar, and, of course, crushed tortilla chips.
Vegan Option: The soup itself is vegan, just make sure to opt for vegan toppings, such as cilantro, lime cashew cream, and crushed tortilla chips.
The bulgur will continue to soak up liquid and become thicker as it is stored in the refrigerator. I kind of like it that way, but you may add a splash of water before reheating to thin it out a bit.
Nutrition Information: Serving Size: 1/4 of recipe (scant 2 cups), Calories: 387, Total Fat: 6.5g, Saturated Fat: 1.2g, Cholesterol: 0mg, Sodium: 758mg, Potassium: 1,333mg, Total Carbs: 67.5g, Dietary Fiber: 18.6g, Sugars: 6.0g, Protein: 19.8g